A delicious Mexican Street Corn Pasta salad with tons of veggies and a simple creamy chili-lime dressing.

Mexican Street Corn Pasta Salad
I have a pretty close schedule I stick with on what I share here on the blog. The months are planned by the days I'm sharing a recipe and what recipe I will be sharing on that particular day. But sometimes, I'll switch up my entire schedule because I'm literally BURSTING at the seam to share something.
Today is that day. This Mexican Street Corn Pasta Salad is one of my all time favorite meals (salads?) to hit the blog. Primarily because corn is my favorite veggie, Mexican Street Corn is my favorite way to enjoy said veggie, and adding pasta for a self-proclaimed carb-addict was the best.decision.ever. Also did I mention avocados, lime, cilantro, jalapeños, cheese, green onions, and BACON?!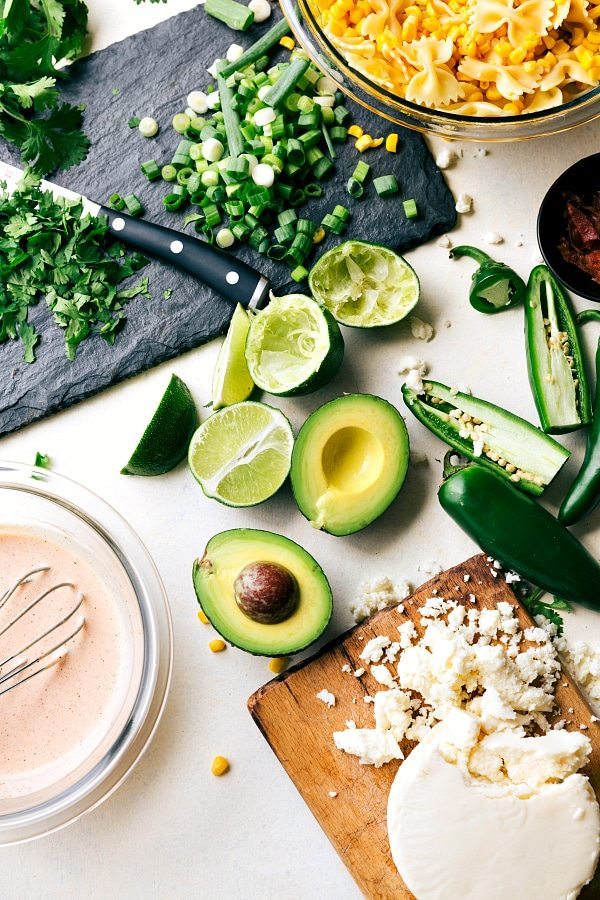 Mexican Street Corn Pasta Salad Dressing
I'm pretty sure those are all my favorite ingredients together in one happy place. Annnnnd we haven't even started on the dressing yet.
Speaking of that dressing, I adapted it from my latest favorite sauce shared on the blog which has mayo, lime, and Sriracha. This chili-lime dressing has the same 3 ingredients plus a few spices and it is out-of-this-world delicious.
The best part is you just have to quickly whisk the few ingredients together and it's ready to go. No blender needed!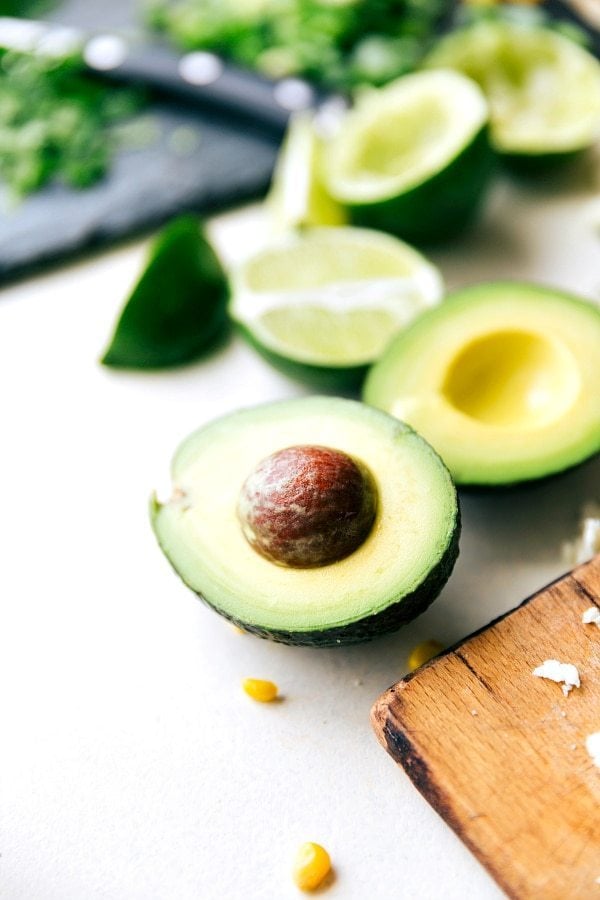 Controlling the spice in this Mexican Street Corn Pasta Salad
If you are worried about the spice, just leave out the jalapeños, paprika, and half the hot sauce in the dressing.
Alternatively, feel free to increase any of the above ingredients for a spicier Mexican Street Corn Pasta Salad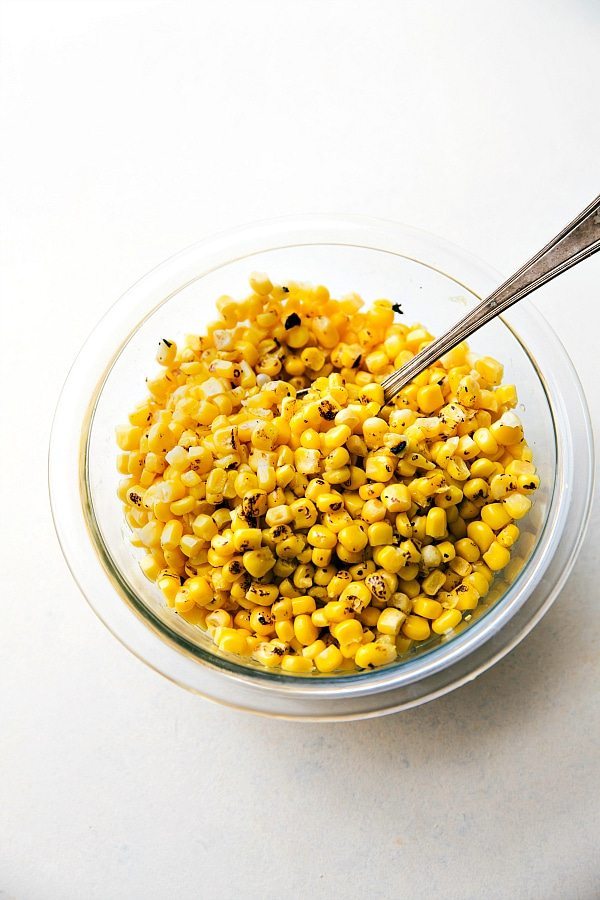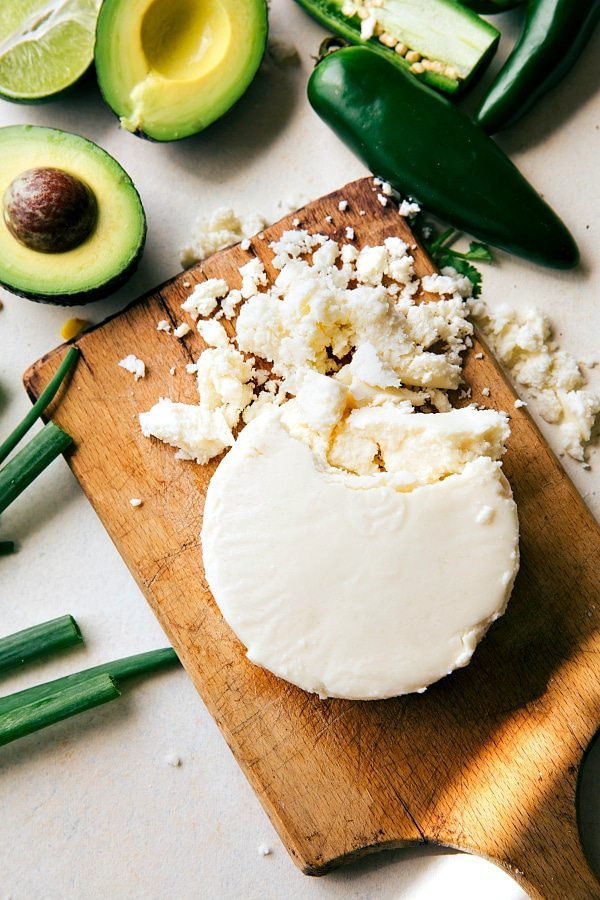 Cheese
And now lets talk cheese for a second. For more authentic Mexican Street Corn you are going to want to use Cotija cheese. It's typically near speciality cheeses in the grocery store. An easy alternative is Queso Fresco cheese which is generally near mozzarella and refrigerated tortillas in the grocery store. A last resort that will still work fine is feta cheese.
Preparing the corn
The CORN which is the star of this Mexican Street Corn Pasta Salad. There are a couple of options for the corn in this salad.
One is going to authentic route and grilling the corn until lightly charred all over. If you have a grill and the extra time, I would highly recommend going this route — it is incredible what freshly grilled corn does for this salad.
Another option: buy pre-roasted canned corn (near regular canned corn in the grocery store) and use 2 cans of that drained.
Another option: buy just regular canned corn and roast it for a few minutes on the stovetop. More details on how to do that here.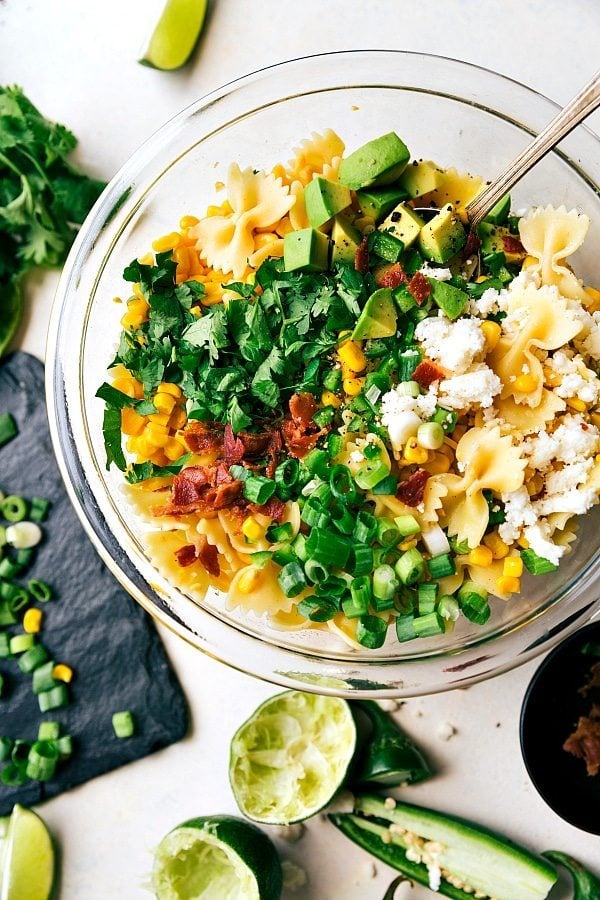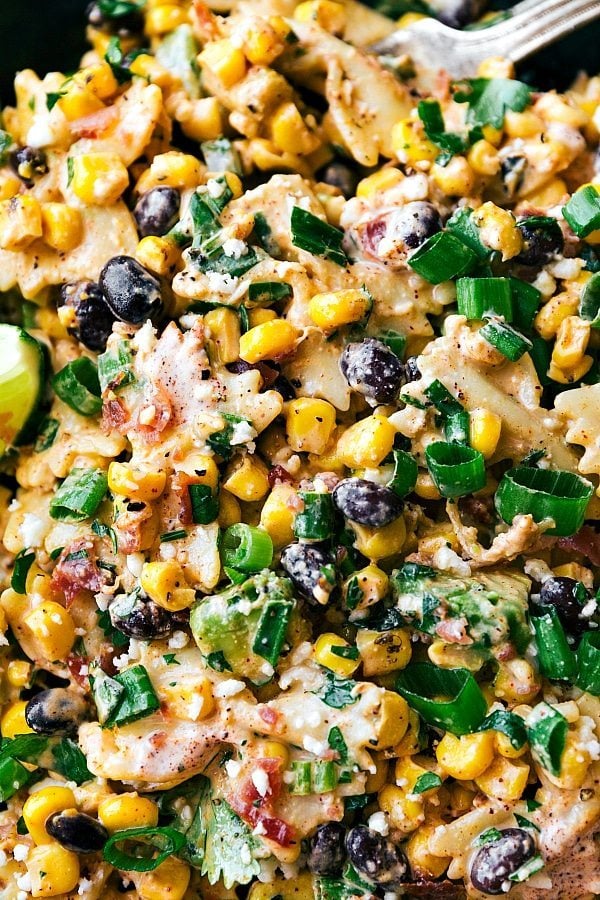 Similar recipes: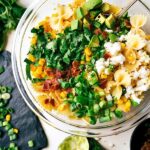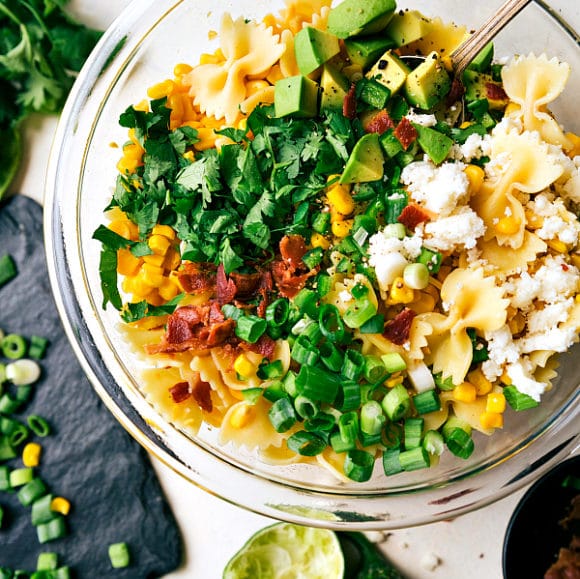 Mexican Street Corn Pasta Salad
A delicious Mexican Street Corn Pasta salad with tons of veggies and a simple creamy chili-lime dressing.
Keyword:
Mexican Street Corn Pasta Salad
Ingredients
Salad
2

cups

miniature farfelle pasta,

uncooked

3

cups

either 2 (15-ounce) cans, or 3-4 corns on the cob

1

large avocado

3

green onions

1/2

bunch cilantro

1

tablespoon

finely chopped jalapeno

6-8

strips hardwood smoked bacon

1/2

cup

Queso Fresco Cheese

(or cotija or feta -- add cheese to preference (we like ~1/2 cup depending on the cheese used (cotija is saltier so use less))

Optional: 1/2 canned cup black beans
Dressing
1/2

cup

full fat regular mayo

no substitutes

3

tablespoons

freshly squeezed lime juice

and 1/4 teaspoon lime zest

1/8

teaspoon

ground cumin

1/4

teaspoon

paprika

1/2

teaspoon

chili powder

1

teaspoon

Sriracha or hot sauce

Pinch of salt and ground black pepper
Instructions
Cook the pasta according to package directions. Drain and rinse under cold water. Make sure the pasta is completely dry.


Corn: if using corn on the cob: Heat the grill to medium. Pull back the husks to the base and take off all the silk from each ear of corn. Fold back the husks into place.


Place the ears of corn in a large bowl of water with 1 tablespoon of salt for 10 minutes and then remove from water and shake to dry. Place the corn on the grill, cover the grill, and cook for 15-20 minutes turning the corn every 5 minutes.


You'll know the corn is done when the kernels are tender and easily pierced with a fork.


Alternative #1: use pre-roasted canned corn -- drain and allow to dry. Alternative #2: use regular canned corn: heat a large cast iron skillet on medium high heat for 3-4 minutes or until very hot. Drain corn and place in a single layer and cook for about 5 minutes stirring once in between or until browned. Avoid stirring too often as this will keep the corn from getting a good roast.


Meanwhile prep the veggies: chop the avocado into small pieces, chop the green onions, coarsely chop the cilantro, very finely chop the jalapeno, and cook then crumble the bacon. Crumble the cheese. Add black beans if desired.


In a large bowl combine the completely dry and cooled pasta, cooled corn, avocado, onions, cilantro, jalapeno, bacon, and cheese. **If you don't plan on eating this in one sitting and immediately after making, don't add the bacon, cheese, or avocado. Add those in separately right before enjoying.**


In a small bowl combine all of the dressing ingredients and whisk together until completely combined.


Toss with the salad and enjoy!
Recipe Video
Recipe Notes
The focus of this pasta salad is more on the corn that the pasta. If you want a more "pasty-y" salad, increase by 1 cup dry noodles. You will also probably want to do more dressing.