Our favorite crispy chicken salad with an easy (5-ingredient) honey BBQ dressing. This salad recipe can be made in 25 minutes or less with a few shortcuts!
This salad is packed with great flavors and amazing textures – you won't be disappointed!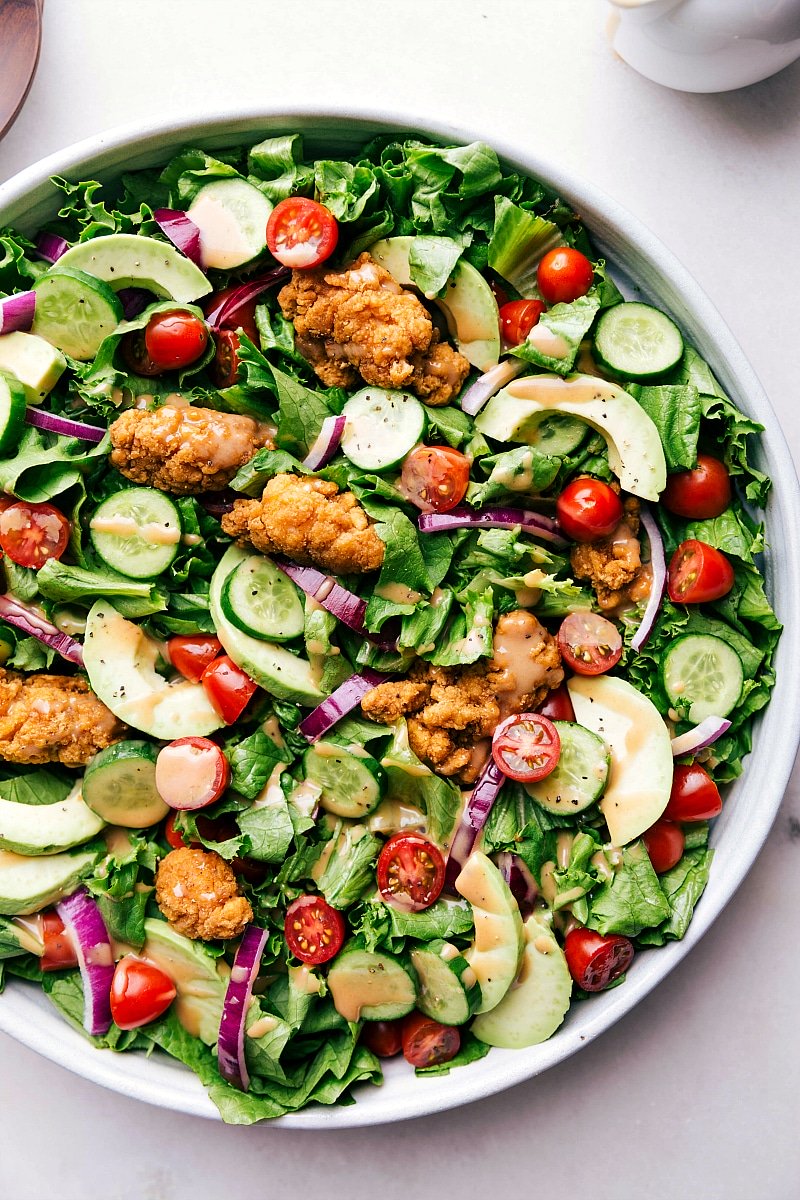 Crispy chicken salad
This salad has it all: crispy and succulent chicken bites, creamy avocado, crunchy cucumbers, pungent red onion, and juicy tomatoes all topped on a bed of romaine lettuce. But for a salad to be a showstopper in my book it needs more than just that. The key to a delicious salad is the dressing and this honey BBQ dressing is exactly that. It's creamy, tangy, slightly sweet, and the perfect complement to every component of this salad.
Now at this point you might be wondering how much work this delicious salad is going to take to prepare. And to that I have great news: this is one of the QUICKEST salad recipes on my website. And that is coming from a website that aims to deliver relatively quick prep times!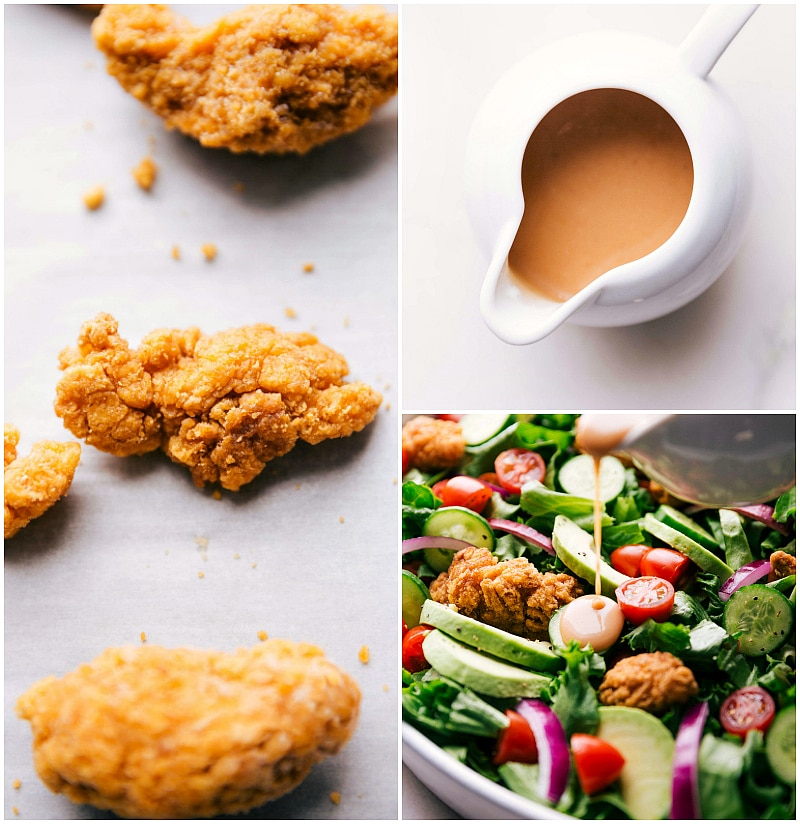 This salad has a fast prep time!
So how is that possible? Well, first off, the dressing requires only five ingredients. It's a whisk everything in a bowl kind of dressing that requires hardly any effort. The veggie prep isn't anything too crazy:, halving cherry tomatoes, slicing cucumbers and avocado, and cutting up a red onion. But the real secret is the chicken.
Instead of spending upwards of 30 minutes to an hour to make crispy chicken from scratch, I'm using store bought crispy chicken. We warm it through in the oven, slice it up thinly for the salad, and voila.
Told you this crispy chicken salad is easy!
The shortcut? Store-bought chicken tenders
While I'm no expert at store bought crispy chicken tenders (I don't buy it all that often truthfully), Taste of Home shares the best chicken to use for this recipe. I personally use Tyson's crispy chicken strips for this salad (not sponsored). I do highly recommend baking the chicken tenders, not microwaving for this salad. Let them slightly cool to a warm temperature and then thinly slice and add to the salad.
Crispy chicken salad make ahead tips
While this crispy chicken salad doesn't sit well once it's dressed, a lot of the components can be prepared ahead of time, stored separately, and assembled right before eating. Here's what I do:
Whisk together the dressing and transfer to a mason jar. The dressing stores well in the fridge for 5-7 days. Whisk with a fork to recombine as needed.

You can tell if the dressing is bad by smell; as soon as it starts to smell "off" it's best to toss it. But with this one, I don't think leftovers are going to be a problem 🙂

Prep the veggies: the romaine, cucumber, tomatoes, and red onion can all be cut and stored in Tupperware or bags in the fridge. While you can store the ingredients together, I like to store them separately (especially the red onion).
Then when it's time to assemble the salad: all you need to do is cook up the chicken and slice the avocado. Then toss everything together and drizzle with dressing.
Taking away the red onion "bite"
Not a fan of how pungent red onions can be? You can take away the "bite" in a few easy steps: peel and slice the red onion according to the recipe and then submerge the pieces in a bowl of cold or ice water. Let them sit for at least ten minutes, stirring once or twice, before draining and using in this crispy chicken salad.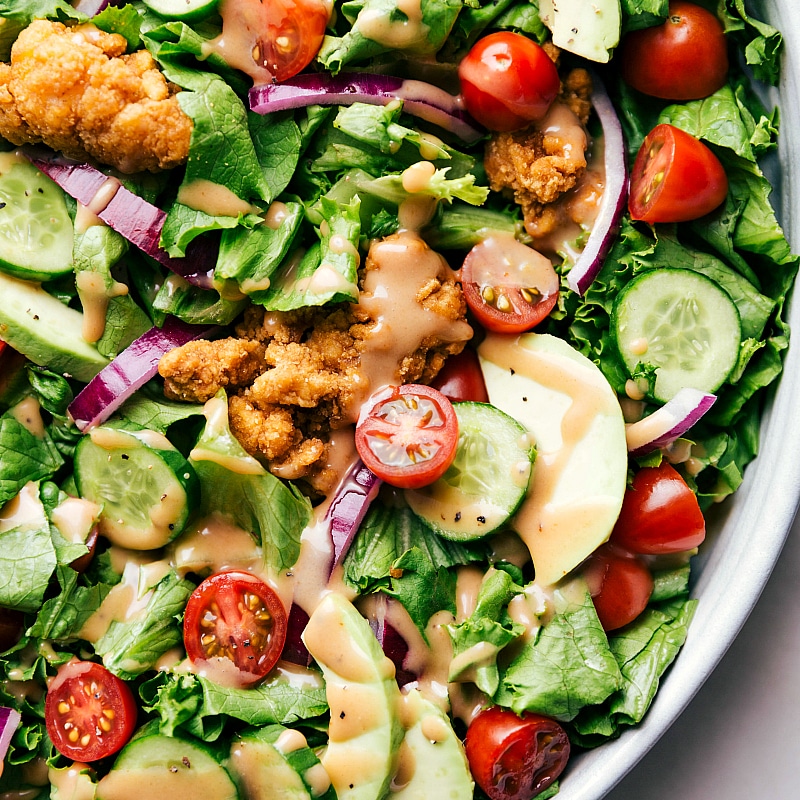 More salad recipes: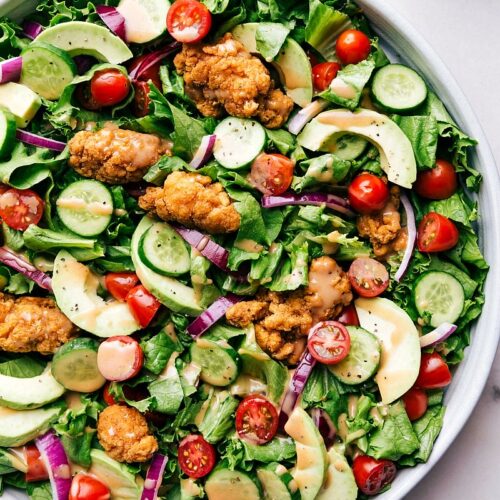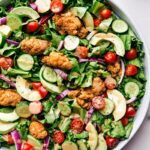 Crispy Chicken Salad
Our favorite crispy chicken salad with an easy (5-ingredient) honey BBQ dressing. This salad can be made in 25 minutes or less with a few short-cuts!
Keyword:
crispy chicken salad
Servings
:
3
-4 servings (as a meal)
Ingredients
Chicken
2

cups

store-bought crispy chicken strips,

sliced (Note 1)
Salad
8

cups (~2 hearts)

chopped romaine

(chopped into bite-sized pieces)

1

cup

cherry tomatoes,

halved

1

cup

persian or English cucumber,

thinly sliced (Note 2)

1/2

cup

thinly sliced red onion

(Note 3)

1

large (or 2 medium)

ripe avocados,

thinly sliced or chopped

Optional: 1/3 cup honey roasted or plain toasted almonds

(Note 4)
Honey BBQ Dressing
2

tablespoons of EACH

good quality BBQ sauce and honey

1/4

cup

regular full fat mayo

1

tablespoon of EACH

dijon mustard and apple cider vinegar

Fine sea salt & freshly cracked pepper
Instructions
CHICKEN: Start by preparing according to package directions. Let cool to warm and then thinly slice.

SALAD: Chop the romaine, wash, and make sure it is thoroughly dried before adding to a bowl (wet lettuce won't allow the dressing to adhere). Add completely dried romaine to a large bowl. Add halved cherry tomatoes, thinly sliced cucumbers, sliced red onions, and sliced avocado to the bowl OR to individual plates. Add the sliced chicken on top. Drizzle with the dressing (see next step to prepare), toss to combine, and serve immediately!

DRESSING: Whisk the ingredients for the dressing along with a big pinch of salt and black pepper. Whisk until smooth. If not using immediately, transfer to a mason jar and store in the fridge. (Leftovers stay good for 5-7 days).

STORAGE: Dressed salad doesn't sit well, if you want to have leftovers or make ahead, store the dressing separately from the salad.
Recipe Video
Recipe Notes
Note 1: I use Tyson Crispy Chicken Strips (not sponsored) which cook up in about 18 minutes. Make sure to cook them in the oven not the microwave 🙂 Use whatever chicken tenders you like; you can even do homemade chicken strips. Unless their little, you'll want to slice the chicken up so they can be evenly dispersed throughout the salad.
Note 2: I like English or Persian cucumbers; if the cucumber you get is extra wide you'll want to cut them into half moons.
Note 3: You can take away the "bite" of the red onions by submerging the pieces in a bowl of cold or ice water. Let them sit for at least ten minutes, stirring once or twice, before draining and using in this crispy chicken salad. 
Note 4: Not pictured or in the video, but we've been adding these almonds (<click on almonds) the last few times we've eaten this salad and they're so good!