A delicious Italian chicken pasta salad with an easy 2-ingredient dressing!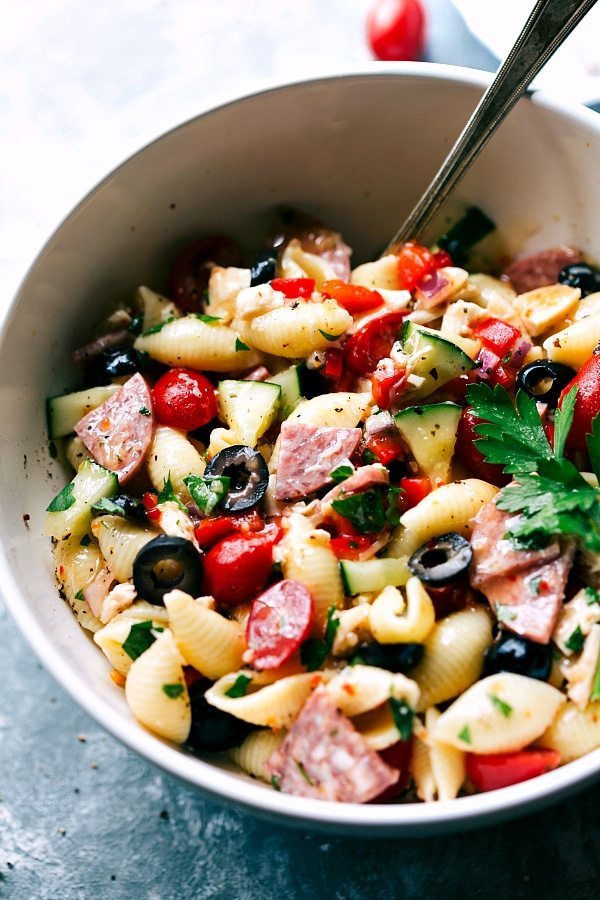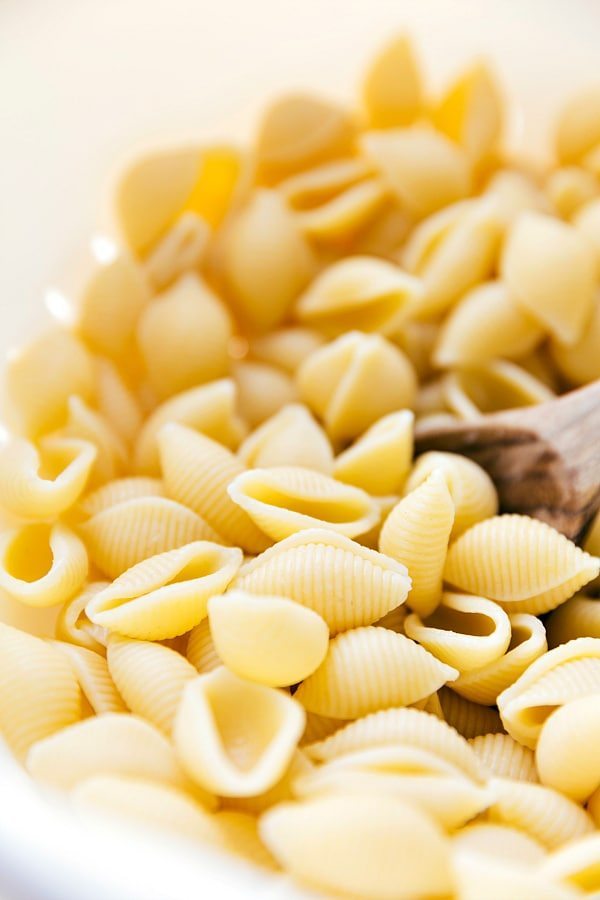 This salad is really quick to make. The veggie prep isn't too time intensive especially with a little hack I'm so excited to show you.
It's best explained in the video right above the recipe, but this hack works for halving lots of things — cherry tomatoes (obviously), grapes, olives, strawberries, etc.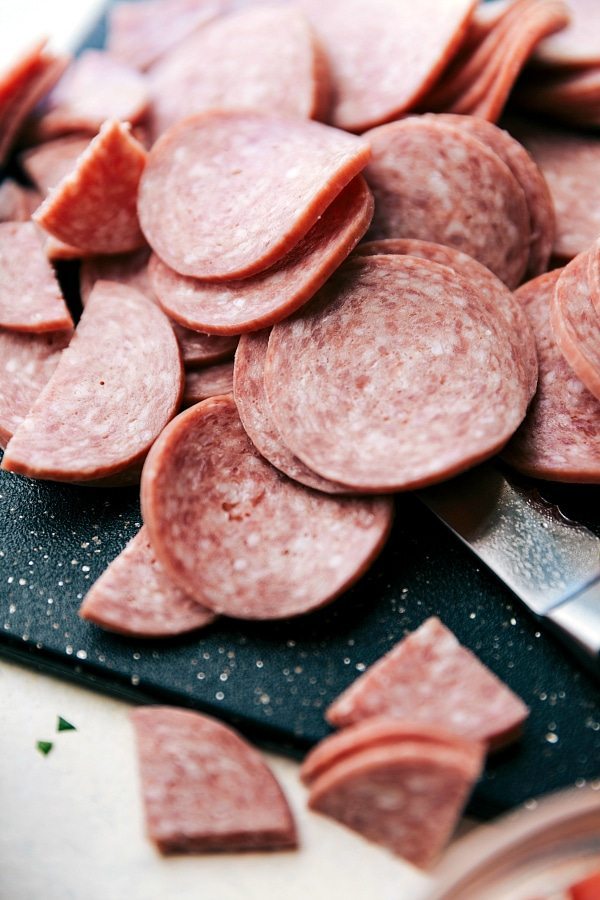 Basically all you need is 2 plates with footed bottoms and a very sharp serrated knife. You flip one plate upside down, place the tomatoes in the bottom section and then another plate right side up on top of the tomatoes. Push your top hand down on top of the plate applying a good amount of pressure and then cut through the center of the tomatoes. Remove the top plate and voila tons of sliced cherry tomatoes with very little effort!
You can use this hack for the cherry tomatoes AND the olives (which I totally forgot to add when I made the video, but don't worry they are in the recipe!)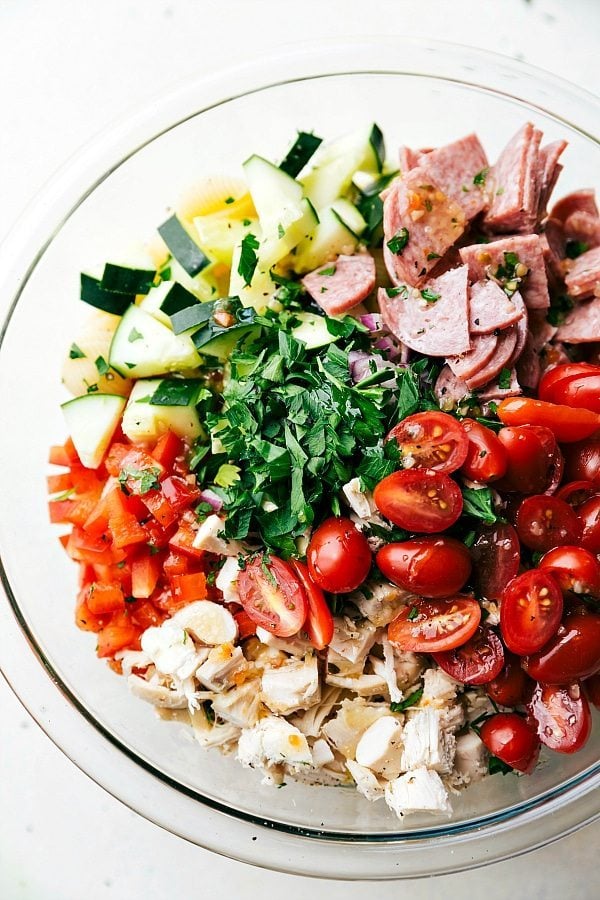 Other than that you'll only need to chop up the cucumber, pepper, and parsley for the veggies.
The meat prep is easy thanks to pre-cooked chicken! We use a rotisserie chicken in this salad both for ease AND delicious flavor.
My grocery store sells rotisserie chicken that they have already removed the skin and bones and shredded the chicken into large pieces. This makes the prep even quicker — a few coarse chops to the large shreds of chicken and it's ready to go. If you are in a hurry grab a rotisserie chicken that has already had it's skin and bones removed.
Another idea is to get a regular rotisserie chicken and enjoy it for dinner one night. Just save about a cup of meat and you'll be ready to make this later on in the week.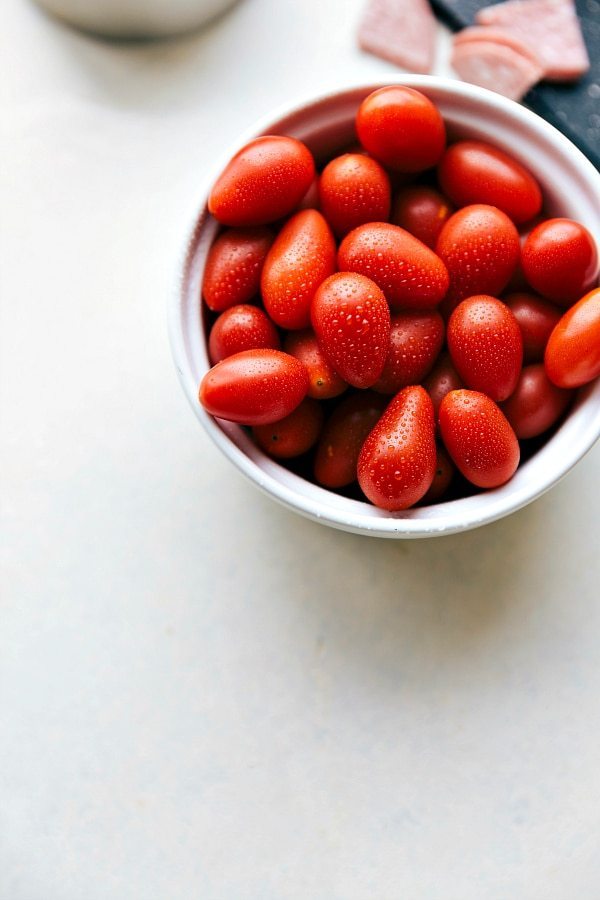 As far as the cheese, I use Parmesan cheese in this salad, but we've also tried and love feta cheese. Whichever you like better (or even a combination of the two) will be great!
The dressing is just two ingredients — prepared Italian dressing and a packet of Italian dressing mix. The packet intensifies the flavor and adds some extra spice to a big salad. Our favorite prepared Italian dressing is a Zesty Italian dressing. ?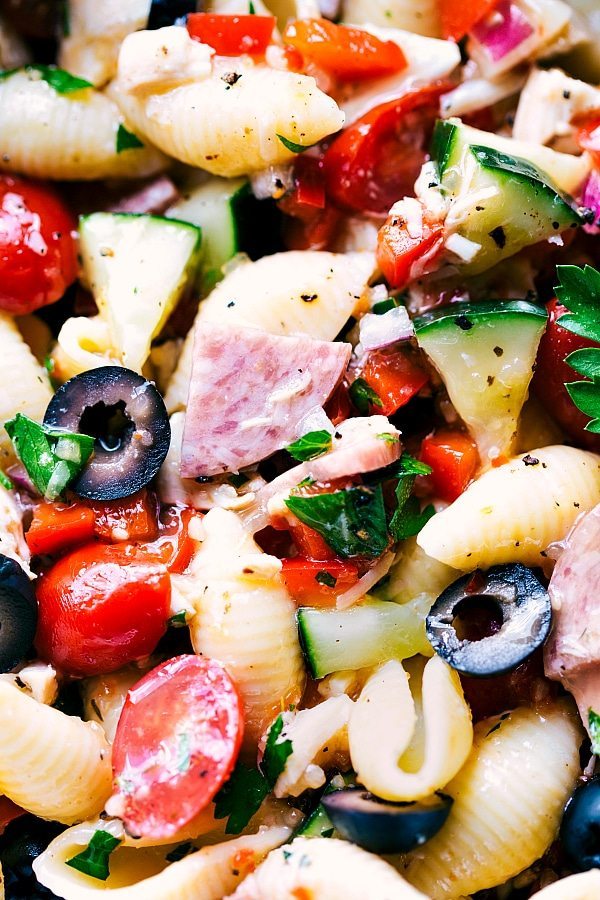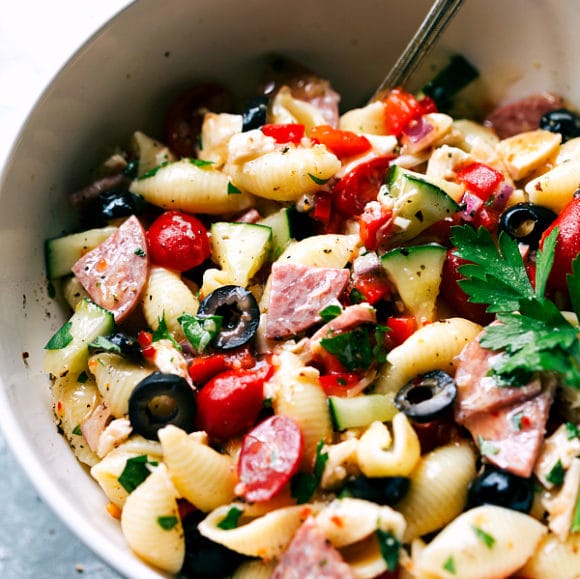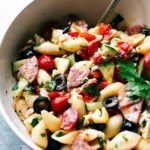 Italian Chicken Pasta Salad
Ingredients
3

cups

uncooked shells pasta

1

cup

rotisserie chicken

skin/bones removed

1/2

cup

hard salami

1

cup

cherry tomatoes

1/4

cup

flat leaf parsley

1/2

cup

black olives

1

red bell pepper*

1

cup

English cucumber

~ 1/2 of one

1/4

cup

red onion

1/3

cup

freshly grated Parmesan cheese

1 and 1/2 to 2 cups

cups

Zesty Italian dressing

fat-free or regular (calorie count for regular)

1

packages (.6 ounces)

Italian seasoning mix

dry
Instructions
Prepare the pasta according to package directions. Drain, rinse under cold water, and toss with 2 tablespoons Italian dressing. Set aside.

Chop the rotisserie chicken, chop the salami, halve the tomatoes (see video above recipe for a quick hack!), finely chop the parsley, halve the olives, chop the pepper, chop the cucumber, and dice the red onion.

Toss all the prepared veggies/meats with the pasta.

Add the grated Parmesan cheese, Italian dressing (start with 1 and 1/2 cups), and dressing mix.

Toss to combine and add more dressing as needed. Season with salt and pepper if desired.

Cover and chill for at least 30 minutes.

Enjoy!
Recipe Notes
*Use a roasted red pepper for extra flavor!
More delicious pasta salads to try!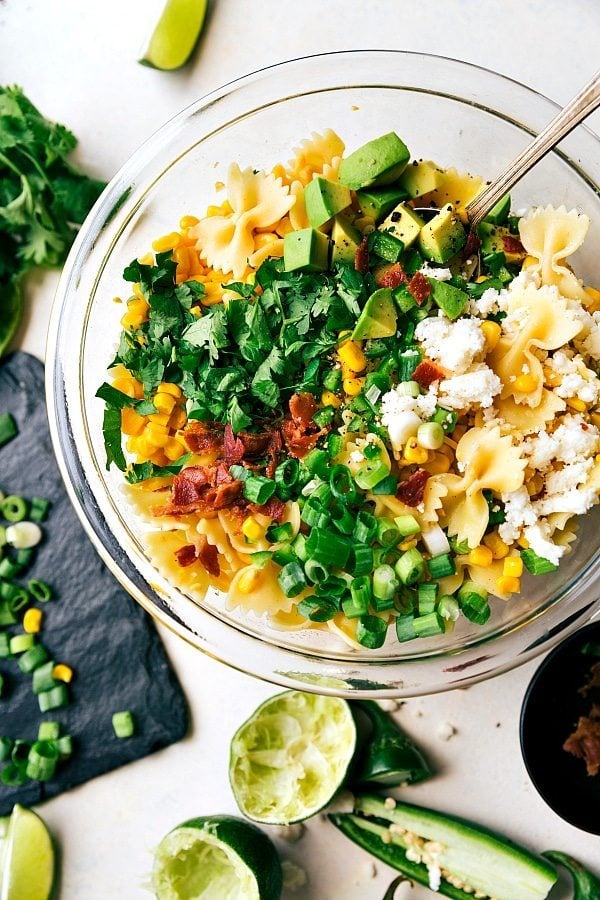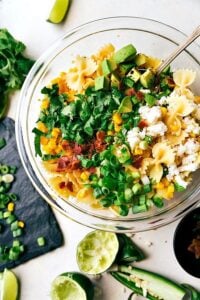 Mexican Street Corn Pasta Salad