Easy Greek tortellini pasta salad with a healthier (no mayo) dressing. Feta, cucumbers, cherry tomatoes, red onions, kalamata olives, and delicious cheese-filled tortellini.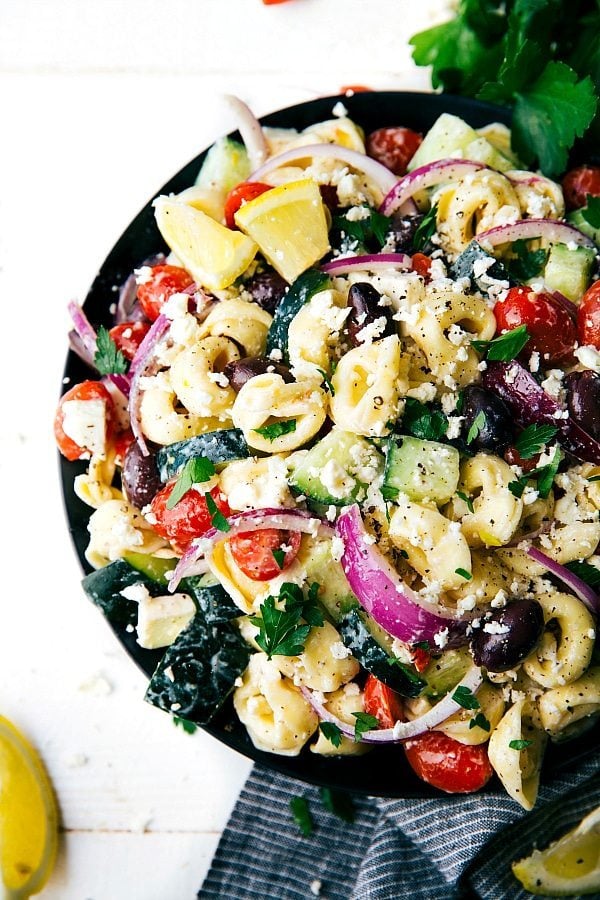 How was your long weekend? I'm still kind of on a long weekend…we are on a little vacation right now in St. George! We thought we'd come down this week and have some fun as a family. And the boys are loving the trip so far.
We discovered Bentley is a total water baby and would "swim" all day if we let him. Swimming entails me holding him in the water while getting nonstop face splashes. Grey thinks it's hilarious how high the baby can splash. Or maybe just that I'm constantly being splashed on. Who knows.
We also spent some time in the children's museum down here and discovered how great of an example I am when Grey spent 90% of the time in the grocery store section of the museum. Just guess what he loaded in his mini cart? 3 cartons of ice cream you guys. (And that's all they had or I'm sure he would have gotten more.) What can I say? I don't think we ever go grocery shopping without getting some ice cream… ?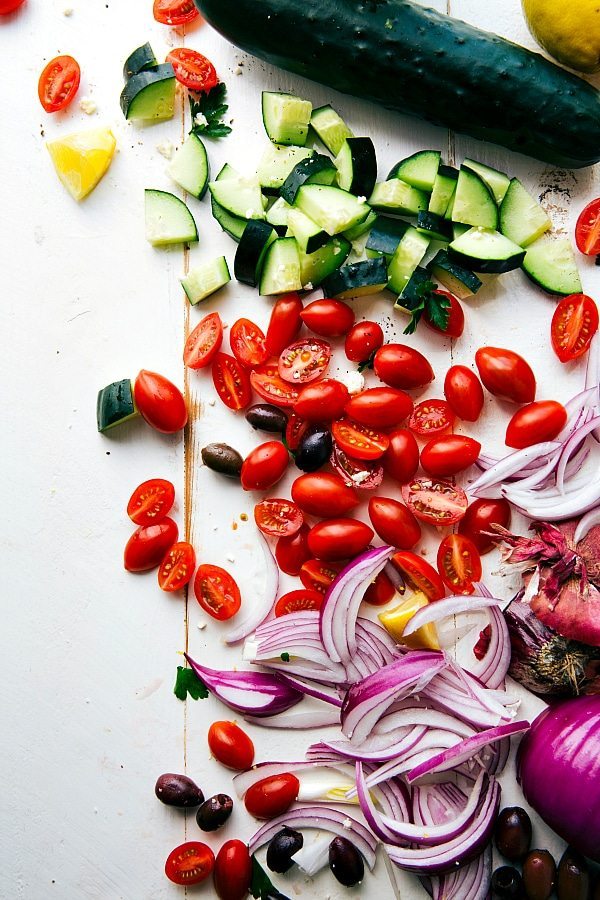 Grey has been so used to long sleeves and long pants from the winter that he had a minor freak-out when we dressed him in some weather-appropriate clothes. In the 90+ degree weather he wanted his long jeans and long sleeved-shirts. ?
He's convinced we are dressing him in "broken clothes" as he calls it when we put on shorts and a t-shirt. Turns out his wardrobe has been quite stressful this short trip.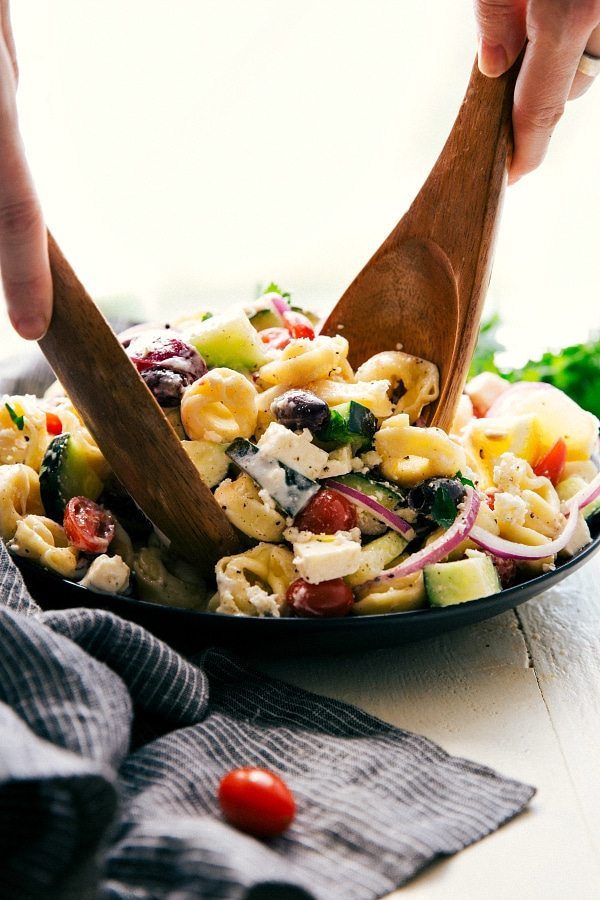 We've done tons of hiking and equal parts eating. There is a famous custard shop down here that we've already visited twice. Chocolate-oreo-caramel custard is absolutely my new favorite treat.
Obviously we had to go twice because we didn't order enough the first time. My toddler eats the custard faster than I can so sharing is definitely no longer an option there if I want more than 1-2 bites.
We also went to a delicious sandwich/salad shop that my sister-in-law recommended. I noticed on the menu they had a Greek pasta salad — salad, noodles, red onions, tomatoes, olives, broccoli, lots of feta cheese and a delicious vinegar based dressing. As soon as I saw it I thought about this recipe which I'd made and photographed a few weeks ago (that had been inspired from my other Greek salad recipe) but hadn't shared with you yet. Instantly I was craving that and so I order that and it did not disappoint.
These veggies with the dressing, the hint of lemon, and most especially the PASTA is an amazing combo. I'm 100% certain this is the first thing I'll be making when we get back home! And I may even add some broccoli like the one from the restaurant had because it was so delicious.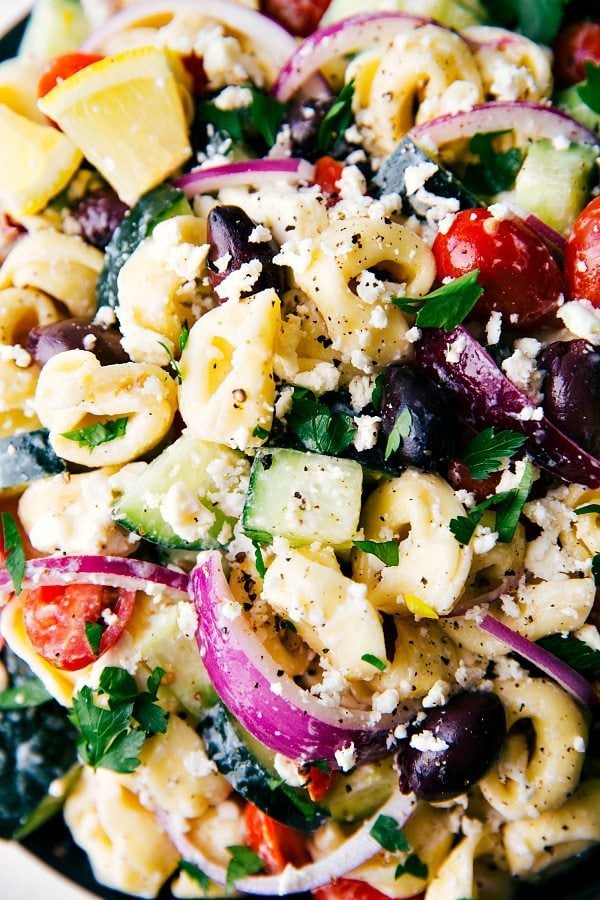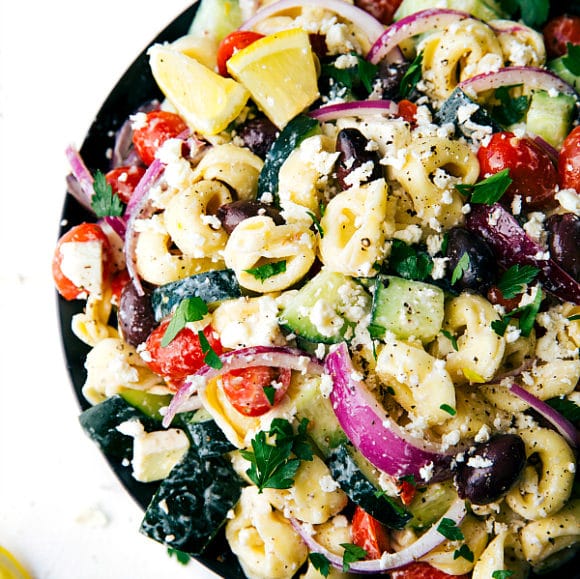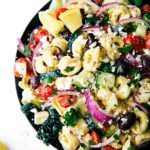 Easy Greek Tortellini Pasta Salad
Servings
:
6
-8 as a side dish
Ingredients
1

package (16 ounces)

frozen cheese-filled tortellini

1/2

cup

thinly sliced red onion

1

cup

cucumber

chopped

1

cup

cherry tomatoes

halved

3/4

cup

kalamata olives

halved or sliced

1

cup

feta cheese

Optional: fresh parsley
Dressing
1

lemon

1/4

cup

+2 tablespoons red wine vinegar

1 & 1/2

teaspoons

minced garlic

1

teaspoon

white sugar

2

teaspoons

dried oregano

1/2

cup

olive oil

Fresh cracked pepper

to taste
Instructions
Prepare the tortellini according to package directions. Drain and rinse under cold water and set aside.

Meanwhile prepare the veggies: thinly slice the red onion, chop the cucumber (peel if desired, I like to leave the skin on), halve the cherry tomatoes, halve or slice the olives, crumble or cut the feta cheese into chunks.

Toss together the completely cooled tortellini with all the veggies and add in some chopped fresh parsley if desired (I add in like 3-4 tablespoons).

Prepare the dressing by combining all of the ingredients in a sealable jar. For the lemon, zest it to get about 1/2 teaspoon lemon zest and then juice it to get 2 teaspoons lemon juice. Shake all of the ingredients together until well combined.

Toss the chilled salad with the dressing, some fresh cracked pepper, and a pinch of salt if needed. Chill covered for at least one hour (best at 2-3 hours). Toss again and enjoy!
Recipe Notes
Cook time refers to chilling time
More delicious pasta salads: