The best cilantro-lime taco seasoned grilled chicken with a mango avocado salsa.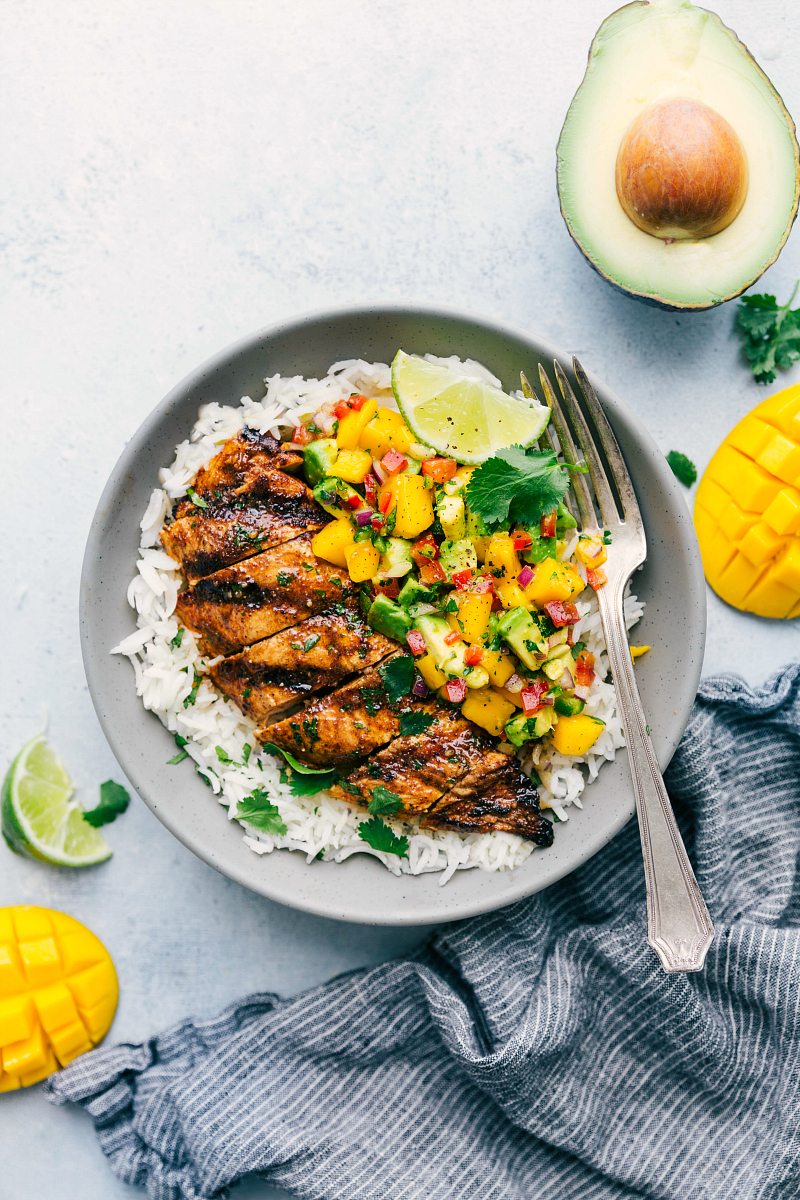 The marinade for this cilantro-lime chicken is the absolute best! It's easy to whip together and so dang flavorful! The best part is, tons of the ingredients from the marinade overlap for the mango avocado salsa making it the perfect accompaniment to the chicken. This cilantro-lime chicken is packed with flavor and when grilled correctly (tons of tips below!) will leave you with mouthwatering, juicy chicken. Which isn't always easy to say for chicken breasts 🙂
This cilantro-lime chicken with a mango avocado salsa is easy enough to make for a weeknight dinner, but impressive enough to share with guests. It's fresh tasting and perfect for a hot summer day.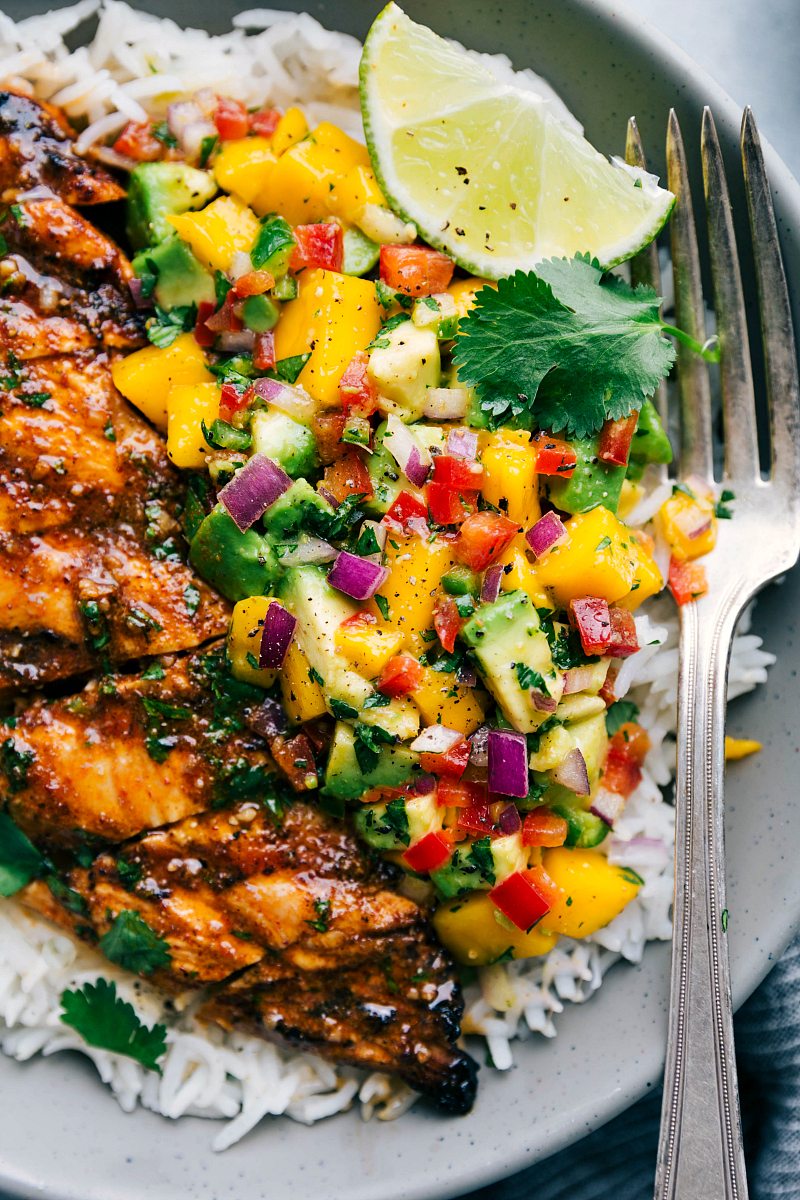 A few tips to get the best grilled cilantro-lime chicken:
Make sure to slice in half (or pound) your chicken breasts into very even pieces before marinating. That way they've soaked up all the delicious flavor from the marinade and are right ready to go on the grill AND to cook evenly.
The other way to add some of the delicious marinade flavor is to brush it on the chicken as you grill. In the recipe I call to reserve some of that marinade and you'll brush it over the chicken as it grills. Be generous with brushing on the marinade for a big flavor addition!
Generously OIL your grill grates. When the grill is fully heated, clean it well with a wire brush, and then roll up a few paper towels, drench them in oil (I use canola), and (using tongs that are holding the paper towel wad), rub it along the grill grates generously. Cleaning the grill and brushing it with oil will give your chicken gorgeous grill marks and contribute to a beautiful sear.
Make sure the grill is completely heated before you add your meat. High heat is going to sear the surface of the meat which will give you a juicier chicken.
Use a meat thermometer. The best way to ensure your meat is perfectly cooked is to use a meat thermometer. Chicken is cooked at 165 degrees F. I like to take it off around 160 degrees as it will cook the last bit as it sits for a minute.
Let the meat rest for 5-10 minutes before cutting in!
While you've got that perfectly marinated cilantro-lime chicken grilling, you can whip together the mango avocado salsa.
This avocado mango salsa is absolutely incredible. If you get super fresh and ripe mangoes + avocados you'll end up with a salsa that's sweet, creamy, and so delicious! The salsa not only has an outstanding texture, but the flavor is the best! The sweetness of the mango and the orange juice perfectly balances the tang of all the cilantro and lime flavors throughout the chicken and the salsa.
Top the grilled cilantro-lime chicken with a few spoonfuls of the salsa and serve it over some cilantro lime quinoa or rice for one amazing meal!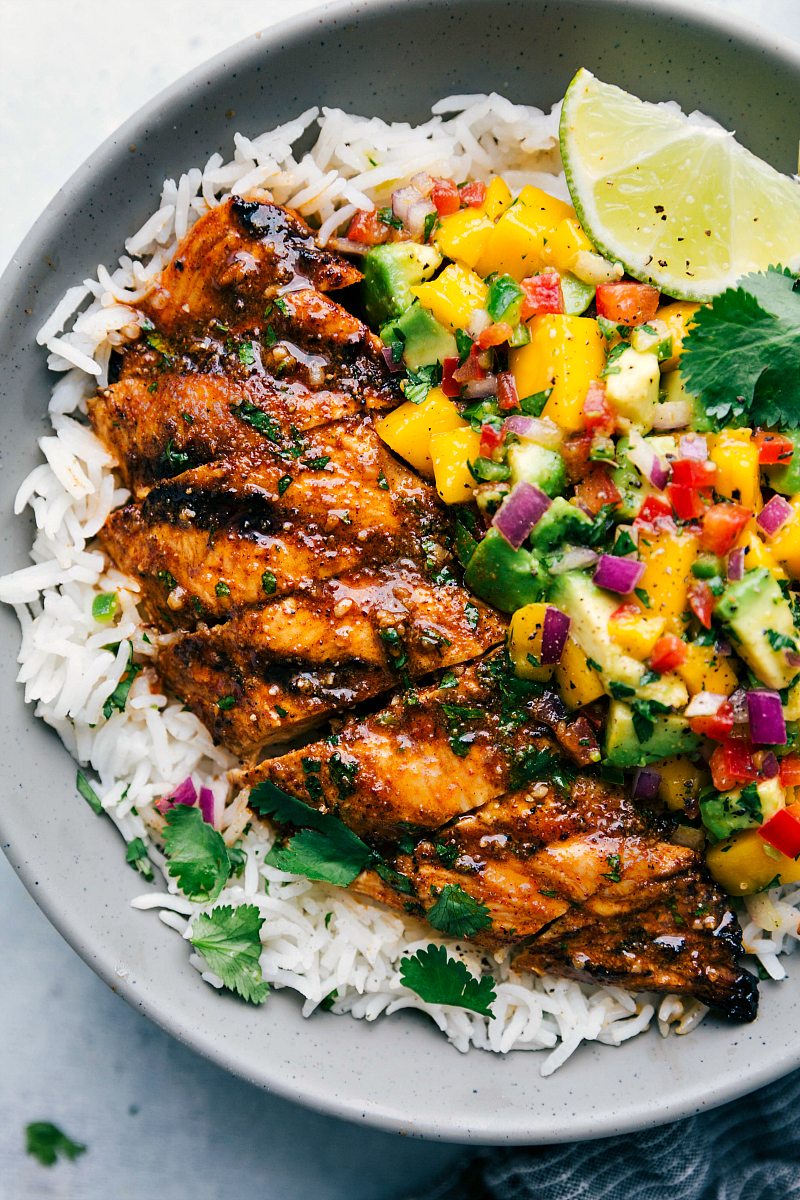 More delicious chicken recipes:
Helpful Visual Guide: check out how to cut a mango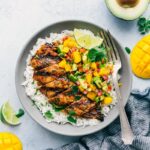 Cilantro-Lime Chicken with a Mango Avocado Salsa
The best cilantro-lime chicken with a mango avocado salsa.
Ingredients
Chicken Marinade
1 and 1/2

pounds

boneless skinless chicken breasts

3/4

cup + 1 tablespoon

freshly squeezed orange juice,

separated

1/2

cup + 1 teaspoon

olive oil,

separated

1/3

cup + 2 tablespoons

freshly squeezed lime juice,

separated

1 and 1/2

teaspoons

lime zest,

separated

1

tablespoon

honey

1

teaspoon + 1/4 teaspoon

cumin,

separated

2 and 1/2

tablespoons

soy sauce

2

teaspoons

minced garlic

1/2

cup

coarsely chopped cilantro,

separated
Mango Avocado Salsa
1

ripe mango

1

ripe avocado

1/4

cup

finely diced red onion

1/4

cup

finely chopped red pepper

1

tablespoon

finely chopped jalapeno,

optional

Fine sea salt and freshly cracked pepper

Optional: cilantro-lime rice or quinoa (see recipe notes)
Instructions
Whisk together all of the marinade ingredients: 3/4 cup orange juice, olive oil, 1/3 cup lime juice, 1 teaspoon lime zest, honey, 1 teaspoon cumin, soy sauce, garlic, and 1/4 cup cilantro in a medium-sized bowl. Add salt and pepper to taste (I use about 1 teaspoon salt and 1/4 teaspoon pepper, but add to personal preference and reduce depending on sodium in soy sauce). Remove about 1/2 cup (put in an airtight container in the fridge for later) and pour the rest into a large sealable bag.

Trim the chicken of fat and pound the breasts to even thickness or slice in half to get evenly sized breasts and place in the bag with marinade.

Place in the fridge for at least 2 hours making sure to flip the bag halfway through the time it is in the fridge. I recommend marinating for 6-8 hours.

Lightly oil the grill grate and then place the marinated chicken (discard marinade in bag) on the grill.

Cook for 10-12 minutes turning as needed (depending on the size of your pieces) or until chicken juices run clear and internal temperature is at 165 degrees F.

As you flip and cook the chicken, brush it generously with the reserved 1/2 cup marinade occasionally.
Salsa
For the salsa, take the remaining 1 tablespoon orange juice, remaining 2 tablespoons lime juice, remaining lime zest, and remaining 1/4 cup cilantro and toss together.

(OPTIONAL: When grilling the chicken, also grill the mango. Brush with oil and grill on one side for about 4-5 minutes at medium-high heat.)

Chop the grilled mango and avocado into small bite-sized pieces. Add to the salsa along with the finely chopped red onion, red pepper, and jalapeno. Season the salsa to taste with pepper, salt, and remaining 1/4 teaspoon cumin. Toss together and add the remaining 1 teaspoon of olive oil if desired.

Serve grilled chicken over a bed of cilantro lime rice or quinoa if desired and add spoonfuls of the salsa to top. Enjoy immediately!
Recipe Notes
Cilantro Lime Rice/Quinoa:
1 cup quinoa or rice and 2 cups chicken stock, chicken broth, or water
1 tablespoon butter
1 large lime (2 tablespoons juice and 1 teaspoon zest)
1/3 cup finely chopped cilantro
Salt and pepper, to taste
Bring 2 cups of stock to a boil over medium-high heat. Stir in the butter and rice (or quinoa) and return to a boil. Reduce the heat to low, cover, and simmer until the rice (or quinoa) is cooked through and tender. Stir in the lime juice, lime zest, cilantro, and salt + pepper to taste.