Special thanks to Lee Kum Kee and their amazing Panda Brand® Oyster Sauce for sponsoring this post. We use it in these healthy Greek Meatballs.
Deliciously flavored and perfectly seasoned Greek Meatballs are served in a warm pita with fresh vegetables and an incredible lemon-herb sauce.
Pair these flavorful beef/lamb meatballs with a simple Greek salad or easy cucumber salad.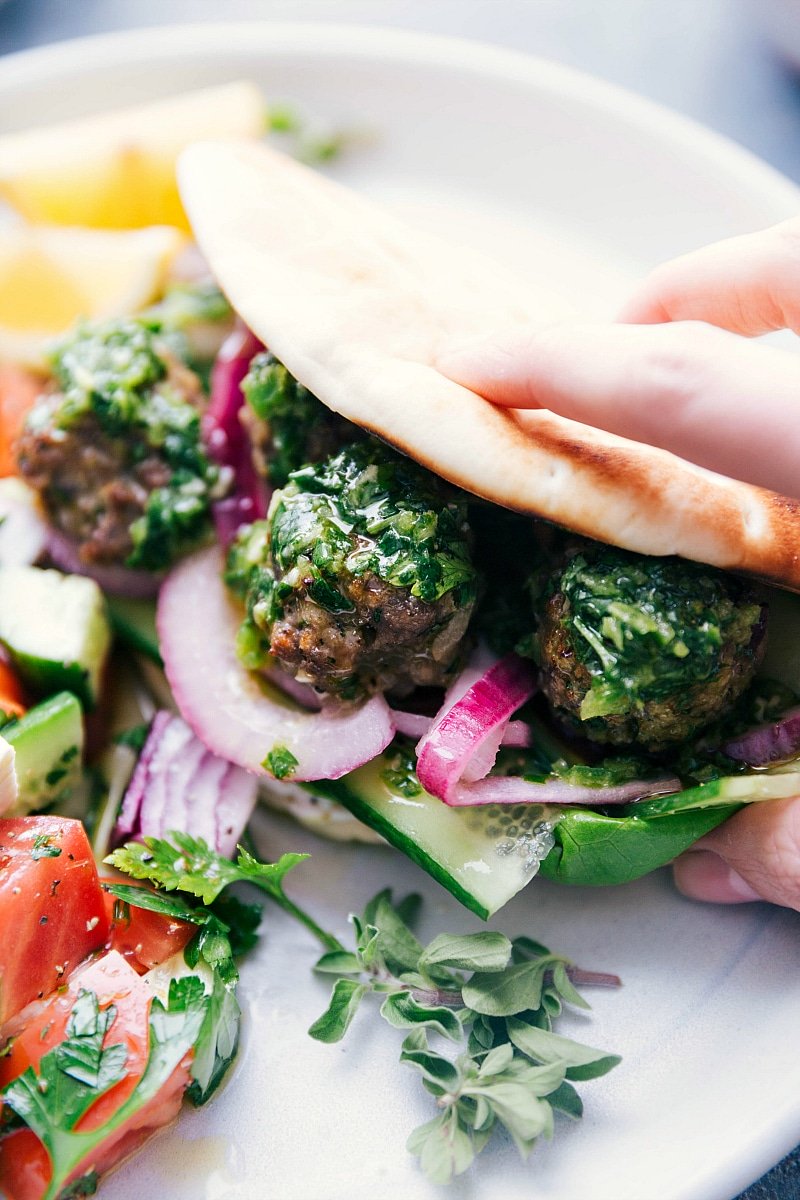 I am so excited to be sharing this easy-to-prepare, fresh, nutritious, and tasty meal with you today. It's a great recipe to have on hand when you're not sure what to make for entertaining during the holidays — Greek Meatballs are perfect for holiday entertaining!
While this recipe is loaded with nutrients, it's equally loaded with flavor. From the toasted pita bread to the perfectly seasoned and Mediterranean-inspired meatballs, to the crisp veggies and the herb-packed lemon sauce — this is a game changer of a meal. It's one of those recipes that's easy enough for a quick weeknight dinner, but impressive enough to serve (and wow) a large dinner party this holiday season.
So what's in these magical meatballs? Read on!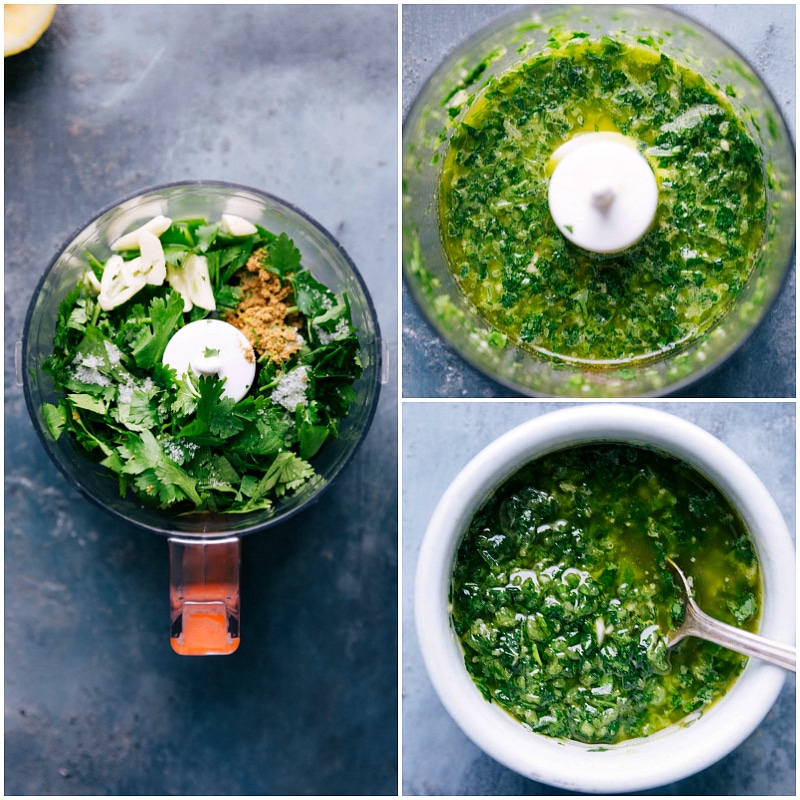 What's in are these delicious meatballs?
Ground lamb

: Ground lamb is a bit more authentic and the healthiest red meat, plus it offers a real dimensional flavor– but it's sometimes hard to access. Feel free to substitute ground beef if that's the case

. You can use either in this recipe.

Panko breadcrumbs

: I love using panko in meatballs; it makes them soft and juicer, while acting as a great binder. Panko is a Japanese-style breadcrumb and is usually found near other breadcrumbs or in the Asian food aisle of your store.

Parsley

: This herb adds so much freshness to these meatballs. Be sure to get the flat-leaf Italian parsley from the grocery store (with fresh produce).

Red onion

: While you can use any type of onion, red onion contributes a beautiful

mild

flavor in these Greek Meatballs.

Egg

: The egg helps bind the meatballs and also contributes to the overall flavor.

Oregano

,

garlic

,

salt and pepper

: All these ingredients help amp up the flavor.

Oyster Sauce

: Read all about this "secret" ingredient for these Greek meatballs below!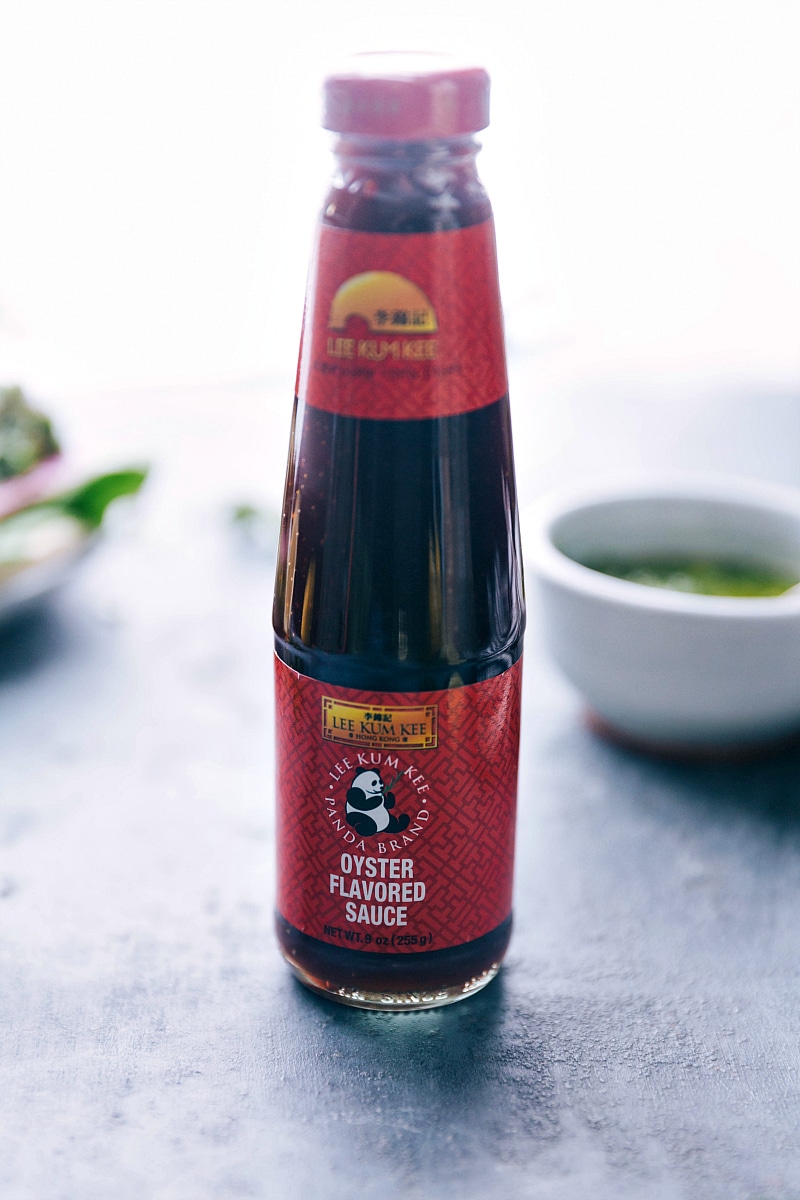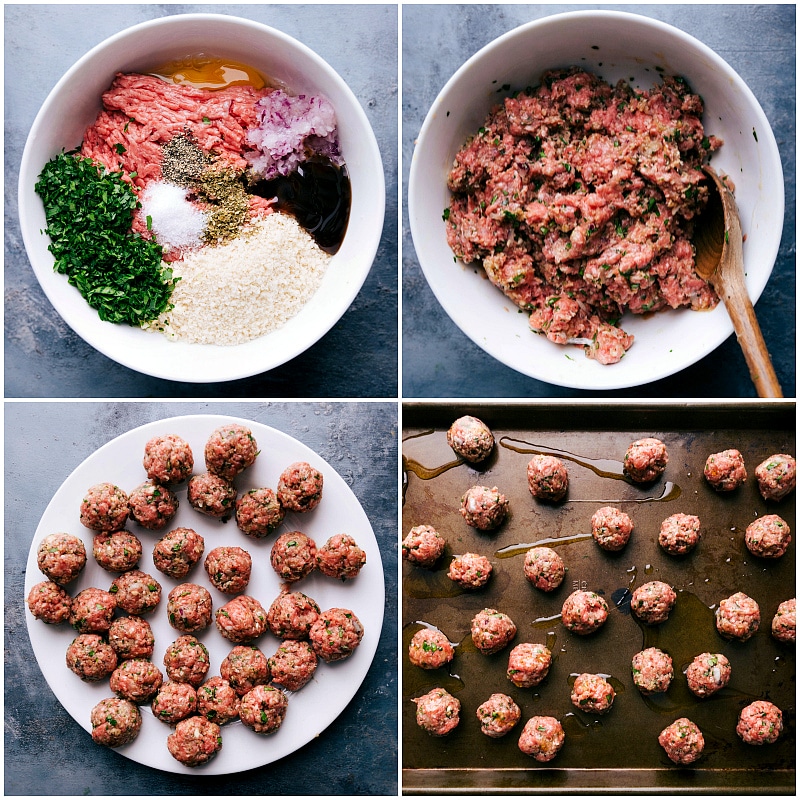 Serving suggestions
Greek Meatballs can be enjoyed in myriad ways, but I'm sharing our favorite today: loaded in a pita with fresh veggies, and a lemon-herb sauce.
And here are a few other ideas:
Serve meatballs with a side of

tzatziki sauce

and toasted

pita bread.

Add meatballs in or alongside a big salad; like this

Greek Quinoa Salad.

Serve meatballs over rice with a cucumber yogurt sauce and feta cheese.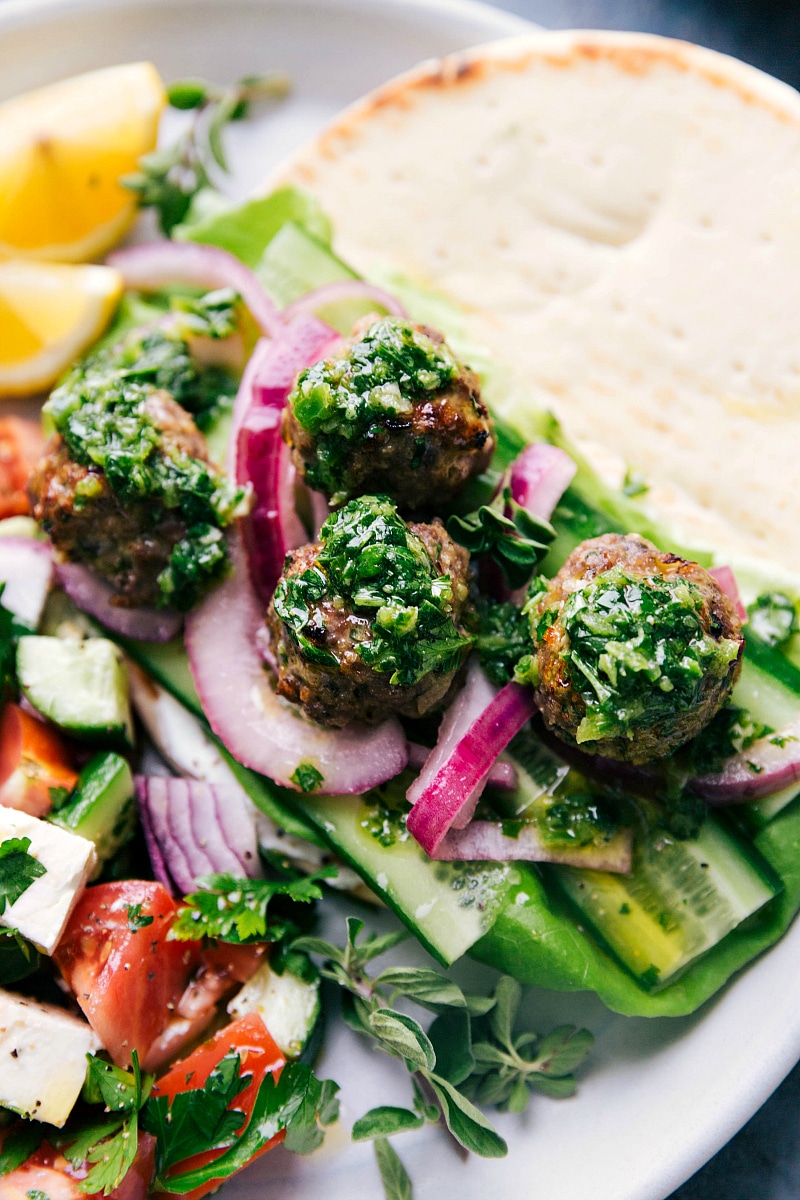 Greek Meatball tips
Keep the lamb (or ground beef) as cold as possible. Take

it out of the fridge right when you need it and be careful to not over-work it (which will also warm it up). This will ensure the meatballs are tender, juicy, and that the meat is not impossible to roll into balls.

Grate the red onion.

While this step is (admittedly) annoying, it gives these meatballs the best-possible taste and texture. You won't find large chunks of uncooked onions, but all the great flavor dispersed throughout.

Use a microplane.

I recommend grating the garlic on a microplane; this allows for a great even dispersion of garlic throughout the meatballs.

Grease the pan.

We broil these meatballs to cook them through (it's SO quick and easy) but make sure the pan is well greased so the meat doesn't stick.

Roll small, even-sized meatballs.

In order for these Greek meatballs to cook through in time and evenly, you want to ensure they're roughly the same size. This batch should make

30-32 meatballs

so they're about

1 and 1/4th inch wide

. Use a mini cookie scoop, if you have one, to make the process of rolling balls easier.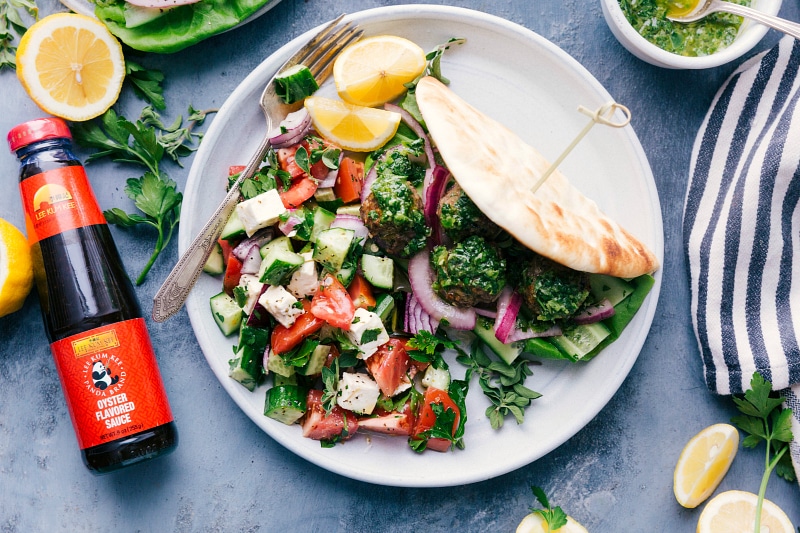 Storing leftover Greek Meatballs
Store Greek Meatballs (without the sauce) in an airtight container for 3-4 days in the fridge.
To freeze: Cook the meatballs according to directions in the recipe card and allow to completely cool. Place on a parchment paper-lined sheet pan, uncovered, in the freezer. Place in the freezer for one hour (or until frozen solid). Then transfer to a freezer-safe bag or container and make sure to label and date the meatballs. (Meatballs can be frozen for up to 3 months).
To reheat: Remove the container from the freezer and place meatballs on a foil-lined sheet pan. Bake for 15 minutes at 300 degrees F or until meatballs are fully thawed and heated through.
More delicious dinner recipes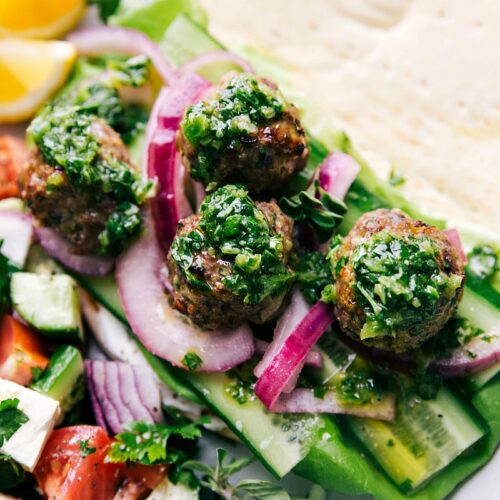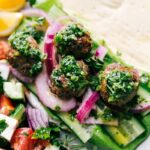 Greek Meatballs
Deliciously flavored and perfectly seasoned Greek Meatballs are served in pita bread with fresh vegetables and an incredible lemon-herb sauce.
Course:
Dinner, Main Course
Ingredients
Meatballs
1

pound

ground beef (85/15% fat)

(OR ground lamb)

1/2

cup

panko breadcrumbs

1/4

cup

freshly minced flat leaf Italian parsley

1/4

packed cup

coarsely grated red onion and their juices

(from about 1/2 onion)

1

large

egg

1 and 1/2

tablespoons

Lee Kum Kee Panda Brand Oyster Flavored Sauce

1/4

teaspoon

fresh ground black pepper

3/4

teaspoon

salt

1/2

teaspoon

dried oregano

1 and 1/2

teaspoon

minced garlic

(~2 cloves)

2

tablespoons

olive oil
For serving
6-8

pitas bread pockets,

cut in half

1

cup

whole milk plain Greek yogurt

3 to 4

Persian cucumbers,

sliced thinly lengthwise

butter lettuce leaves

Optional: pickled red onions

Note 1
Dressing
1/2

cup

parsley leaves and tender stems,

roughly chopped

1/2

cup

cilantro leaves and tender stems,

roughly chopped (or substitute mint)

1/3

cup

roughly chopped jalapeños,

seeded or not (leave seeds for heat, remove for more mild)

2

garlic cloves,

thinly sliced

1 and 1/2

tablespoons

freshly squeezed lemon juice

1/2

teaspoon

salt

1/4

teaspoon

ground cumin

1

tablespoon

water

5

tablespoons

olive oil
Instructions
PREP: Heat broiler with rack 4 inches from heating element. Lightly grease a sheet pan with nonstick olive oil spray.

MEATBALLS: In a large bowl, combine the ground meat, breadcrumbs, parsley, onion, egg, Lee Kum Kee Panda Brand Oyster Flavored Sauce, pepper, salt, oregano, and garlic. Mix until just combined, making sure not to overwork the meat. Roll meatballs into 1 and 1/4th inch meatballs (about 30-32 total meatballs). Place on prepared sheet pan and drizzle with 2 tablespoons oil. Place in the oven and broil, shaking pan and flipping meatballs over, every 2 minutes until cooked through (until thermometer reads 160 degrees F for beef). This takes anywhere from 4-8 minutes. Start checking temperature at 4 minutes.

LEMON-HERB SAUCE: Meanwhile, place the parsley, cilantro, jalapeños, garlic, lemon juice, salt, cumin, and 1 tablespoon water in a mini food processor or blender. Pulse until mixture is evenly chopped, scraping down sides as necessary. Stir in the oil. Taste and add more salt or lemon juice as desired.

SERVE: Lightly toast pita bread (Note 2). Spread 2 tablespoons Greek yogurt inside each pita and sprinkle with salt to taste. Layer in lettuce, meatballs, and cucumber slices. If desired, add in pickled red onions (Note 1). Drizzle lots of sauce over the pitas and enjoy immediately.
Recipe Notes
Note 1: We love pickled red onions on these, and here's my super-simple version: Slice half of a red onion and place in a bowl. Top with 1 teaspoon fine sea salt and 2 tablespoons red wine vinegar. Toss every 3-5 minutes or so until softened (about 20-30 minutes). I usually start these first and stir throughout the process.
Note 2: To toast the pita bread, spray both sides of the pita with olive oil cooking spray and char directly over the gas flames (at medium to medium low heat) for a few seconds. Use tongs to flip until pitas are lightly charred.