Deliciously seasoned roasted vegetables with an incredible seasoning blend. We make these roasted veggies at least once a week at my home — they're great served alongside a meat-heavy dish or prepared ahead of time for healthy meal prepping during the week.
These roasted vegetables make the perfect side dish to this crazy popular crockpot chili! OR use this chicken marinade recipe to grill up some chicken and serve with these veggies!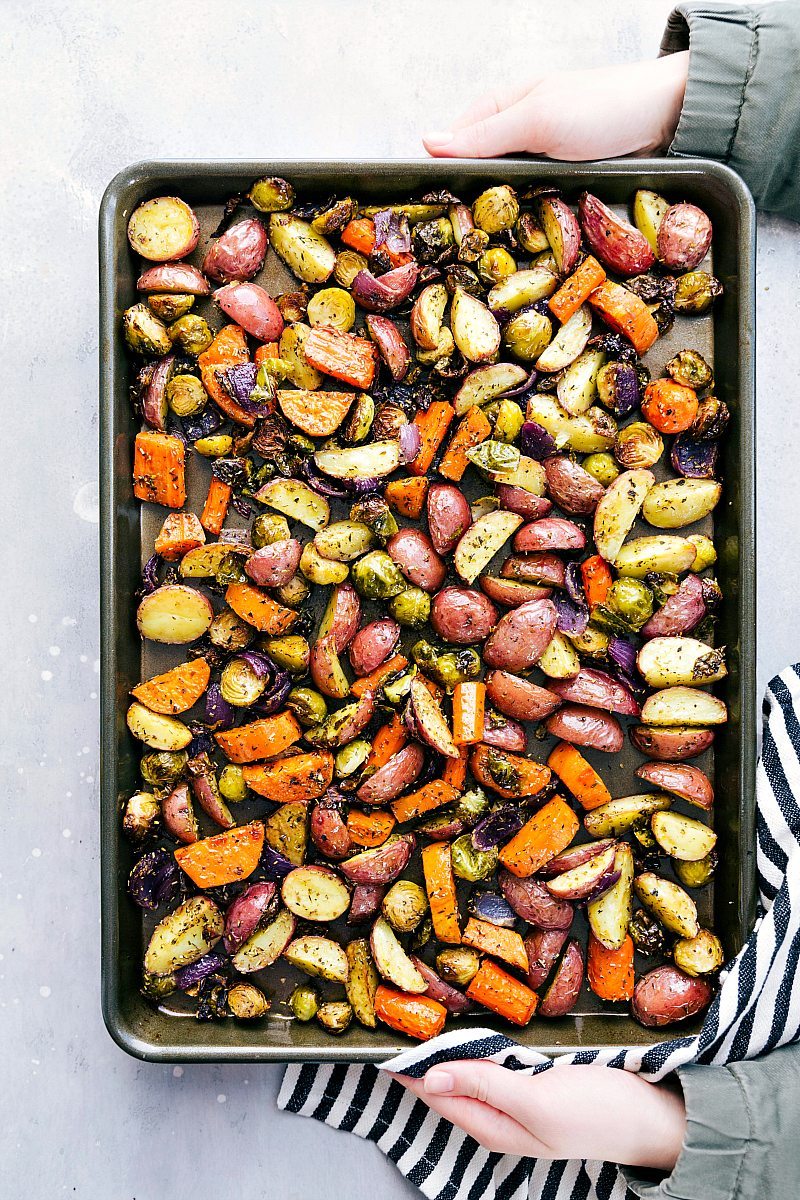 Roasted Vegetables
It's about TIME we had some roasted vegetables around these parts 😉 December has been filled with way too much sugar (yes, I will finally admit that is a thing), and I still have a few cookie recipes to share before the year is through.
I've mentioned before that I'll be making (with plenty of help!) around 800 cookies for my sister's wedding that is THREE days after Christmas. The perfectionist in me wants every recipe to be the absolute best and there has not been one day in December where I haven't made/tested at least two batches of cookies. And unfortunately my testing is never lacking on taste tests….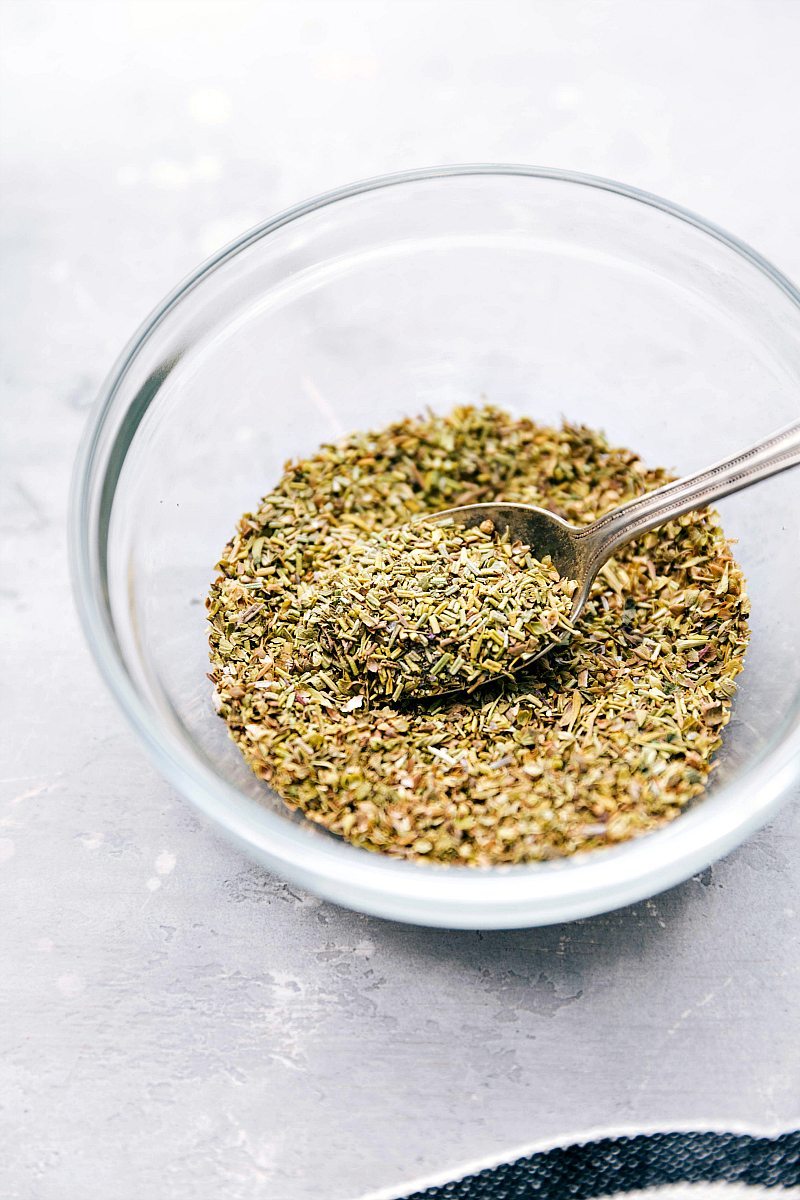 So in my attempts to balance out some of this cookie and sugar madness, I've also been roasting a lot of veggies. This recipe includes a spice mixture that is my absolute favorite, and rest assured these vegetables are on the menu for our Christmas Eve dinner.
This year I'm hosting Christmas Eve dinner and I'll admit I've gotten way too excited about the menu. So far I'm planning on making these roasted vegetables coupled with this salad, this "salad", and this salad. And of course ham + mashed potatoes are a must. These all will be paired with sparkling pomegranate lemonade and some fun appetizers I've been testing. As great as Thanksgiving is, ham happens to be my favorite meat so Christmas Eve dinner always takes first place in my heart.
And just in case you're wondering, I've been working on a créme brûlée recipe for dessert. I worked at a fancy restaurant in Utah for 6-7 years and they had the best créme brûlée I've ever had, so a re-creation of that has been in the works for a couple of weeks, and hopefully I'll have that out soon. (UPDATE: créme brûlée recipe here!)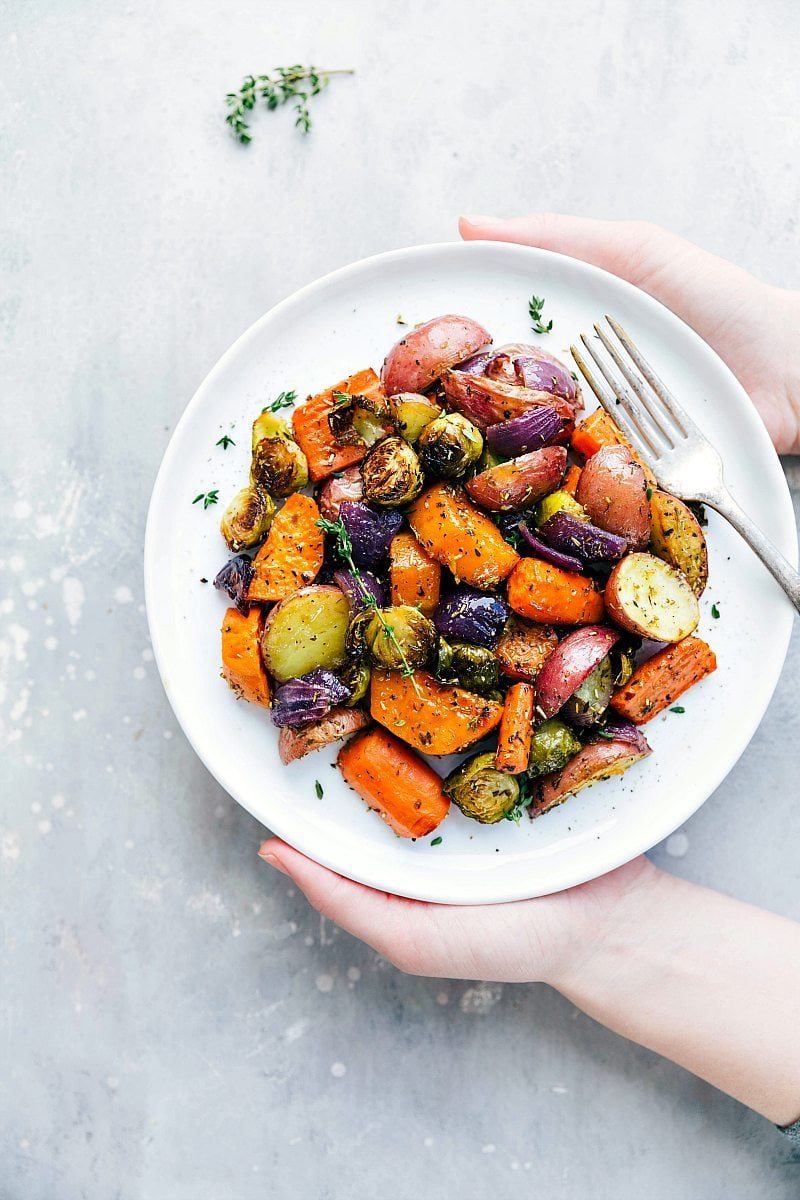 Now back to these roasted veggies. This recipe is extremely easy, but I do have a few tips to make these turn out the best 🙂
How to make the best oven roasted vegetables
Make sure the vegetables don't overlap. If you pile vegetables on top of each other on your sheet pan, they will end up steaming instead of roasting. While steamed vegetables are definitely not bad there is no comparison to a good roasted vegetable! To avoid overlap, use a very large sheet pan or roast the vegetables on 2 different sheet plans. Make sure the vegetables each have their own "space" and aren't overlapping with each other.
Use a delicious spice mixture. This recipe includes my absolute favorite spices with roasted vegetables! But of course, adjust the amounts (and types of seasonings) to your preference. In my opinion, freshly cracked pepper and a good sea salt make a world of a difference from traditional salt and pepper!
Flip the veggies halfway through baking time: Around the 20 minute mark of roasting these veggies, make sure to flip and stir the vegetables around a bit. This ensures an even roasting on ALL sides of ALL the veggies.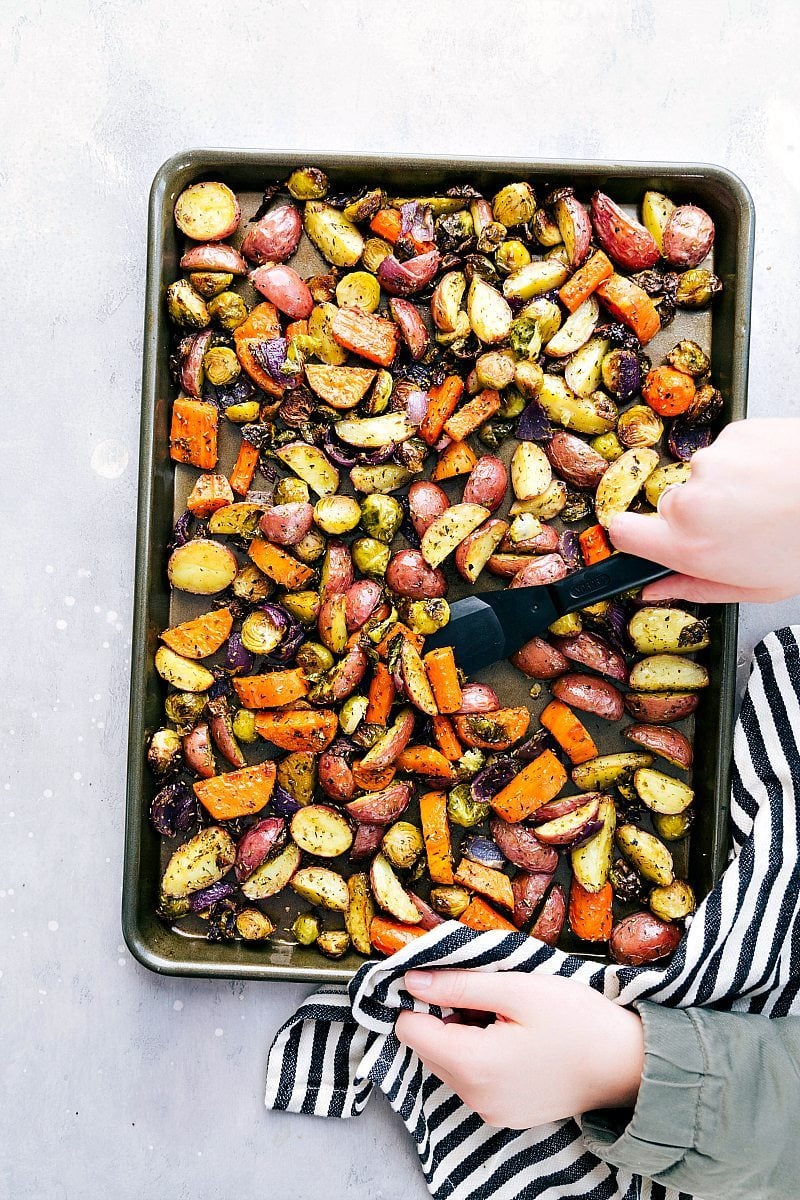 More Easy Side Dishes: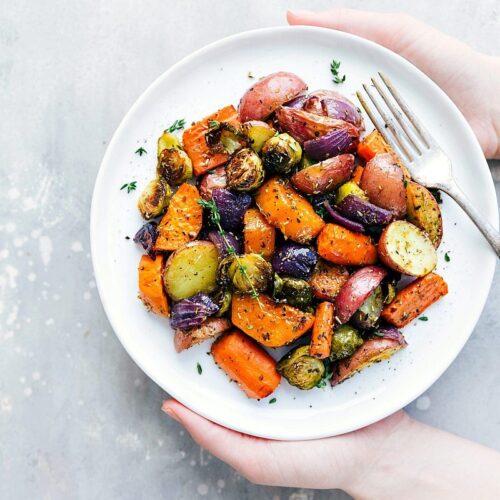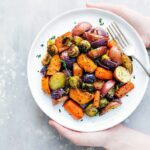 Easy Roasted Vegetables
Deliciously seasoned roasted vegetables
Keyword:
roasted vegetables
Servings
:
6
-8 servings as a side
Ingredients
1/4

cup

Extra Virgin Olive Oil

(you may need a bit more)

3

medium carrots,

peeled and cut into 1 - 1-1/2 inch chunks

1/2

pound (about 1-1/2 cups)

large Brussels sprouts,

outer leaves removed and halved

1

pound (about 4-1/2 cups)

baby red potatoes,

halved or quartered

1

large

red onion,

halved and cut into thick 1-inch pieces

1

pound (about 1-1/4 cup)

sweet potatoes,

peeled and cut into 1 1/2-inch thick slices

3/4

tablespoon

dried oregano

3/4

tablespoon

dried CRUSHED rosemary

1

teaspoon

dried thyme

1

teaspoon

dried basil

Freshly cracked pepper and sea salt

Optional: fresh herbs (such as thyme or parsley) to garnish with
Instructions
Preheat oven to 400 degrees F. Grab a large (11x17-inch) or 2 smaller sheet pans and set aside. Prepare the veggies: peel the carrots and cut into large chunks (if they are thick do 1 inch chunks if they are thinner do 1-1/2 inch chunks), remove the outer leaves of the brussels and halve them, halve the baby red potatoes (quarter especially large ones), halve the red onion and cut into thick 1-inch pieces, peel the sweet potato(s) and cut into large 1-1/2 inch chunks/slices.

Place all the prepared vegetables in one even layer (do NOT overlap or you'll steam the veggies instead of roasting them) on the prepared baking sheet(s) and add the oregano, rosemary, thyme, and basil. Add salt and pepper to taste (I add about 1/2 teaspoon sea salt and about 3/4 teaspoon pepper). Add the olive oil and toss well, evenly coating all the vegetables with the seasonings and oil. (Add 1-2 more tablespoons of oil if the vegetables seem dry.)

Place on middle rack in oven and bake for 35 to 40 minutes, flipping the veggies 20 minutes into baking time.

Remove from the oven and enjoy immediately.
Recipe Video