A good deviled egg recipe is one of those essential recipes you'll want in your arsenal for potlucks, holidays, parties, and other gatherings. This deviled egg recipe is keeping things simple with minimal ingredients and plenty of fresh herbs to give you a creamy and flavorful deviled egg filling!
For us, deviled eggs are a "must-have" on the table for Easter alongside grape salad, homemade dinner rolls, and these perfect mashed potatoes.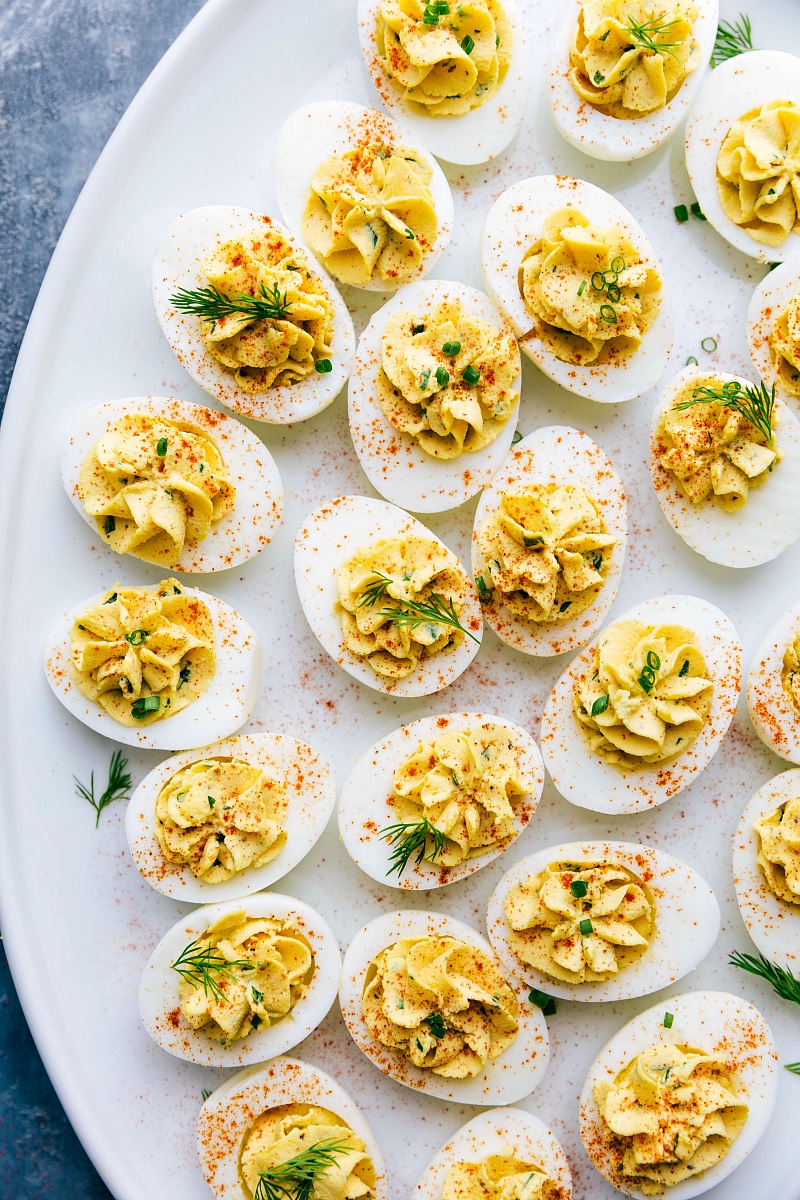 What are deviled eggs?
Deviled eggs (also known as stuffed eggs, dressed eggs, angel eggs, or Russian eggs) are hard-boiled eggs that have had the shells removed, been cut in half, and then filled with a mixture of egg yolk and other ingredients. Which has never really explained where the word "deviled" comes in. So, I've always wondered when making and eating these eggs, what exactly makes a food deviled?
It turns out there's a very simple explanation (thanks Wikipedia): the term "deviled" (referring to food) was used in the 19th century to refer to spicy or zesty food including eggs prepared with mustard, pepper, or other ingredients stuffed in the yolk cavity.
As far as serving deviled eggs, they're usually served cold as an appetizer or side dish but can even be part of a main course. They usually show up for holidays, parties, or potlucks and are especially popular come Easter time!
So, history lesson: check. Let's talk step by step for this deviled egg recipe (with all my best tips!)
How to make deviled eggs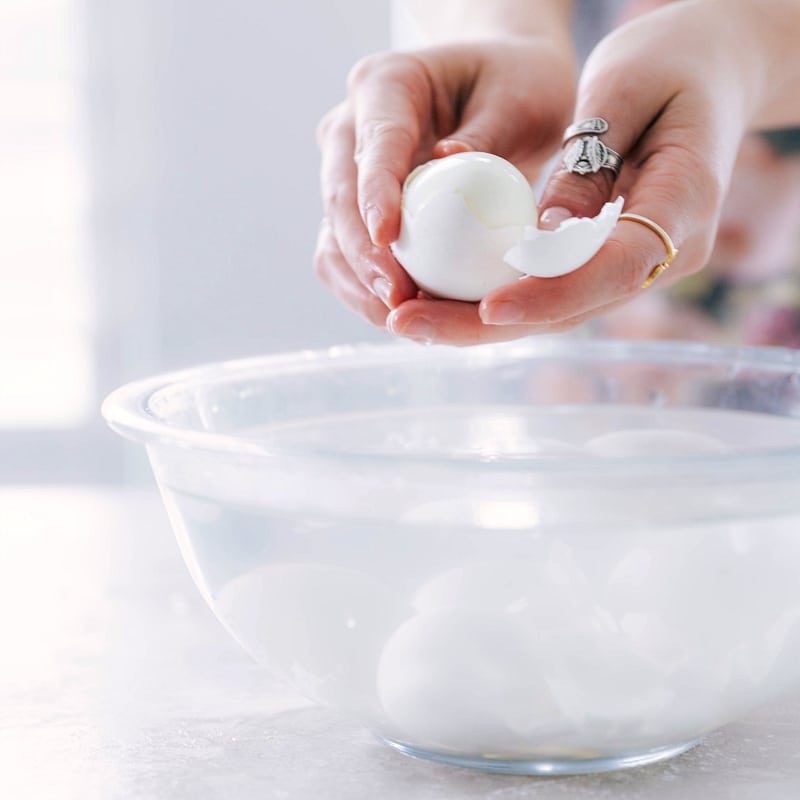 Step One: Hard boil eggs
Place the eggs in a large pan and cover them with TWO inches of cold water. Use a wide saucepan so the eggs can fit in a single layer.
When the water boils, boil for 1 minute, then remove the pan from heat and cover for 17 minutes letting the steam cook them.
Transfer to an ice bath.
Run eggs under cold water while peeling
Have a hard time with hard boiling eggs? Here are some tips:
Avoid farm fresh eggs — OLDER eggs (10+ days old) will always peel easier.

How do you know how old an egg is? Fill a bowl with cold water and put your eggs in the bowl.

Fresh/new eggs

: sink to the bottom and lay flat on their sides.

Few weeks old

(perfect for hard boiled eggs): they'll stand on one end at the bottom of the bowl.

No longer good

: they'll float to the surface of the water

Wait until the eggs have cooled down to room temperature before peeling. (However, note that refrigerated hard boiled eggs will not peel as easily.)

If you're still having trouble, crack the cooled egg and place it back into a ice bath. The water will get under the shell (where you cracked it) and become easier to peel after about 5 minutes.

Step Two: halve hard boiled eggs, remove the yolks, and prepare the filling
Now that you've got your perfect hard boiled eggs shelled, pop out the yolks and if necessary, clean up the whites a bit (wipe down)
To get the yolks SUPER smooth and creamy (lump free!) you can do one of two things:

Either press the yolks through a medium mesh sieve (more time consuming)
Or beat the yolks with a hand mixer until smooth and fluffy (less time consuming)

Add in all of the other ingredients: mayonnaise, dijon mustard, fresh herbs, and some seasonings.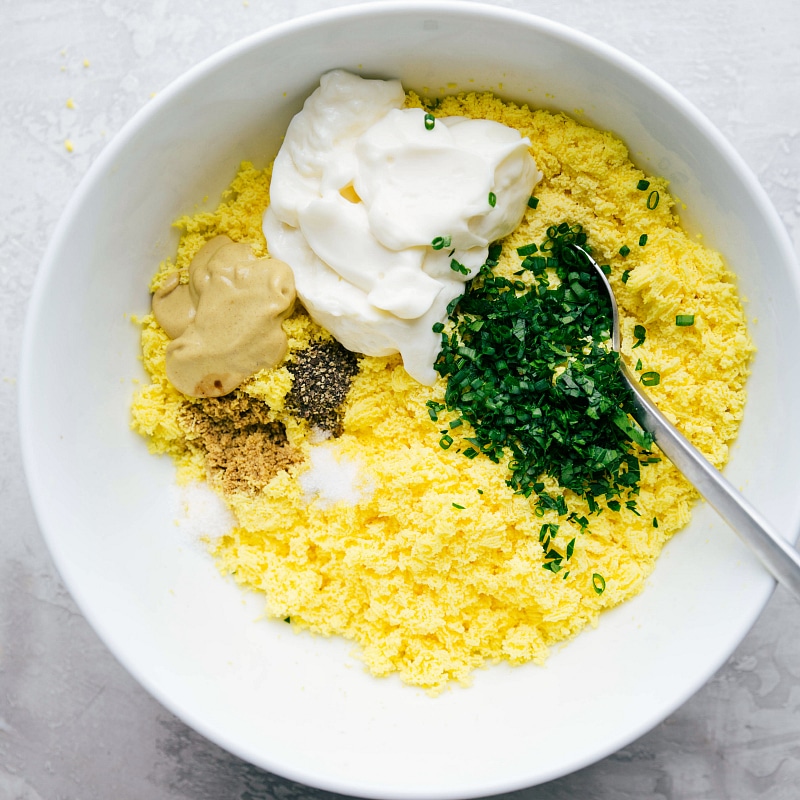 Step Three: mix together the filling and transfer to a piping bag
Stir everything together to get a smooth filling.
Now take that filling and transfer it to a bag fitted with a piping tip (such as a star tip)

Tip: drop the piping bag into a tall glass and fold the opening of the bag down around the glass. Now you can scoop in the egg filling without a balancing act of holding a bag and spoon!
See step by step photos on how to fill a piping bag here.

Don't want to use a piping tip?

Use a small cookie scoop or even a regular spoon to scoop in the filling
OR cut the corner off a resealable plastic bag, fill it with yolk filling then "pipe" it into the egg white halves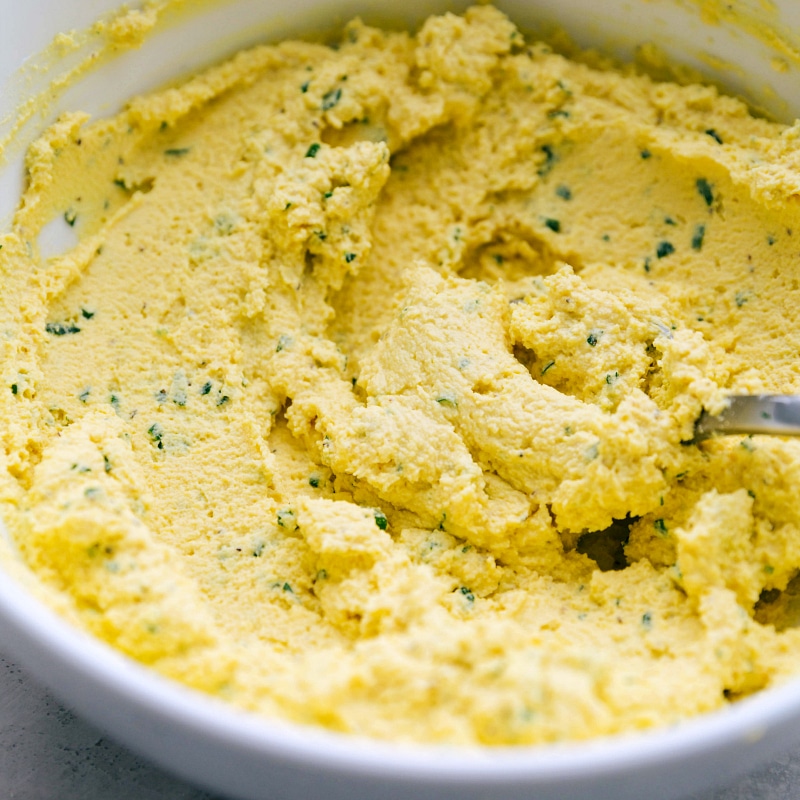 Step Four: pipe filling in the eggs
Pipe the filling right in the egg whites
Garnish with fresh herbs and a sprinkle of paprika right before eating.
See below for other fun variations of this deviled egg recipe.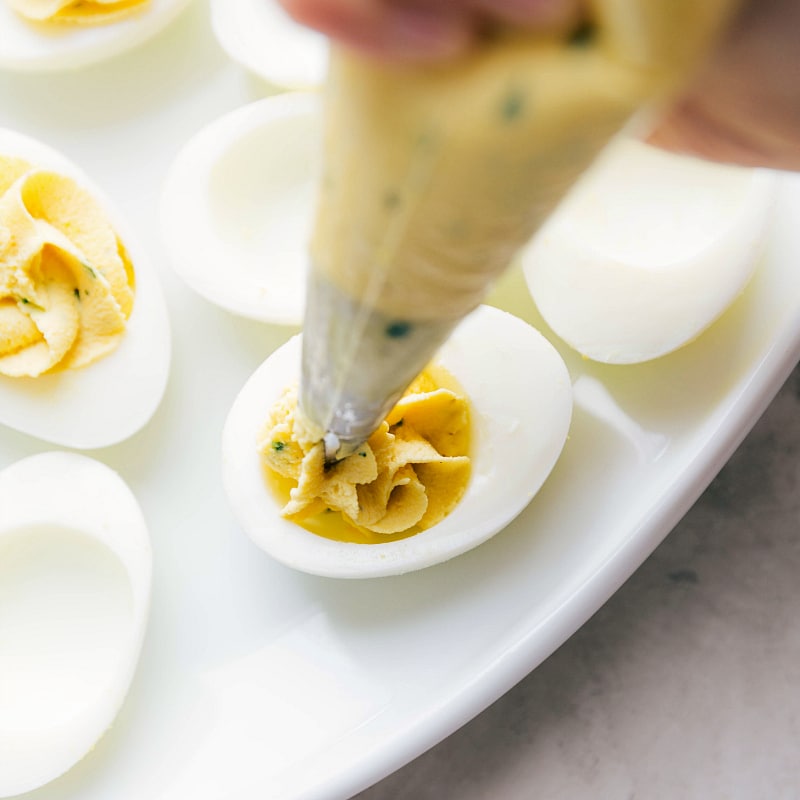 Now that we've discussed the ins and outs of making deviled eggs, let's talk about how to jazz them up. There are a million and one ways to make a deviled egg, and today I'm sharing our idea of the perfect standard version. Feel free to use any of the ideas below for a more jazzed up version and please share your deviled egg variation ideas in the comment box below! 🙂
Deviled egg recipe variations
If you hate mayonnaise, I've heard that melted butter works in its place (I have never personally tried this)
Deviled eggs with relish: this recipe by Martha Stewart emphasizes pickle relish
Deviled eggs with pickles: this recipe by the Pioneer Woman uses chopped pickles AND pickle juice
Southern deviled eggs: try Paula Deen's with sweet gherkin pickles and pimentos for garnishing
Deviled eggs with bacon: follow my recipe and add cooked and crumbled bacon right on top!
Other great variations/toppings: chopped parsley, chopped chives, capers, pimientos, sliced olive, cooked & crumbled sausage, jalapeños, Sriracha, pickled onions, crabmeat, and many more ideas here.
Everything bagel seasoning: add this famous seasoning blend sprinkled on top!
Deviled egg tips
Center egg yolks: a few days before making your deviled eggs, rotate the eggs in the carton to be upside down (tip-point down in the carton).
Keep deviled eggs from sliding: if transporting these deviled eggs, place them in a mini muffin tin, loosely covered with plastic wrap. Here are some other transport ideas.
Boil a few extra eggs: if you need a certain amount of eggs, boil a couple extra just in case any eggs don't peel or end up nice.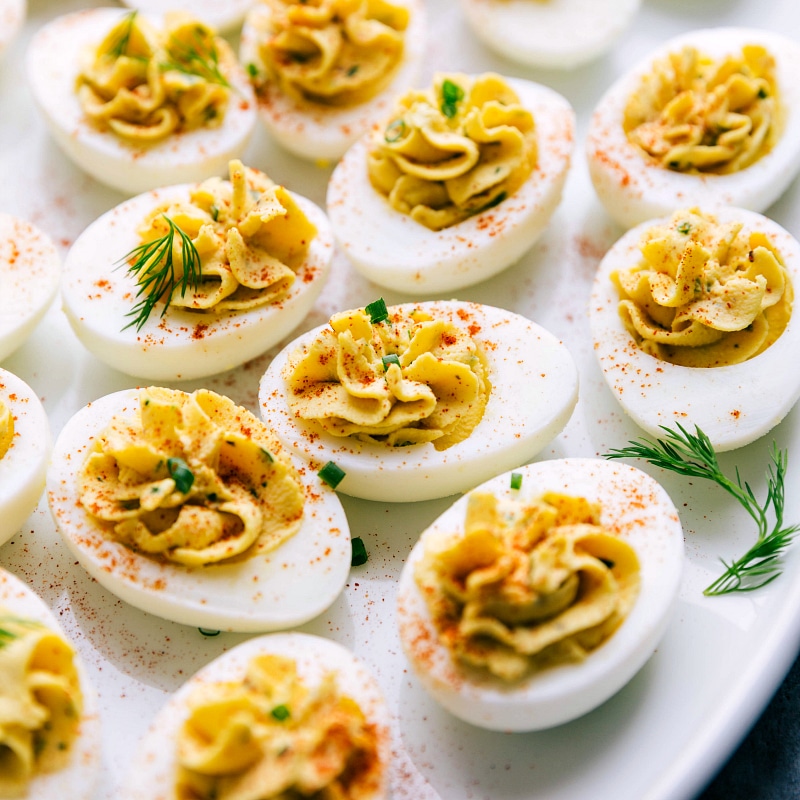 Other EASY appetizers to serve alongside: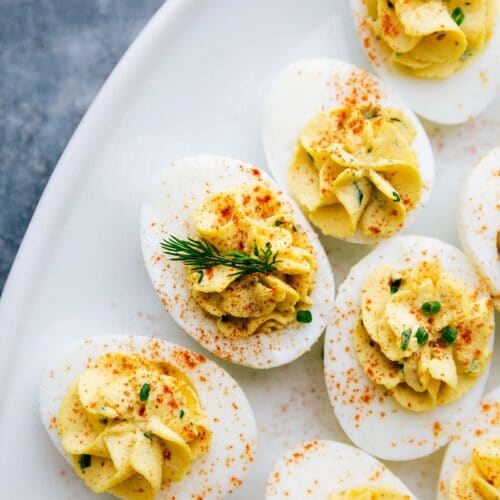 Deviled Egg Recipe
A good deviled egg recipe is one of those essential recipes you'll want in your arsenal for potlucks, holidays, parties, and other gatherings. This deviled egg recipe is keeping things simple with few ingredients and plenty of fresh herbs to give you a creamy and flavorful deviled egg filling! 
Keyword:
deviled egg recipe, deviled eggs
Servings
:
24
deviled eggs
Ingredients
1

dozen

LARGE eggs

Note 1

1

tablespoon

fine sea salt

1/4

cup + 2 tablespoons

good quality mayo

1

tablespoon

apple cider vinegar

2

teaspoons

dijon mustard

1/2

teaspoon

Worcestershire sauce

Fine sea salt and freshly ground black pepper

(reduce if not using kosher salt)

1/4

teaspoon

white sugar

1/8

teaspoon

cayenne pepper

2

tablespoons (+ more for garnish)

finely chopped herbs

(I like to use a combination of chives, flat-leaf Italian parsley, and dill)

Paprika,

to sprinkle on top
Instructions
Place your raw eggs in a large and wide saucepan and cover with at least 2 inches of COLD water. Place the pan over high heat until it reaches a boil. As soon as it reaches a boil, add in 1 tablespoon salt and boil for exactly 1 minute. Cover pan, remove from heat, and let sit for 17 minutes. Remove the eggs from the pan and submerge in an ice bath. Let cool for 5 minutes. Gently crack the egg shells (make sure the majority of the shell is cracked) and gently begin removing the shells. If shells aren't coming off easily, crack and return to ice water. As needed, dunk eggs in an out of water to remove any shell slivers. You can also peel them under running cold water.

Slice the eggs in half lengthwise and remove the yolks. Place yolks in a medium sized bowl. Either press the yolks through a medium sized sieve OR beat until smooth using hand mixers. Add in the remaining ingredients: mayo, apple cider vinegar, dijon mustard, Worcestershire sauce, 1/4 teaspoon salt, 1/4 teaspoon pepper (add salt and pepper to taste), sugar, cayenne pepper, and 2 tablespoons of finely chopped herbs. Taste filling and adjust seasoning to personal preference.


Arrange the whites on a large serving platter and gently wiping them clean if needed.

Fit a piping bag with an open star tip. Drop the piping bag into a tall glass and fold the opening of the bag down around the glass. Scoop in the egg filling. (If you don't want to use a tip/piping bag, you can snip the top off a plastic bag, or spoon the filling in with a spoon or use a small cookie dough scoop). Pipe the yolk mixture evenly into the egg white halves. (Fill eggs as close to serving time as possible).

Right before serving, sprinkle eggs evenly with paprika AND additional finely chopped herbs.
Recipe Notes
Note 1: I always boil an extra 2 eggs in case some don't turn out well. Make sure eggs are at least 10 days old; the older the easier they'll peel.