This Crock Pot Roast post may contain affiliate links. Please see my disclosure policy.
This BEST EVER crock pot roast is incredibly flavorful and tender. A few secret tips and tricks make this recipe better than the rest!

Crock Pot Roast
I'm very excited to share this insanely good crock pot roast recipe with you today! The recipe actually comes from my friends, Donna & Chad, over at The Slow Roasted Italian. They recently released a new cookbook called The Simple Kitchen
that I love already!
The Simple Kitchen Cookbook has over 80 quick and easy recipes with a full-sized photo for every single recipe. The photography is mouthwatering and will have you craving everything in this book. Inside The Simple Kitchen there are 8 chapters and each chapter has over 10 tested-to-perfection recipes that are tried & true favorites. There are also tons of kitchen tricks and techniques sprinkled throughout.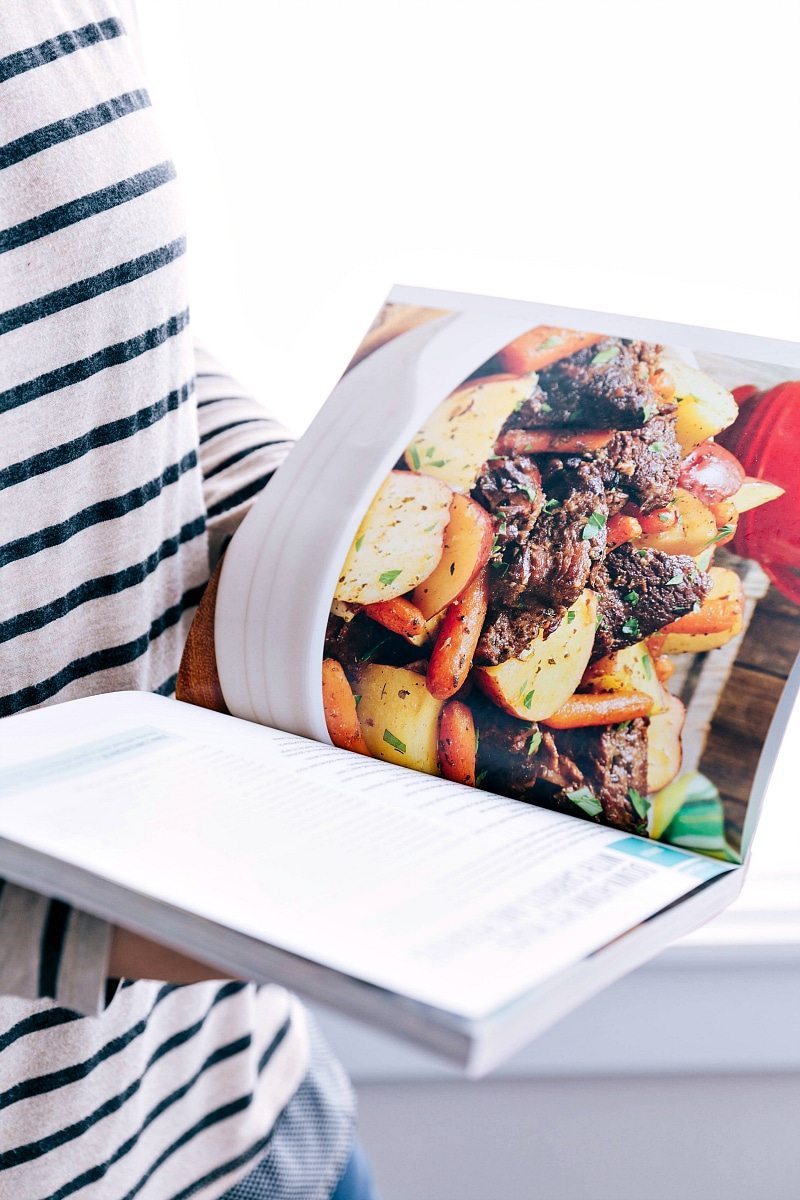 This cookbook has recipes that are right up my alley and I've been loving re-creating the dishes. The dish I'm featuring today is called "Down-Home Pot Roast with Carrots and Potatoes" (found on page 13). This crock pot roast is exquisite! Fall apart tender meat, perfectly cooked and seasoned veggies, and a delicious flavorful gravy that is the perfect complement.
This crock pot roast recipe has a bit of prep work to it (such as preparing and cutting the meat), but trust me, the 20 minutes of effort is well worth it.
With that, let's jump in to the details!
First, how do you season a crock pot roast?
It's important to use good seasonings in a crock pot roast to really bring out the flavors of the ingredients. This recipe calls for a Tuscan Seasoning Blend that is comprised of thyme, sage, marjoram, basil, oregano, and rosemary.
The blend of these seasonings is unbelievably good in this roast. The flavor of the spices become stronger the longer they cook and meld together with the ingredients. The spices are why this crock pot roast tastes so good!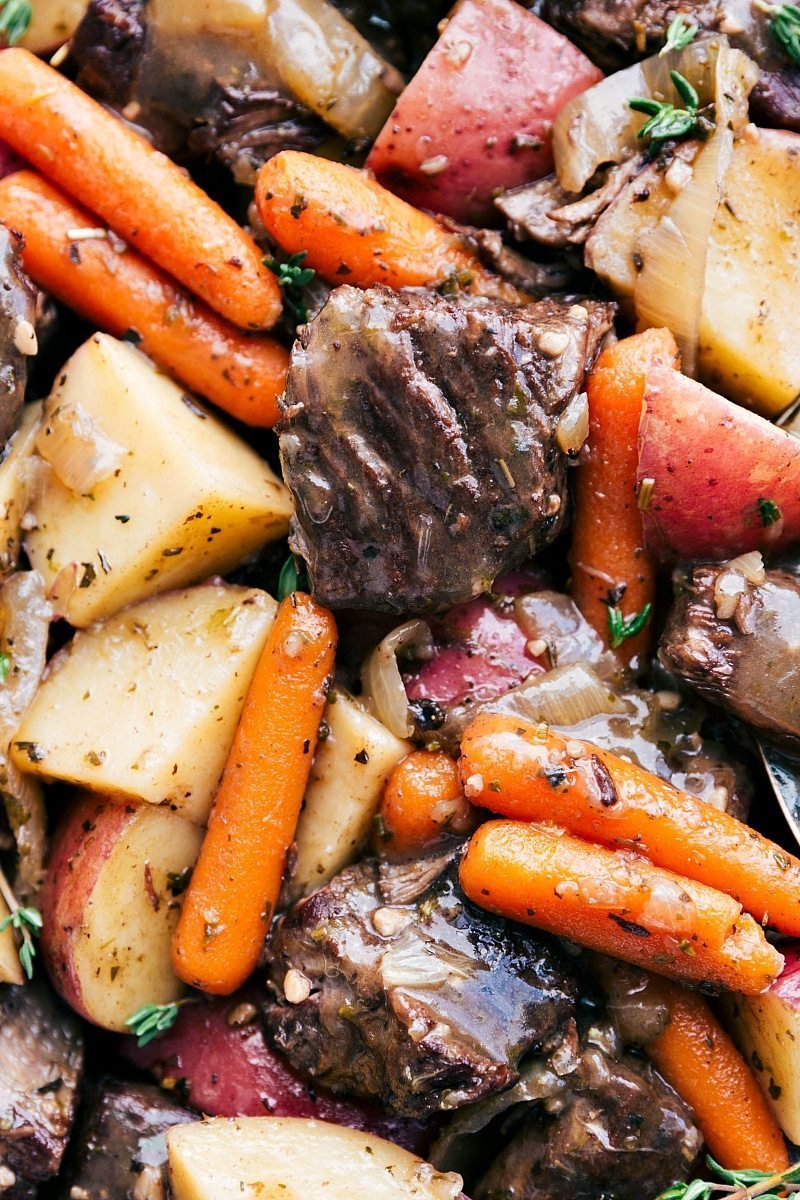 How do you make a pot roast tender?
This is what everyone wants, right? Lucky for you, this crock pot roast is made in, well, the crockpot…That means it's going to be much easier to get a tender roast then if you were cooking this in the oven. Phew.
The most critical part of getting a tender pot roast is to use the right meat. This recipe calls for a boneless beef chuck roast which results in a very tender pot roast.
Additionally, this pot roast is going to be the most tender when cooked at a low temperature in liquid. I make sure to fully submerge the seared beef in the liquid and it comes out fall-off-the-fork tender.
Which brings me to my next point…
How long do you cook a crock pot roast?
This crock pot roast is made by browning the beef first and then slow cooking it in the crock pot. Searing the beef first traps in flavor and is a step I'd highly recommend!
This recipe calls for a slow cook on high for 5 hours or low cook for 10 hours. If you plan in advance, I'd highly recommend low for 10 hours. The tenderness of the meat is unbeatable! It does take a bit of planning (and an early start in the morning depending on when you eat dinner), but it is well worth it.
Thanks for reading – ENJOY!
More Delicious Crockpot Dinners: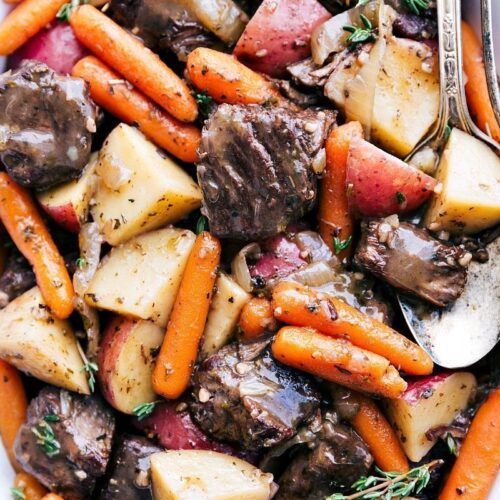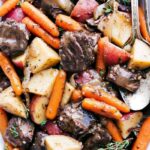 Crock Pot Roast
This crock pot roast is incredibly flavorful and tender

Ingredients
3

pounds

boneless beef chuck roast,

cut into chunks

1

tablespoon

kosher salt

2

teaspoons

coarsely ground black pepper

4

tablespoons

extra virgin olive oil,

divided

1

medium

yellow onion,

sliced

6

cloves

garlic,

minced

2

tablespoons

Tuscan-Style Seasoning Blend (SEE RECIPE NOTES)

1

tablespoon

Worcestershire sauce

1

cup

red wine (Cabernet Sauvignon); OR you can substitute with additional beef stock, or grape, pomegranate, or cranberry juice

3

cup

low-sodium beef stock

2

cups

baby carrots

2

pounds

baby red potatoes,

cut in half or quarters if large

2

tablespoons

cornstarch

1/4

cup

water
Instructions
Cut the beef into 3-inch chunks and season with salt and pepper.

Warm 2 tablespoons of the olive oil in a large Dutch oven (or oven-safe heavy-bottomed pot) over medium-high heat. Once you can feel the heat when you hold your hand 6 inches above the pot, place the roast pieces in the pot. Brown the pieces on all sides, 2-3 minutes per side. (To get a good sear don't overcrowd the meat, you can sear the meat in batches). Don't skip this step. We are adding layers of flavor here. Once the roast is nicely seared with a good crust, remove it from the Dutch oven and place it in your slow cooker. (Use a 5 quart or larger slow cooker).

Add the remaining 2 tablespoons of olive oil and the sliced onions to the Dutch oven and cook until the onions are translucent, 3 to 4 minutes. Add the garlic and cook for about 30 seconds. Sprinkle in the seasoning blend and add the Worcestershire sauce. Stir to combine. Pour in the wine (or additional beef stock of juice). Deglaze the pan by scraping up the browned bits at the bottom of the pan with a wooden spoon or spatula as it bubbles. Pour in the beef stock. Stir to combine, and then add the contents of the pot into the slow cooker. Cover and cook for 5 hours on high (or 10 hours on low). Add the carrots and potatoes halfway through the cook time.

Remove the roast and vegetables from the slow cooker and place them on a serving dish. Tent with foil. Ladle the cooking liquid into a 4-quart saucepan and bring it to a boil over medium-high heat. Combine the cornstarch and water in a small bowl and whisk until completely smooth to create a slurry. Pour the slurry into the pot and stir. Boil the gravy until thickened, 3 to 5 minutes. Taste for seasoning, and add salt and pepper as necessary.

Serve the pot roast and veggies with the gravy on the side.
Recipe Video
Recipe Notes
Total time depends on if you are cooking this crockpot pot roast on high or low. I recommend cooking it on low for maximum tender and flavor. 
Tuscan-Style Seasoning Blend
3 tablespoons dried rosemary
3 tablespoons dried oregano
3 tablespoons dried basil
1 and 1/2 tablespoons dried thyme
1 tablespoon dried marjoram
1 and 1/2 teaspoons dried sage
Whisk all of the ingredients together and add TWO tablespoons to the pot roast. Store the remaining in a mason jar in a cool, dry, dark place.