A simple and delicious recipe for roasted brussel sprouts. The secret? Roasting them in the oven with just the right amount of spice, a mix of butter and oil, and breadcrumbs or panko!
These would be the perfect side to this turkey breast in a crock pot or shepherd's pie.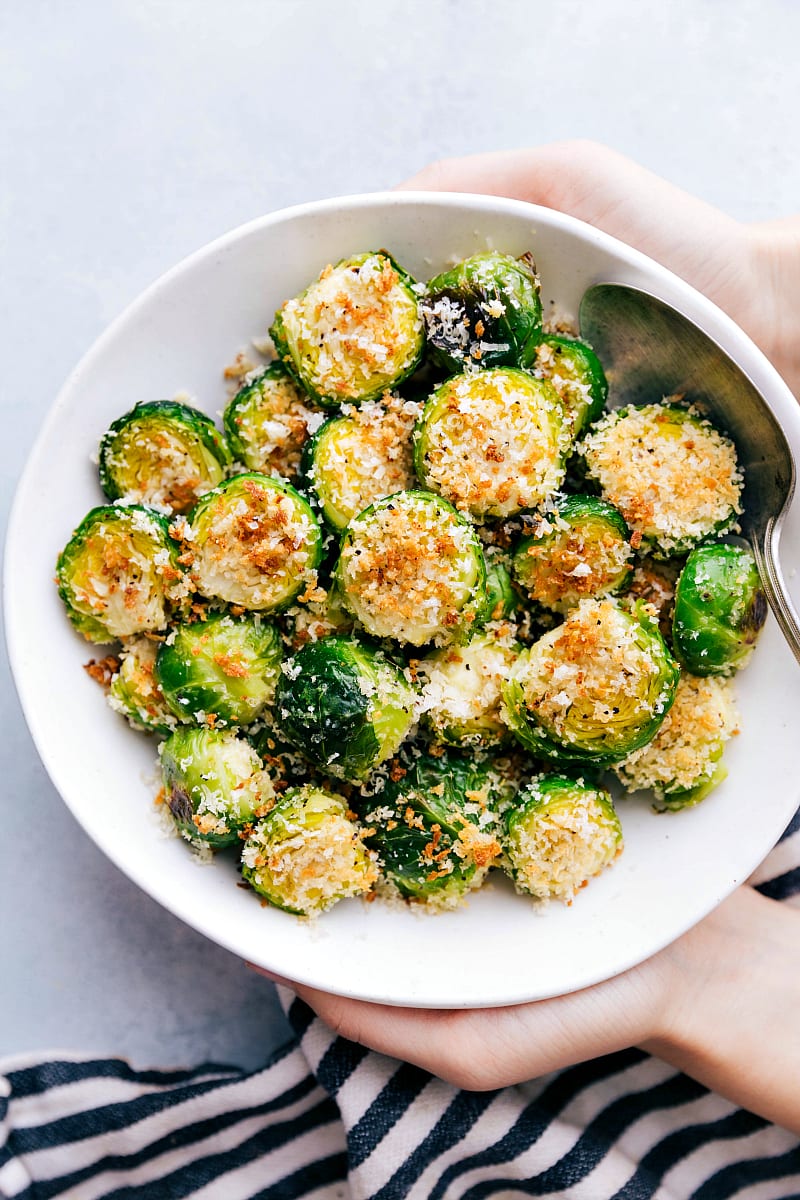 Roasted Brussel Sprouts: Love 'em or Hate 'em?
When you mention brussel sprouts, chances are you'll find a lot of people who don't like them. But I've found that when prepared correctly, brussel sprouts are some of the most DELICIOUS roasted vegetables out there. Not a believer? Give this recipe a try and let me know in the comment section what you think.
The great thing about these roasted brussel sprouts is that they pair extremely well with other side dishes, such as mashed potatoes, wild rice salad, and Thanksgiving dressing.
When brussel sprouts are mushy, that texture alone is a turn-off for most people. The "secret" to this recipe is making the brussel sprouts crispy, which really enhances the flavor and texture.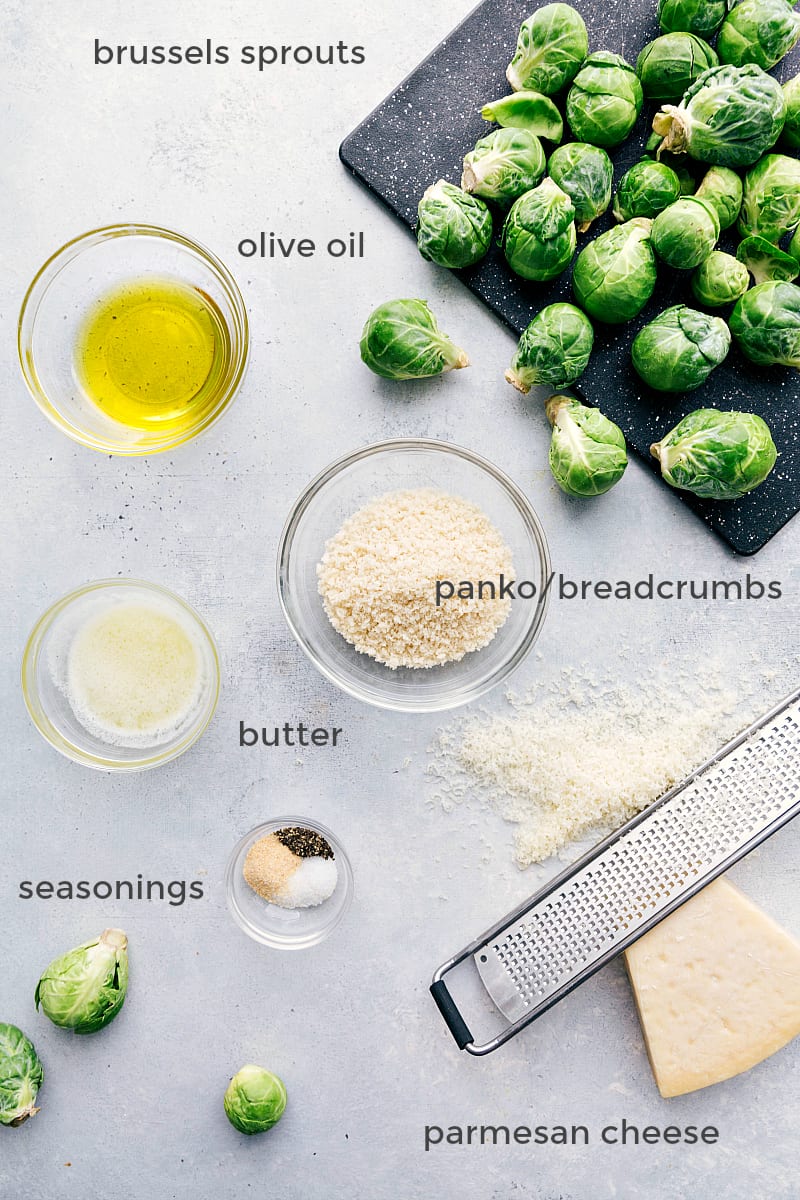 How do you make roasted brussel sprouts crispy?
The key is to roast them in the oven. Jump to the next section to learn more about how to roast brussel sprouts in the oven.
The important thing here is don't let the brussels sprouts overlap. If they overlap they'll steam instead of roast and get soggy. Use 2 sheet pans if needed.
Cover the brussel sprouts in olive oil. This allows them to caramelize better, and as a bonus, allows the panko and Parmesan to stick to them better.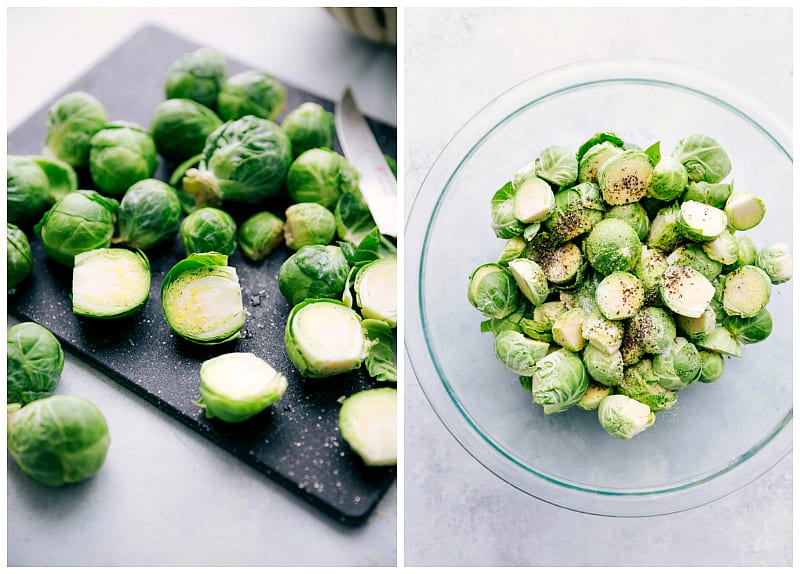 How do you roast brussel sprouts in the oven?
Roasted brussel sprouts aren't as difficult as you might think!
Preheat the oven to 425 degrees F.
Toss the brussel sprouts in both olive oil and melted butter. The oil will caramelize the vegetables in the oven (make them crispy!), while the butter enhances the flavor.
Coat the brussel sprouts in a parmesan cheese and panko/breadcrumbs mixture, then spread evenly on a tray.
Bake for 18-23 minutes until crisp tender.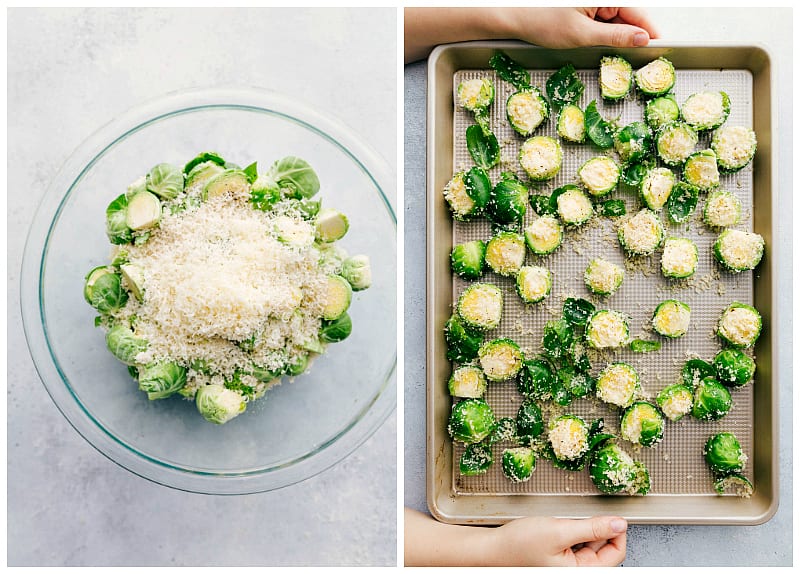 Can these roasted brussel sprouts be made in advance?
These are best served fresh and warm, and I do not recommend making these in advance.
You can prepare the brussel sprouts up to a day in advance by washing, trimming and halving them ahead of time. If you elect to do this, make sure to store the uncooked sprouts in an airtight container in the fridge.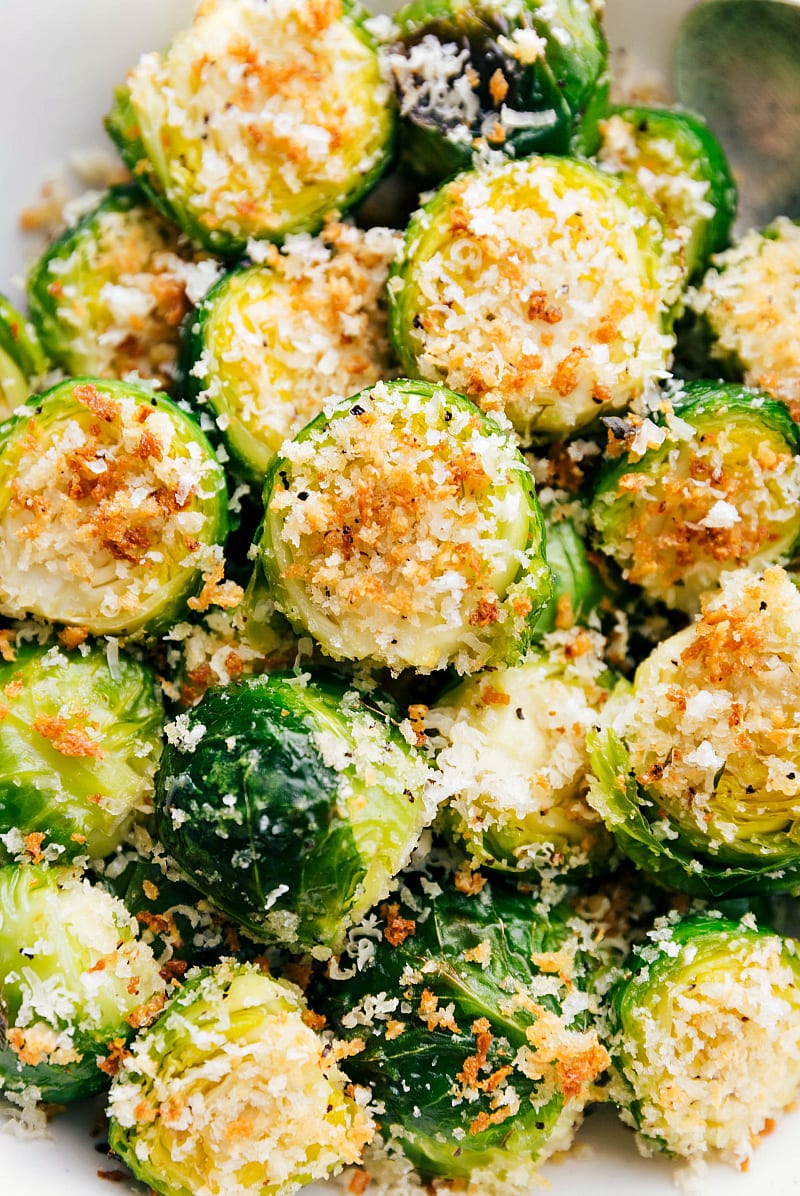 What should you pair with roasted brussel sprouts?
This roasted garlic and parmesan brussel sprout recipe makes the perfect side dish! Here are some meals these roasted brussel sprouts pair well with: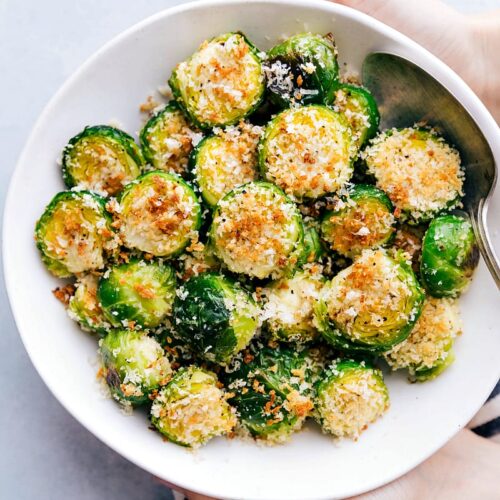 Roasted Brussel Sprouts
Ultra CRISPY and FLAVORFUL roasted brussel sprouts. The perfect side dish for your holiday meal. This is the last brussel sprout recipe you'll ever need!
Keyword:
roasted brussel sprouts
Ingredients
1.5

pounds

brussel sprouts,

trimmed and halved

2

tablespoons

olive oil

1

tablespoon

unsalted butter,

melted

1/2

teaspoon

fine sea salt

1/4

teaspoon EACH:

garlic powder, freshly cracked pepper

1/3

cup

Panko (or breadcrumbs)*

1/3 cup

+ 2 tablespoons

freshly grated Parmesan cheese,

separated
Instructions
Preheat the oven to 425 degrees F.

Trim the brussel sprouts and slice large ones in half. Place in a large bowl and drizzle over olive oil and melted butter. Add in the salt, garlic powder, and pepper. Toss gently until seasonings are evenly distributed and sprouts are well coated in the oil/butter. They need to have enough oil + butter so the panko & parmesan will stick; add an additional tablespoon of oil IF needed. Finally, add in the Panko and 1/3 cup Parmesan cheese. Again, toss gently to ensure the panko and parmesan coats all the sprouts.

Transfer to a large baking sheet and spread the brussel sprouts so they aren't overlapping. Some of the panko/parmesan will fall to the tray and that's fine as long as most of the sprouts are well coated in it. If not, sprinkle the mixture on the sprouts.

Bake 18-23 minutes or until sprouts are lightly browned, tender, and the Parmesan cheese is melted. (May vary depending on actual oven temperature and size of sprouts). Remove from the oven and sprinkle the remaining 2 tablespoons Parmesan cheese on the hot brussel sprouts. I like to grab some of the toasted Panko from the tray and add it on top of the bowl of brussel sprouts!
*I think Panko makes all the difference in these sprouts, but breadcrumbs will also work! OR you can leave out either entirely 🙂 To read about panko/breadcrumbs click here. You can typically find Panko in the Japanese cuisine section of your store OR near regular breadcrumbs.