This post may contain affiliate links. Please read my disclosure policy.
Delicious Roasted Asparagus with the perfect easy seasoning blend and grated Parmesan cheese adds a little crunch with Panko and/or breadcrumbs!
Roasted Asparagus is a favorite wherever whenever I serve it. Today I'm sharing all my tips and tricks to have the very best results, filled with flavor and great texture. We love serving this asparagus alongside this beet and goat cheese salad, these creamy mashed potatoes, and roasted carrots for the perfect side dish lineup.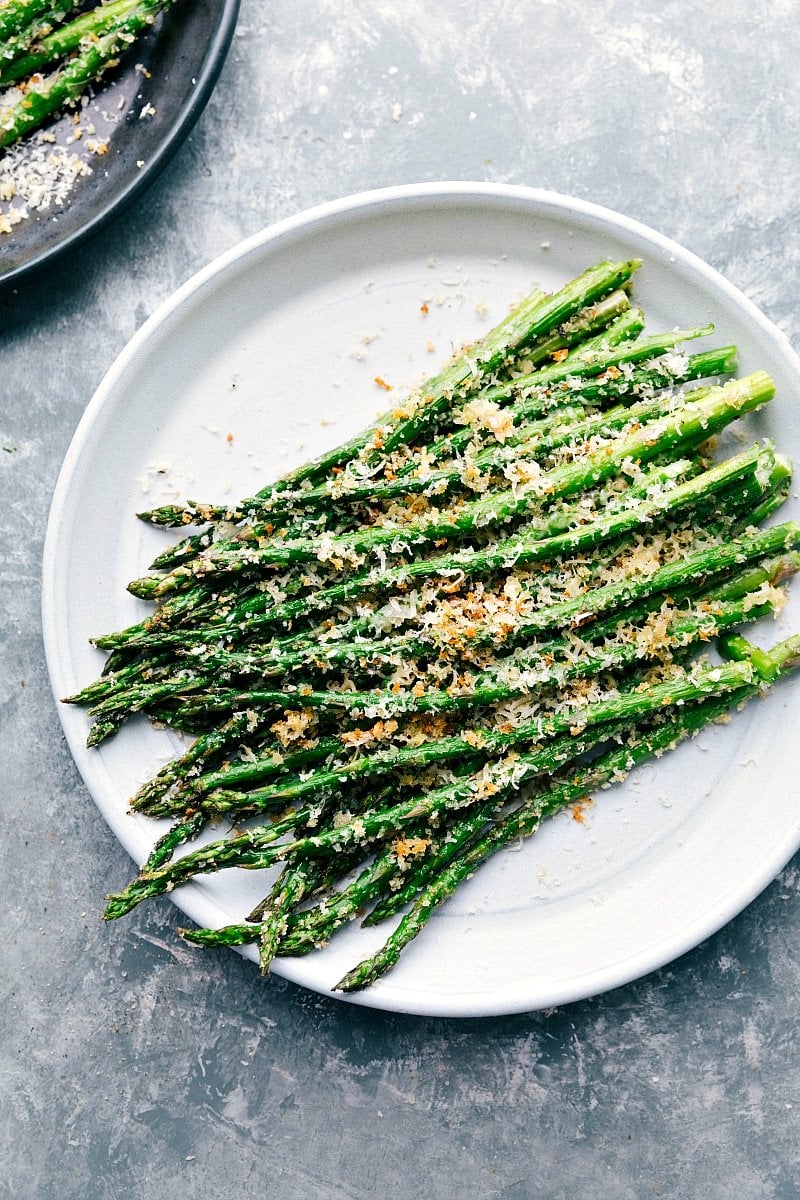 Uses for Roasted Asparagus
We love asparagus around these parts! It's such a great vegetable that adds texture and flavor to so many dishes. It's also perfect as a standalone side dish (especially for an Easter or holiday meal). Roasted Asparagus is also a great addition to a meat-heavy main course.
Some of our favorite meals using Roasted Asparagus (besides as a side dish) is this one pan sausage and veggie dish, this balsamic asparagus salad, or this one pan lemon chicken.
Beyond the scrumptious taste, there are also many health benefits to eating asparagus which I'll discuss later. Another huge advantage to asparagus is how quickly it can be ready. In only about 10 minutes of roasting time you can have this delicious side dish on your table.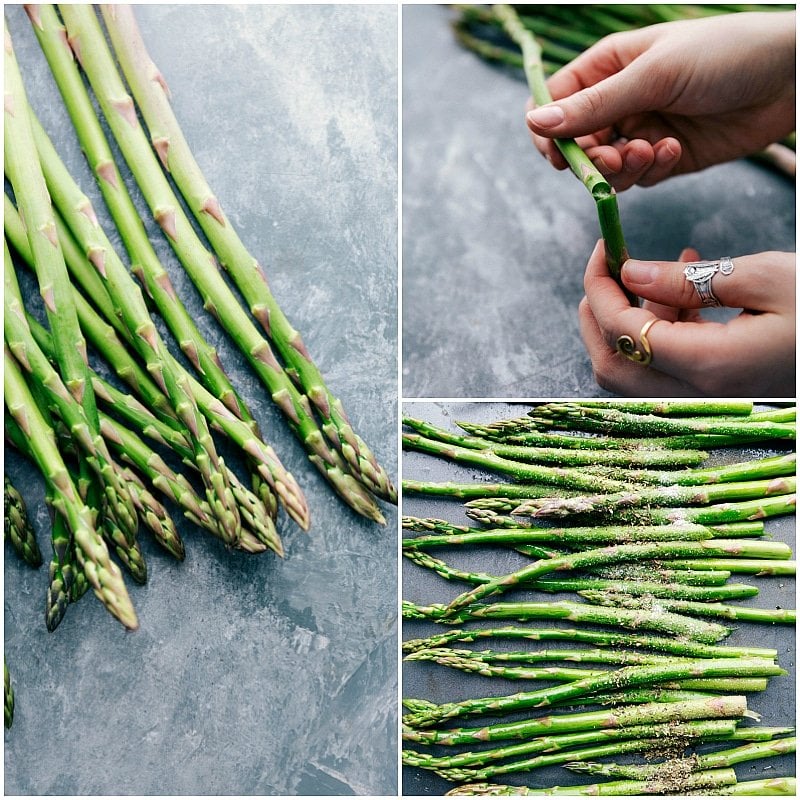 Shopping for and storing asparagus
Look for straight (not saggy) and plump asparagus spears.
Avoid asparagus with dry or split ends
Choose thin or thick stems? That's a matter of personal preference! Thinner stems are sweeter and more tender. Thicker stems have a stronger asparagus flavor and a more "meaty" texture.
Storage: While I recommend using your asparagus within 1-2 days of purchasing, you can extend the shelf life by storing it well. To store it for extended periods (up to 5-6 days), begin by keeping the rubber band on the bunch of asparagus and trimming off the bottom 1 inch of the spears. Stand the spears in a large liquid measuring cup with 1-2 inches of water–just like a flower bouquet. Loosely cover the asparagus with a plastic bag and store in the fridge. Change water as it begins to look cloudy. When you're ready to make roasted asparagus, be sure the spears are completely dry.
Recognizing when asparagus has gone bad: Wetness and slime are signs that asparagus is no longer good. If the asparagus has a bad odor it's likely not good anymore. Fresh asparagus should have no odor.
How to clean and prepare Roasted Asparagus
Rinse the asparagus spears under cold water to remove any dirt or debris.
Dry the spears by rolling them between two kitchen towels.
Snap off the ends of the stems with your fingers. The bottom inch (or so) will naturally break off. This breaking point is where the woody part ends and the tender stem begins. This is why it's best to break with your hands instead of cutting all at once. By cutting all at once you might cut too much of the tender stem off or not enough of it, resulting in less-than-ideal roasted asparagus.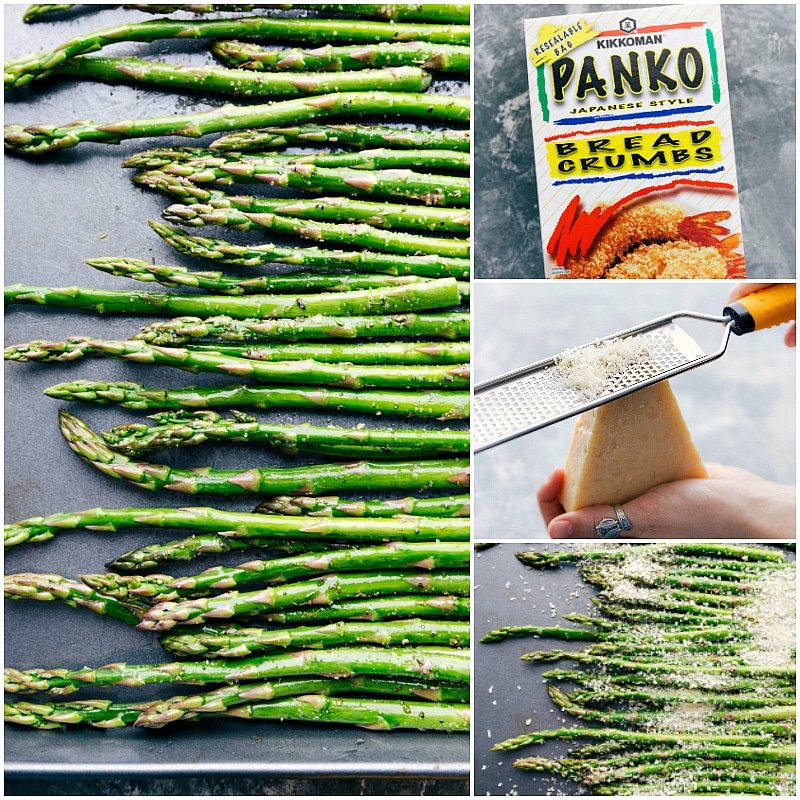 How to roast asparagus
Follow the steps above for cleaning and preparing the asparagus including snapping off the woody ends.
Place stems on a large sheet pan and toss first in olive oil, butter, and seasonings. Adding both butter and oil allows for greater flavor and perfect caramelization.
Toss it all once more with the freshly grated Parmesan and Panko bread crumbs. Now spread the spears apart as much as possible and roast!
Enjoy this perfect Roasted Asparagus with a couple more tablespoons of Parmesan cheese on top.
If you've ever made asparagus from Ina Garten's recipe, you'll know that she adds olive oil, salt and pepper. It's a great basic asparagus recipe, and you can follow my recipe below, removing the breadcrumbs and Parmesan, to get similar results. This is a great basic recipe if you want to enjoy cold roasted asparagus.
When is asparagus fully cooked?
Roasted Asparagus is done when it's bright green and tender but still has a slight bite to it. You can pierce the spears with a fork or take a quick bite of one to gauge how crisp-tender they are.
Difficult to chew? Undercooked
Mushy? Overcooked
While you're enjoying how delicious Roasted Asparagus is, you are also benefiting from how good it is for your body. Below are just a few of the many benefits (read up more here).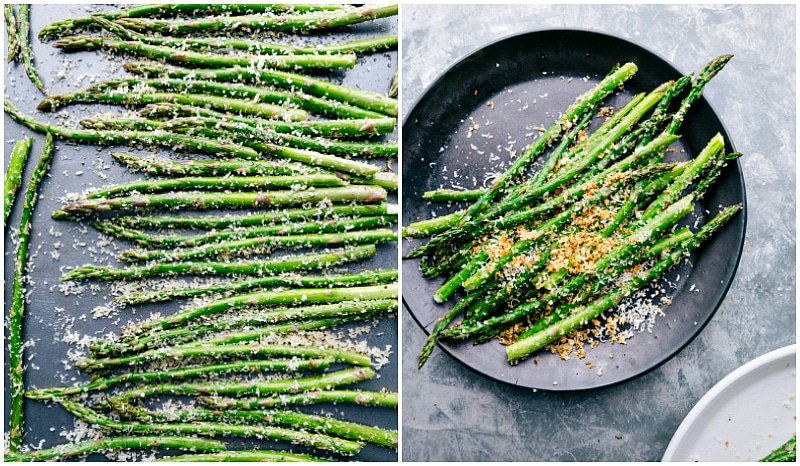 health benefits of asparagus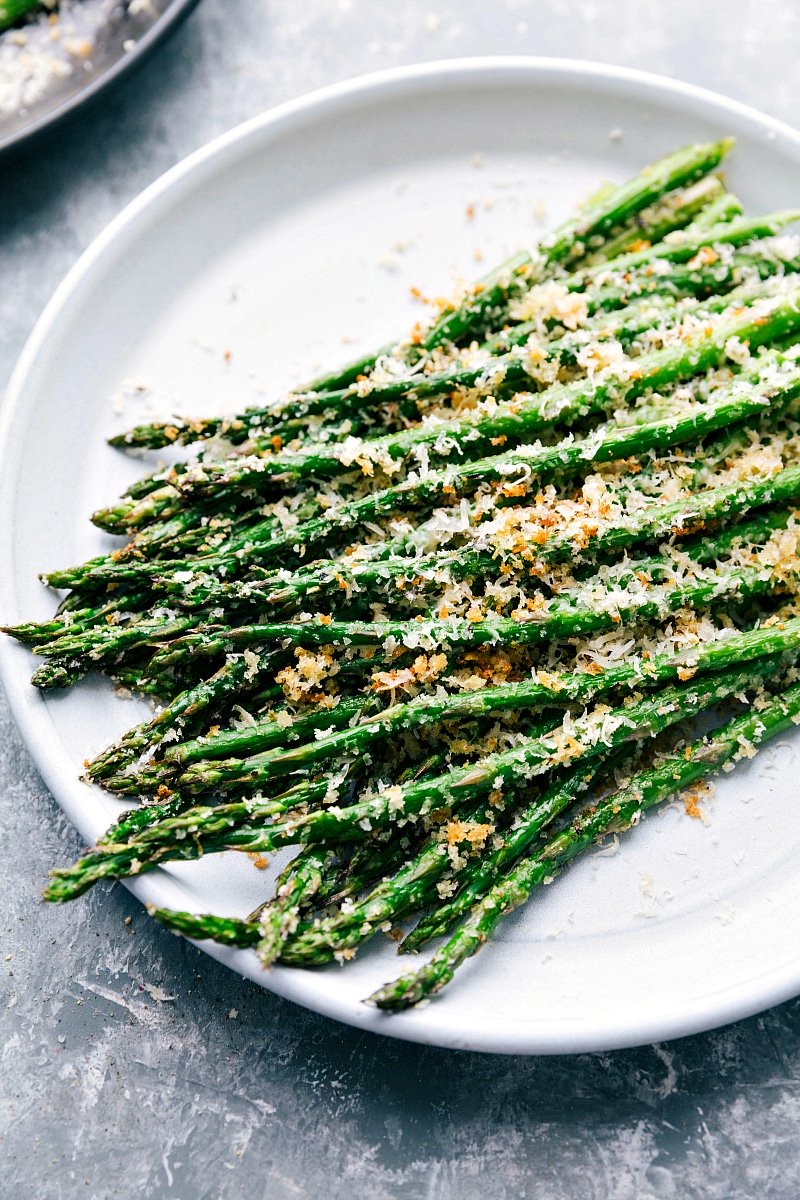 Roasted Asparagus accompaniments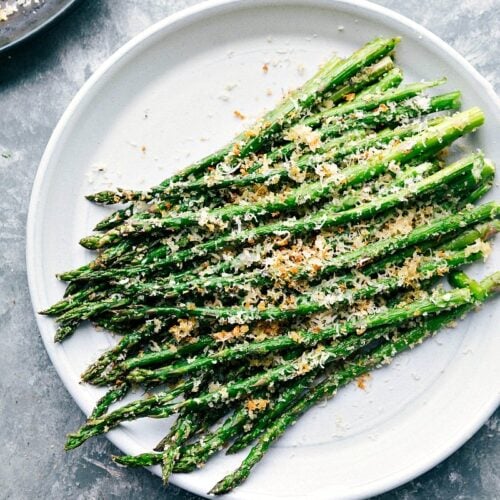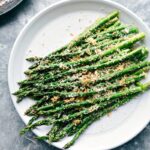 Roasted Asparagus
Delicious Roasted Asparagus with the perfect easy seasoning blend and grated Parmesan cheese. Add a little crunch to your roasted asparagus with panko and/or breadcrumbs!
Keyword:
Roasted Asparagus
Ingredients
1 and 1/2

pounds

asparagus,

woody ends removed

2

tablespoons

olive oil

1

tablespoon

unsalted butter,

melted

1/2

teaspoon EACH:

fine sea salt, dried Italian seasoning

1/4

teaspoon EACH:

garlic powder, freshly cracked pepper

1/3

cup

panko bread crumbs

(or breadcrumbs - Note 1)

1/3

cup

+ 2 tablespoons freshly grated Parmesan cheese,

separated
Instructions
Preheat the oven to 425 degrees F. Use your largest baking sheet (I recommend a 15×21 inch sheet pan).


Wash under cold water and dry completely (do this quickly by rolling the spears in between two kitchen towels). Snap off the woody ends from each spear. 

Place the asparagus spears directly on your large sheet pan. Drizzle with olive oil and melted butter. Add the salt, Italian seasoning, garlic powder, and pepper. Toss until the spears are well coated. They need to have enough oil and butter so the panko and Parmesan will stick; add an additional tablespoon of oil if needed (if you have more than 1.5 pounds asparagus). 

Finally, sprinkle the panko and 1/3 cup grated Parmesan cheese. Again, toss gently to ensure the panko and Parmesan coat all the spears.

Spread the asparagus into a single even layer; be sure they aren't overlapping; otherwise you get steamed instead of roasted asparagus (use 2 sheet pans if needed). Some of the panko/Parmesan will fall to the tray and that's fine as long as most of the asparagus is well coated. If not, sprinkle the mixture on the spears.


Bake 7-11 minutes or until spears are lightly browned, tender, and the Parmesan cheese is melted. (this may vary depending on actual oven temperature and size of spears). Remove from the oven and sprinkle the remaining 2 tablespoons Parmesan cheese on the hot asparagus. I like to take some of the toasted panko from the tray and add it on top of the bowl or platter of spears.


Enjoy immediately while hot.
Recipe Notes
Note 1: I think panko makes all the difference for this asparagus, but breadcrumbs will also work.  if you prefer, you can omit the crumbs entirely. To read about panko/breadcrumbs click here. You can typically find panko in the Japanese cuisine section of your store or near regular breadcrumbs.