Asparagus coated in olive oil, a blend of delicious herbs, and Parmesan cheese. A great Spring appetizer or side dish!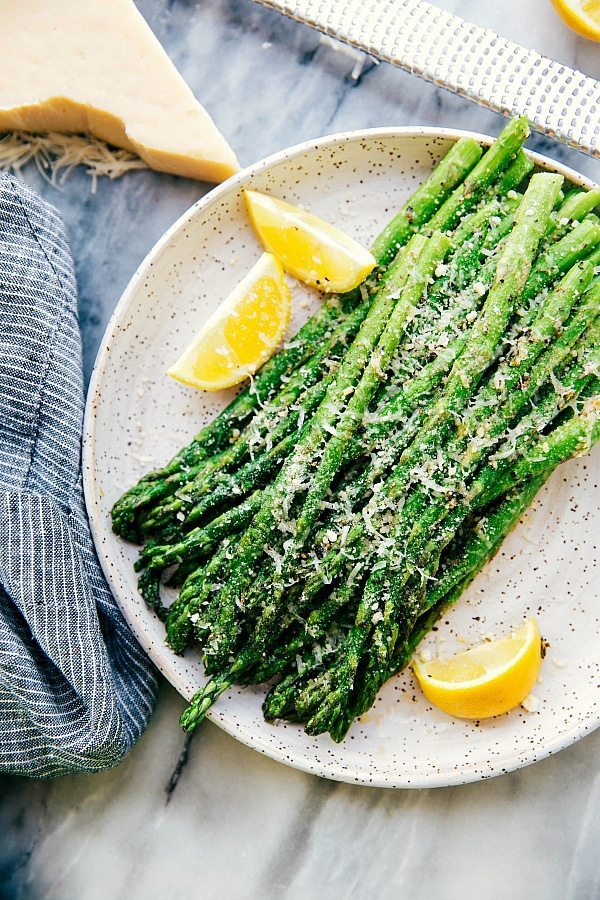 Okay, so I know this isn't a super original recipe and I have been debating for a couple of weeks whether or not to share it. Oven roasted garlic parmesan asparagus — you could probably find no short of dozens of recipes for a variation of this easy side dish BUT I've made it so many times over the years that I thought my little tips and tricks and my particular version is worth a share.
So, here it is, and I hope you'll see why it deserves it's own spot on the internet ?
First off are the herbs. My recipe calls for dried basil, oregano, and if you like it thyme. I actually am not a huge fan of thyme, but my husband is so sometimes I'll put it in. If you love thyme, you can't go wrong adding it to asparagus. Add about 1/4 a teaspoon per pound of asparagus. There are just small amounts of these herbs but they blast up the flavor a few notches. Next I use garlic POWDER instead of actual garlic. The reason for powder is to completely avoid any burned or overcooked garlic but still get a hint of delicious garlicky flavor. If you want to use actual garlic, then I've found sprinkling it on top of the asparagus after you've tossed it with the oil and herbs works well too.
Salt and pepper are pretty given, but the kinds you use matter. Our favorites? freshly cracked pepper and seasoned sea salt. ??
Last, but not least is the actual Parmesan cheese. So here's the "secret": toss the asparagus with half the parmesan cheese to get all of it nice and well covered with parmesan and then AFTER you've tossed the spears in everything, add the remaining grated parmesan to get a nice and melted cheesy "crust" during the cooking.
And finally, the cooking of the asparagus is important. You want the spears baked right to crisp tender — not overdone and soggy and definitely not still raw. I've found that in my oven this is always right around 10-11 minutes. Watch carefully — you'll know when they are a bright green and all the cheese is nice and melty on top!
A squeeze of lemon to the final product and an extra sprinkle of salt and pepper (only if desired) and there you have some delicious parmesan oven roasted asparagus that only took minutes to assemble and not too long to cook. These make the perfect Spring side-dish or appetizer or you can always chop them up and put them in a salad or in another dish. I love to roast asparagus, chop it, and then mix it with some quinoa and pesto. It's absolutely delicious!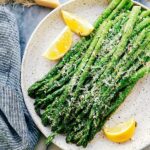 Easy Oven Roasted Parmesan Asparagus
Servings
:
1
pound asparagus
Ingredients
1

pound

asparagus

1/2

teaspoon

garlic powder

1/2

teaspoon

ground oregano

1/2

teaspoon

dried basil

1/2

teaspoon

dried thyme

optional

1/2

cup

freshly grated Parmesan cheese

separated

3

tablespoons

olive oil

Freshly cracked pepper and salt

Optional: fresh lemon
Instructions
Preheat the oven to 400 degrees F.

Rinse, dry, and then snap the ends off of the asparagus spears.

Place on a large cooking sheet.

Add garlic powder, oregano, basil, thyme if desired, and 1/4 cup of the freshly grated Parmesan cheese. Add the olive oil and about 1/2 teaspoon salt (we love seasoned salt) and pepper.

Toss the asparagus in the mixture until all is well and evenly coated.

Spread the asparagus evenly on the cooking sheet and then top with remaining 1/4 cup Parmesan cheese.

Bake for 10-12 minutes or until the asparagus is crisp tender, bright green, and the cheese is melted. Watch carefully so you don't overcook!

Enjoy immediately with a squeeze of lemon if desired and additional salt or pepper.
More delicious side dishes:
One-dish broccoli quinoa with toasted pine nuts