The most tender and deliciously seasoned crockpot turkey breast. Perfect for smaller holiday get togethers or to have turkey ready for lunches and salads during the week.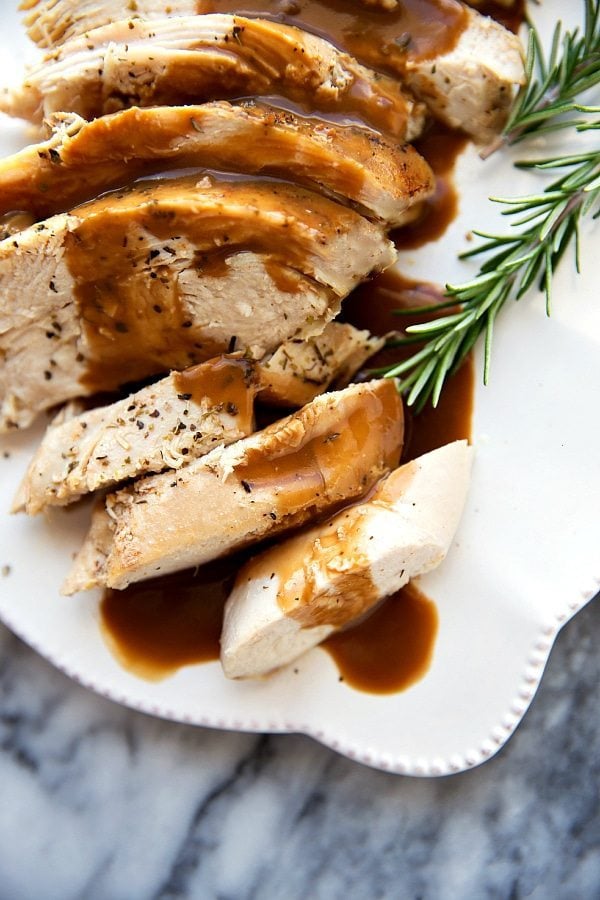 This is THE turkey recipe if you want something low maintenance (like seriously very little work), easy to do, one dish to clean up, and just about zero percent chance of a dried out turkey. Dried out turkey is always a huge concern for many people when cooking turkey in the oven. It's easy to over-cook it! But in a slow cooker? Nope. It comes out super moist (<–raise your hand if you hate that word! ?), delicious, and flavorful. Literally it falls off the bones it's so super tender.
Now, you won't get that super pretty crisp skin by cooking a turkey in the crockpot and you can't fit super huge turkeys in the crockpot, but it is great for a smaller get togethers or if you aren't huge turkey fans and plan on doing a ham or other meats. It also makes some of the best turkey for sandwiches and salads as it shreds super well. The past few years the husband and I have always cooked a turkey in the oven and been very traditional about the whole thing, but after one taste of this turkey we are never going back. Crockpot OR bust!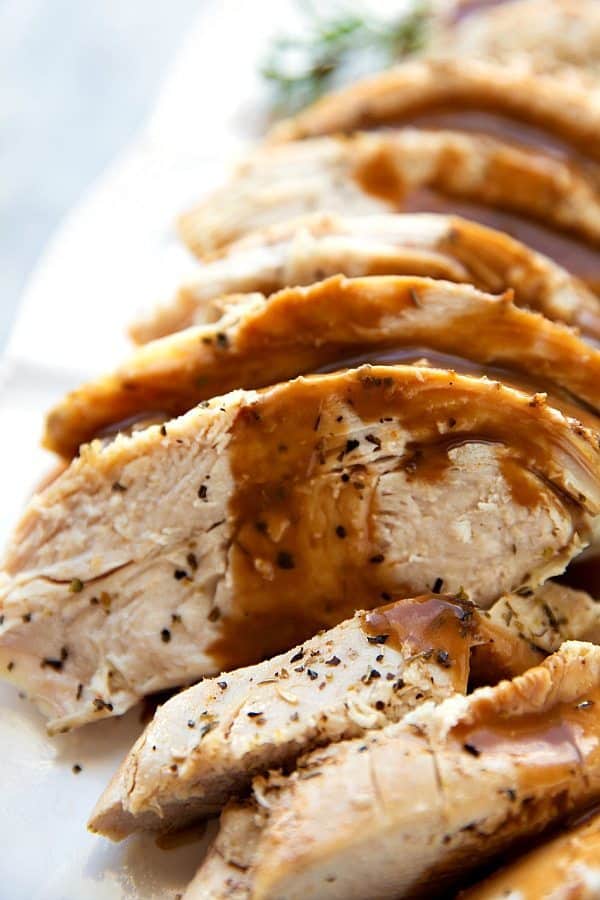 A few quick "turkey" notes. Be sure that your turkey is 100% thawed out before putting it in the crockpot. This does take some planning and preparation as a turkey will generally need to sit in the fridge for 1-2 days (a 5-7 pound turkey) to get fully thawed out.
I highly recommend a bone-in turkey breast just because of the flavor you'll get from it. And speaking of flavor, why do I remove the skin?? Well, it's totally personal preference. You can leave the skin on (and many people swear by the flavor the skin on a turkey brings to the meat). However, after making 2 crockpot turkeys (one skin on, one skin off), I preferred the one with the skin removed before cooking.
Either way, you'll likely want to remove the skin as it doesn't get that nice crisp that an oven will get. It's just a matter of removing it before or after cooking. You can get a great flavor by leaving it on and removing it after cooking, but I prefer the spices on the actual meat. Which, technically, you can rub the spices on AND under the skin. I just think it gets on better without the skin and the melted butter really enhances the spices/flavor of the actual meat instead of skin you'll be removing. So really, there are pros and cons to either. Whatever you like to do — skin on or off! I'm no turkey cooking pro, I just like yummy tender turkey that's easy to make ?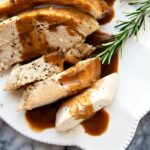 Crockpot Turkey Breast
Servings
:
4
-6 as a main dish
Ingredients
1

(5-6 pounds)

bone-in turkey breast

completely thawed

5

stalks celery

2

yellow onions

~12-15

baby carrots

1

cup

chicken broth

6

tablespoons

butter

separated
Seasonings
1

tablespoon

dried minced garlic

1

teaspoon

seasoned salt

1

teaspoon

paprika

1/2

teaspoon

pepper

1

teaspoon

Italian seasoning

1/4

teaspoon

dried parsley

1/4

teaspoon

dried sage

Optional: 1/4 teaspoon dried thyme
Instructions
Make sure the turkey breast is completely thawed -- this can take 1-2 days in the fridge so be prepared. It isn't food safe to thaw a turkey in the crockpot.

Spray a large crockpot (I use a 6 quart crockpot) with nonstick spray.

Place the celery at the bottom. Cut one yellow onion into large chunks and add it to the bottom. Add the baby carrots. Pour the chicken broth on top.

Cut off the skin of the turkey breast (OR leave it on, whatever you prefer -- see last paragraph of blog post for more notes on this)

Place the turkey breast, BREAST DOWN on top of the vegetables.

Cut the other onion in half and place inside the turkey with 4 tablespoons butter.

Stir together all of the seasonings and rub all over the turkey. If leaving the skin on, make sure to rub the seasonings under the skin.

Melt the remaining 2 tablespoons of butter and, using a pastry brush, brush it all over the turkey.

Cover the crockpot and cook on high for 1 hour and then low for 5-7 hours or until the turkey's internal temperature reaches 165 degrees F and it is very tender.

Remove the turkey from the crockpot and turn so it is breast up.

Start by removing the wishbone and then remove all the other bones. Take the large pieces of meat and slice them.

Enjoy.
Recipe Notes
TO MAKE GRAVY: Remove the vegetables and strain out the remaining liquid in the slow cooker. Add that liquid to a small pot and allow to sit for 5-10 minutes or until all the fat comes to the surface. Remove the fat and allow the mixture to come to a simmer over medium-low heat. Stir constantly for about 5-10 minutes or until thickened. In a separate bowl, briskly whisk together 1 and 1/2 tablespoons cornstarch with 2 tablespoons cold water until completely smooth. Briskly whisk that mixture into the gravy and simmer over low heat until completely thickened. Add salt, pepper, and any other seasonings needed.
Here are some more delicious recipes to add to your Thanksgiving menu: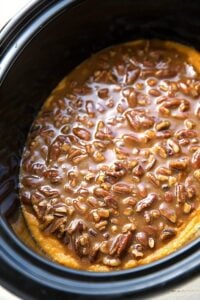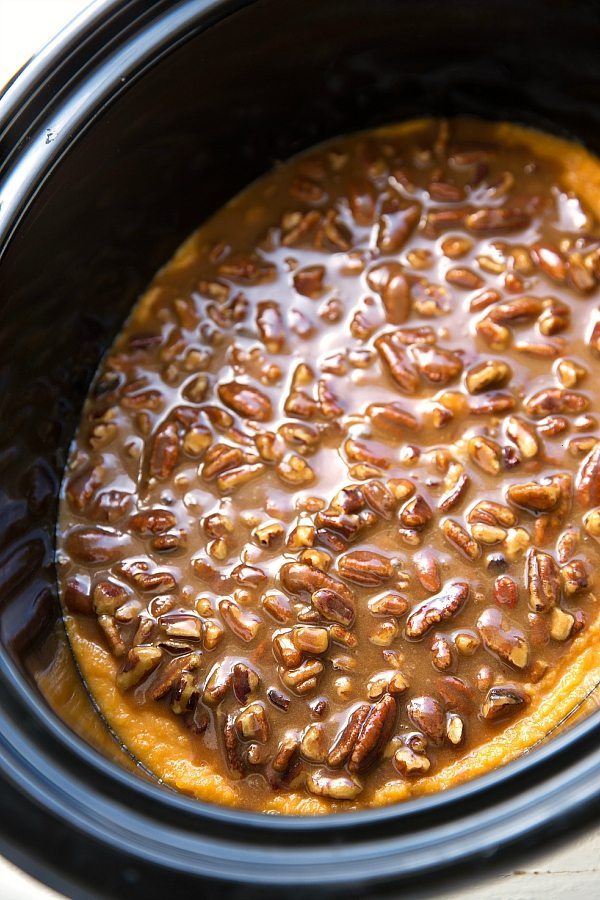 The best crockpot sweet potato casserole
Roasted Sweet Potato and Wild Rice Salad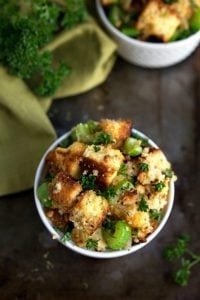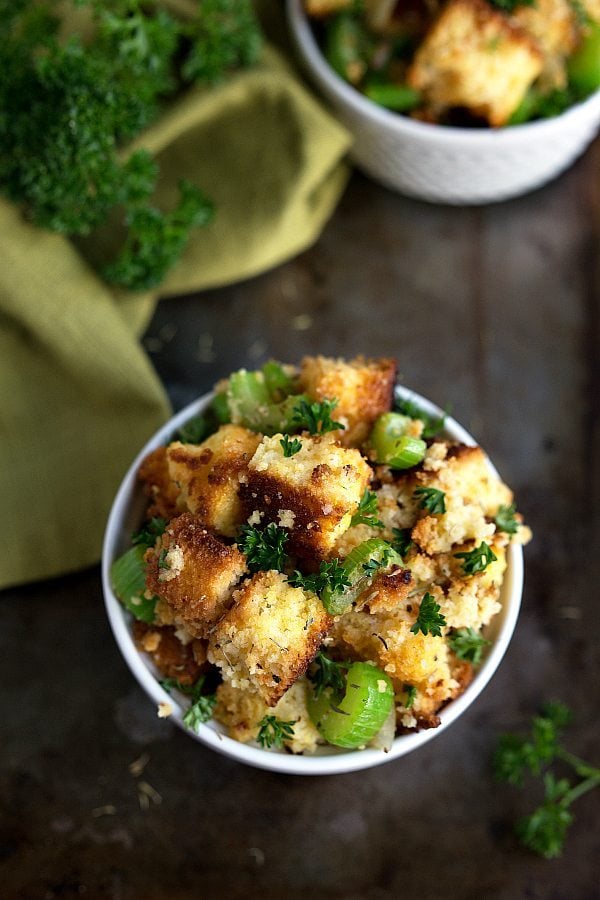 Traditional Southern Cornbread Dressing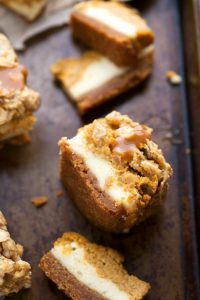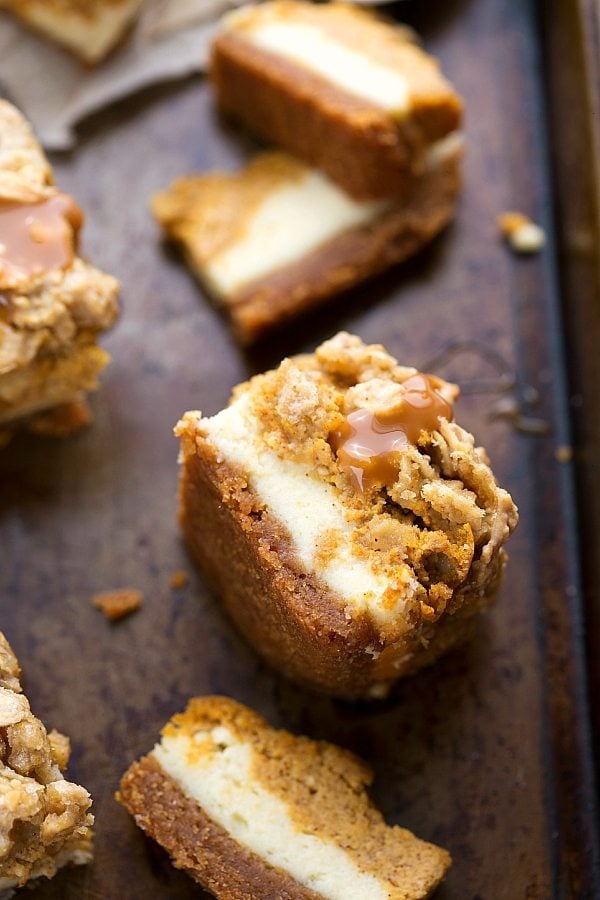 Delicious Caramel Pumpkin Cheesecake bars with a Streusel Topping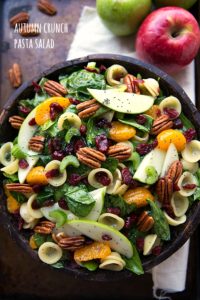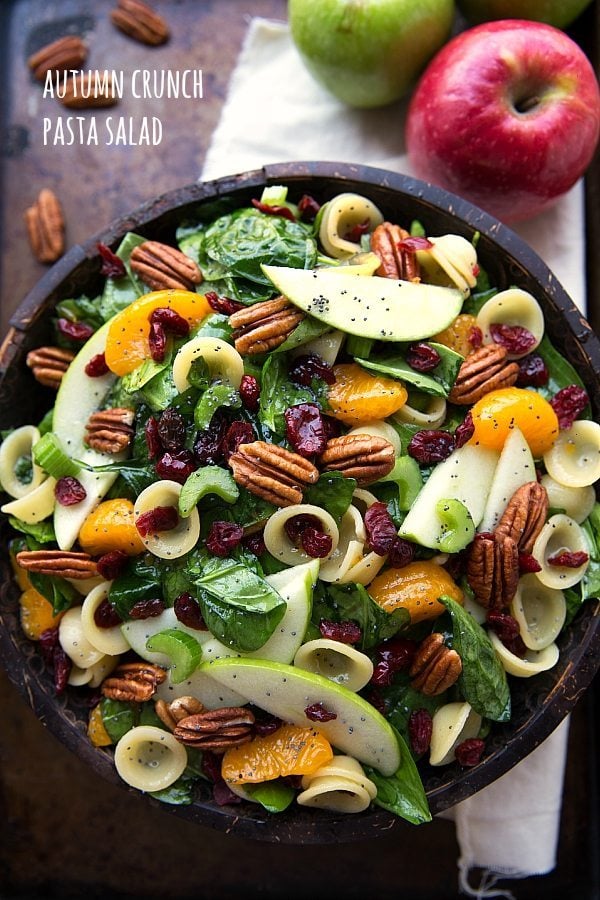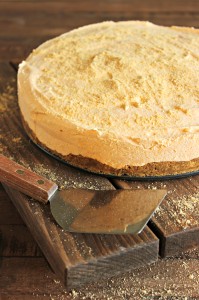 No Bake Frozen Pumpkin Pie Cheesecake
Crockpot Double Mashed Potatoes (2 side dishes made in one crockpot!)
Easy Slow Cooker Potatoes Au Gratin