One pan healthy roasted sausage, chickpeas, and veggies tossed in Mexican-inspired spices. (Plus meal prep tips!)

A few days ago I posted a small survey on Instagram and asked if people were more interested in crockpot/instant pot recipes OR one pan recipes. Guess which option got more votes? If you guessed one pan recipes you'd be right! And if I'm being honest I'll admit I was excited by this, because one pan meals are my favorite.
I also got a few requests for additional flavor variations on "one pan sausage and veggie type" dinners because so many of you love those recipes and use them often for meal prepping! So today I'm doing just that by using some Mexican-inspired spices, switching up the veggies, and adding chickpeas to the mix! This meal is simple to make, is packed with nutritious ingredients, makes a great meal prep, and best of all: it tastes amazing!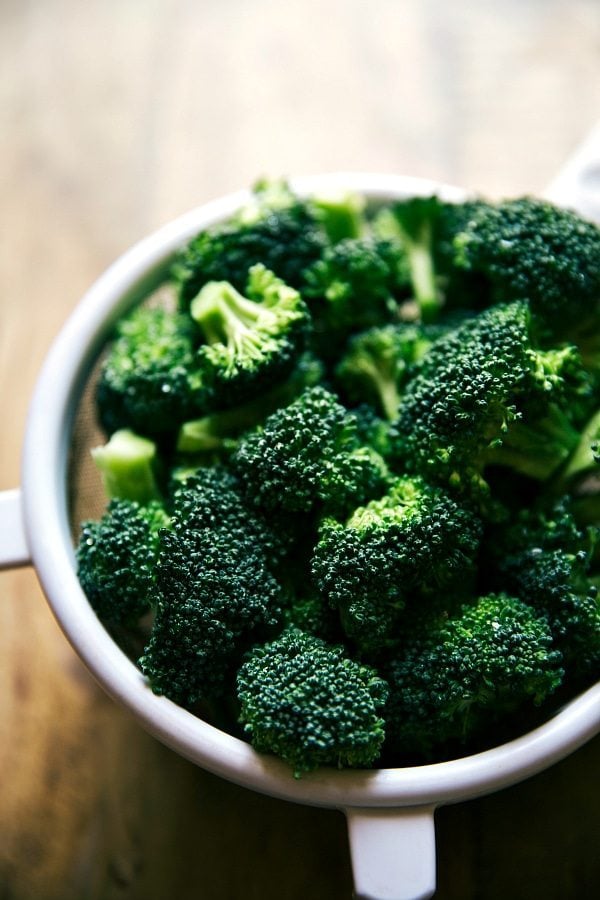 How do you make this one pan sausage, chickpeas, and veggies recipe?
This dish is one of my favorites to make because the timing works out SO WELL. Since sweet potatoes and broccoli take different amounts of time to roast, there are 2 different roasting increments. This allows time for prep as different parts of the dish are roasting, cutting down on overall time in the kitchen.
You'll start by making the seasoning mix and then prepping the sweet potatoes, red pepper, and onion. Those three ingredients get tossed with 2 tablespoons of oil and half of the seasoning mix.
That mixture then goes into the oven for 20 minutes. While it's roasting you can prep the rest of the ingredients, as well as cook some brown rice, white rice, or quinoa to go along with the dish if you'd like.
Once the first half of the dish has cooked for 20 minutes you'll push those ingredients off to one side of the pan. On the other side of the pan place the chopped broccoli, sliced sausage, drained chickpeas, 3 tablespoons oil, and the remaining seasoning mix. Toss all that together and then toss both sides of the pan together. Make sure ingredients aren't overlapping or you'll get steamed veggies instead of roasted veggies.
Cook for an additional 15-20 minutes. Use this time to prepare a side salad, or clean up the mess your toddler made.
All done! This recipe is ready to be served immediately, or stored in the fridge for a healthy meal prep option.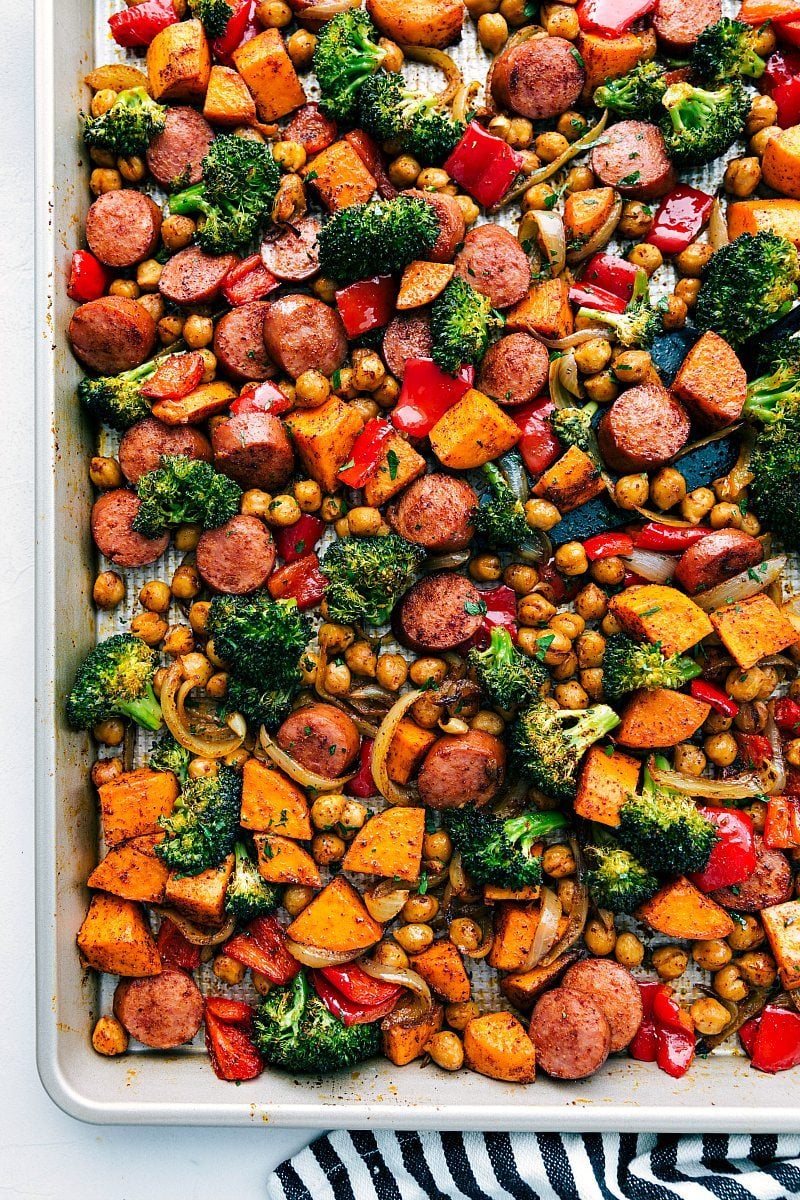 What makes this one pan sausage, chickpeas, and veggies healthy?
Sausage. Hold on a minute! Sausage and healthy in the same sentence? YES. While you can use whatever sausage you'd like, if you want to keep this dish healthy make sure to use turkey or chicken sausage. Turkey and chicken sausage have significantly lower calories and saturated fat than standard pork sausage, and still contain a high protein content.
Sweet Potato. These root vegetables help regulate blood sugar levels in the body, which is especially important if you have type 2 diabetes. They also are very high in fiber, vitamin B, vitamin C, and antioxidants.
Chickpeas: Also known as garbanzo beans, these offer a large range of health benefits: they help increase satiety, keep blood sugar levels stable, and contain many vitamins and minerals. A lot of the vitamins and minerals in chickpeas are known for their healing properties such as helping to balance hormones, reverse autoimmune diseases, and prevent headaches.
Broccoli. One of the main benefits of broccoli is its cancer fighting properties. Research has shown broccoli to aid in preventing breast and uterus cancer.
Seasonings. Cumin has traditionally been used to treat all kinds of stomach problems such as indigestion, nausea, diarrhea, morning sickness, stomach pain. It's also known for its immunity boosts from the vitamin C it contains.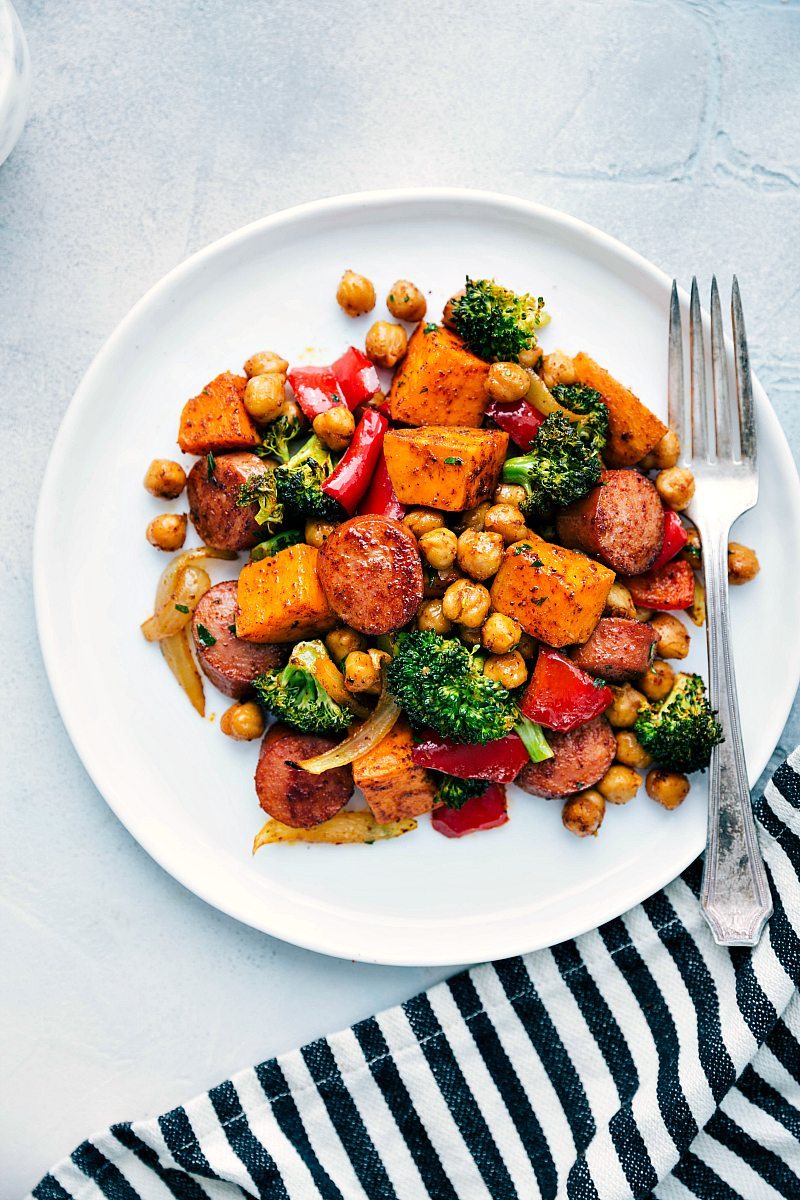 How do you MEAL PREP with this one pan sausage, chickpeas, and veggies recipe?
Meal prepping is simple with this dish! Simply prepare the dish according to the recipe, and while it's cooking in the oven prepare the "base" of this recipe (see below).
While you can serve this recipe by itself, I like it best with rice or quinoa as the base. My favorite base is basmati or jasmine rice, but if you're looking for a healthier option then quinoa or brown rice is delicious. To infuse the rice or quinoa with a bit more flavor I like to cook it in chicken broth or chicken stock. I'll also add a bit of freshly chopped cilantro and freshly squeezed lime to the rice. If you have an extra minute I definitely recommend these few additions, but it is great with plain rice/quinoa too 🙂
Once the base is cooked, and the sheet pan sausage and veggies are done, divide everything into four large meal prepping containers. Start with the base, then add the sausage and veggies on top. This dish divides perfectly into 4 large meal prep meals.
I like using glass meal prep containers because I can pop them in the microwave without worrying about microwaving my food in plastic containers (some studies suggest microwaving in plastic to be unsafe). However, you do not need any kind of "fancy" meal prepping containers to be successful — the best meal prepping containers are the ones you have with you 🙂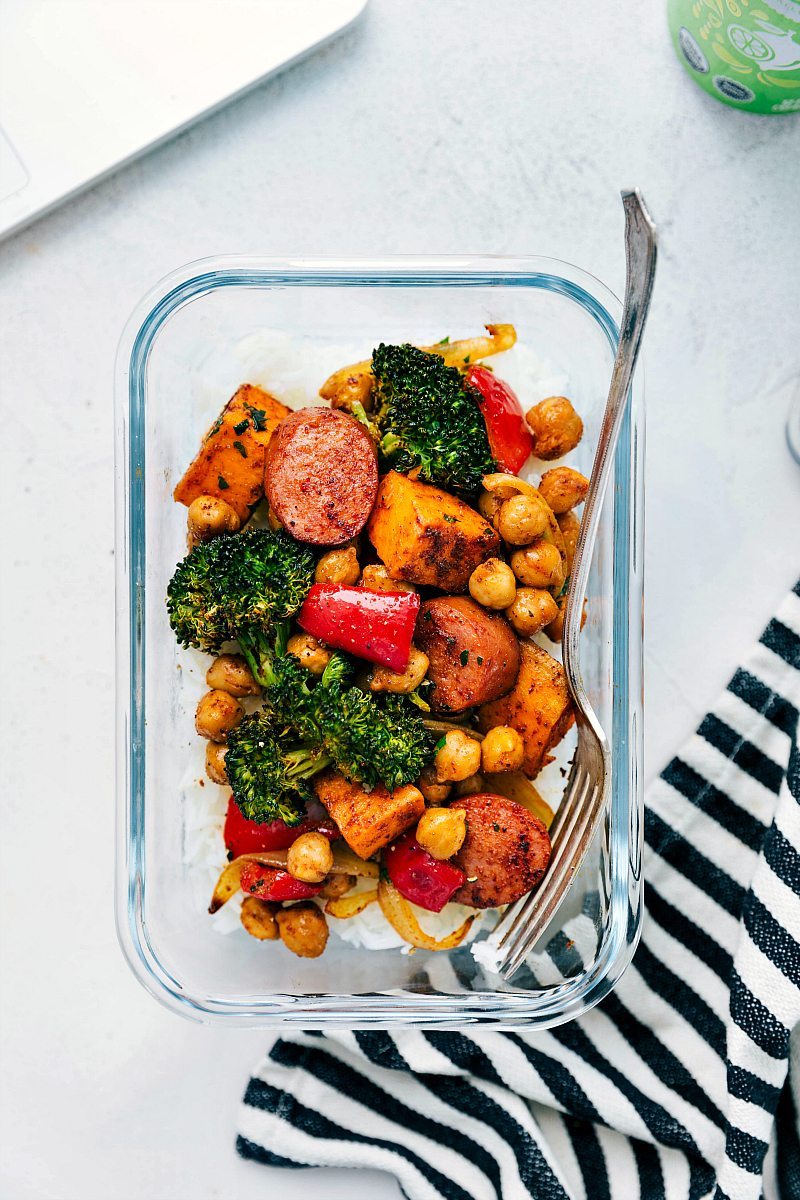 More Easy One Pan Dinners:
One Pan Healthy Sausage & Veggies
One Pan Italian Sausage & Veggies
One Pan Balsamic Chicken and Veggies
One Pan Lemon Parmesan Chicken and Asparagus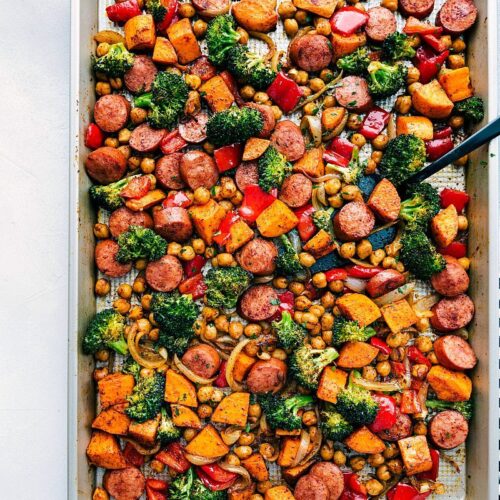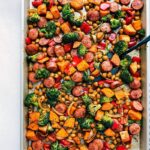 One Pan Spicy Sausage and Veggies
One pan healthy roasted sausage, chickpeas, and veggies tossed in Mexican-inspired spices.
Servings
:
4
-6 servings (4 meal prep containers)
Ingredients
1 and 1/4

teaspoon

paprika

3/4

teaspoon

garlic powder

1 and 1/4

teaspoon

ground cumin

1

teaspoon

ground coriander

1 and 3/4

teaspoon

chili powder

Fine sea salt and freshly ground black pepper

1

large

sweet potato,

peeled and chopped (~3 cups)

1

red pepper,

chopped (~1 and 1/2 cups)

1

small

yellow onion,

halved and sliced (1-1/2 cups)

5

tablespoons

olive oil,

separated

1

can (14.5 ounces)

chickpeas/garbanzo beans,

drained

1

head

broccoli,

coarsely chopped

13

ounces

(fully cooked) hardwood smoked turkey sausage,

cut into 1/2-inch thick slices (OR use your favorite kind of smoked sausage)

Fresh chopped cilantro,

optional

Optional: 1 cup uncooked rice or quinoa (we like jasmine or basmati rice best!)
Instructions
Preheat the oven to 400 degrees F. Line a very large sheet pan with parchment paper for easier clean up.

Prepare the seasoning mix by combining the paprika, garlic powder, ground cumin, ground coriander, chili powder, salt, and pepper in a small bowl and stirring together. I use about 1/2 teaspoon salt and 1/4 teaspoon pepper but add to your preference. Set aside.

Prep the veggies: peel the sweet potatoes and cut into chunks. (I cut the sweet potato into coins and then each coin into 4 chunks) Chop the peppers into thick squares and cut the onion into thick strips. (See video for sizing on the vegetables)

Place the prepared sweet potatoes, peppers, and onion on the prepared sheet pan. Add two tablespoons olive oil and half of the spices on top. Toss to evenly coat all the veggies and bake for 20 minutes in preheated oven.

Meanwhile, prepare the remaining ingredients. Drain the chickpeas and set aside. Chop the broccoli. Slice the sausage.

Remove from the oven and flip/stir all the veggies around and section to one side of the tray. On the other side of the tray, add the chickpeas, broccoli, and sausage. Add remaining 3 tablespoons oil and remaining seasoning. Toss together and then toss everything on the tray together. Return to the oven and bake for another 15-20 minutes or until vegetables are crisp tender and sausage is browned.

Meanwhile, prepare rice or quinoa if desired. If preparing brown rice, start the preparation earlier.

Enjoy with rice or quinoa and fresh chopped cilantro if desired.

To meal prep: see blogpost for instructions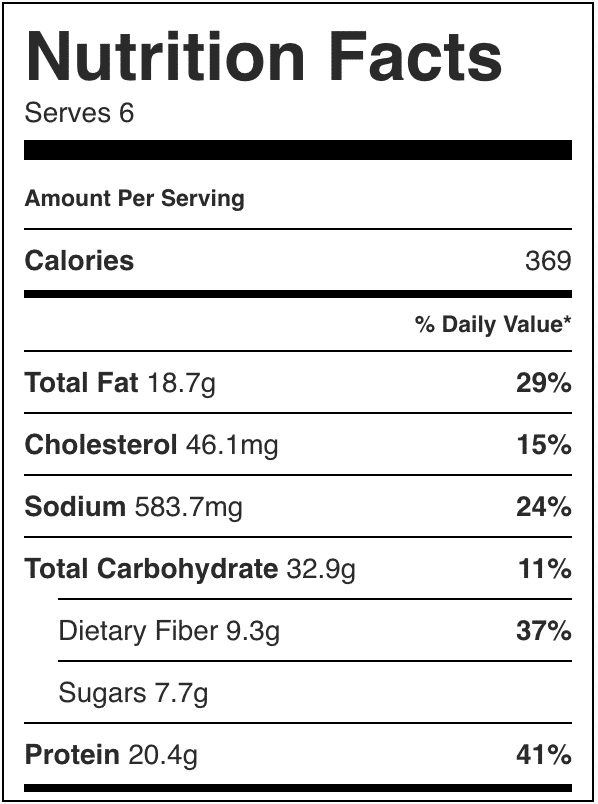 While I have my background in Exercise and Wellness (B.S.), all the content in this post is for informational purposes only. Please consult a doctor or dietician for any specific dietary needs/questions.