An easy one pan meal — harvest sausage and seasoned veggies baked together and topped with dried cranberries and pecans. Delicious, hearty, and healthy!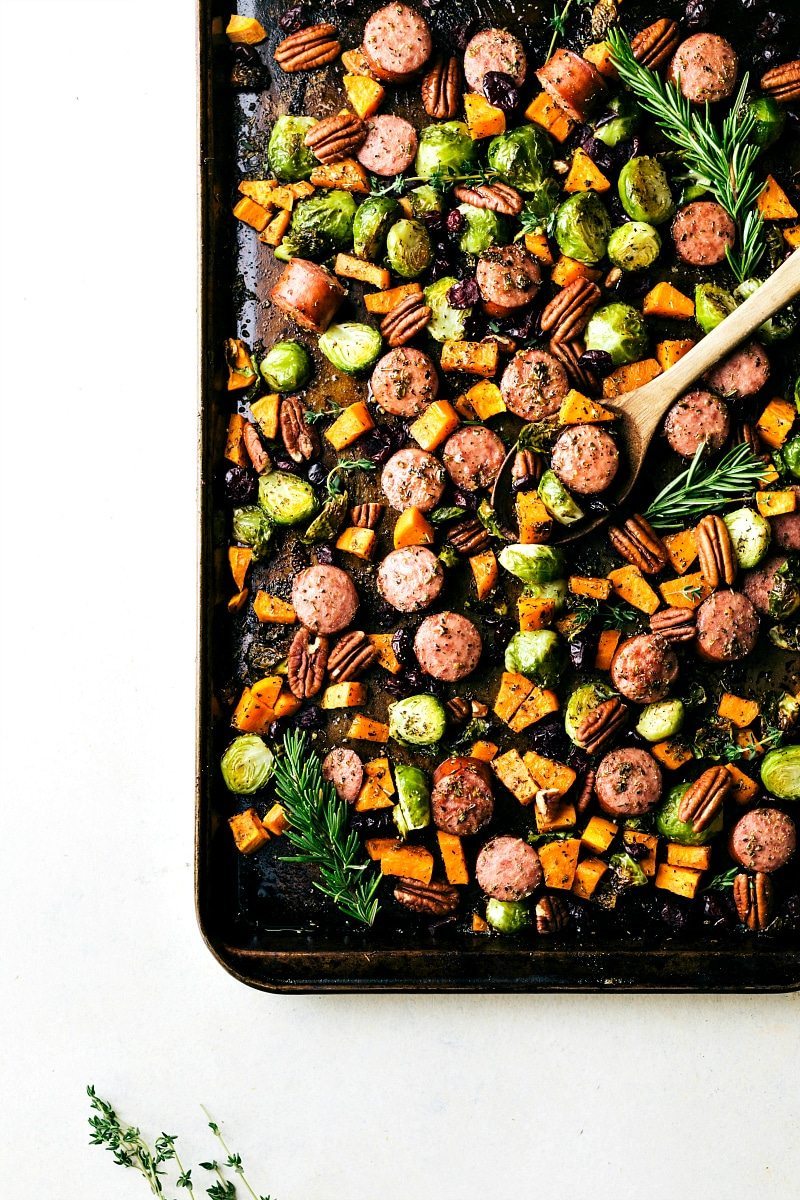 We finally turned on the heat this week and making soups has actually made a little bit more sense. More so than it did, say, in August when I was already testing soups for this site.
Along with soups, this harvest sausage sheet pan dinner has shown up on our table a couple of times the past few weeks and it is the perfect kind of cooler weather meal. It's a hearty yet lighter kind of comfort food. Mostly comforting in the flavors — this dish is heavy on thyme and rosemary. A few weeks ago I mentioned making some dinners for the husband to take into work and this veggies + sheet pan dinner has been a huge hit with him. It transports well, it's healthy, it's filling, and (most importantly) it's delicious. But after a couple weeks straight of that, I wanted to change it up a bit for him.
Enter: Harvest veggies and herbs sheet pan dinner. This dinner is the same idea — one pan, easy prep, and easy clean-up just with different veggies and flavors.
It also cooks in about the same time as long as you've cut the sweet potatoes pretty small and halved the brussels.
As far as sausage: just about any sausage will work here, but we generally use turkey or chicken sausage. I have tried beef sausage and it does seem to cook a little faster than the other two, so if you use beef, add that in after the veggies have cooked for about 7-8 minutes.

Also, because I am a self-proclaimed cheese addict, we like to add a little bit of parmesan cheese to this dish right out of the oven. (Seriously, anytime I make roasted veggies, I add parmesan.)
It's great with or without the cheese, but if you have some, top it off and ENJOY!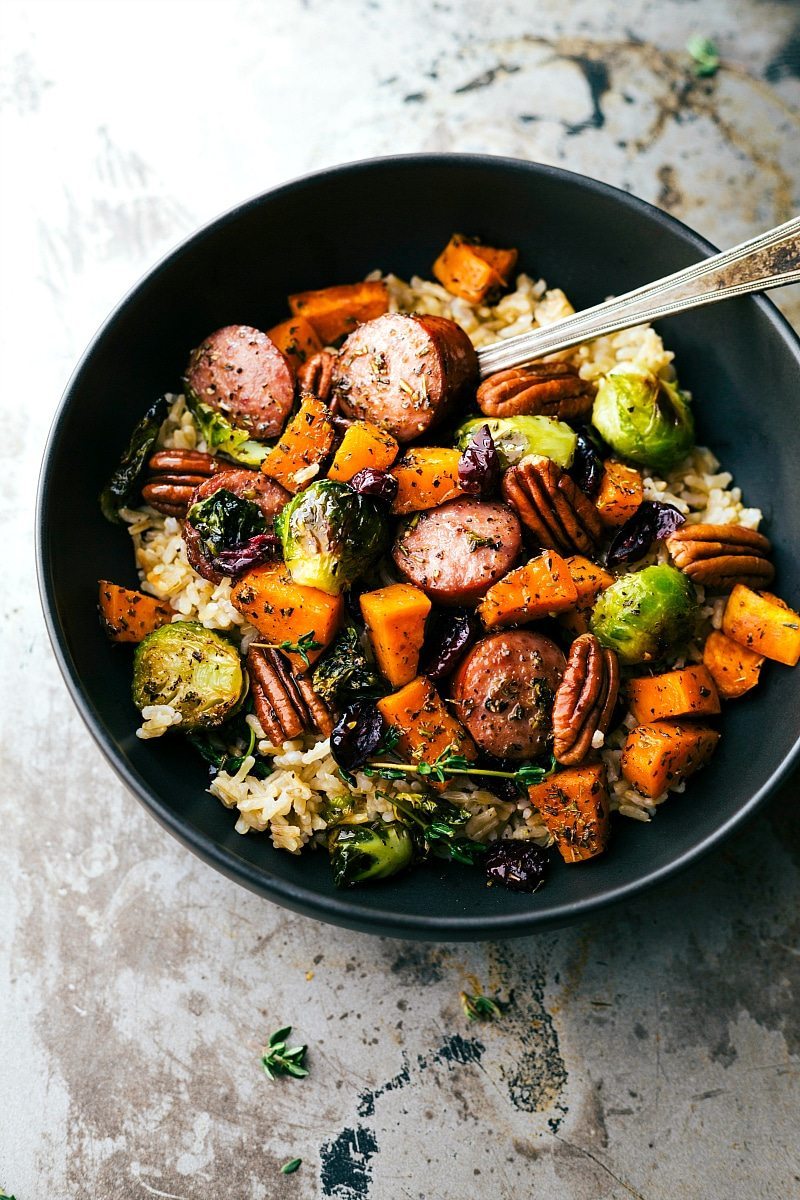 VIDEO TUTORIAL: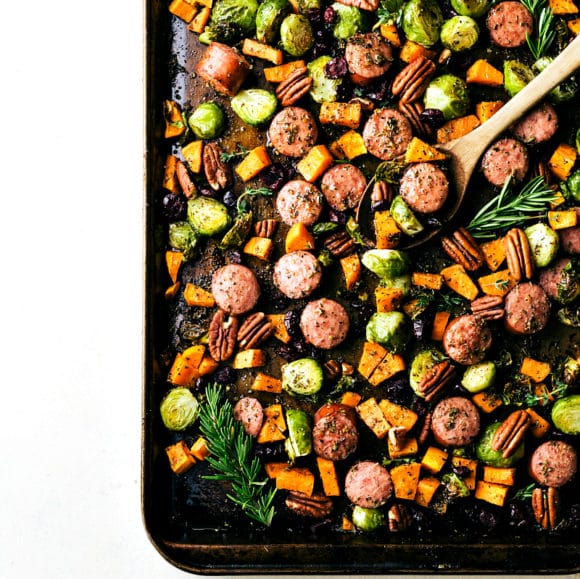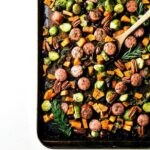 One Pan Harvest Sausage and Veggies
Ingredients
13

ounces

smoked sausage

3-4

cups (~4 potatoes)

large sweet potatoes

chopped

1

pound

Brussels sprouts

halved

1/3

cup

olive oil

3/4

tablespoon

dried oregano

3/4

tablespoon

dried thyme

3/4

teaspoon

dried basil

1/2

teaspoon

paprika

1/2

teaspoon

garlic powder

Seasoned salt and pepper

3-4

sprigs fresh rosemary

1/3

cup

dried cranberries

1/3

cup

toasted pecans

Optional: freshly grated Parmesan cheese
Instructions
Preheat the oven to 400 degrees F.

Thickly coin the sausage, peel and chop into small pieces the sweet potato.

Cut off the brown ends of the brussels and slice them in half.

Put the sausage, sweet potato, and brussels all on a large sheet pan.

In a small bowl, combine the olive oil, oregano, thyme, basil, paprika, garlic powder, seasoned salt (I use 1/2 teaspoon -- scale to preference), and cracked pepper (I use 1/2 teaspoon -- scale to preference).

Stir together and then pour over the sausage and veggies.

Add the sprigs of rosemary and then toss everything together.

Bake for 15 minutes, remove and stir everything around.

Return to the oven and bake for another 8-15 minutes or until veggies are tender.

Remove from the oven and toss again adding in the cranberries and pecans.

If desired top with some freshly grated parmesan cheese and enjoy.
More Easy Dinner Ideas: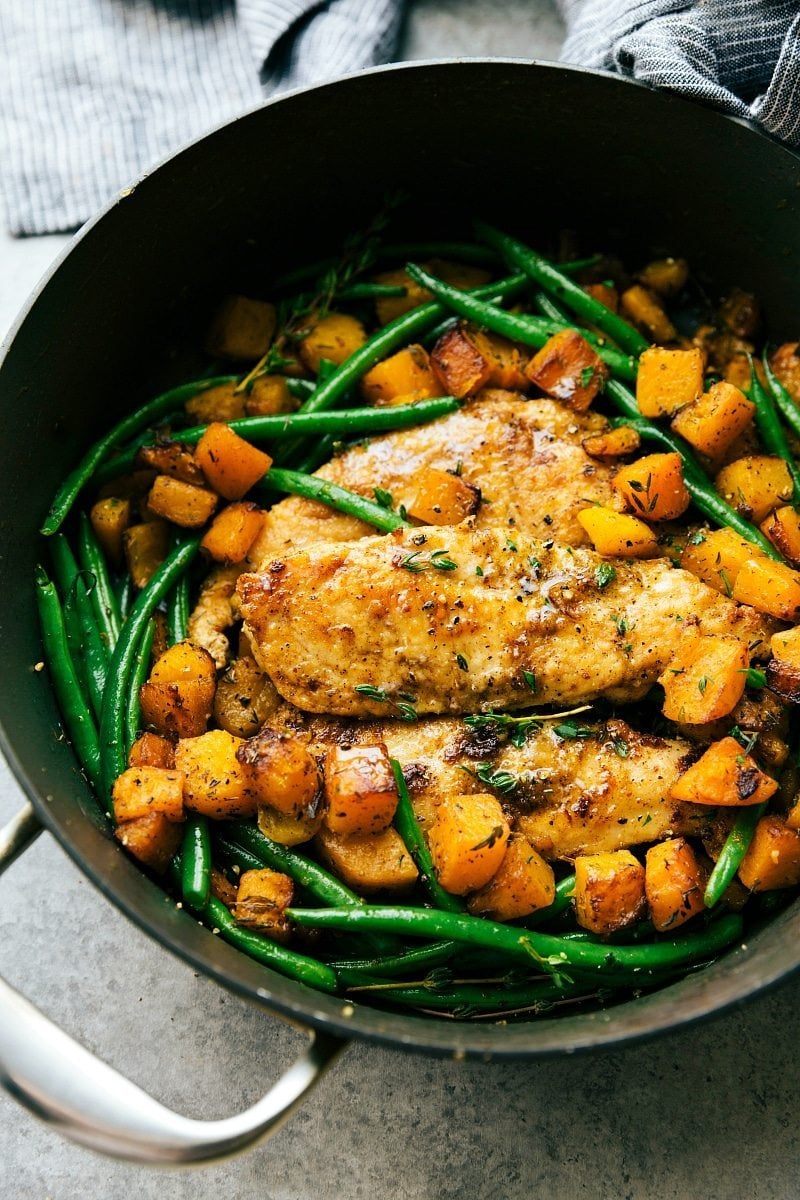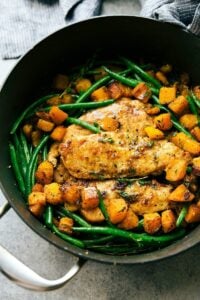 Skillet Chicken, Butternut Squash, and Green Beans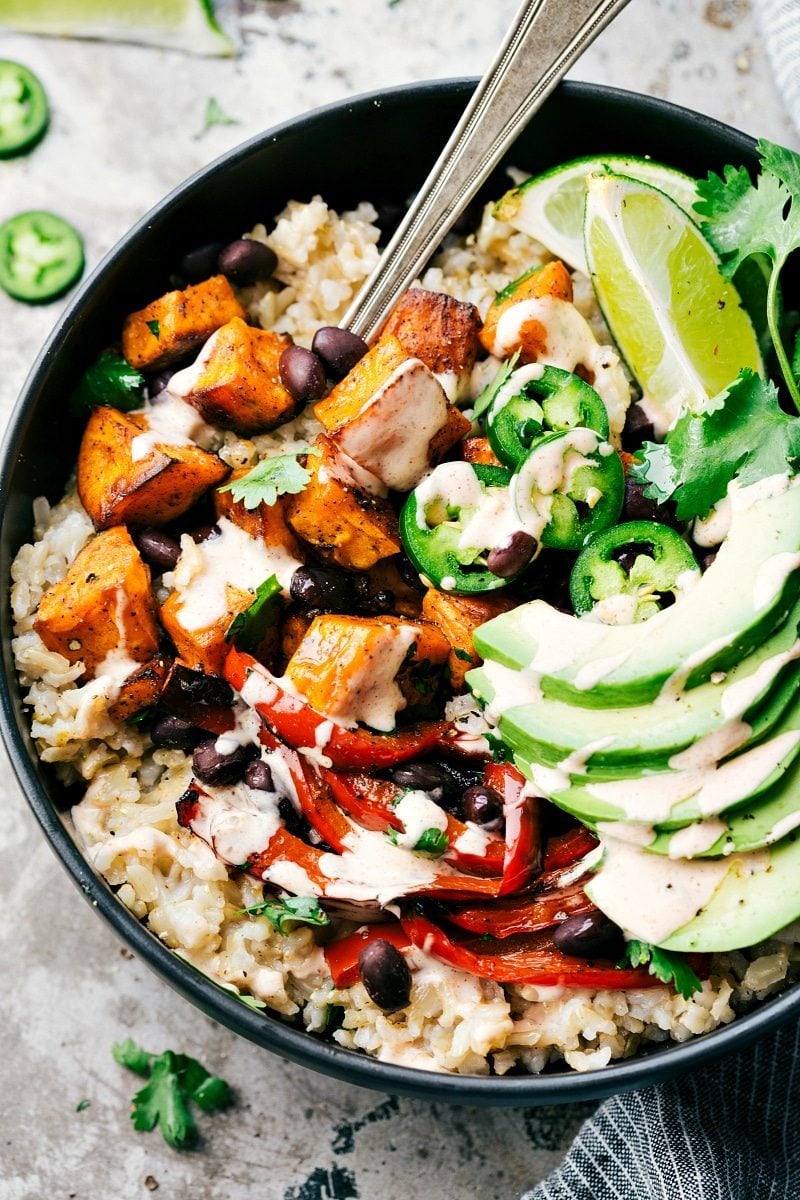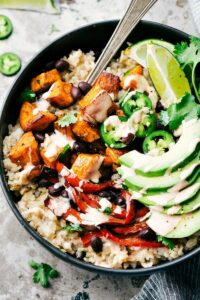 Sweet Potato and Black Bean Burrito Bowls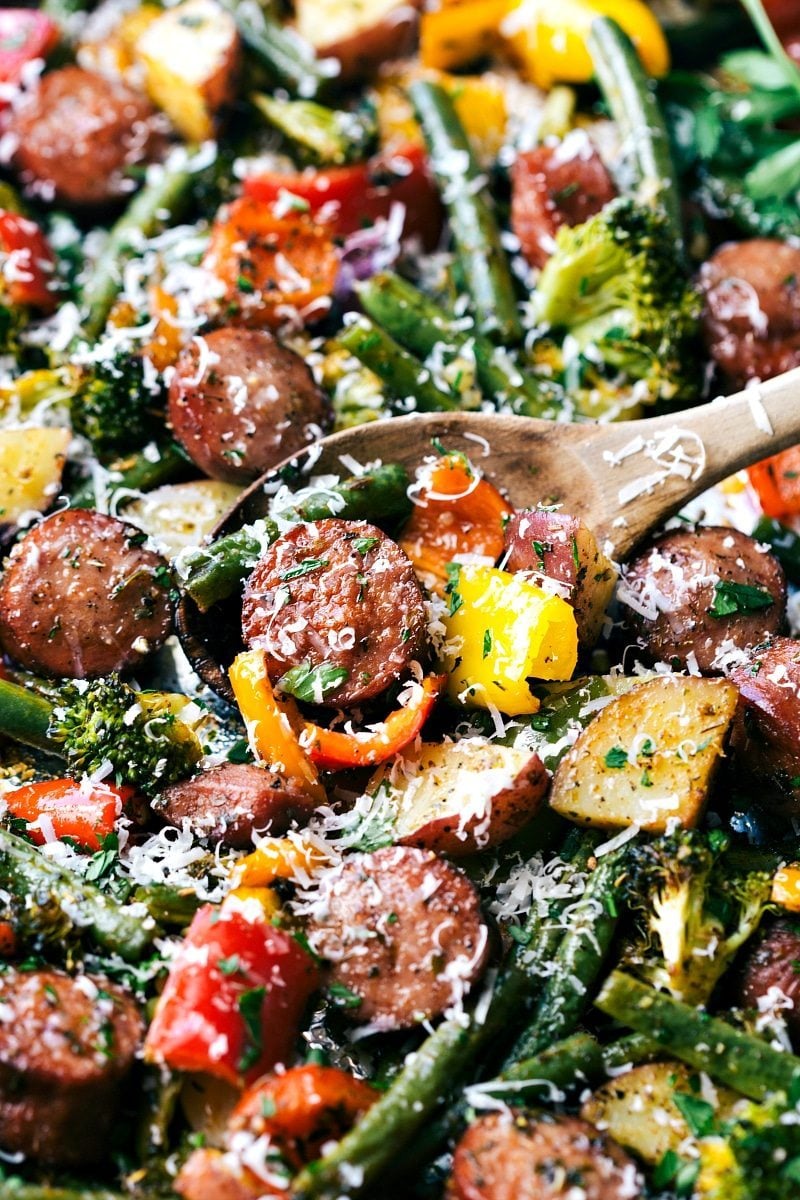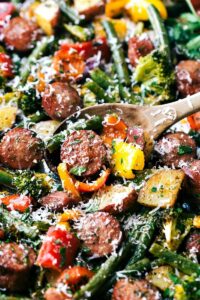 One Pan Healthy Sausage and Veggies