Simple-to-make and delicious gooey butter raspberry bars.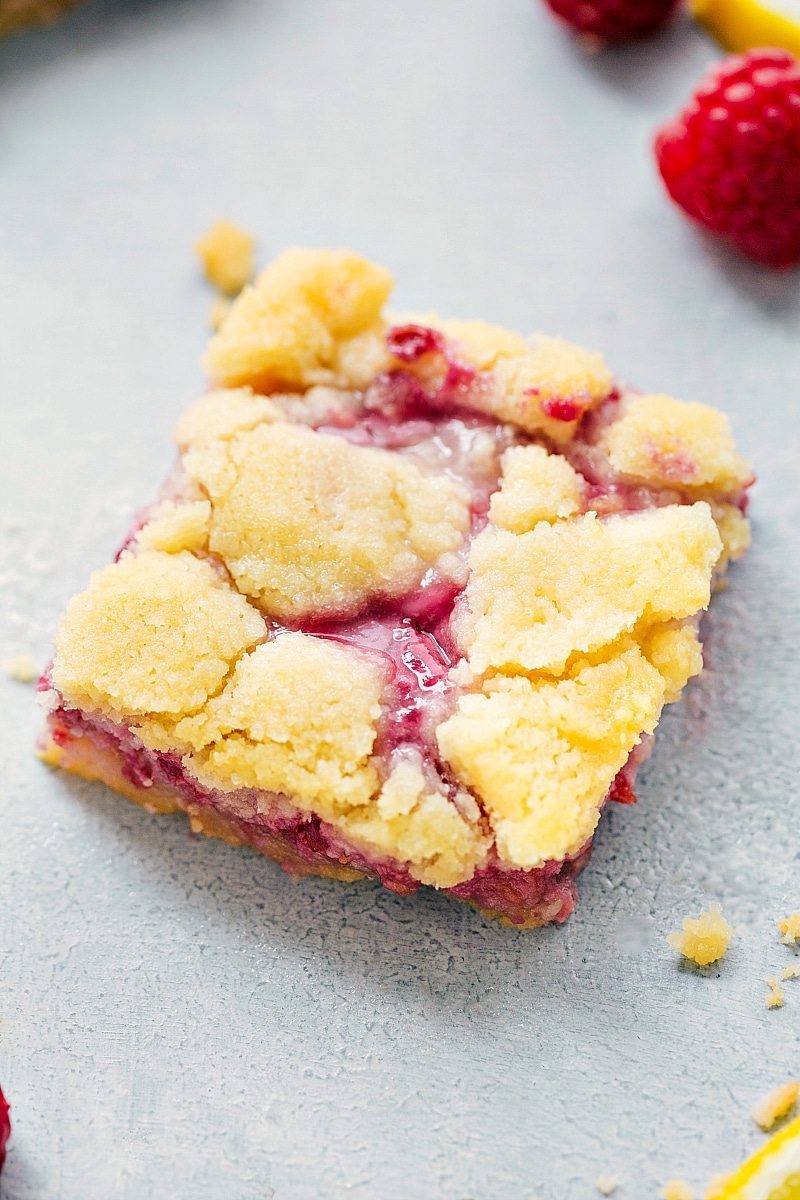 The other day, the toddler asked for some pasta for lunch. Once the water was boiling, I put in some pasta and right then our landscaper showed up. We went into the backyard with him and (do you know where this is going?) …completely forgot about the pasta,
When we all made our way back into the kitchen it smelt HORRIBLE. The pasta was completely burned onto the bottom of the pan in a big black mess. (Thankfully that was all that happened!)
The toddler was beyond upset that I'd burned his pasta. He kept asking me why I burned his pasta…like it had been my plan all along. ? And even though I fixed it and fed him a non-burned lunch, he hasn't let me forget about it.
EVERY TIME I go into the kitchen now he innocently and sweetly asks me, "Mom, will you not burn this food?" When I told him we were going to make a treat (these very gooey butter bars) he said, "But mom, I don't want you to burn them again."
One fail and now I'm completely, 100% incompetent in the kitchen according to my little guy. ?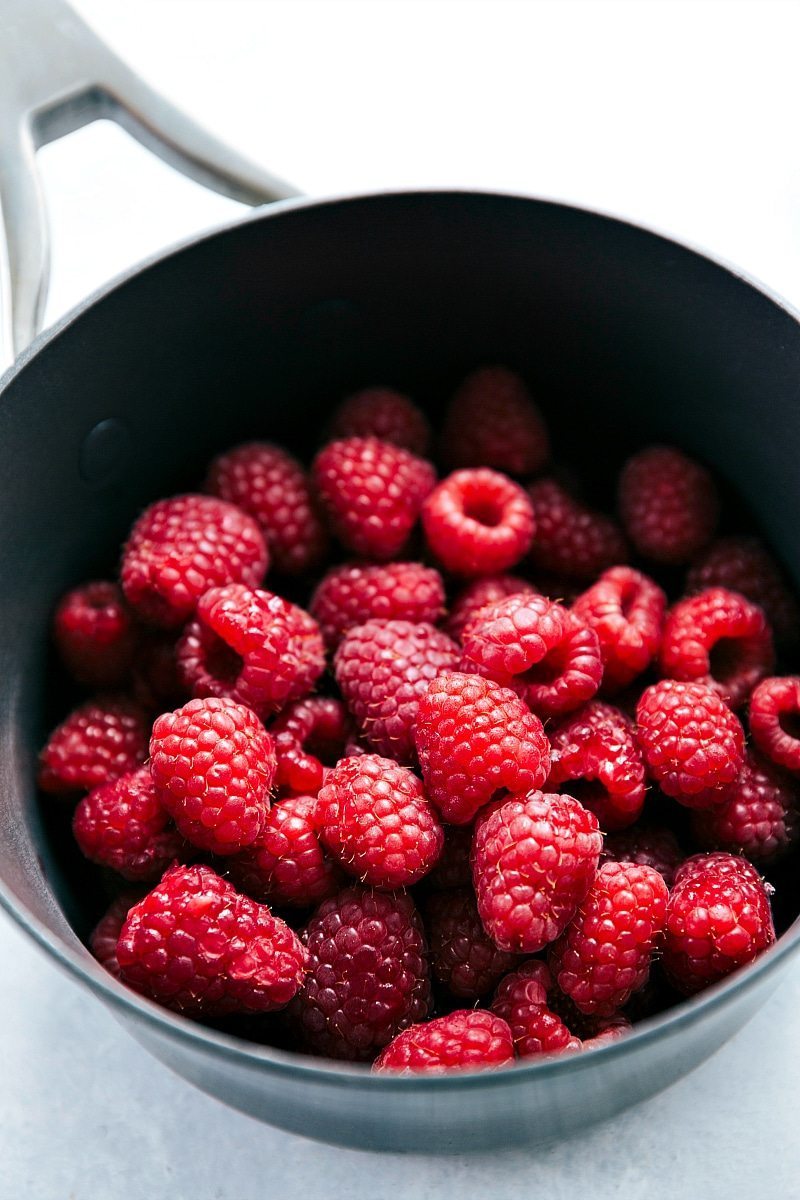 He was extremely impressed when I pulled these (non-burned) bars out of the oven and squealed, "Mom, good job not burning these! I'm so proud!"
You know you're doing something right when your 3-year-old is "proud" of you.
Well we honestly were all thrilled these bars didn't get burned because they are literally the best gooey butter bar ever! These butter gooey bars are ridiculously easy and have very few ingredients which I'm always a fan of.
What they do have is a whopping THREE sticks of butter. (AKA you just know they're going to be out-of-this-world good! :)) I'm so excited to be partnering up with REAL Butter throughout the remainder of this year to bring you some delicious (and of course, butter-filled) recipes. Since these bars do have so few ingredients it's really important to use real butter — it's truly the base of the bar.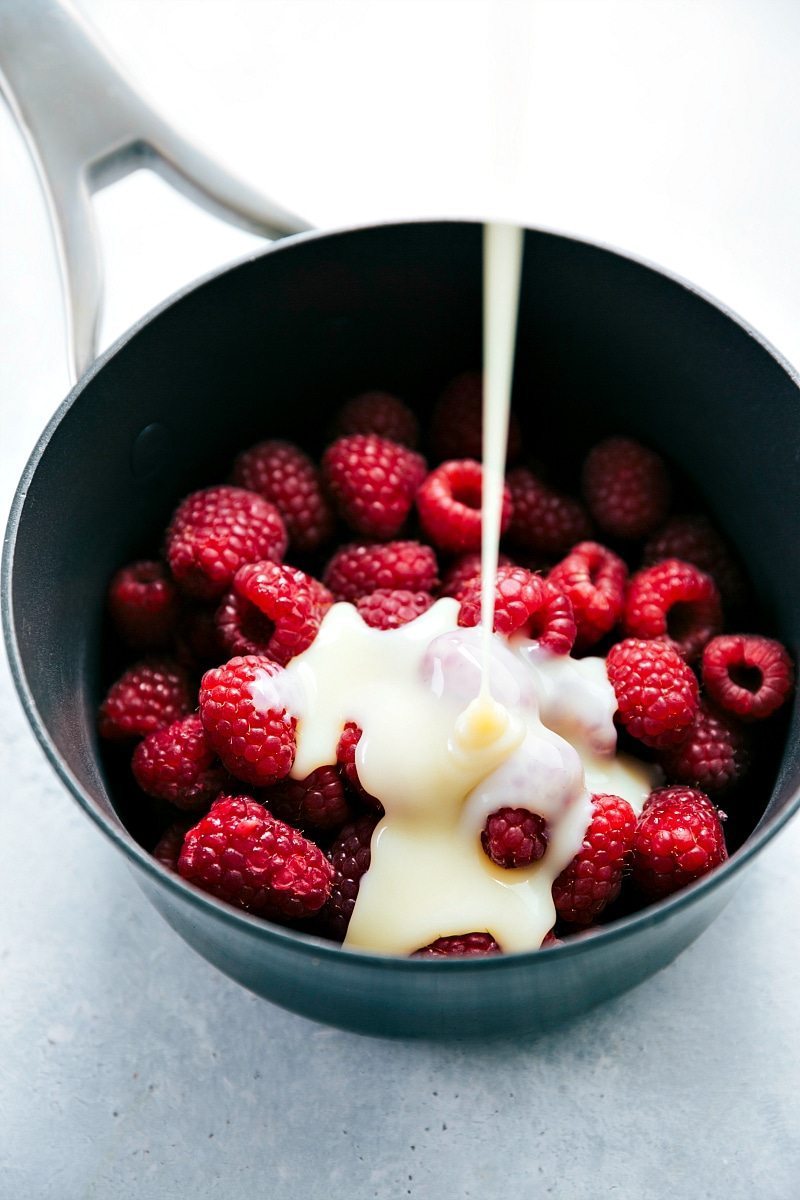 So that butter is really the base of these bars. With the butter, you'll add in some sugar, extracts, lemon zest, and flour to form one thick (and sticky) dough. That dough will form the base AND the top of the bars.
The center part is raspberries + cornstarch + sweetened condensed milk. They get mashed down a bit over the stovetop and then poured on the bottom part of the dough.
You'll drop the rest of the dough over that raspberry mixture and that's it — into the oven they go.
And (if you can keep them from burning), you'll be totally obsessed with these bars. Enjoy!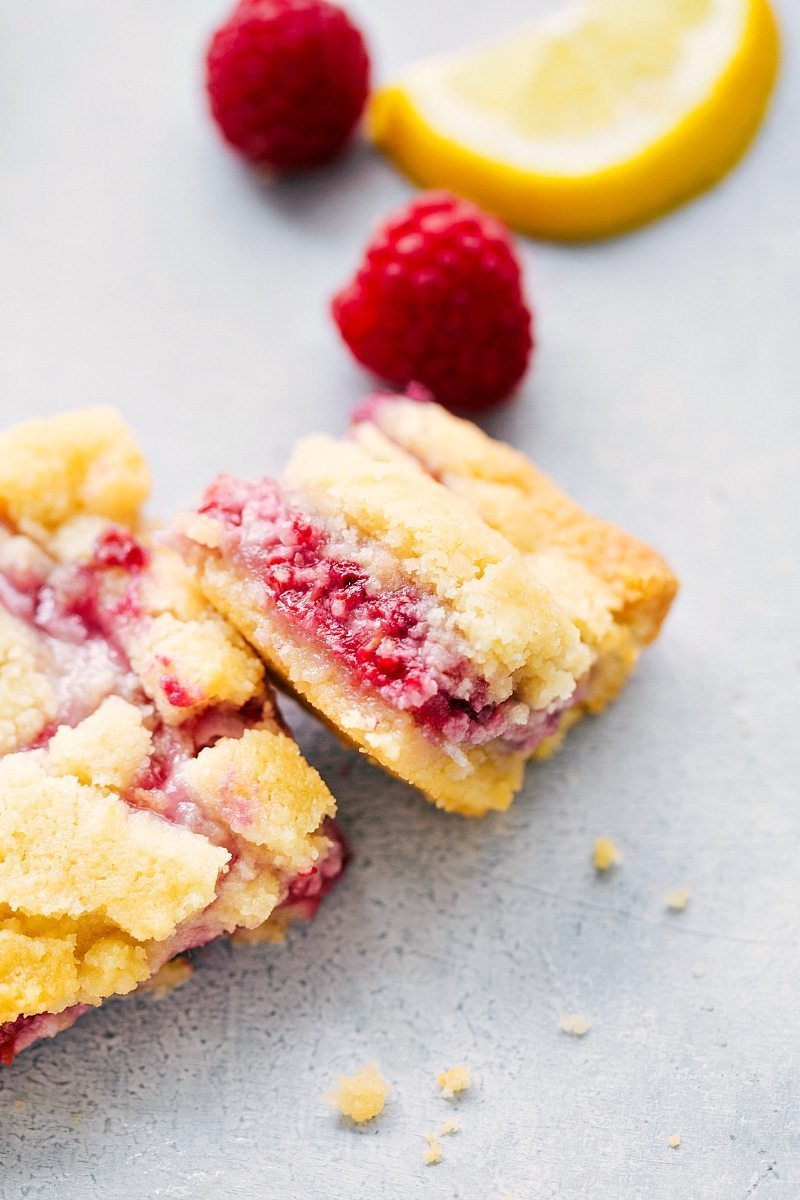 More Delicious Desserts: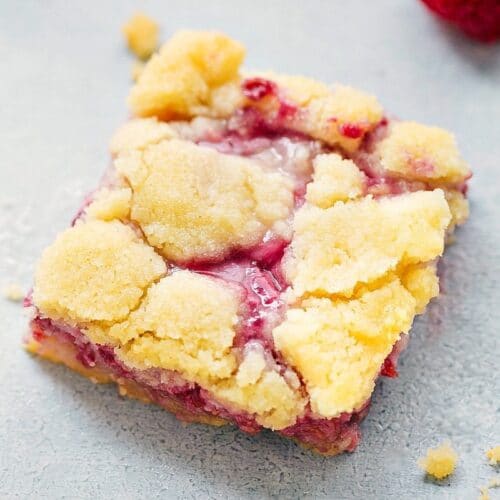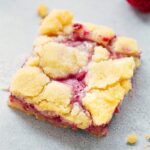 Raspberry Butter Gooey Bars
Simple-to-make and delicious buttery, gooey raspberry bars.
Ingredients
3 and 1/2

cup

fresh raspberries

1 can

(14 ounces)

full-fat sweetened condensed milk

1 and 1/2

tablespoons

cornstarch

1 1/2

cups (3 sticks

unsalted butter,

softened

1

cup

white sugar

1/2

tablespoon

vanilla extract

1

large

lemon,

zested

1

teaspoon

lemon extract

1

teaspoon

salt

3

cups

all purpose flour
Instructions
Preheat the oven to 350 degrees F. Line a 9 x 13-inch baking dish with parchment paper and set aside.

In a medium-sized pot, add the raspberries, sweetened condensed milk, and cornstarch. Turn the heat to medium and bring the mixture to a simmer. Stir VERY gently for 2-3 minutes barely smashing the raspberries (so they are still mostly in tact). Remove from the heat and set aside.

In a large bowl, add the butter and white sugar. Beat on medium speed until light and creamy scraping down the sides as needed. Once the mixture is light and fluffy, add in the vanilla extract, lemon zest, lemon extract, and salt. Beat to combine. Add in the flour and beat until JUST combined. Do not over-mix.

Press a little over half of the dough into the prepared 9 x 13 pan. Pour the raspberry mixture over the top and smooth it into one even layer. Drop small pieces of the remaining dough over the raspberry mixture. (The "dough" is very thick and sticky -- don't add more flour).

Bake for 28-32 minutes, until the top is golden, remove from the oven, and then cool the bars to room temperature.

Cut into squares and enjoy. Best enjoyed within 1-2 days.