The ultimate lemon bar with tons of tangy lemon flavor and a very simple shortbread crust.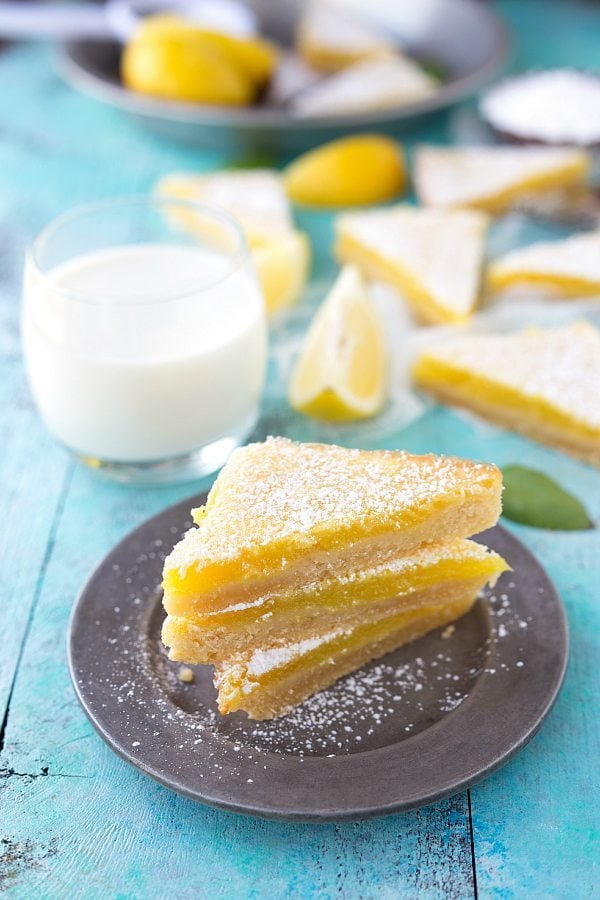 LEMON BARS! Okay so nothing fancy at all here, just a normal lemon bar with a typical shortbread crust. But what does make this recipe special is that they are the BEST lemon bars – ultra tangy, full of flavorful, and the perfect proportion of crust to lemon topping. Because everyone (especially moms, right?!) loves a good traditional lemon bar! I mean, if you like lemon that is. 🙂
In my search for the perfect lemon bar, I did some research and landed upon a recipe that has been reviewed nearly 1400 times with almost perfect ratings. I read through hundreds of the reviews and then looked at some other lemon bar recipes on the site. I found the biggest complaint for the highest rated lemon bars (and other subsequent lemon bar recipes) is that there is not enough lemon flavoring, too much crust to not enough lemon flavor, and that the crust needs more flavor. So I went about fixing these things to bring you what I believe to be the ultimate lemon bar!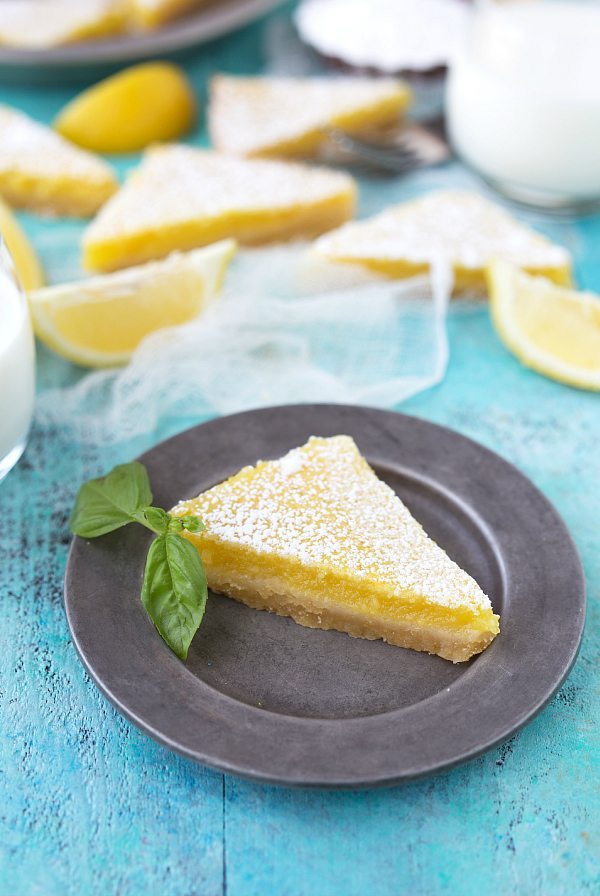 First things first, a 9 x 13 pan is the way to go. I don't include any directions for other size pans because I don't recommend it. This same recipe made in an 8 x 8 pan was (in my opinion) not even half as good as when made in the larger pan. The other tip I have is to line the pan with foil and then to lightly spritz it with cooking spray – this helps a lot when removing these bars from the oven!
Okay, next, make sure you are using REAL lemons – the bottled lemon juice won't cut it on these. And since the recipe calls for actual lemon zest you'll need real lemons anyways. I found that placing the lemons in the microwave for 15-20 seconds and then basically kneading them with your hand against the counter makes the lemons super juicy. Make sure you get the zest super fine so you aren't tasting pieces of lemon peel in the bars! Feel free to increase or decrease the amount of lemon zest to your personal preference.
My last tip is to chill these bars overnight. I am convinced this is one of the secrets to the best lemon bars ever. After they have been fully baked AND fully cooled, cover the pan with plastic wrap and place it in the fridge overnight. Overnight, the flavors meld together really well making the bars that much more flavorful and tangy. (I also think they taste better being slightly chilled.) And finally, they are also super easy to cut into the next day. Chilling overnight is definitely not a MUST for this recipe, but if you have the time and plan ahead, I highly recommend it!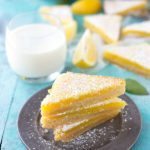 The BEST Lemon Bars
Ingredients
1

cup

unsalted butter

softened

2

cups

white sugar

separated

2 and 1/3

cups

white flour

separated

1 and 1/2

teaspoon

vanilla extract

1/2

teaspoon

salt

4

large eggs

2/3

cup

freshly squeezed lemon juice

~4-5 small lemons

1-2

teaspoons

lemon zest

1/3

cup

powdered sugar
Instructions
Preheat the oven to 350 degrees F. Line a 9 x 13 pan with foil and lightly spray just the bottom with nonstick spray. Set aside. (Using other size pans is NOT recommended)

In a bowl, beat together the softened butter, 1/2 cup white sugar, 2 cups of flour, vanilla extract, and salt until well combined.

Press down evenly on the bottom of the pan and bake for 15-20 minutes or until lightly golden brown at the edges. Remove and set aside.

Meanwhile, place your lemons in the microwave for 15-20 seconds. Remove, and knead against the counter with your hand. (These two steps help to get your lemons super juicy.)

Juice the lemons until you have 2/3rds cup of lemon juice. Very finely zest a lemon to get 1-2 teaspoons lemon zest. I used a heaping 1 teaspoon of zest but depending on personal preference you may want more or less.

In another bowl, mix together the remaining 1 and 1/2 cups white sugar, remaining 1/3 cup flour, the lemon juice, and the lemon zest.

In another small bowl, lightly beat the 4 large eggs together and then add the mixture to the lemon mixture. Mix together well.

Pour evenly over the crust and bake for another 18-22 minutes. Allow to cool and then chill in the fridge until the lemon layer is firm.

In my opinion these are best made the night before, stored in the fridge overnight, and enjoyed the next day!

Before enjoying, sprinkle the top of the bars with powdered sugar. Slice and enjoy!
 More delicious lemon recipes: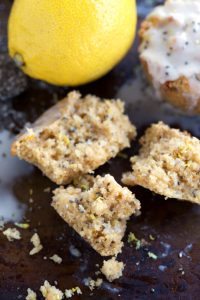 Healthy and Flourless Lemon Chia Seed Muffins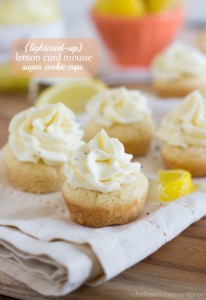 Lemon Curd Mousse Sugar Cookie Cups