This post may contain affiliate links. Please read my disclosure policy.
The ultimate lemon bars with tons of tangy lemon flavor and a simple shortbread crust.
When life gives you lemons, you can make a whole lot more than lemonade! In addition to this recipe, you'll love this lemon pie, this lemon curd, or these lemon cookies!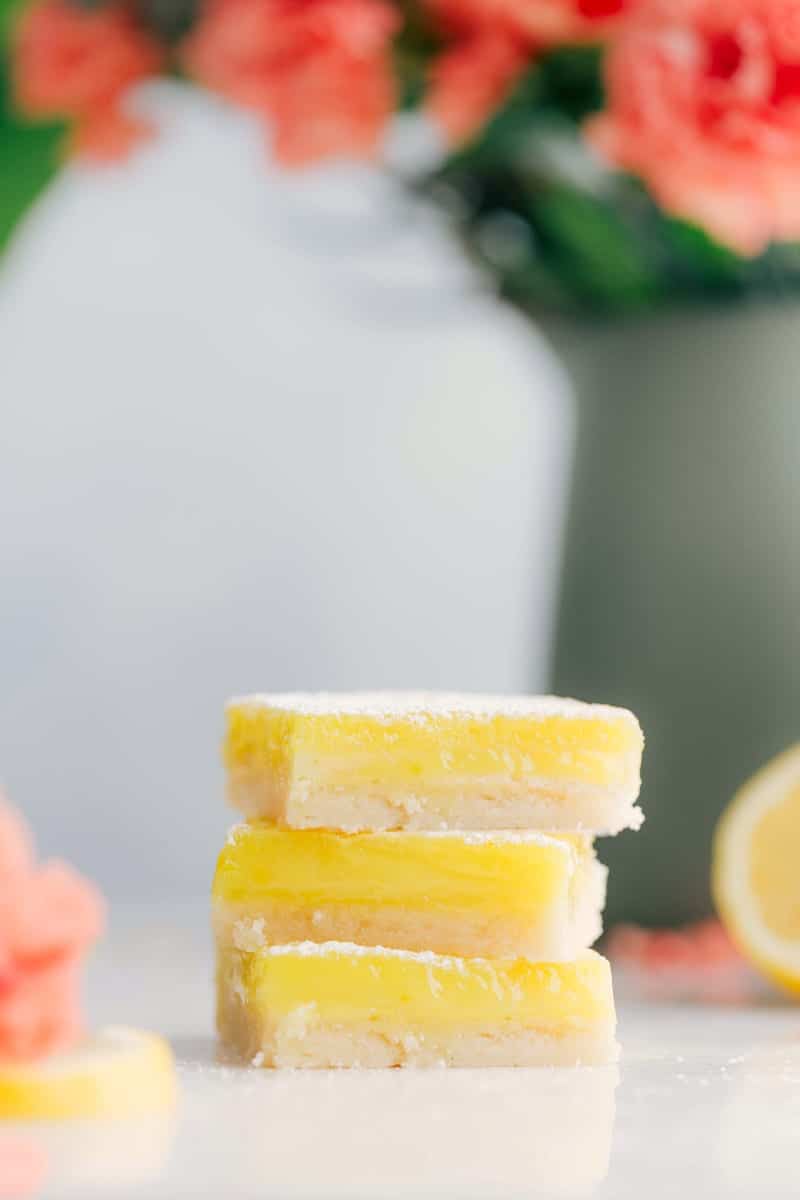 Lemon Bars
These are the BEST lemon bars – ultra tangy, full of flavor, and the perfect proportion of crust to lemon topping, because everyone loves a good traditional lemon bar! I mean, if you like lemon that is. 🙂
In my search for the perfect lemon bar, I read through hundreds of the reviews and then looked at some of the highest rated, best lemon squares recipes. I found the biggest complaint for the highest rated lemon bars recipes was that there is not enough lemon flavoring, too much crust to not enough lemon flavor, and that the crust needs more flavor. So I went about fixing these things to bring you what I believe to be the best homemade lemon bar!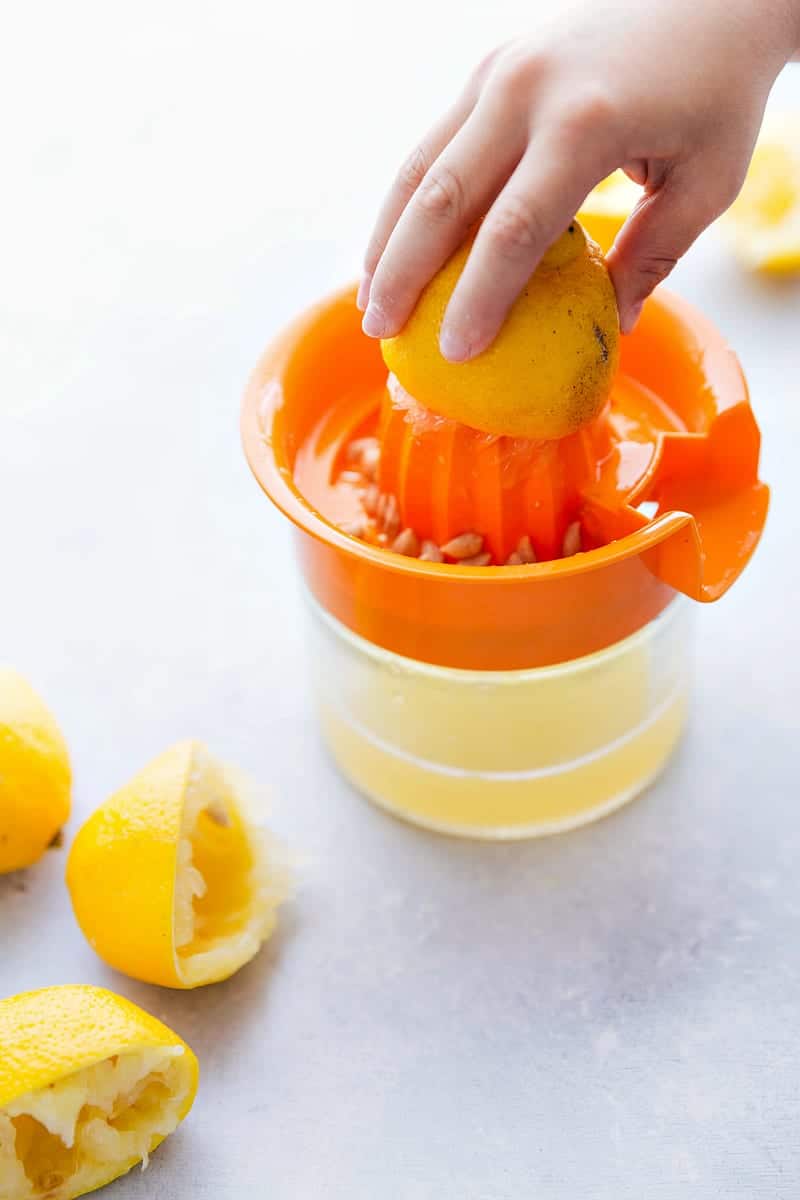 Lemon bars aren't inherently difficult to make, but they do require some time. Here's a quick overview.
How do you make lemon bars?
Use a glass pan – a metal pan often transfers a metallic taste to the lemon bars
Line the pan with parchment paper – this will make it much easier to get the lemon bars out
Use REAL lemons – the bottled lemon juice won't cut it on these. Since this lemon bar recipe calls for actual lemon zest, you'll need real lemons anyways.
Chill overnight – the flavors meld together really well in the fridge, making the bars that much more flavorful and tangy. Chilling overnight is not a must for this recipe, but if you have the time and plan ahead, I highly recommend it!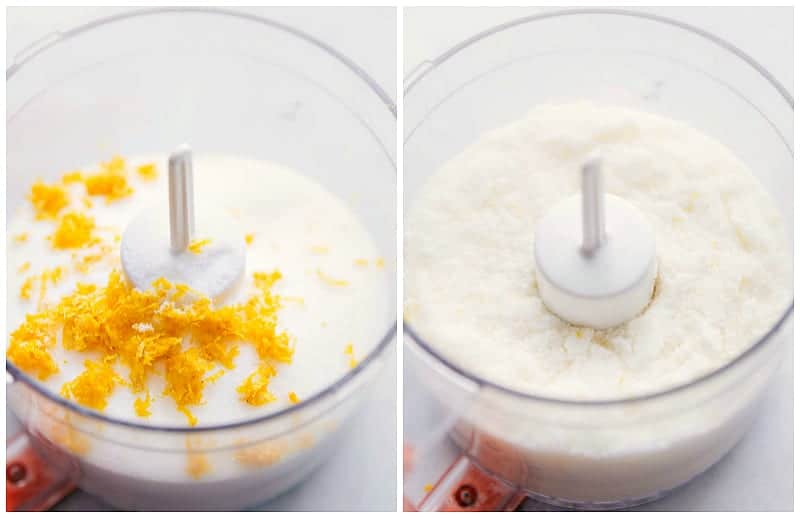 How many lemons make a cup of lemon juice?
A medium lemon will typically give you 2½-3 tablespoons of lemon juice, meaning you'd need 5-6 medium lemons for a cup of lemon juice. For this recipe, you need 2/3 cup of freshly squeezed lemon juice or 3-4 medium lemons (4-5 small lemons).
How do you get more juice from a lemon?
Place the lemons in the microwave for 15-20 seconds
Knead the lemons with your hand against the counter for 20-3o seconds
Cut the lemon in half horizontally and juice the lemon using a juicer
How do you cut lemon bars?
Once they have cooled completely, place them in the fridge.
Leave in the fridge until cold (at least one hour, but I recommend overnight)
Cut them while they are cold out of the fridge, using a hot knife (run the knife under hot water, dry, make one cut, and repeat).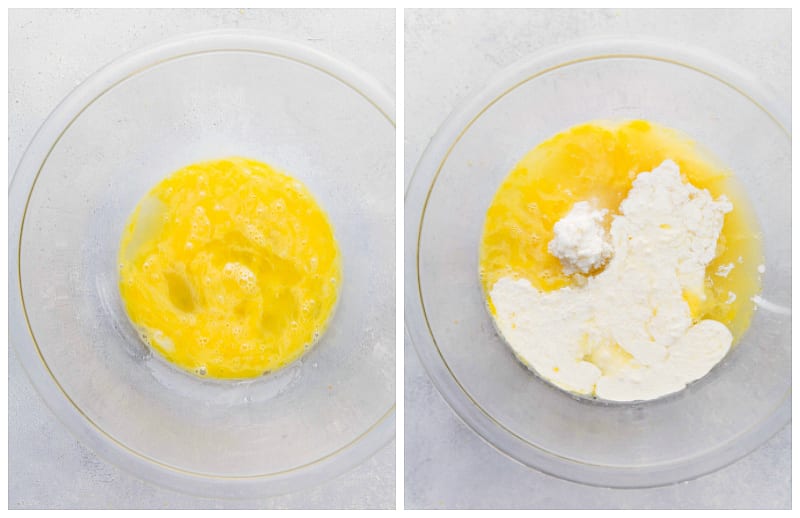 FAQS:
How long do lemon bars last?
These bars can be stored in an airtight container in the refrigerator for up to four days or in the freezer for up to one month.
Should these bars be refrigerated?
Yes, because of the eggs that give the lemon bars that delicious custard texture, they do need to be refrigerated if you don't plan on eating them the same day. I recommend putting them in the fridge overnight anyways as it enhances the flavor, texture, makes them easier to cut, and I prefer them cold! Be sure to let the bars cool completely before putting them in the fridge!
Can I freeze lemon bars?
Yes! However, because the shortbread crust and the lemon custard freeze at different speeds, they need plenty of space to freeze. Place the cut bars on baking paper, leaving room around all four edges, and leave in freezer until frozen through (2-3 hours). Once frozen through, wrap each lemon bar individually with plastic wrap and store them in freezer for up to one month.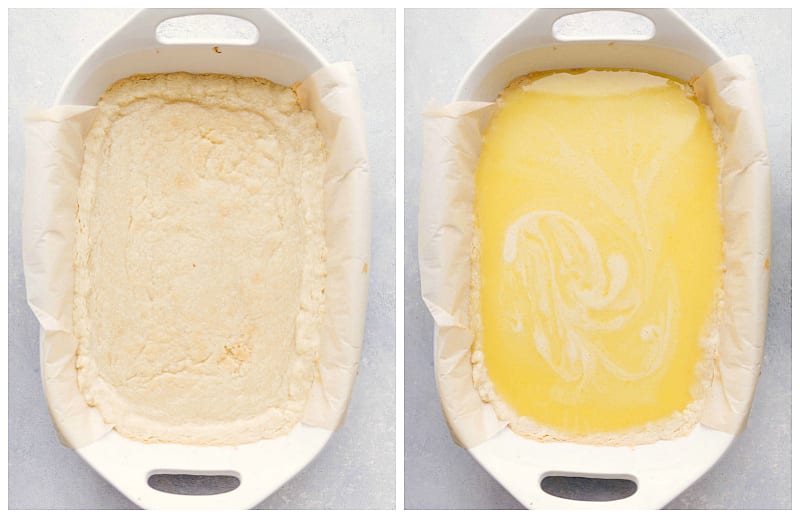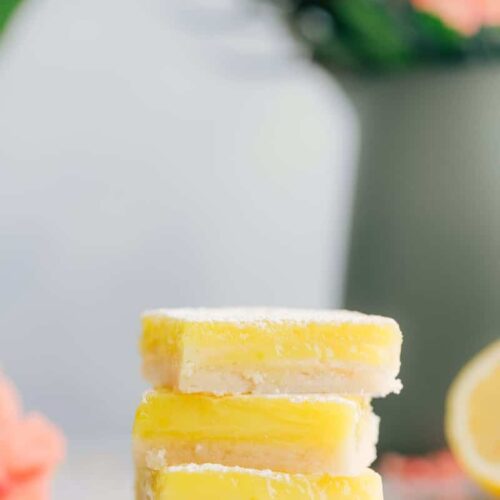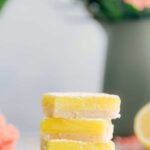 The BEST Lemon Bars
The ultimate lemon bar with tons of tangy lemon flavor and a simple shortbread crust.
Servings
:
1
(9 x 13 inch) pan
Ingredients
1

cup

unsalted butter,

softened

2

cups

white sugar,

separated

2

cups + 3 tablespoons

white flour,

separated*

1/2

teaspoon

almond extract,

optional

1/2

teaspoon

vanilla extract

1

teaspoon

salt,

separated

2/3

cup

freshly squeezed lemon juice

~4-5 small lemons

2

teaspoons

lemon zest

4

large eggs

1/4

teaspoon

lemon extract,

optional

1/3

cup

heavy whipping cream

1/4

cup

powdered sugar
Instructions
Line a GLASS or CERAMIC 9 x 13 pan (metal pans tend to make the bars taste metallic) with parchment and lightly spray just the bottom with nonstick spray. Set aside.

In a bowl, beat together the softened butter, 1/2 cup white sugar, 2 cups of flour, almond extract, vanilla extract, and 3/4 teaspoon salt until well combined.

Press down evenly on the bottom of the pan and up the sides 1/2 inch and then place in the fridge for 30 minutes. Preheat the oven to 350 degrees F. Remove and bake for 15-20 minutes or until lightly golden brown at the edges.

Meanwhile, place your lemons in the microwave for 15 seconds. Remove, and knead against the counter with your hand. (These two steps help to get your lemons super juicy.)

Very finely zest a lemon to get 2 teaspoons lemon zest. Be careful to avoid the white pith of the lemons as that will make your bars bitter. Juice the lemons until you have 2/3rds cup of lemon juice. Pulse the remaining 1 and 1/2 cups white sugar with the 2 teaspoons lemon zest in a food processor or blender -- just a few times to break down the zest and get it incorporated with the sugar.

Juice the lemons. Remove 3 tablespoons lemon juice and whisk it in a small separate bowl with the flour until smooth (this will make sure you don't have flour lumps in the mixture!). In another large bowl, lightly beat the 4 large eggs together. Add in the lemon juice along with the lemon juice + flour slurry. Add the sugar and zest mixture, remaining 1/4 teaspoon salt, lemon extract, and heavy whipping cream. Whisk until well combined.

Pour evenly over the HOT crust through a fine mesh sieve (right out of the oven) and bake for another 18-22 minutes. Allow to cool and then chill in the fridge until the lemon layer is firm.

In my opinion these are best made the night before, stored in the fridge overnight, and enjoyed the next day!


Before enjoying, sprinkle the top of the bars with powdered sugar (through a fine mesh sieve). Slice and enjoy!
Recipe Video
Recipe Notes
*Make sure to spoon the flour into your measuring cup instead of pushing a measuring cup into a bag of flour. By spooning the flour in and then leveling your measurement you're getting the correct amount of flour. Pushing a measuring cup into flour is going to pack in way too much flour.