These buttery shortbread cookies are filled with lemon curd, baked, and then drizzled with a vanilla-almond glaze. These lemon curd cookies have perfectly crisp edges with a soft and tangy center — a lemon lover's dream treat!
Other favorite lemon treats: lemon blueberry bread, lemon zucchini bread, or our favorite lemon bars.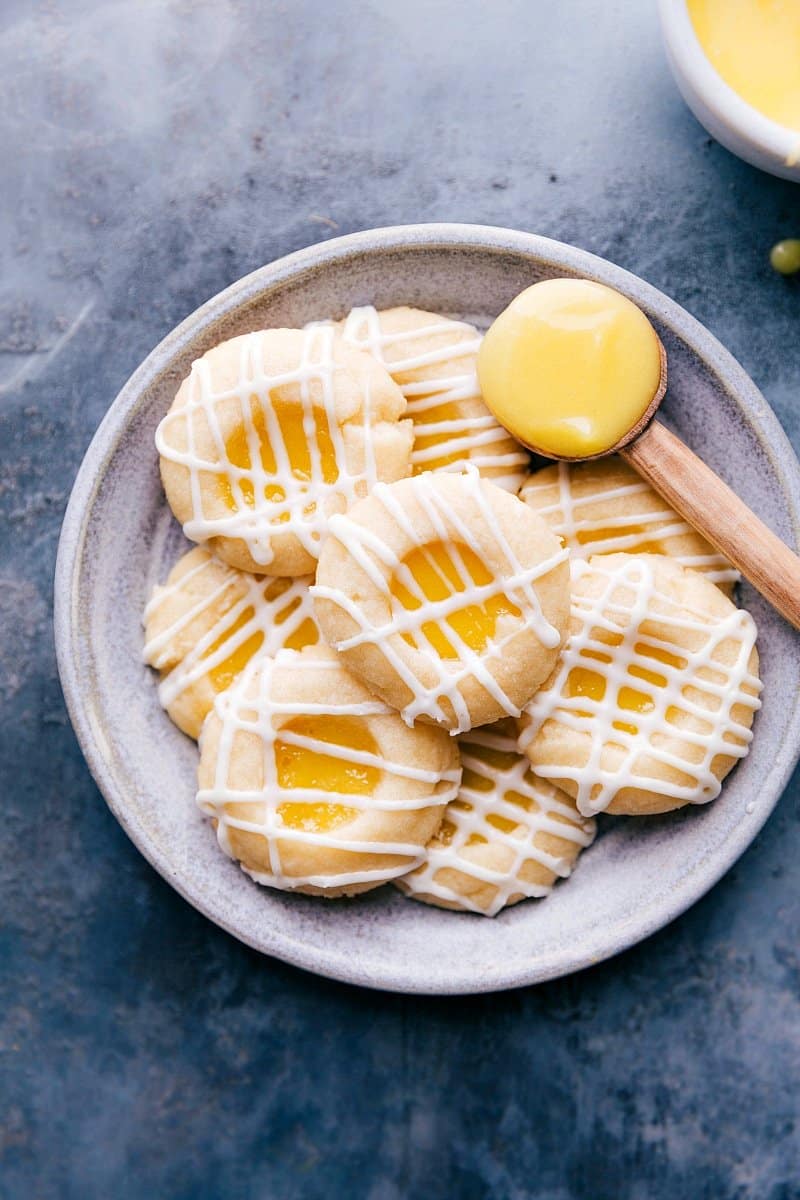 I know, I know, Christmas has come and gone along with cookie baking season. BUT I had to slip one more cookie recipe in for you to make before the New Year. I thought of waiting a few months to post this cookie recipe (saving it for Easter or Springtime), but I decided it would be a travesty to wait that long! 🙂
If you love shortbread and you love lemon, these might just be your new favorite cookie. We have not been able to stop eating them at my home!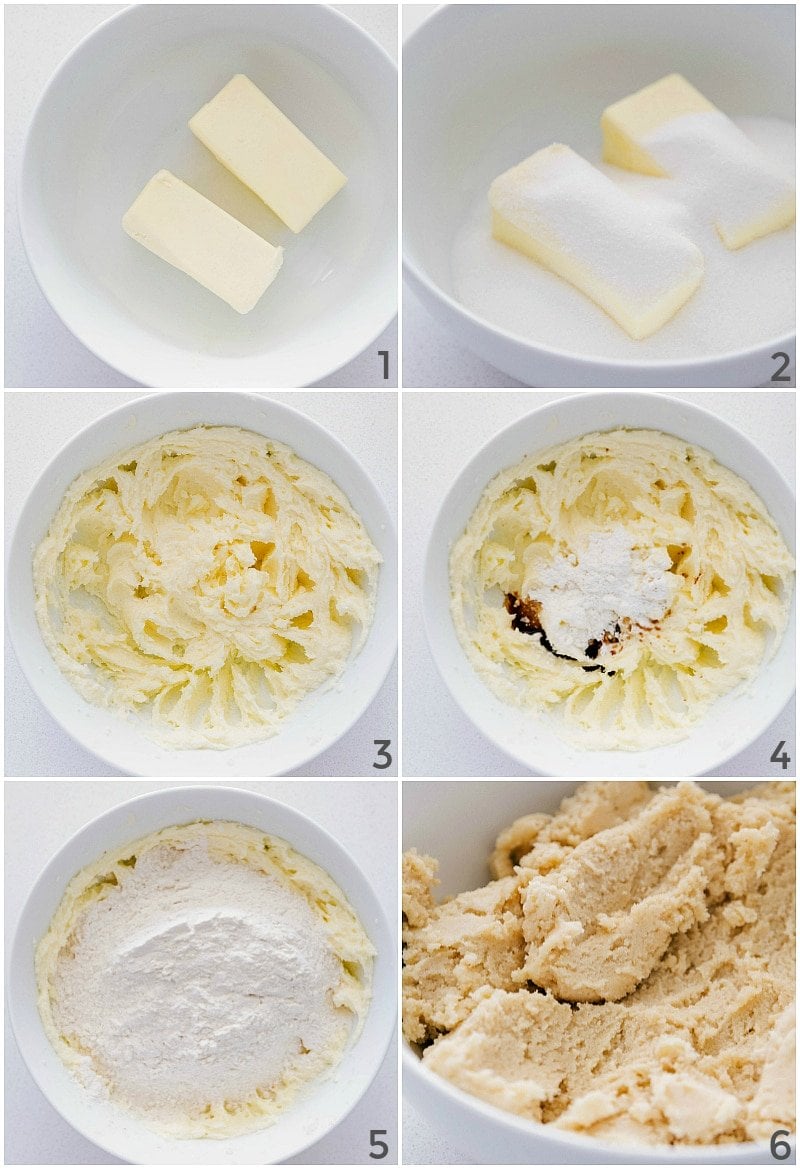 These cookies are a bit more involved than most cookie recipes because you'll need to make lemon curd, cookie dough, and a glaze. While none of the components are overly intricate, each part takes time and a bit of planning. You'll want to make the lemon curd a day in advance and the actual cookie dough also needs chilling before being baked.
Don't let the advance preparation scare you, these cookies are worth every minute it takes to make them (and then some!)
How to make lemon curd cookies
Below I'll share a quick overview of the steps for making these lemon curd cookies. The numbers on the photo collages (above and below this text) correlate with the steps listed below.
Like I said, you'll begin with making lemon curd. While I haven't included step by step photos for that, you can see a full post on making homemade lemon curd here.
Soften the butter to room temperature. Make sure to use REAL butter, not margarine. The better the butter, the better these cookies will taste!
Add granulated sugar and beat…
Until you reach this consistency.
In goes the extracts, salt, and cornstarch and finally the…
Flour! Mix until just combined. Avoid over mixing the dough or you'll end up with less tender cookies.
The consistency of the dough should look like this photo — you might be able to tell it's quite soft and needs to be chilled.
But before chilling, measure out the cookie dough balls using a 1 tablespoon measuring spoon.
Roll the cookie ball and then roll it in granulated sugar.
Press an indent into the center of the cookie dough balls and place on a sheet pan to throughly chill.
Fill up the indent with completely chilled and thickened lemon curd
The curd should be even with the top of the cookie. Bake the cookie and allow it to cool completely before…
Adding the glaze! Drizzle the glaze on the cookies and allow time for the glaze to dry before enjoying these amazing lemon curd cookies. 🙂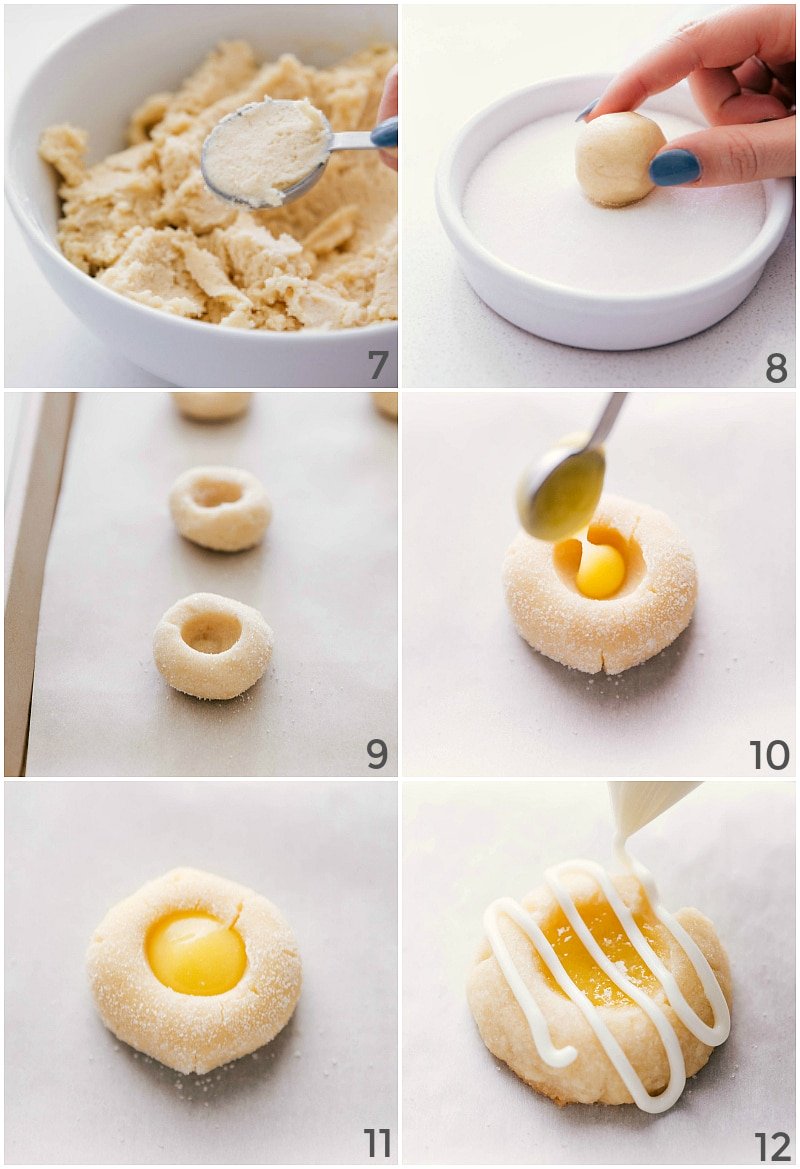 Can you make these lemon curd cookies ahead of time?
These lemon curd cookies can be made ahead of time. All you need to do is make the dough, form them into the cookies (with the thumbprint) and freeze the dough balls. (Place on a sheet pan to freeze and then transfer to an airtight container/bag).
The frozen cookie dough will last anywhere from 3-6 months in the freezer. (Baked cookies with the curd don't freeze very well and neither does the glaze.)
Once you are ready to bake the lemon curd cookies, just pull them out of the freezer (no need to thaw), add in the prepared lemon curd, and stick them in the oven. (They'll typically need a couple extra minutes on the bake time).
As far as baking these lemon curd cookies ahead of time, these are best within 3-4 days of being made. The better you store the cookies, the longer they'll last.
How long do you cook thumbprint cookies?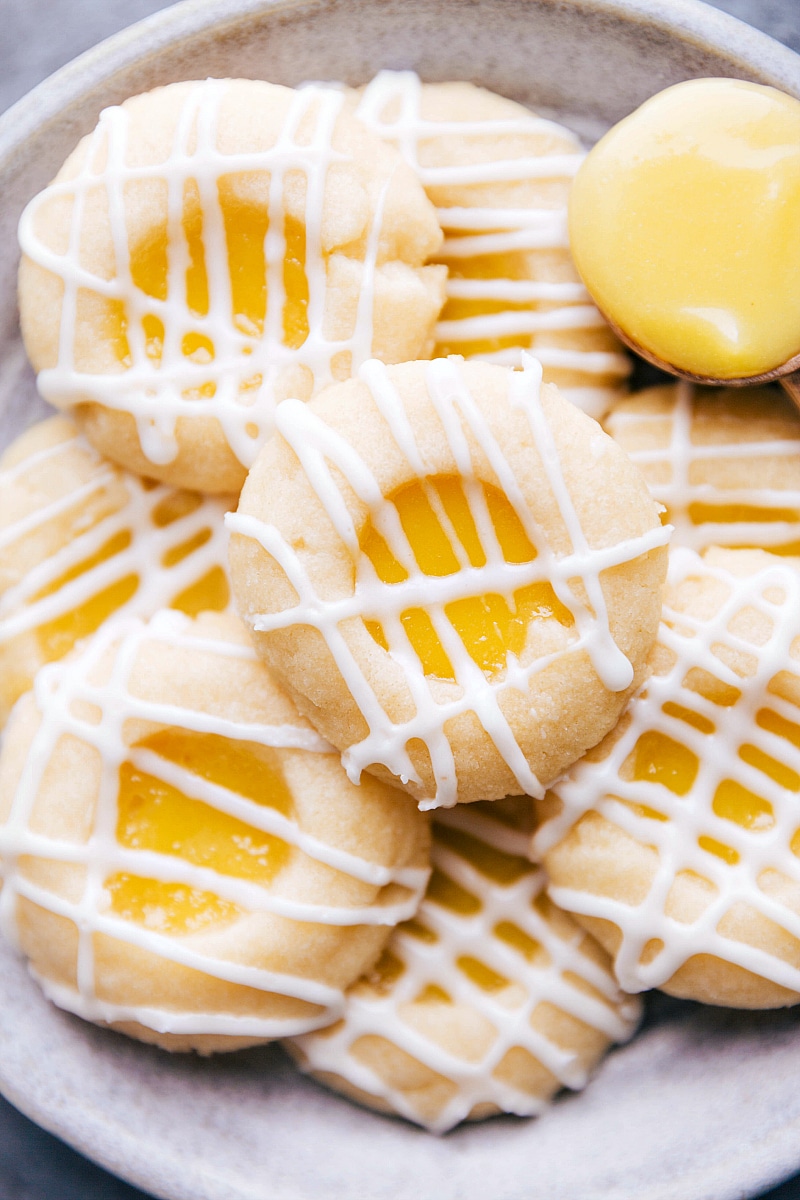 Lemon curd cookie tips
Chilled dough

: this cookie dough get chilled before baking which allows all of the ingredients and flavors to meld. Just like marinating meat before you cook it makes it more flavorful, the same with these cookies.

For these cookies, I recommend shaping the cookies first and THEN chilling the shaped cookies. While the dough is still soft and warm it shapes a lot easier (and cracks less) than when the dough is firm and cold.

After adding the lemon curd in, we chill the cookies again for 5-10 minutes. We want the cookies very cold and firm before going into the oven.

Thoroughly beat the butter and sugar:

beating the butter and sugar fluffs up the dough with air which will give these cookies the perfect foundation for great texture. Take your time here to ensure the butter and sugar is well blended.

Make the lemon curd at least one day in advance: the curd needs to be fully thickened and throughly chilled before adding to the cookies. You can make the curd 3-4 days in advance before making.
Don't overfill the indent of the cookies with the lemon curd: too much curd and it will spill over the cookie, burn on the sheet pan, and make a huge mess.
More Cookie Recipes: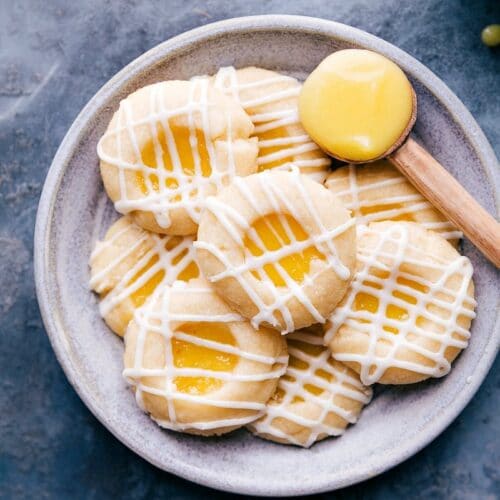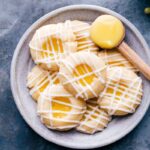 Lemon Curd Cookies
These lemon curd cookies are buttery shortbread cookies filled with lemon curd, baked, and drizzled with a vanilla-almond glaze. 
Keyword:
lemon curd cookies
Ingredients
Cookies
1

cup (16 tablespoons)

unsalted butter,

at room temperature

3/4

cup

white granulated sugar

1/2

teaspoon

pure almond extract,

optional (Note 1)

3/4

teaspoon

pure vanilla extract

1

tablespoon

cornstarch

1/4

teaspoon

fine sea salt

2

cups + 2 tablespoons

white all-purpose flour

1/2

cup

prepared lemon curd

(Note 2)

1/2

cup

white granulated sugar
Glaze
1

cup

powdered sugar

3-4

tablespoons

heavy whipping cream

(or 2 tablespoons whole milk)

1

drop

pure almond extract

(add more or omit to personal preference)

1/8

teaspoon

fine sea salt
Lemon Curd
1 and 1/2

cups

white granulated sugar

3-4

large

lemons

(~3 tablespoons zest and 1/2 cup juice)

1/2

cup

unsalted butter,

at room temperature

4

large

eggs

1/8

teaspoon

fine sea salt
Instructions
LEMON CURD: The lemon curd needs to be made 1 day in advance. To make the lemon curd: combine 1 and 1/2 cups sugar and lemon zest (zest of 3 lemons, about 3 tablespoons) in a food processor. Pulse 15-20 times and then pour into a medium sized bowl. Add the room temperature butter to that bowl and using hand mixers, beat until light and creamy about 3-4 minutes. Beat in the eggs one at a time, beating in between each addition. Add in the salt and 1/2 cup freshly squeezed lemon juice. Beat to combine.

LEMON CURD CONT.: Pour the mixture into a medium sized saucepan and place over low heat. Stir constantly for about 10 minutes or until thickened. The curd must reach 170 degrees on a candy thermometer. (If it doesn't reach this heat, it won't properly set up). Pour curd through a fine mesh sieve and use a spatula to press through the sieve into an airtight container. Place plastic wrap right on top of the curd (so the plastic wrap is touching the lemon curd; this keeps the lemon curd from developing a film) then cover container with a lid. Store in the fridge overnight or at least 8 hours before using in these cookies. Lemon curd will stay good for 5-7 days in the fridge.

COOKIES: In a large bowl, add the room temperature butter and sugar. Beat at medium speed until smooth and creamy, scraping the sides as needed. Add in the almond, vanilla extract, cornstarch, and salt and beat until combined. Add flour into the bowl. Beat together at low speed, scraping bowl as needed, until ingredients are all combined. Do not over mix the dough.

CHILL COOKIES: Shape the cookies into small balls -- the size of 1 tablespoon (I use a tablespoon measuring spoon to form and measure balls) and then roll the cookie dough balls in the 1/2 cup granulated sugar until generously coated. Next, gently Indent the center of each cookie dough ball with your finger. Place these cookies 2 inches apart on a silpat or parchment paper lined cooking sheet. Cover and place in the fridge for 1 hour (or freeze for 30 minutes). Remove from the fridge and add completely chilled and thickened lemon curd to fill (but not over fill) the centers of all the cookies. Return tray of cookies to the fridge for 10 minutes.

BAKE: Preheat the oven to 350 degrees F. Bake the cookies for 8-10 minutes or until very lightly browned and the tops are no longer glossy (slightly under bake for soft and delicious shortbread cookies!)

COOL COOKIES: Remove cookies to a cooling rack and allow them to cool completely. Meanwhile, prepare the glaze by whisking all the ingredients together in a bowl until smooth. (Add heavy whipping cream or milk until you've reached your desired consistency; I like the glaze on the thicker side, but you may want to add a bit more cream or milk).

GLAZE: Drizzle the glaze over the cookies (either drizzle with a spoon or transfer the glaze to a plastic bag and cut off the tip to pipe). Allow the glaze to set. Cookies best enjoyed within 3-4 days; store in an airtight container at room temperature.
Recipe Notes
Note 1: you can leave out the almond extract entirely if desired. If you do leave it out, add an additional 1/2 teaspoon of vanilla extract in its place. Almond extracts do differ greatly based on brand, if you have a strong almond extract you may want to add only 1/4 teaspoon.
Note 2: the lemon curd needs to chill at least 8 hours before using in these cookies. The lemon curd recipe makes way more than you'll use in these cookies. Check out my post on lemon curd for tons of ideas on how to use the leftover lemon curd.