A thick graham cracker crust with a layer of no-bake "cheesecake" topped with quick-set raspberry filled jell-o. These Raspberry Jell-o Cheesecake Bars make an easy, crowd-pleasing dessert!
video tutorial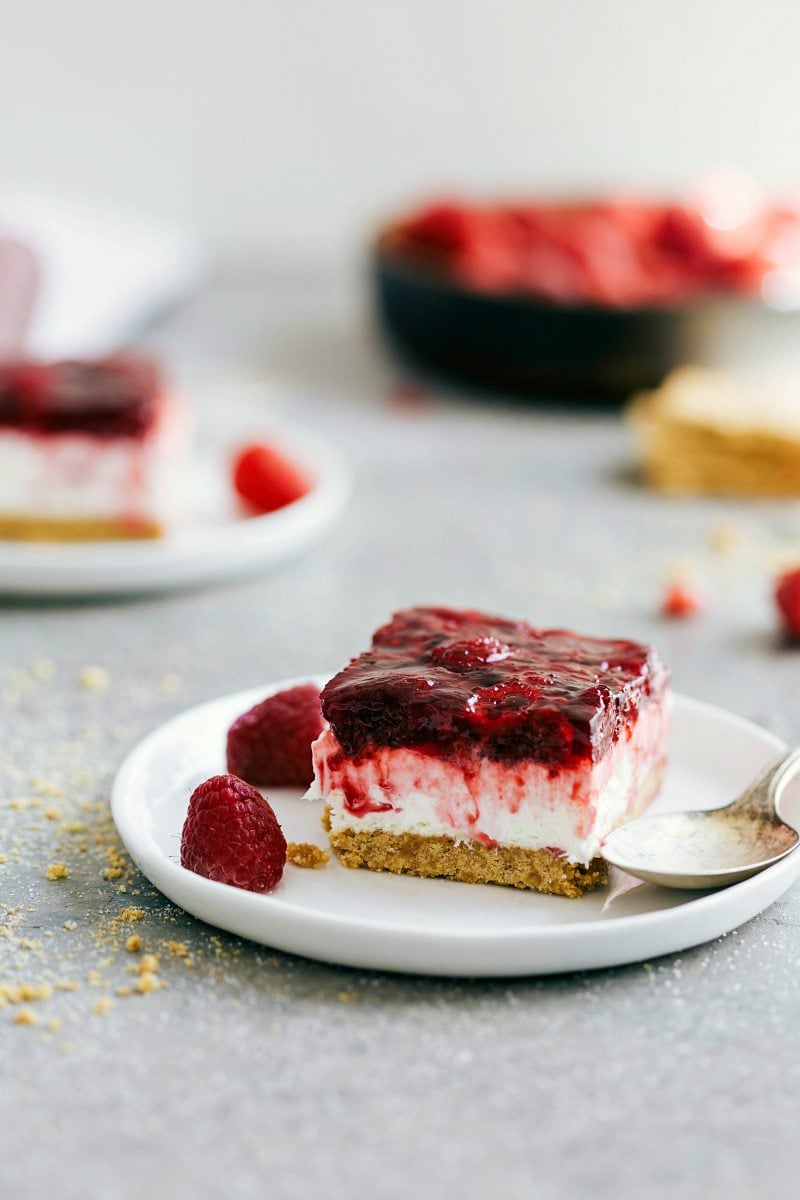 We've moved into our new place, but we're still quite aways away from being totally unpacked. You know, because I'm spending time making raspberry jell-o cheesecake bars instead.. ?
One of the things we bought to make the move easier was a bunkbed for the two boys to share. We found one on a great deal and I showed them pictures as we were waiting for it to get shipped to our home. To say they've been excited is an understatement.
Finally the day arrived and the bunkbed was delivered. Both boys stood at the door in total anticipation and watched as the delivery guys brought it in. By the time the final piece came in, both boys were beyond themselves excited. I had to get a video of their excitement! As soon as I started the video, Grey was jumping up and down so vigorously that his pants slid right down to his ankles. Without even skipping a beat, he bent down and pulled them up and continued to jump and squeal about the bed.
Best. purchase. ever.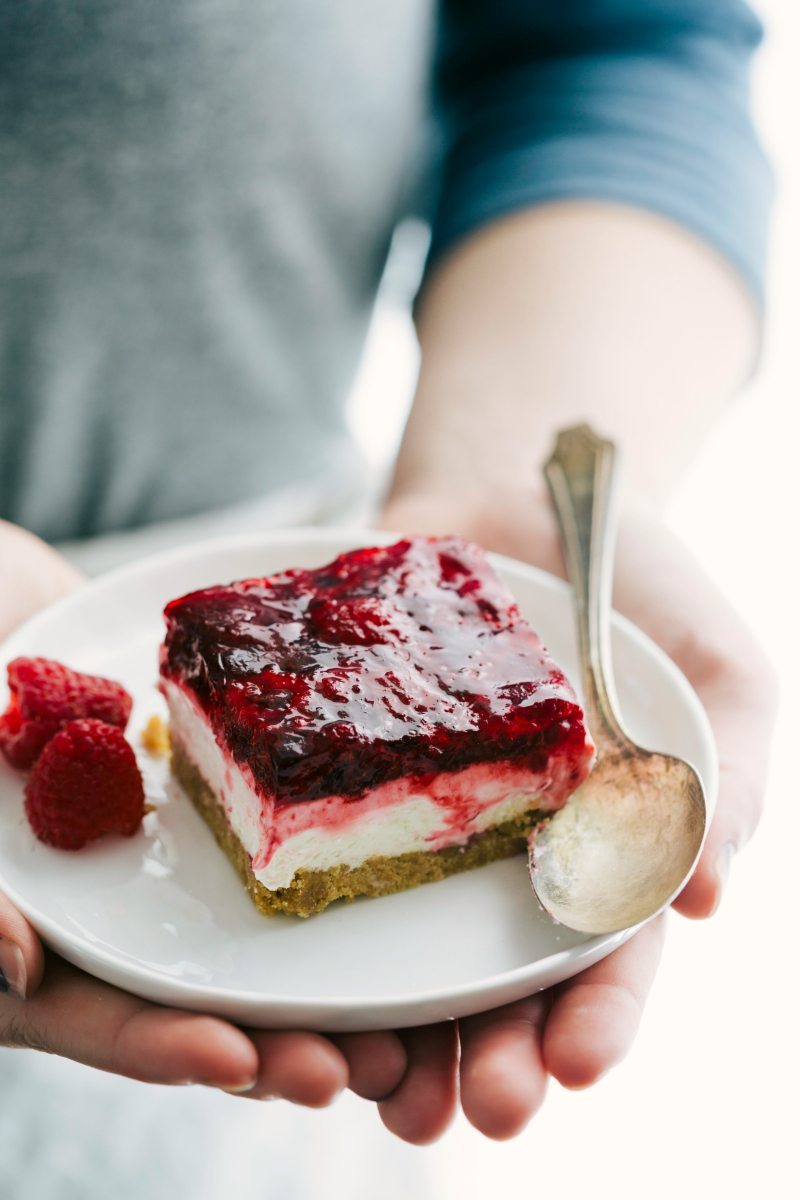 I can also tell you that making this dessert was *almost* as popular as purchasing that bunk-bed. The boys love this treat. I don't let them have a whole ton, but the piece they get each day is inhaled within seconds!
This recipe is adapted from the famous "Strawberry Pretzel Salads" that proliferate the internet. If you've never had a strawberry pretzel "salad" then you are seriously missing out. Strawberry pretzel salads are hands-down one of my favorites and I make them (or this variation today) several times every Spring/Summer.
I've made enough changes on the original that I think it deserves being shared on this site. Although I don't know the original creator of these dessert bars (also called a salad?), I'm sure that person would be one of my very best friends.
These bars have a few variations from the original which personally I think makes them even better! Of course I'm biased 🙂 Since I think they are way more dessert than salad, I've made them into more of a dessert with a buttery graham cracker crust. Next, the cheesecake layer has a bit more sugar + some vanilla. And finally, we've switched out fresh strawberries for frozen raspberries. I've found this dessert always sets up better with the frozen raspberries, because the jell-o doesn't have to sit at all — you can add it to the top immediately. (!!!)
All in all these bars have a few steps, but they are all super quick and simple. I promise these are well worth the time and efforts — you're going to LOVE them!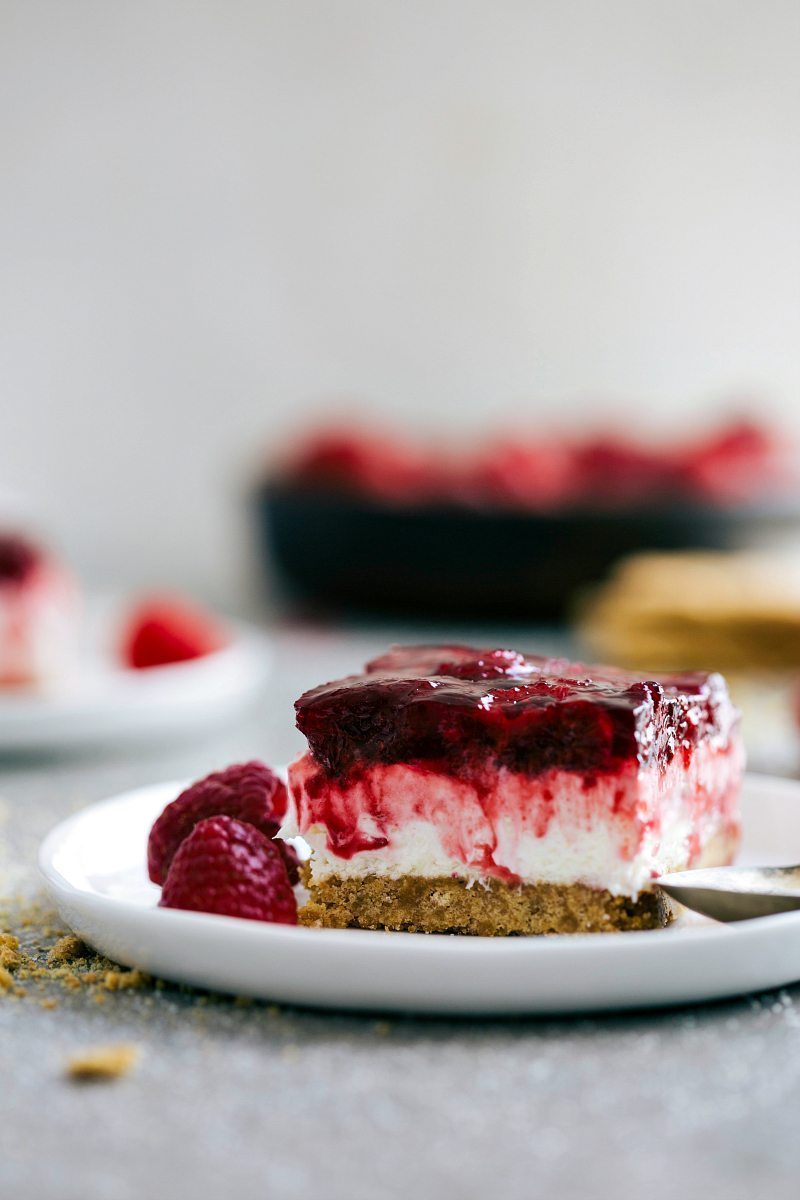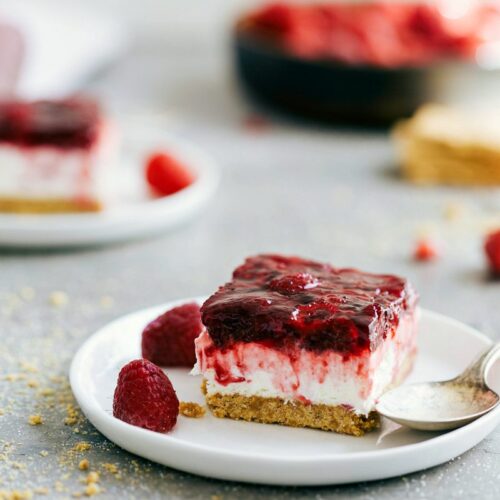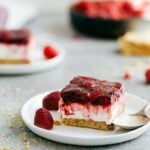 Raspberry Jell-o Cheesecake Bars
Simple raspberry jell-o topped cheesecake bars with a delicious buttery graham cracker crust!
Ingredients
Crust
12

full sheets

graham crackers

(approximately 1 and 1/4 cups crumbs)

1 stick

(1/2 cup)

unsalted butter,

melted

3

tablespoons

granulated sugar
Cheesecake Layer
10

ounces

full-fat brick-style cream cheese,

at room temperature

1

cup

granulated sugar

1

teaspoon

vanilla extract

1

container (8 ounces)

cool whip topping,

thawed
Raspberry Jell-o Layer
2

cups

boiling water

1

package (6 ounces)

raspberry Jell-o

1 bag

(16 ounces)

frozen raspberries
Instructions
Preheat the oven to 350 degrees F. Lightly grease a 9 x 13 pan with nonstick cooking spray. Crush the graham crackers in a blender or food processor until they are in crumbs.

In a large bowl, mix together the graham cracker crumbs, melted butter, and white sugar until combined. Press this mixture into the bottom of the prepared 9 x 13 pan and bake for 8-10 minutes.


Meanwhile, beat the cream cheese in a large bowl until light and fluffy. Add in the sugar and vanilla extract and beat until combined. Fold the cool whip topping into the mixture.

Spread this mixture onto the COMPLETELY cooled graham cracker crust. Smooth it evenly and so that none of the graham cracker crust is exposed (the jell-o will seep through.) Place in the freezer while you prepare the last layer.

Bring 2 cups of water to a boil. Add in the gelatin and whisk until combined. Pour in the bag of frozen raspberries and stir until those are combined.

Immediately (don't let this jell-o layer sit) pour it on top of the cheesecake layer and smooth it to make 1 even layer.

Cover tightly and place in the fridge until completely set. To get 40 servings, cut rows of 8 x 5. These make small pieces, so of course, feel free to cut them larger!
Recipe inspired from this Strawberry Pretzel Salad.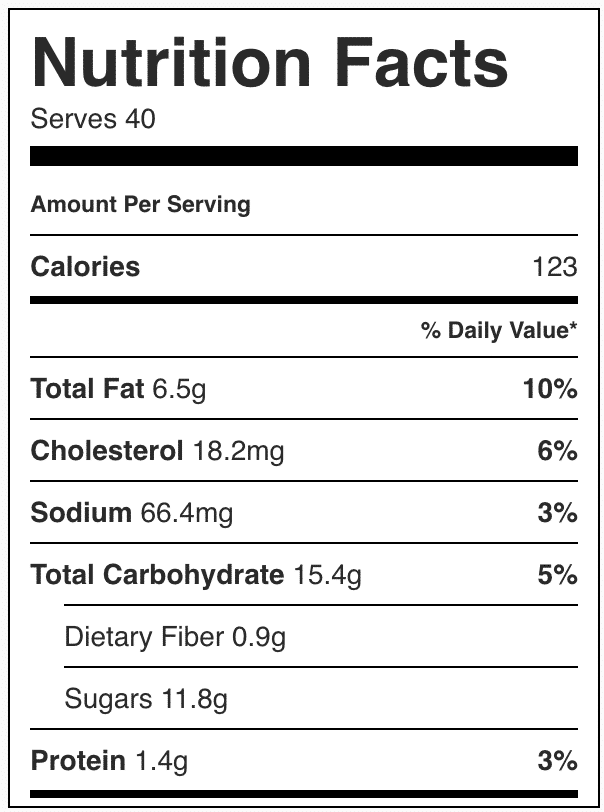 More Berry Desserts: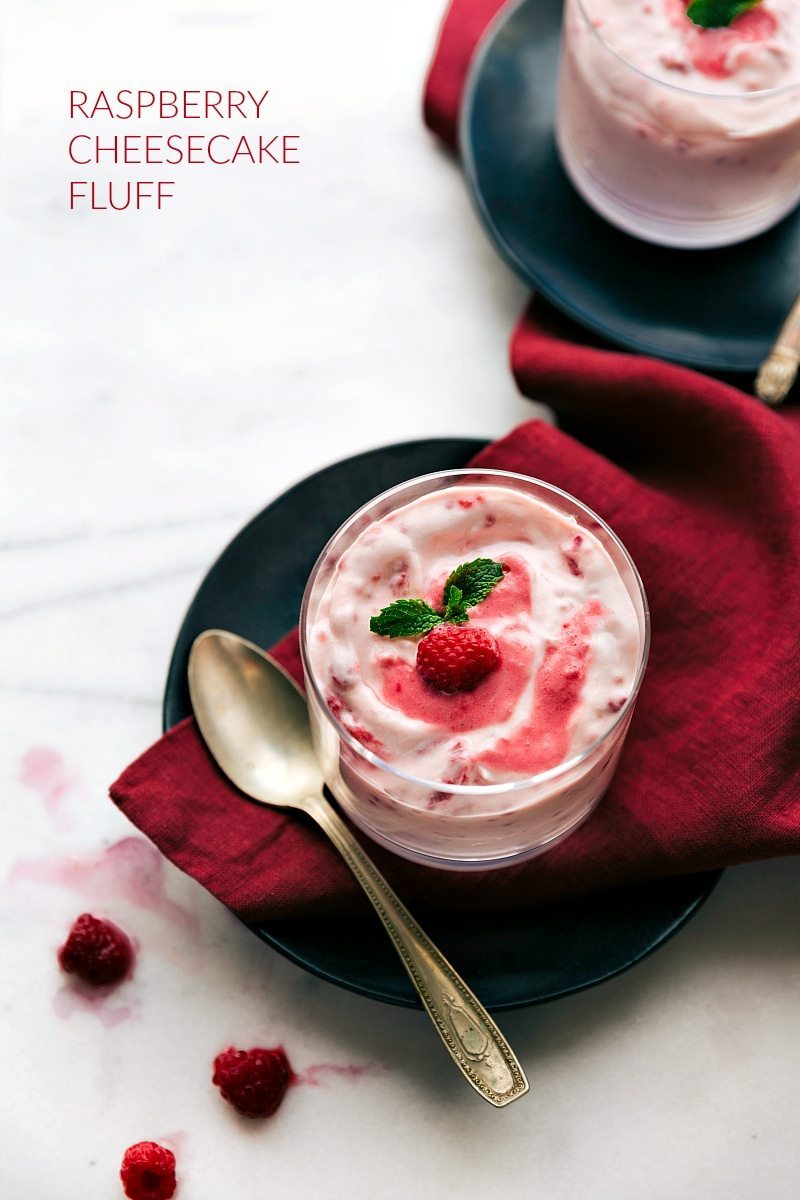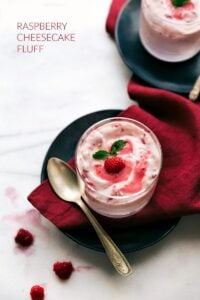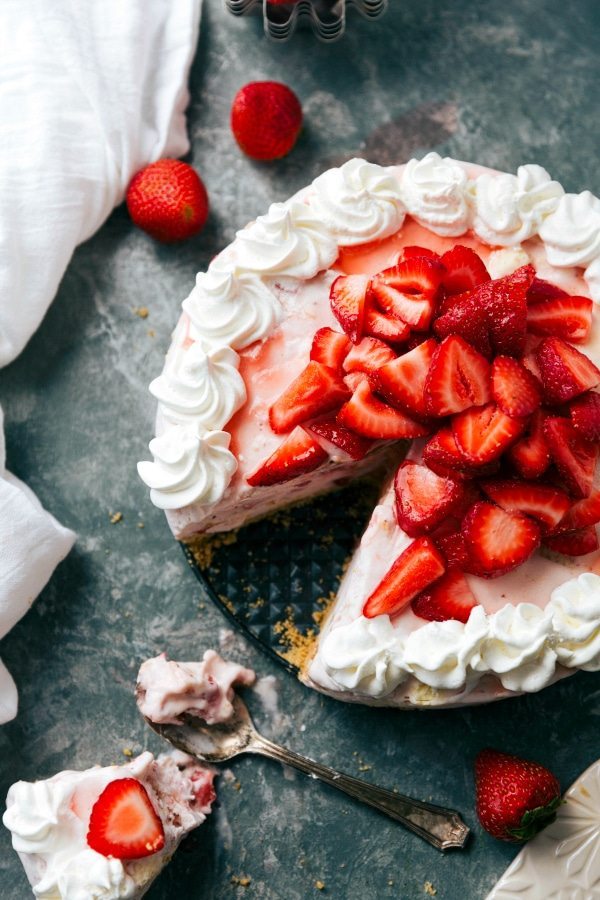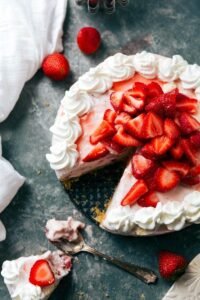 Strawberry Cheesecake Ice Cream Pie