A delicious and dense cream cheese pound cake with a green swirl and Lucky Charms marshmallows swirled throughout. Topped with a cream cheese glaze and garnished with Lucky Charms Marshmallows. This cake is the perfect St. Patrick's Day dessert.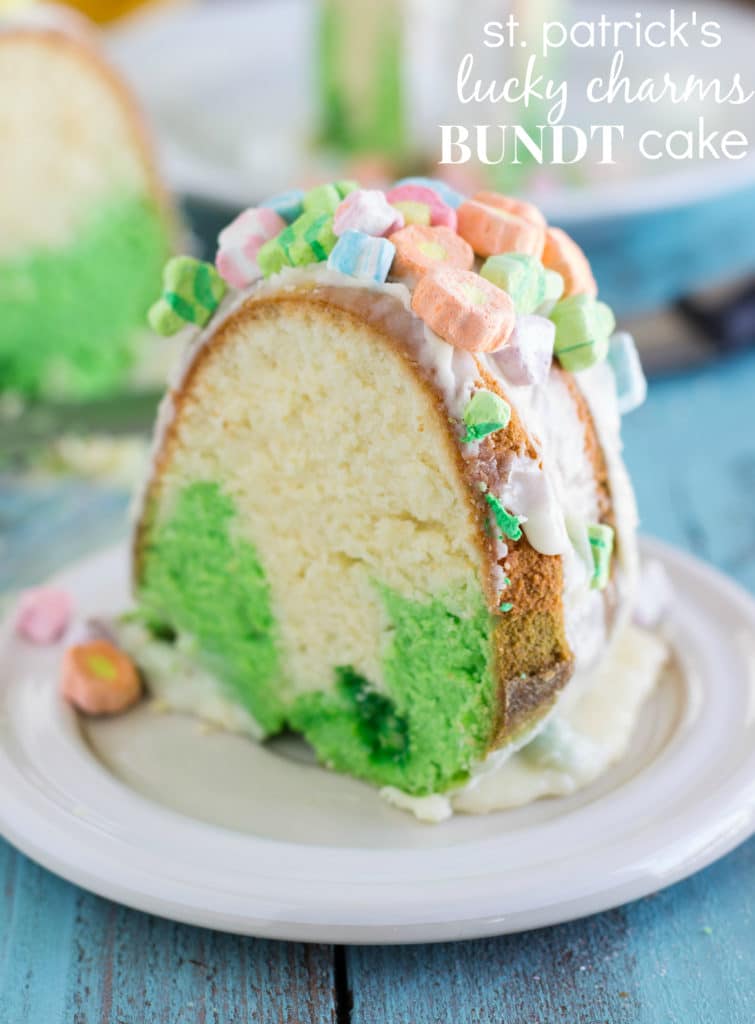 Can you believe it's already March?
And then March snuck up and now St. Patrick's Day will be here before too long.
So I decided I should put up the dessert you are going to want to make for all any and all St. Patrick day celebrating you do. It's a green swirled, lucky charms topped, dense and thick bundt cake!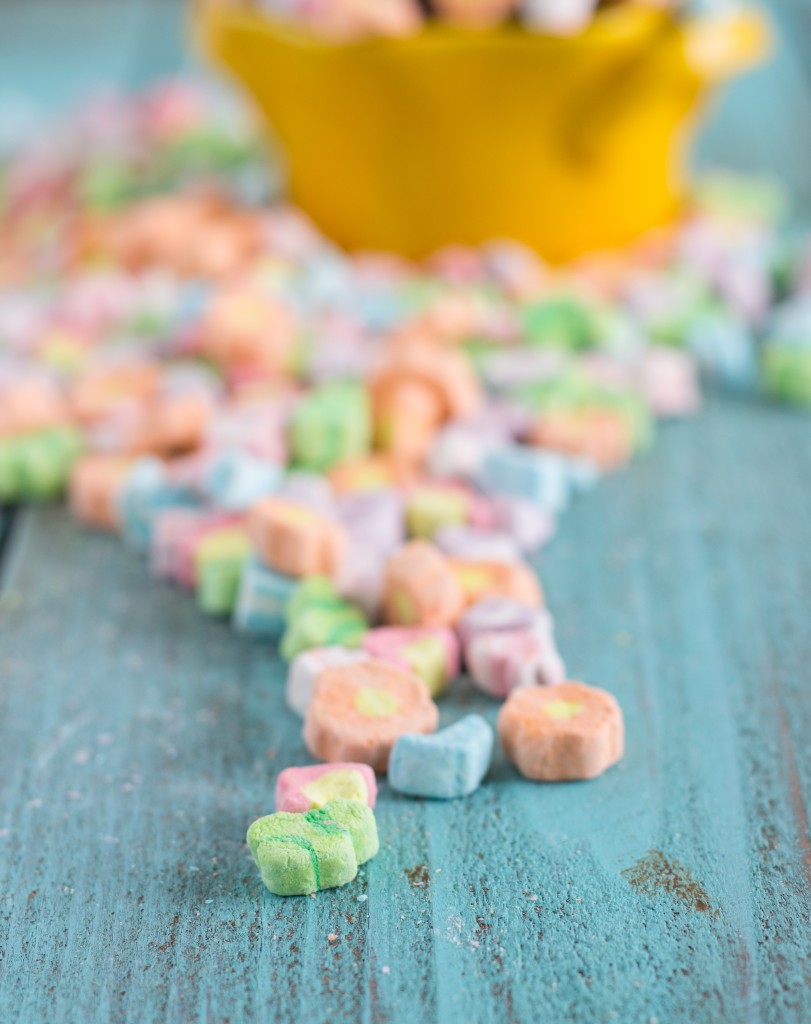 My mom goes big for holidays. She decorates the home for every single holiday and the house gets an entire make-over for the whole month of December (Christmas).
St. Patrick's Day is no exception.
When we were little, she would buy little chocolate golden coins and hide them around the house. She probably concocted some story about how leprechauns had visited and hid them, but I don't really remember that part. I just remember 1. the intense searching and 2. chocolate.
For some reason, gold coin chocolate always tasted the best as a little kid.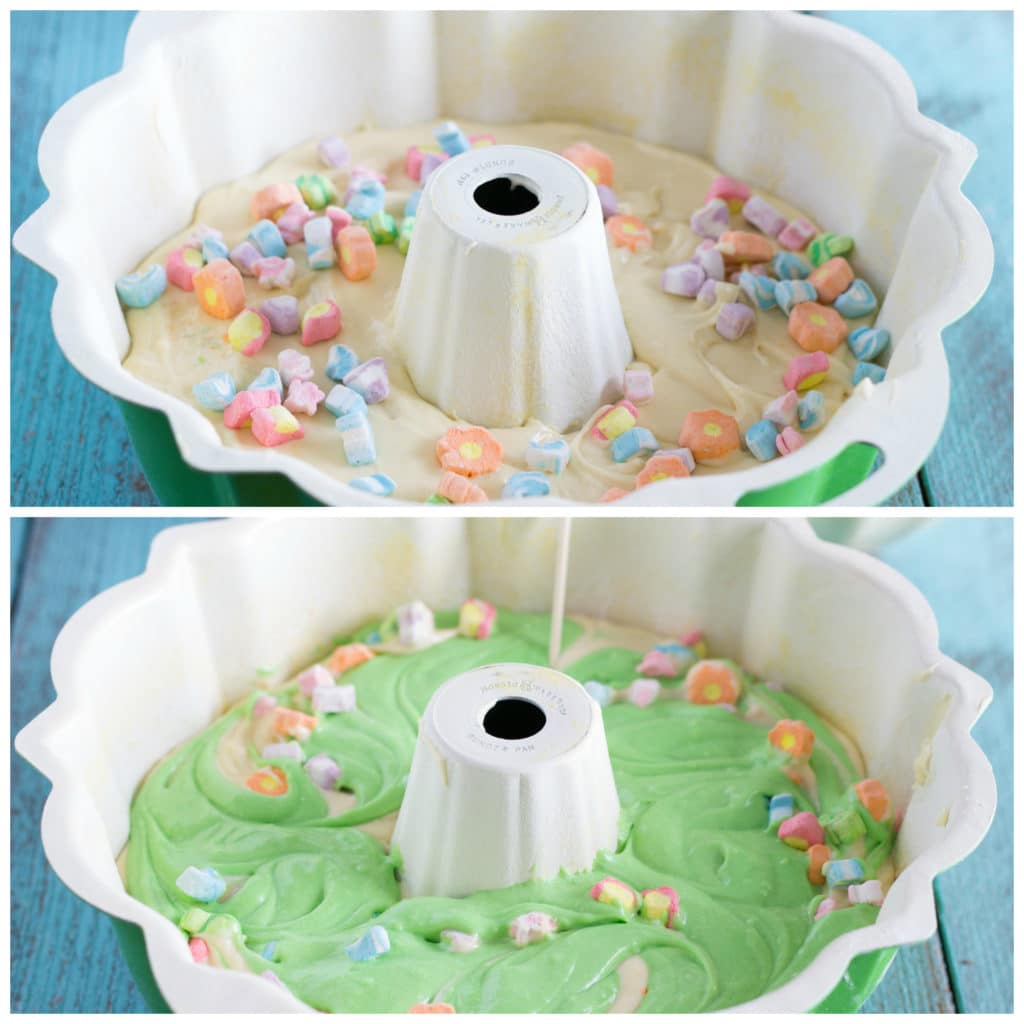 And then we would always have a COMPLETELY green dinner.
Which, to be honest, kind of grossed me out. Just a little. Like the grapes, green beans, and peas – they were fine. It was the dyed alfredo sauce that made me a little wary. But it was all in the name of St. Patrick's Day and lots of green, so I ate the green alfredo and it turns out it really didn't taste any different. And the dinner was always a lot of fun regardless of all the green.
And you can bet I'm totally going to copycat my mom for St. Patrick's Day. A completely green dinner (probably the same exact one she always made) coming right up.
The one thing that will be different is I'm serving this St. Patrick's Bundt Cake. It passes the green test – there's a whole swirled layer of green! And it's very festive thanks to the lucky charms covering the cake and mixed throughout the inside.
To make the two colors and the swirl is extremely easy. I separated the combined ingredients into two bowls. One bowl got poured into the (very well greased and floured) bundt cake pan and the other bowl got mixed with some green food dye. I poured some marshmallows on top of the white layer and swirled those in and then poured the green layer on top. I used a large skewer to mix and swirl the green and white. Nothing too crazy for this cake, just a couple swirls around with the skewer and the layers are all mixed.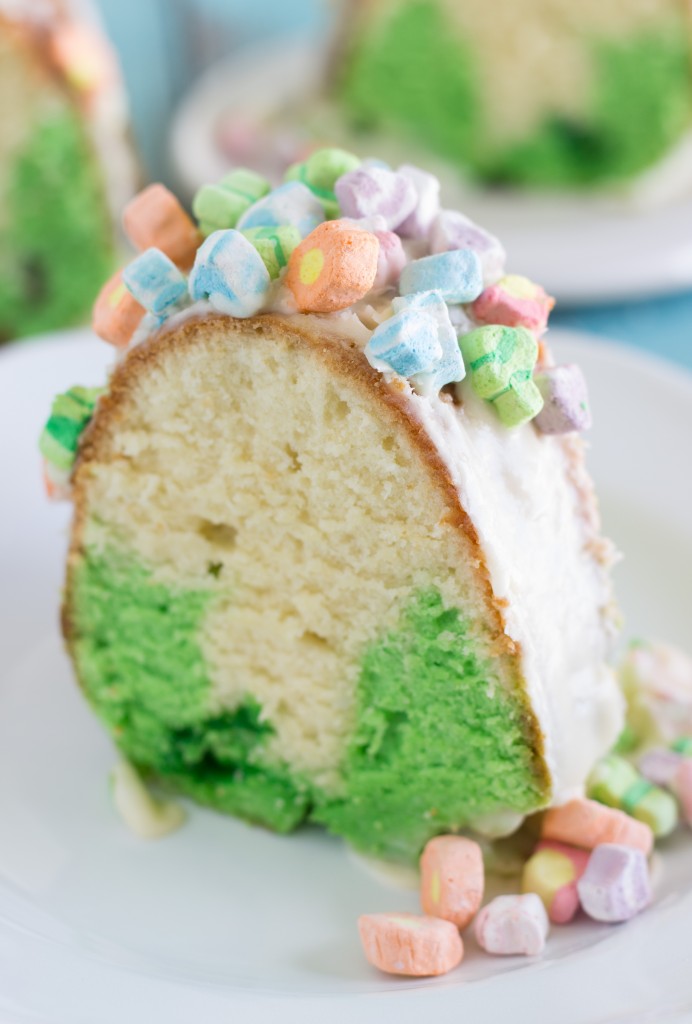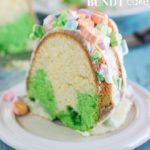 Lucky Charms Swirled Bundt Cake
Ingredients
1

package (8 ounces)

cream cheese

at room temperature

1 and 1/4

cup

butter

at room temperature

2 and 1/2

cups

white sugar

2

teaspoons

vanilla extract

1/2

teaspoon

almond extract

1/4

cup

buttermilk*

6

large eggs

at room temperature

3

cups

all-purpose flour

1/2 - 1

cup

lucky charms marshmallows

to desired preference

1/4

teaspoon

green food dye**
Glaze
3

cups

powdered sugar

1

ounce

cream cheese

softened

1/2

cup

butter

softened

1

teaspoon

vanilla

2-3

tablespoon

milk

if needed

Extra marshmallows for garnish
Instructions
Do not preheat the oven.

Well grease and then flour a 10 inch bundt cake pan. Make sure to grease and flour it well or the cake might not come out perfectly.

In a large bowl, beat together butter and cream cheese until completely smooth.

**It is very important the butter and cream cheese are both at room temperature before starting otherwise the cream cheese will separate in the baking process and your cake will be done in some areas and not done in others.**

Add in the sugar and beat for about 2-3 minutes or more or until light and fluffy.

Beat in the extracts and the buttermilk. (Check notes if you don't have buttermilk on hand.)

Slowly add the eggs beating after each addition.

Add all of the flour and mix until combined.

Separate the mixture in two. Pour the white mixture into the greased and floured bundt cake.

Pour the marshmallows (amount to your desired preference) on top and swirl the marshmallows throughout with a long skewer.

Dye the remaining mixture green and then pour on top of the white mixture and marshmallows.

Swirl the two layers gently to desired swirl amount.

Place in the oven and then start your oven preheating to 325.

Start the timer as soon as you place the cake in the oven (not after it is done preheating) for 60 minutes.

Check it after 60 minutes by inserting a toothpick into the center. If it comes out clean, remove the cake.

If not, return the cake to the oven for another 10-20 minutes.

My cake took 75 minutes total.

Remove and let cool. Invert the cake onto a cake stand or large plate and let cool.

Meanwhile, beat together the powdered sugar, cream cheese, butter, and vanilla. Add milk to get to your desired consistency.

Pour the glaze over the mostly cooled cake.

Garnish with desired amounts of marshmallows.
Recipe Notes
*If you don't have buttermilk, mix a scant 1/4 cup milk with 1 tsp. vinegar and let sit for about 5 minutes and then add to mixture. **If you opt for food dye drops, it will probably take a lot more than 1/4 tsp.