Our favorite chewy chocolate chip cookies are flavorful and sweet with soft interiors and slightly crispy edges. Plus these cookies are easy to make — you'll only need one bowl and a spoon — no hand or stand mixer required!
Try our other famous cookie recipes next: snickerdoodles, oatmeal chocolate chip cookies, or white chocolate macadamia nut cookies.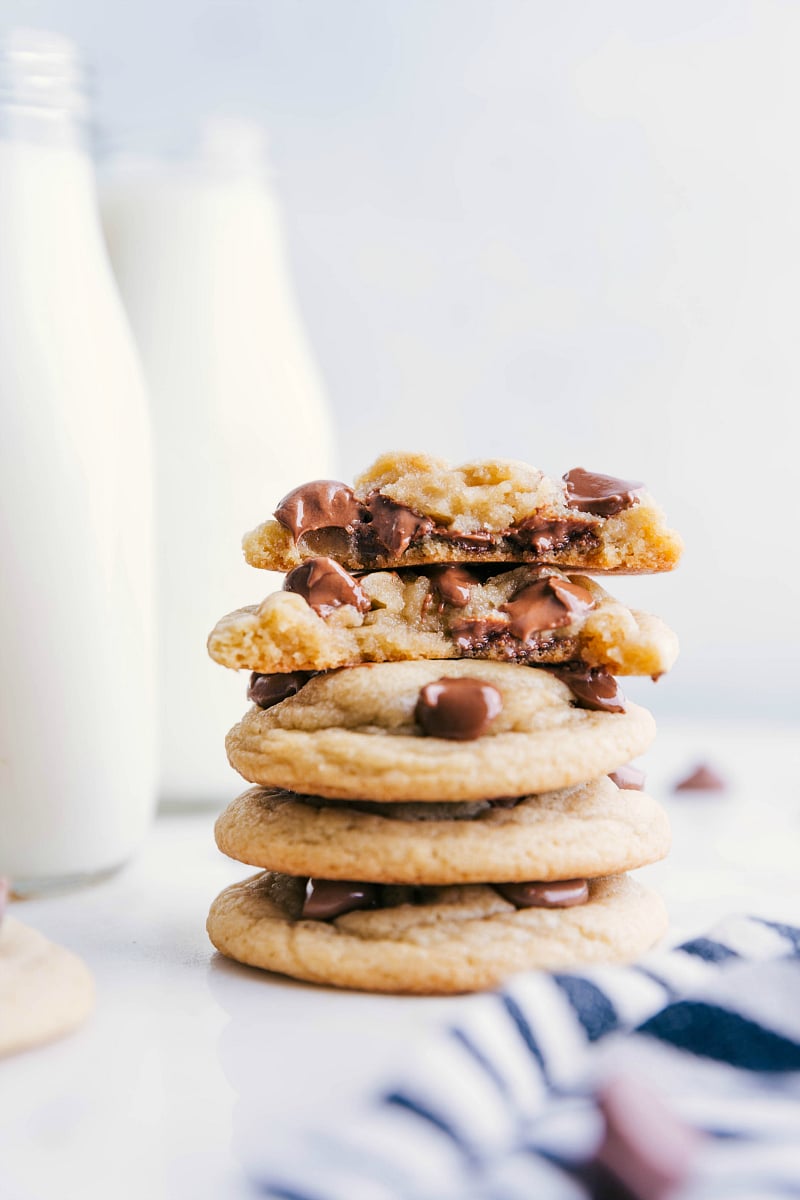 These are my all-time favorite chocolate chip cookies! We make them at least once a week in my home; usually as a Sunday project before or after church. The boys all pitch in, and by pitch in, I mean they eat all the cookie dough. 🙂
One of my boys prefers the dough to the cookie which is why I created this edible cookie dough for him. But the rest of us? We love these chewy chocolate chip cookies right out of the oven with a glass of milk. IMHO, there aren't too many things better than that!
How to make chocolate chip cookies chewy
The more moisture in cookies, the more chewy they will be. Ingredients, baking time, and baking temperature all come into play as we work to retain moisture in the dough.
The size or mass of the cookies also contributes to their chewiness. Big cookie dough balls make softer and chewier cookies than smaller ones.
The number one way to get chewy cookies — don't bake them too long. Remove the cookies as soon as the edges turn a light brown and the top center is pale. The cooked centers will remain soft and as they firm up, they'll be soft and chewy.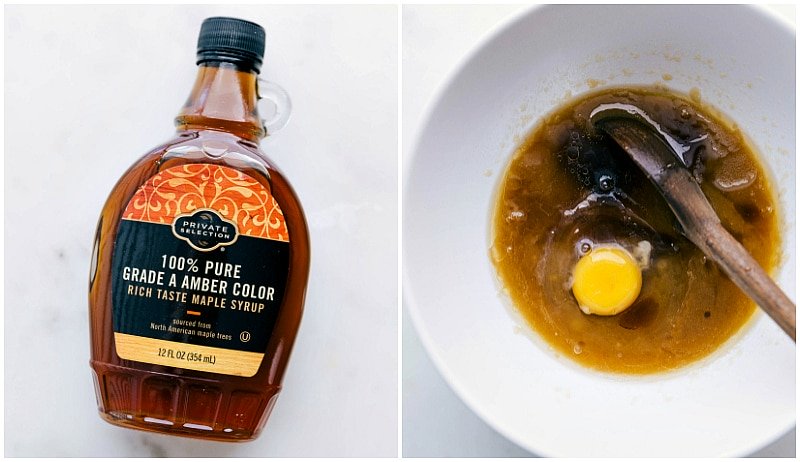 Ingredients for ultra chewy chocolate chip cookies
Maple syrup: A few years ago, my friend showed me a sugar cookie recipe which uses agave nectar in the dough. It's perfect for keeping the cookies soft, chewy, and boosting the flavor. So I started adding that to my favorite cookie recipe. One Sunday we started making the cookies and I realized we didn't have any more agave nectar. The only sticky sweetener we had was maple syrup, so I used that in its place. And they turned out even better! Now we add just a little bit of maple syrup to these cookies and it makes them the best! It adds a very subtle maple flavor, a slightly more intense sweetness, and keeps these cookies soft AND chewy.
Brown sugar: this sugar has a higher moisture content than white sugar and thus will produce a chewier cookie than if you just used white sugar. Dark brown sugar has an even higher moisture content than light brown sugar and will create the ultimate chewy cookie. Dark brown sugar does lend a more toffee-like flavor.
You cookies could also be hard if you over-measured the flour or if other ingredients weren't fresh. Ensure your baking soda and baking powder are fresh and your brown sugar isn't too hard.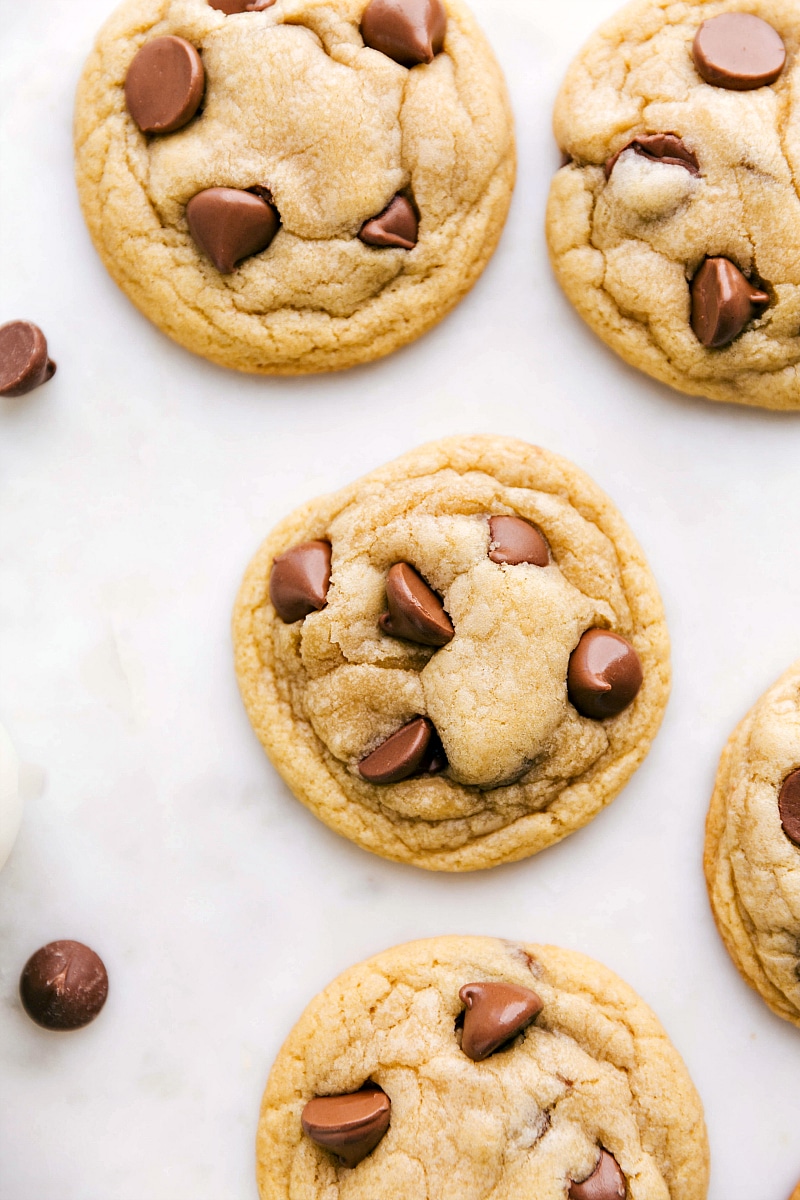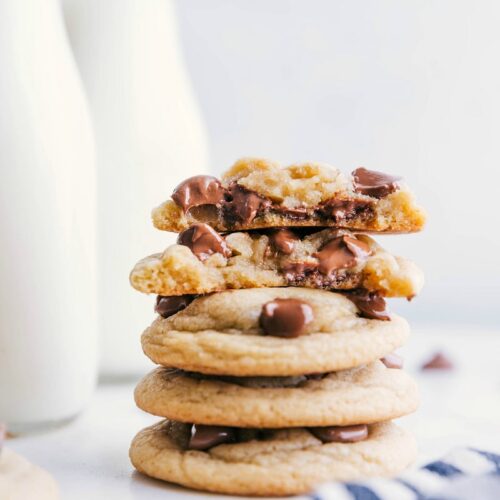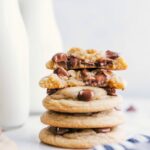 Chewy Chocolate Chip Cookies
Our favorite chewy chocolate chip cookies are flavorful and sweet with soft interiors and slightly crispy edges. Plus these cookies are easy to make -- you'll only need one bowl and a spoon -- no hand or stand mixer required!
Keyword:
chewy chocolate chip cookies
Ingredients
8

tablespoons

unsalted butter

1/2

cup

light brown sugar,

packed (Note 1)

1/3

cup

white sugar

1

large

egg

1/2

tablespoon

pure vanilla extract

2

tablespoons

pure maple syrup

2

teaspoons

cornstarch

1/2

teaspoon

baking soda

1/2

teaspoon

baking powder

3/4

teaspoon

sea salt

(reduce if using table salt OR if sensitive to salt)

1 and 3/4

cups

white all-purpose flour

1 and 1/4

cups

good quality milk chocolate chips,

separated (OR use semi-sweet or dark chocolate -- whichever is your favorite)
Instructions
In a very large, microwave-safe bowl, melt the butter. Once melted, stick it in the fridge for 5 minutes. It's important the butter isn't hot when you add in the sugars or it will melt the sugar and make the cookies greasy.

Once butter is cooled to room temperature, stir in the light brown sugar and white sugar. Stir until smooth. Stir in the egg, vanilla extract and maple syrup. Stir until smooth.

Add in the cornstarch, baking soda, baking powder, and salt. Again, stir until smooth. Add in the correctly measured (Note 2) flour and mix until JUST combined. Don't over mix.

Gently stir in 1 cup of chocolate chips until combined.

Cover the bowl tightly and chill for 1 hour.

Preheat the oven to 350 degrees F. Line a pan with parchment paper or use a nonstick liner.

Roll balls of dough into tall cylindrical balls (see picture above for shape and size). Place 6-8 cookie balls on a sheet to give the cookies plenty of room to spread. Dough balls should be about 1.7 ounces.

Bake for 8-12 minutes erring on the side of under-baking which keeps them soft and chewy (We like ours right at 9 minutes)! Remember the cookies will bake a little more out of the oven, so take them out as soon as the edges start to lightly brown.

Remove from the oven and press the remaining 1/4 cup chocolate chips into the tops of the cookies (ensures even placement of chocolate AND makes them look pretty!). Allow to cool on the baking tray for 5 minutes before transferring them to a cooling rack.

STORAGE: We like these cookies best on day 1 and 2 of being made. They do last up to 1 week, but they do begin to lose texture and flavor. To store: place in an airtight container and keep at room temperature. Wait until cookies are completely cooled before adding to the container.
Recipe Notes
Note 1: for a richer toffee-like flavor, use dark brown sugar. These cookies do spread a bit more and are a little less "pretty" with the dark brown sugar as compared to the light brown sugar. 
Note 2: spoon the flour into a measuring cup and level the top with the back of a butter knife.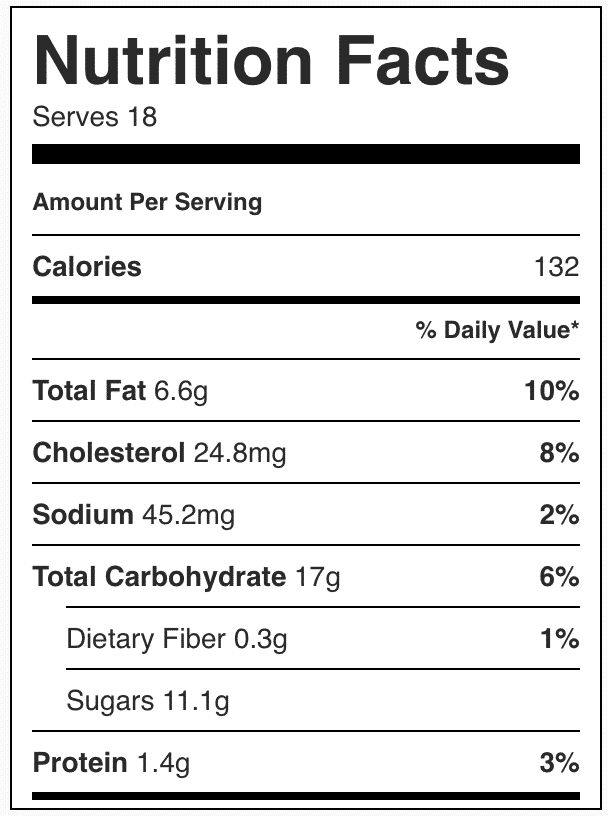 Photos and text updated 3/20/19; recipe has not been changed.