Wow your guests with these sugared cranberries – they make a beautiful and delicious addition to any holiday table. Most sugared cranberries are dipped in water and rolled in sugar, but I've found the "secret" to the best sugared cranberries is to dip them in orange juice. It makes them that much more flavorful and sweeter, plus the sugar sticks even better!
For a gorgeous festive dessert, top these vanilla cheesecake bars or this chocolate cheesecake with these sugared cranberries.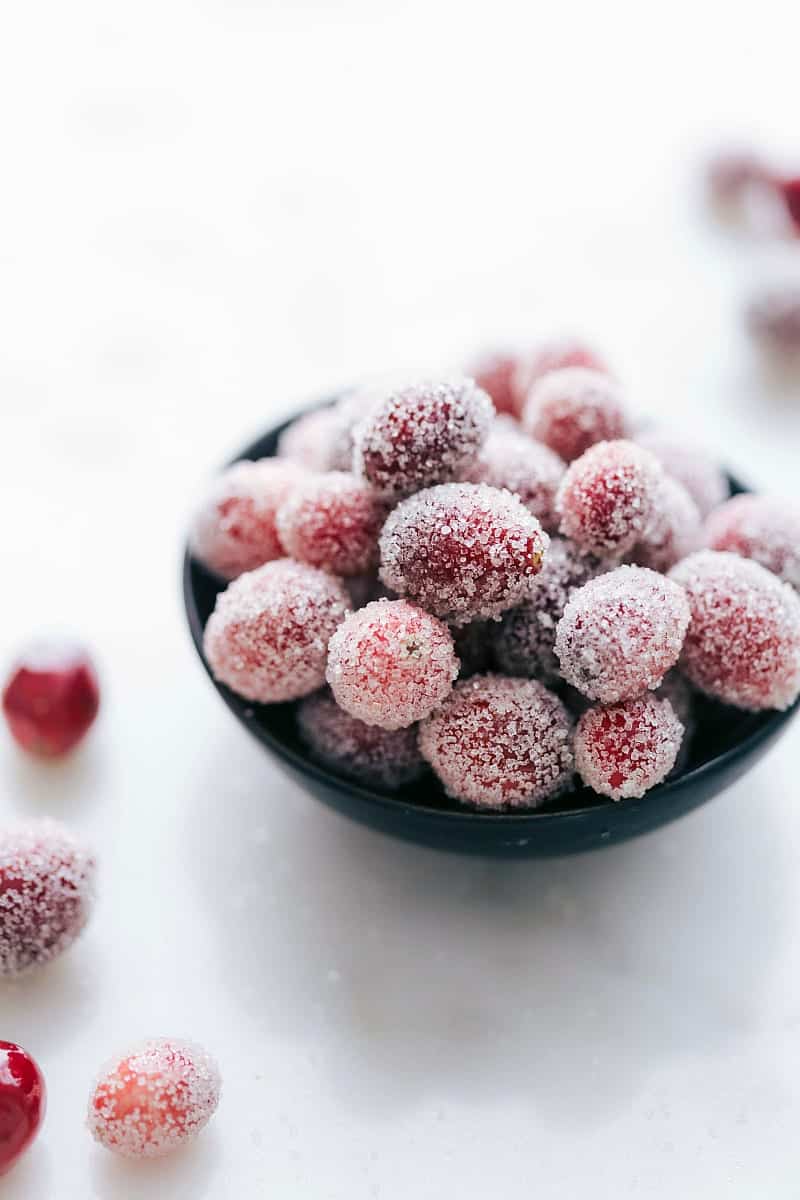 Every December growing up my mom put out garlands on our mantle with beautiful (fake) sugared cranberries. They were so beautiful and one of my favorite decorations! The last few years I've started making my own homemade sugared cranberries to add to tabletop decor, a cheeseboard, or to spruce up a hot chocolate bar. Sugared cranberries seamlessly tie together decor and they're surprisingly delicious to snack on.
Read on and I'll share all my "secrets" for creating perfect sugared cranberries every time.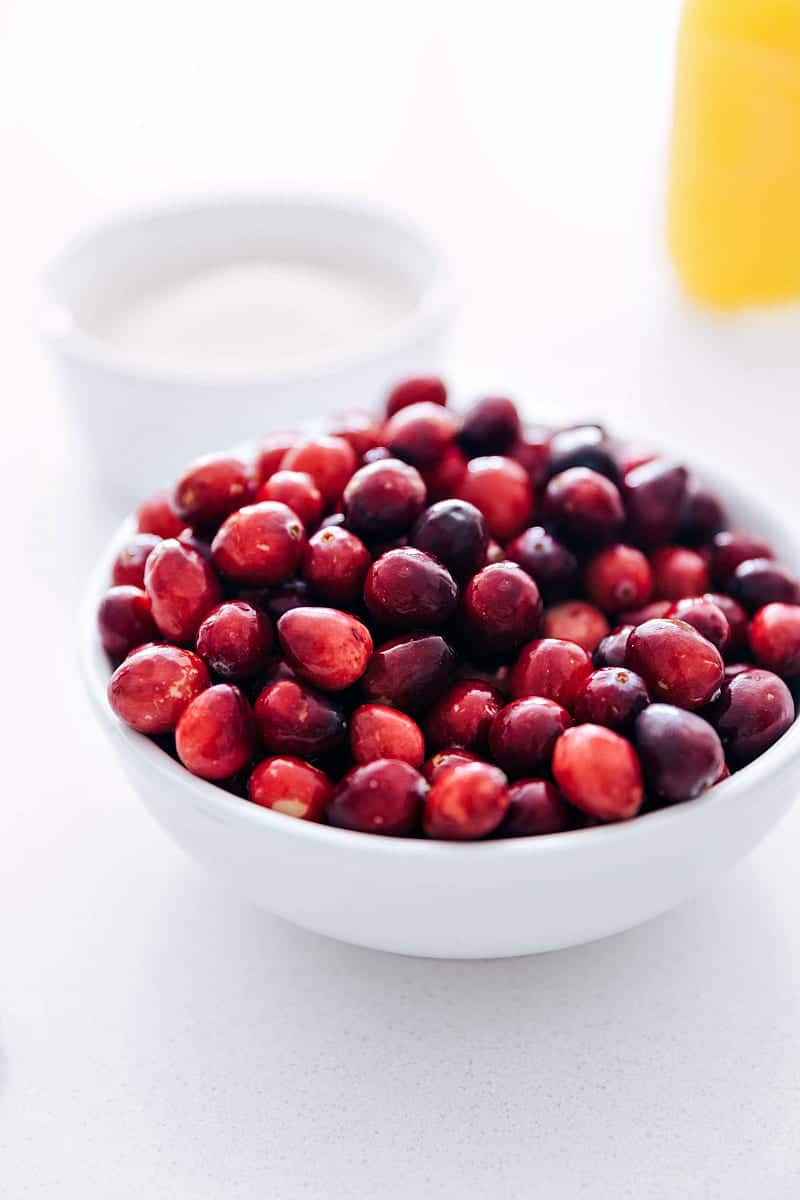 How do you make sweet cranberries?
There are only a few quick steps to making these quick candied cranberries.
Soak: create a "syrup" to soak the cranberries in (see below for detailed steps on how to soak the cranberries).
Dry: allow the cranberries to dry for one hour to keep them from being too wet and the sugar slipping right off
Add sugar: spread the sugar in an even layer on a plate and place the cranberries on top. The other "secret" to beautiful sugared cranberries? Use CANE sugar instead of white/granulated sugar
Roll: add the (sticky) cranberries to the sugar and roll to evenly coat them. While they'll start out pretty sticky, they aren't sticky at all after a good sugar coating.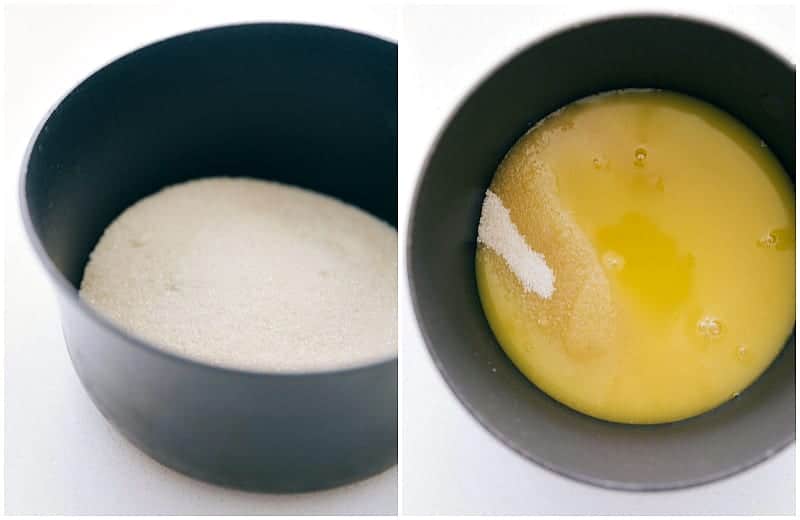 I just mentioned the first step to making these sugared cranberries is to soak them in a syrup mixture. Here's how that happens:
How do you soak cranberries?
Prepare syrup mixture by dissolving the sugar in the orange juice. For orange vanilla sugared cranberries, add one teaspoon of vanilla extract to this mixture.
Remove from heat and stir the cranberries in so that they are all evenly coated.
Let the cranberries seep in the mixture for 10 minutes.
Remove cranberries onto parchment paper to dry.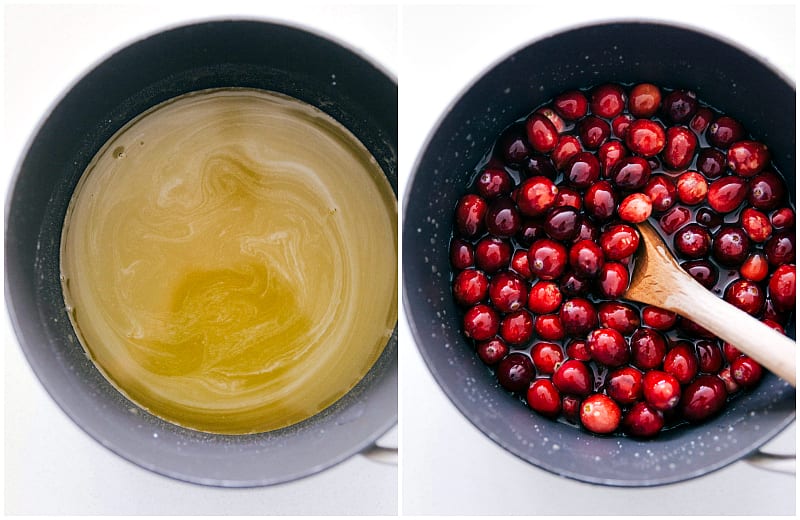 If the holidays are as busy for you as they are for me, you're likely looking to do as many things ahead of time as possible! Here's what you need to know about making sugared cranberries in advance.
How do you store candied cranberries?
Sugar coated cranberries store best in an airtight container in a cool place or in the fridge.
How long do sugared cranberries last?
When prepared and stored correctly, sugared cranberries can last up to one week. However, for best quality, I recommend using within 2 days, as sometimes the liquids will seep when stored. If they're looking less than ideal, toss them in the sugar again quickly!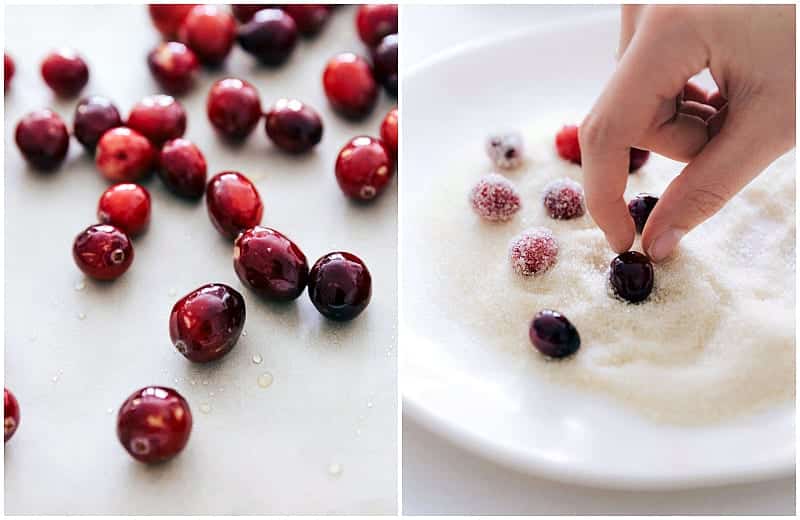 These sugar coated cranberries are the perfect garnish, snack, or decoration. Below are some of my favorite ways to use them.
What can I use sugared cranberries for?
They are beautiful on top cakes or cupcakes with this cream cheese frosting, on this carrot pumpkin cake, or on top of this lemon pie.
You can also use these candied cranberries for mocktails/cocktails as a garnish or in the actual drink. You could also add them as a garnish for this homemade hot chocolate.
Use them for beautiful table decorations by filling a champagne glass with them or sprinkling them at the base of your candles.
Add them sporadically to a cheese or charcuterie board.
Leave a comment with your ideas on how you decorate with these sugared cranberries!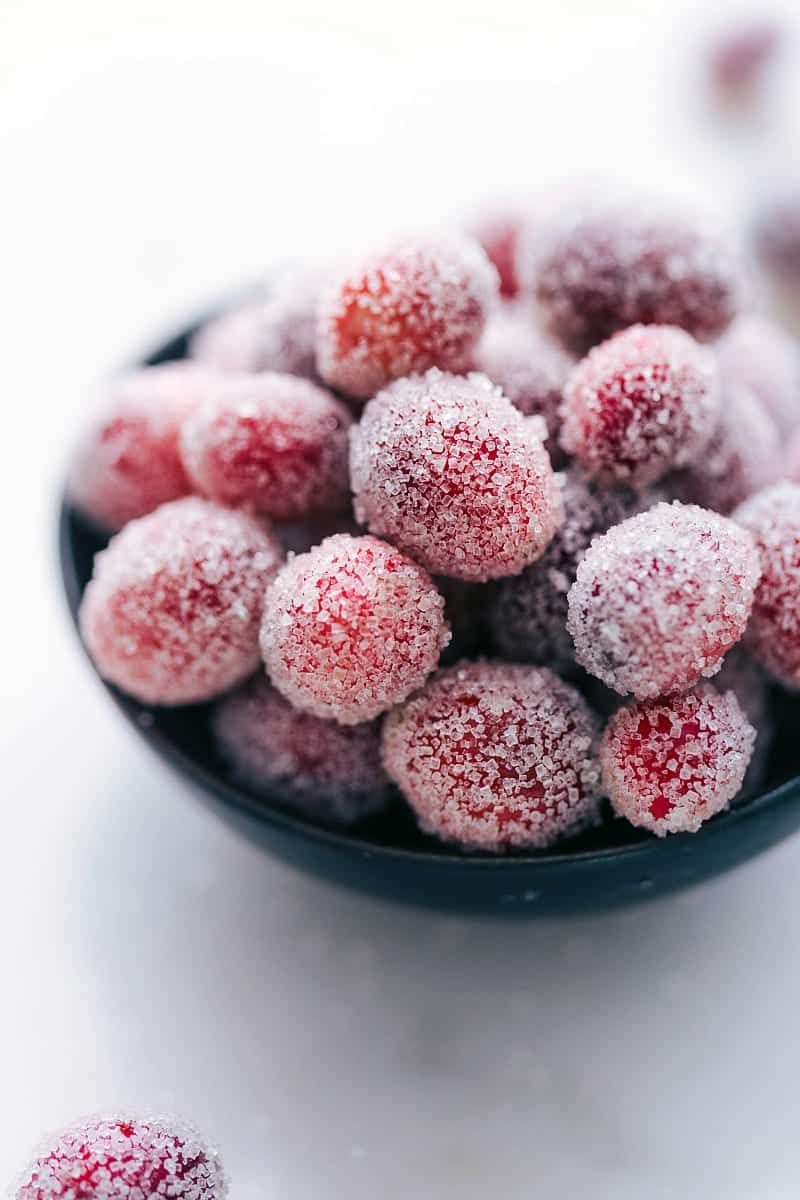 More Holiday Treats: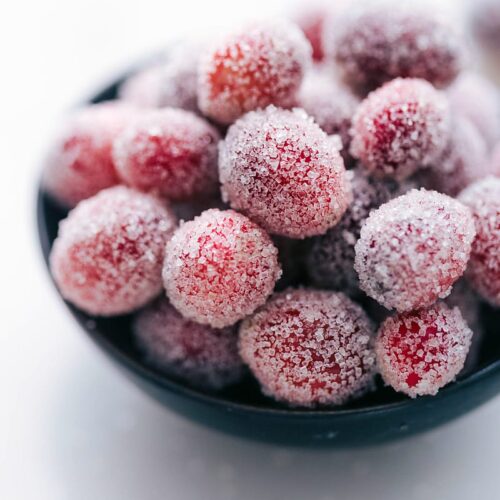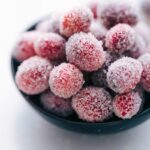 Sugared Cranberries
Wow your guests with these sugared cranberries - they make a beautiful and delicious addition to any holiday table.
Keyword:
sugared cranberries
Servings
:
2
cups sugared cranberries
Ingredients
1

cup

100% orange juice

1 and 1/2

cups

cane sugar,

separated (white sugar will work okay, but cane is best!)

2

cups

fresh cranberries
Instructions
Line 1-2 large pans with parchment paper and set aside.

In a small pot, combine the 1 cup orange juice and 1 cup of the cane sugar. Bring to a simmer and whisk until sugar is completely dissolved. Remove mixture from the heat and stir in the cranberries until coated in the sugar. Cover the pot with a lid and let stand for 10 minutes.

Strain the cranberries (discard or save the syrup for a simple syrup for cocktails/mocktails). Using a wooden spoon, separate the cranberries and place on prepared pan. Allow to dry out for 45 minutes to one hour at room temperature.

Place the remaining 1/2 cup cane sugar on a large plate and transfer the cranberries to the plate. Roll the cranberries in the sugar to coat. Once coated, they're ready to use/eat! 🙂