This post may contain affiliate links. Please read my disclosure policy.
Super-easy Waffle Cake — layers of chocolate cake waffles with an unbelievably flavorful and creamy vanilla filling. Top with fresh berries and a sprinkle of powdered sugar for a show-stopping dessert that couldn't be easier to make!
Looking for more fun ways to celebrate without a traditional cake? Well then, try this icebox cake, these brownie oreo ice cream bars, or this easy ice cream sandwich cake.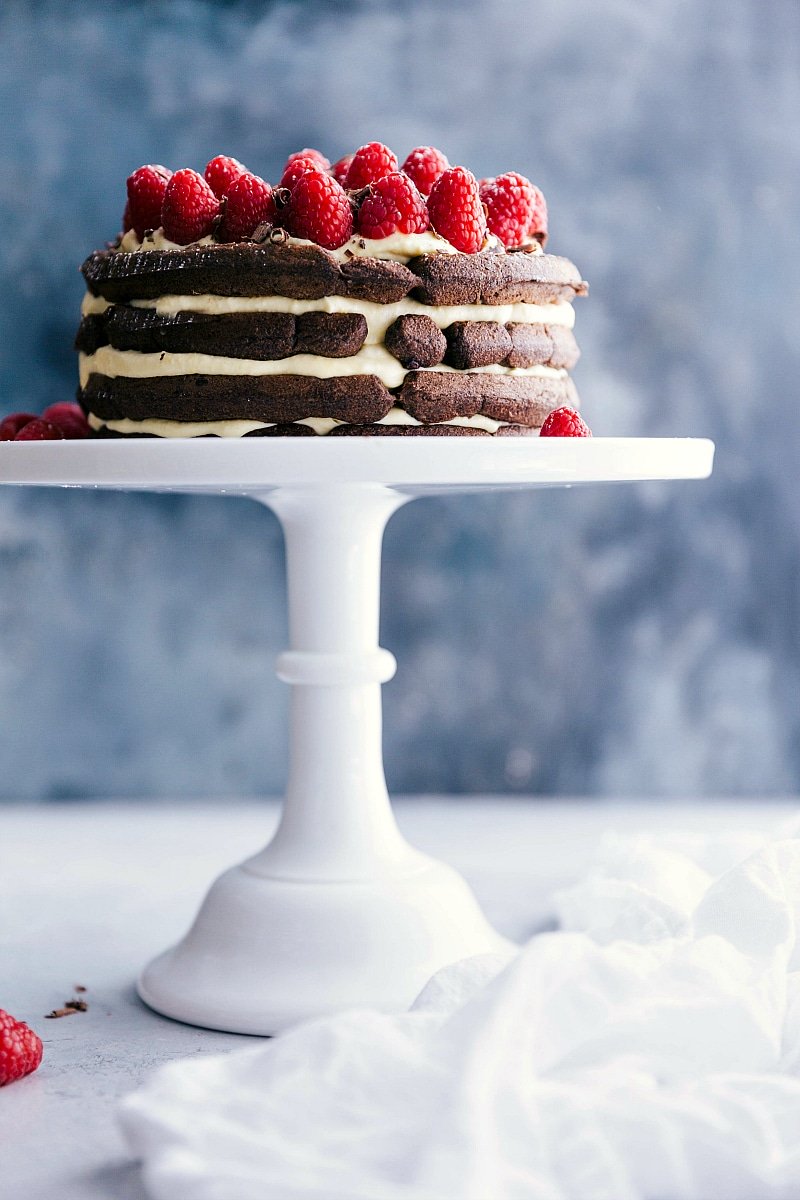 If layer cakes intimidate you or you're just looking to make something quicker, then I have the recipe for you. My Waffle Cake is incredibly easy to make, and such a showstopper! You'll get a gorgeous layer-like cake with a fraction of the effort.
In fact, you don't even need an oven for this cake! Just grab a reliable waffle maker and you'll have all your "cake" layers done in about 10-15 minutes. This is way easier and way quicker than a chocolate layer cake!
How to make a Waffle Cake
Start with the waffles: Follow package directions to make chocolate cake batter (no changes necessary to the box instructions). Fill a preheated waffle iron with batter, following the manufacturer's directions for measurements and then cook up all the waffles. Let them cool fully on a wire cooling rack. These are the type I like.
Meanwhile make the

creamy

filling

: beat together pudding mix, milk, and sweetened condensed milk. In a separate bowl, make some

whipped

cream

(follow my guide for how to make whipped cream if you've never made homemade whipped cream. Spoiler alert: it's so easy!) Fold the whipped cream into the creamy filling. Chill until the waffles are cool.
Assemble: It's as easy as sandwiching it all together. Place a waffle on a cake stand or platter, add some filling, another waffle, more filling, another waffle, more filling, last waffle, and the last bit of filling on top.
Garnish: Press berries on top and sprinkle on some powdered sugar to finish it off.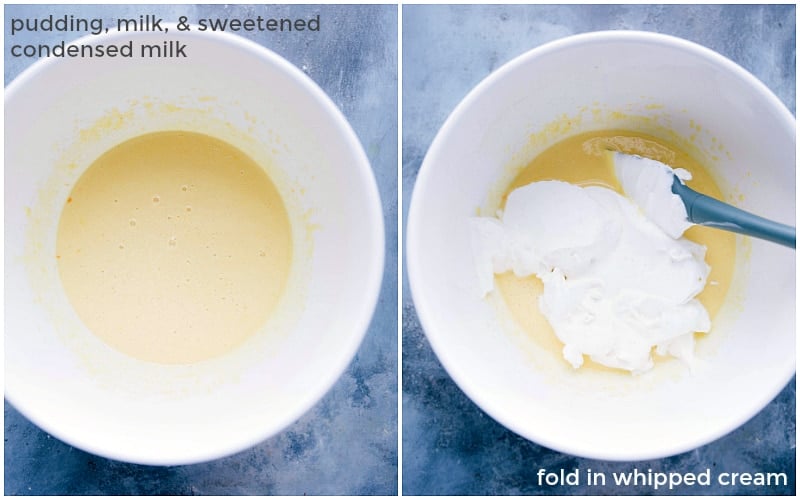 What chocolate cake mix do I use?
My favorite cake mix to use for this waffle cake is Betty Crocker's Super Moist Triple Chocolate Fudge mix. I receive no royalty from Betty Crocker for saying that; it's just my preference.
Spruce Eats did a taste test comparison of store-bought cakes, so check it out and see if a description of a specific cake resonates most with you.
And what about the waffle maker?
This recipe, as pictured, is made using a belgian style waffle maker. Depending on the waffle maker and the cake mix you use, the quantity of waffles made will vary.
You only need four thick waffles for this cake, so if you have extras you can make another cake or enjoy the leftover chocolate waffles with ice cream. You could also crumble up the leftovers and make cake pops!
With the waffle maker and cake mix I use, I typically get eight good waffles from the batter. We have no trouble finding ways to use up the leftovers!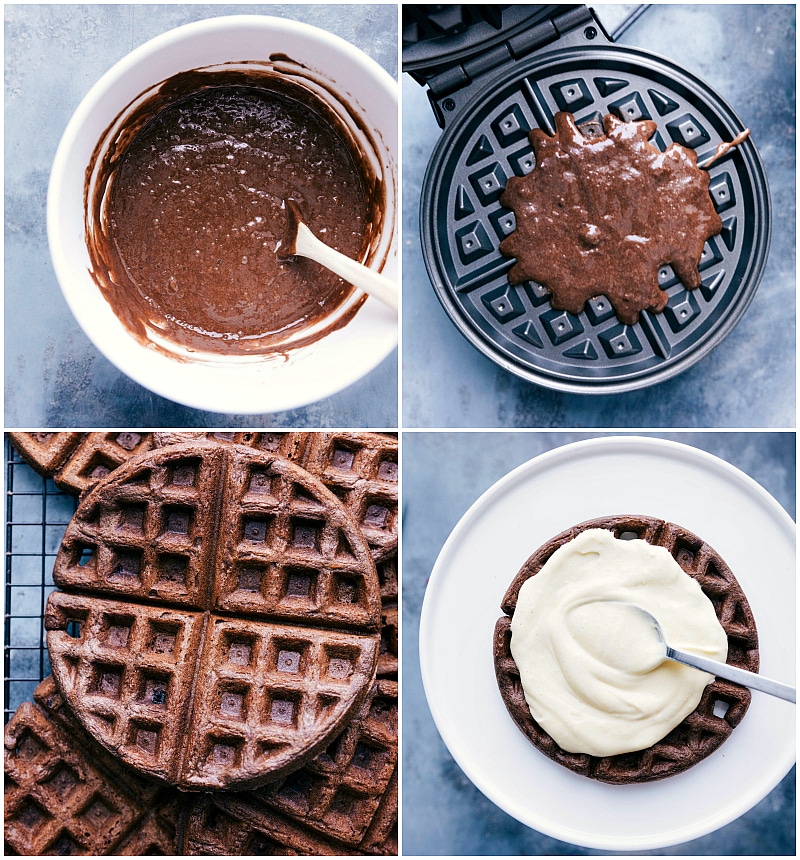 Waffle Cake variations
Funfetti: Use a funfetti cake mix instead of chocolate, and garnish the waffle cake with sprinkles!
Pumpkin: Use this waffle recipe and fill up the layers with maple whipped cream from this pumpkin pie recipe. Garnish with fresh berries.
Strawberries and cream: Use a vanilla cake mix instead of chocolate, use the same vanilla filling I share in the recipe, and garnish with freshly sliced strawberries.
Ultra-chocolate: Use a chocolate mousse whipped cream (from this chocolate poke cake!) in place of the vanilla cream for an mega-chocolate dessert.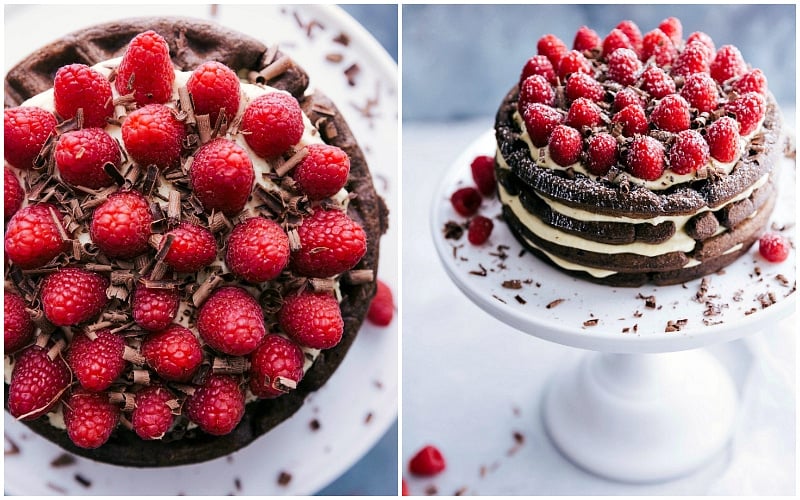 Quick tips
Let the waffles cool completely before assembling the cake. If the waffles are at all warm it will heat the cream filling and make the waffle cake slide (plus the texture/taste will be off).
Dry the berries completely before adding to the top of the waffle cake — you don't want any liquid on the berries to make the top soggy.
Keep the cream layer chilled while you're waiting for the chocolate layers to completely cool.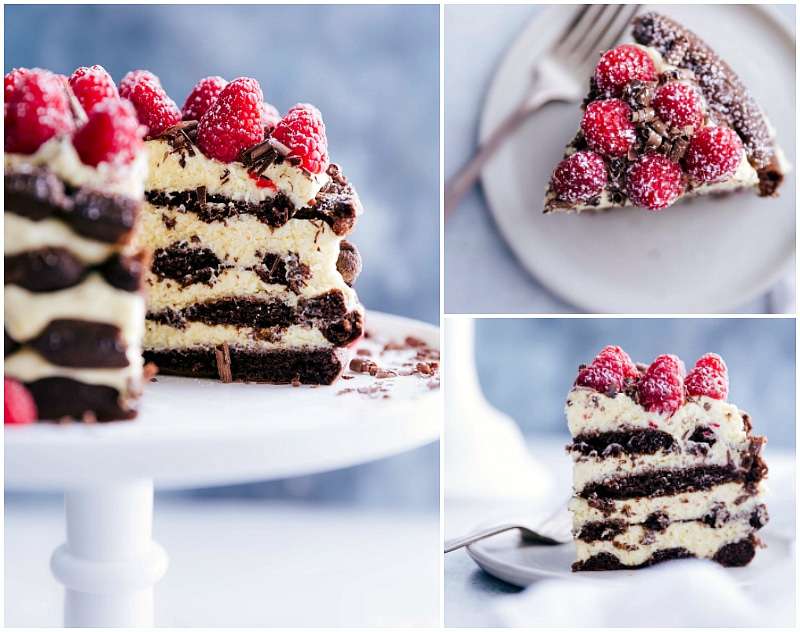 More desserts: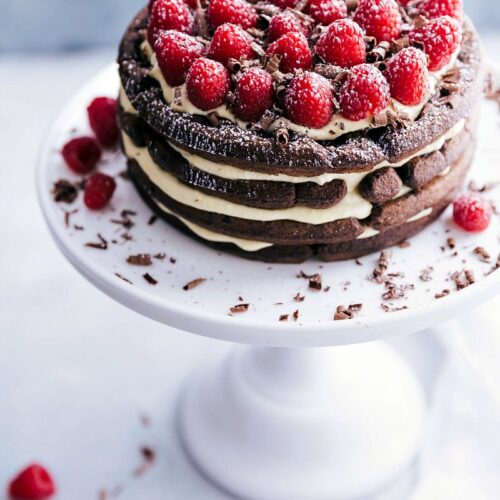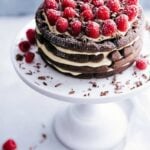 Waffle Cake
Super-easy Waffle Cake -- layers of chocolate cake waffles with an unbelievably flavorful and creamy vanilla filling. Top with fresh berries and a sprinkle of powdered sugar for a show-stopping dessert that couldn't be easier to make!
Ingredients
Waffle Layer
1

chocolate cake mix + ingredients called for

(eggs, vegetable oil, water) Note 1
Cream Layer
1

can (14 ounces)

full-fat sweetened sweetened condensed milk

1/2

cup

milk

(1%, 2%, or whole milk)

1

package (3.4 ounces)

instant vanilla pudding

(do not prepare according to package directions)

1

cup

heavy whipping cream

2

tablespoons

powdered sugar

1

teaspoon

vanilla paste

(or pure vanilla extract)
Topping
Fresh berries (I used raspberries)

1 dark chocolate bar and powdered sugar,

optional
Instructions
WAFFLES: Combine the chocolate cake mix, eggs, water, and vegetable oil in a large bowl. Beat to combine, following package instructions. Preheat a waffle maker according to the manufacturer's instructions. I preheated mine to medium high.

COOK WAFFLES: Pour a heaping 1/2 cup of the cake mix into the waffle maker--or the correct amount to fill the baking area of the waffle iron correctly. Close and allow cake mix to cook. When it's finished cooking, remove and allow to completely cool on wire racks. Repeat this step until all waffles are made. I typically get eight large waffles from a prepared cake mix.

CREAM: In a large bowl, mix together the sweetened condensed milk and regular milk. With a hand mixer, blend in the pudding mix and then chill for 5 minutes. While it's chilling, make the whipped cream: add the heavy cream, powdered sugar, and vanilla paste (or extract) to a stand mixer bowl fitted with the whisk attachment. Whisk on low speed to combine. Gradually increase to high speed until medium to stiff peaks form, about 1-3 minutes. Watch carefully to avoid over-beating. With a spatula, fold this cream into the condensed milk and pudding mixture. Fold until smooth and combined. Place mixture in the refrigerator and keep chilled until the waffles are fully cool.

ASSEMBLE: Place one waffle on a cake stand or plate. Spread the pudding mixture on top (using about 1/5 of the mixture for each layer). Place another waffle gently on the pudding mixture. Add more pudding mixture. Continue this pattern with another waffle and more pudding mixture. Add the final waffle and the remaining pudding mixture on top.

GARNISH: If desired, garnish with fresh berries and chocolate shavings.

CHOCOLATE SHAVINGS: Make chocolate shavings by scraping a chocolate bar with a vegetable peeler. You can also break up some of the candy bar and place the chocolate chunks on top. Cut the cake into slices and enjoy immediately.
Recipe Notes
Note 1: I use and recommend Betty Crocker's Super Moist Triple Chocolate Fudge mix.
The cream layer makes enough cream to fill a 4-waffle layer cake (with a little on top to hold the berries). The cake batter makes around 8 waffles, so if you want to use all the waffles up, double the cream and make 2 different waffle cakes.