A tri-layered fudgy chocolate waffle pie that is ready in less than thirty minutes! This delicious recipe looks impressive and will be the hit of any party, but secretly takes very little preparation.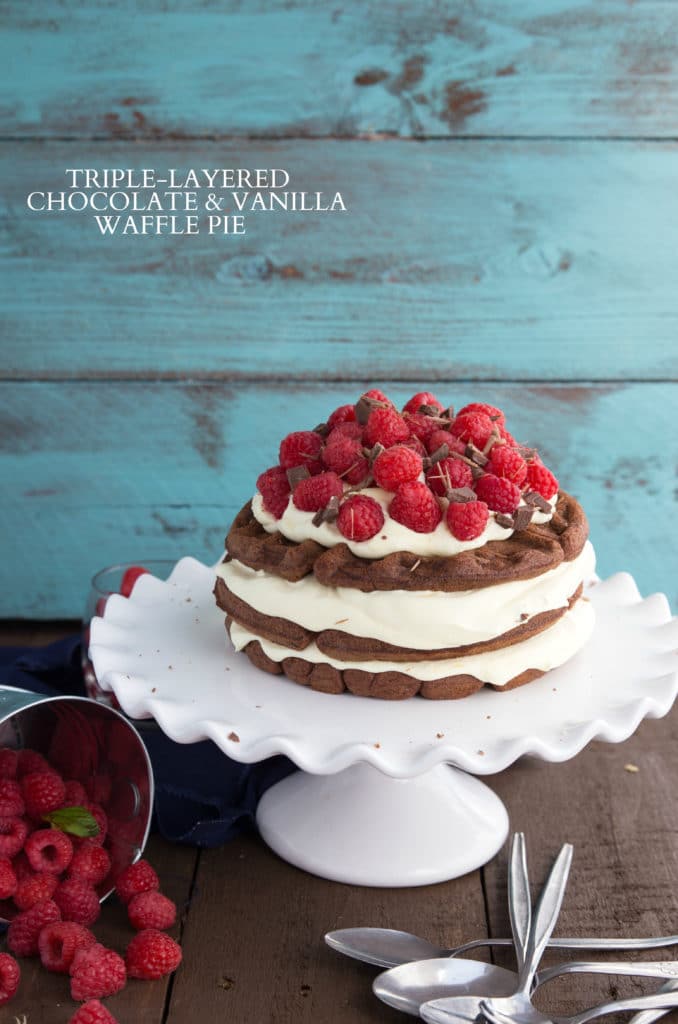 For me, when I see a pretty layered dessert I instantly think it's time-consuming and/or difficult to make.
So here's the great news about this pretty layered dessert – it could not get any easier! It's one of the quickest desserts I've ever made too.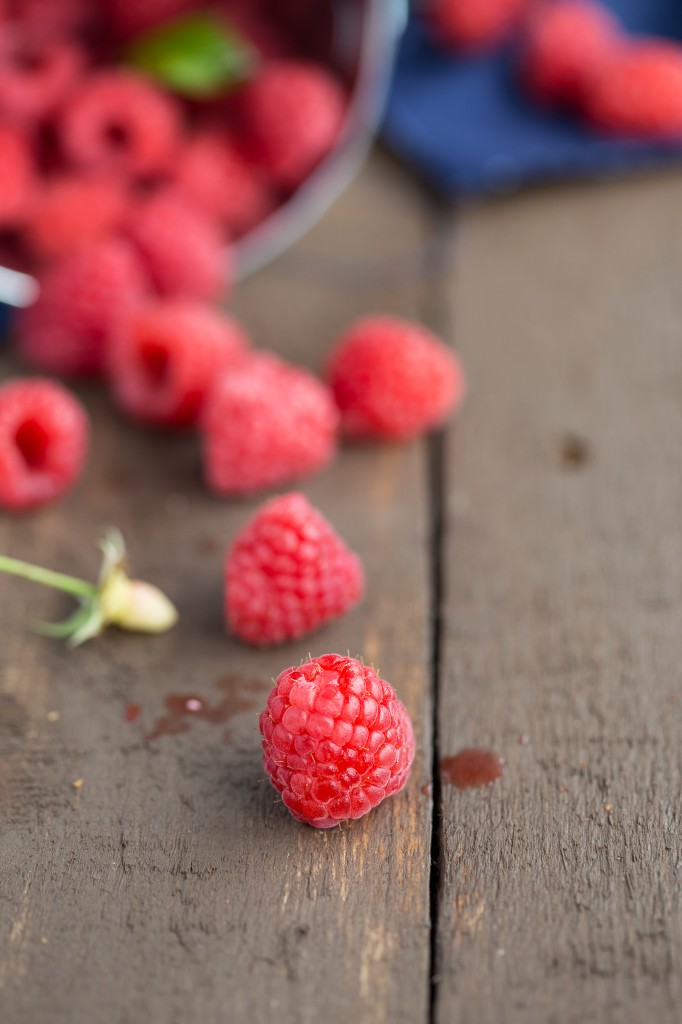 Which is a good thing, because, well, I had to make it twice. Right in a row no less!
Apparently my baby is growing faster than I can keep up with… Usually I take all of my pictures while he was taking a nap, but sometimes when he refuses to sleep, we take pictures together. And by together, I mean he usually sits right by my feet playing with toys while I snap some shots.
And this time, I guess his toys were no longer interesting. He climbed himself right up and pulled on the wood tabletop that was on top of my table. (I have little 2 x 2 wood boards I place on top of another table that I take pictures on.)
Luckily he didn't pull the board off on to himself which I was grateful for! But he pulled it just enough for the cake stand to topple over, the berries to be smashed, and the whole pie was in ruins. (You can see the picture here.)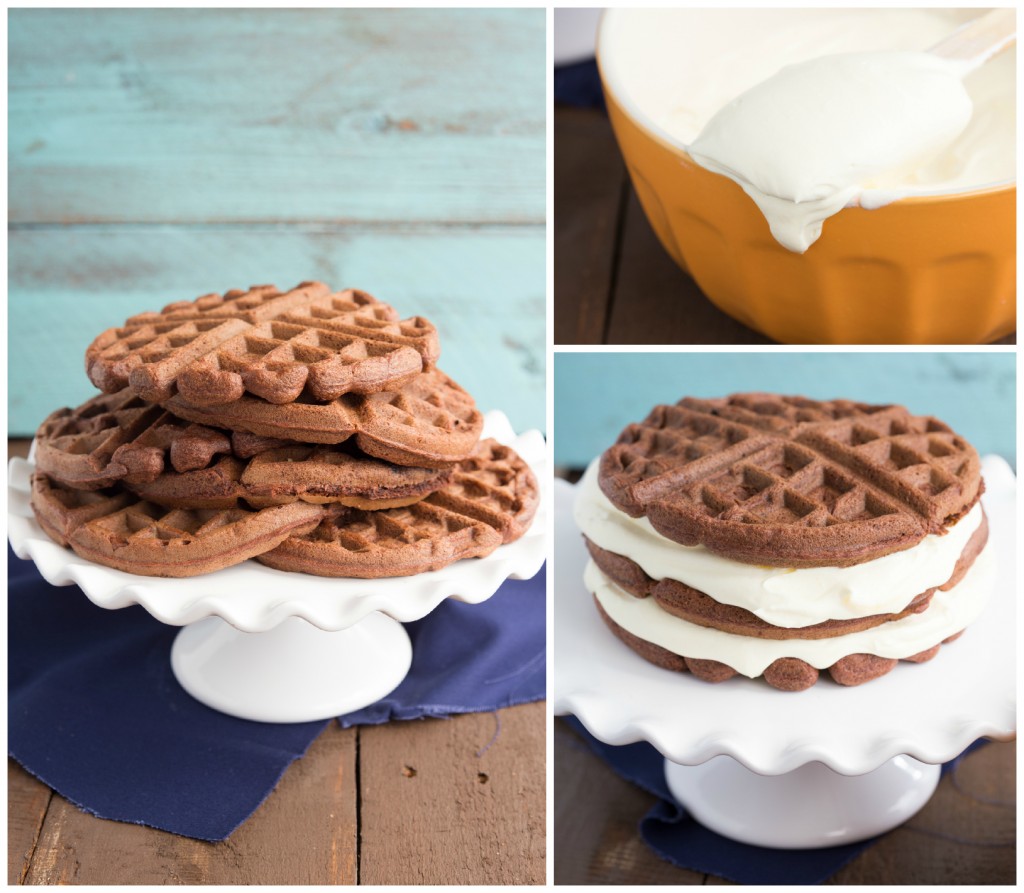 So we cleaned up the mess and round two of chocolate waffle pie making. And, like I've said, luckily it's an easy dessert to make 🙂
To make this dessert very simple, I used a chocolate cake mix for the waffles. Basically you just make up the cake mix according to the directions on the package and cook it right in your waffle maker. How easy is that? I actually came up with this dessert because another one of my mom's go-to desserts growing up were chocolate waffles. She would make a chocolate cake and then we'd make waffles out of it, top it (while it was hot) with tons of ice cream and chocolate syrup. SO good.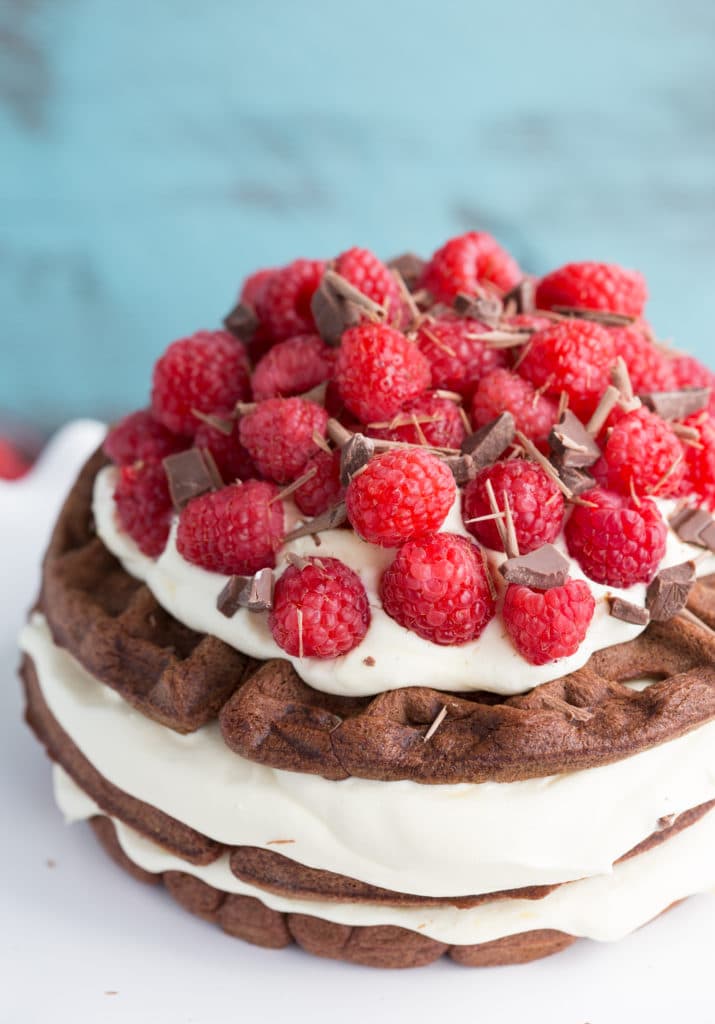 Although the filling isn't ice cream, you could freeze this pie and make a sort of ice cream pie out of it.
The filling is, instead, whipped topping, vanilla pudding mix, and milk. I used Jell-o instant pudding mix with 2 cups milk (I cut out 1 cup that is typically called out in the directions). That mixture goes in the fridge for 5 minutes while the cake waffles are in the waffle maker.
After the pudding is soft-set, you fold in the whipped topping and that is layered in between the chocolate waffles. 3 waffles and 3 pudding/whipped topping layers.
And, my favorite part comes last, the berries. Aren't they pretty? I love raspberries and strawberries!
I couldn't decide between the two but finally ended up with raspberries since the little guy doesn't have those as often as strawberries.
Of course, last but not least, is the chocolate shavings and pieces. I just took a small chocolate bar and shaved off some pieces with a vegetable peeler. Then I broke off the rest of it into small pieces and just placed them around the top. This is, of course, optional but it totally makes the pie in my opinion!
Grab a fork and a slice – this stuff is gooooood!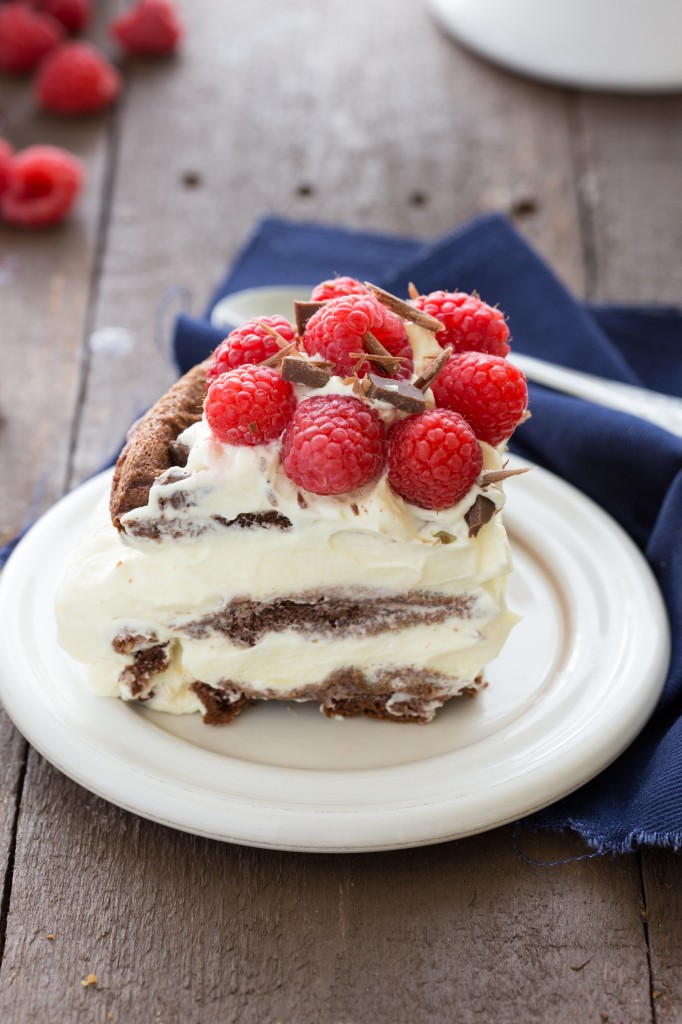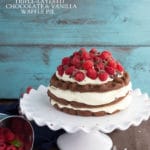 Triple-Decker Fudgy Chocolate Waffle Pie
Ingredients
1

chocolate cake mix + ingredients called for

(eggs, vegetable oil, water)

1

package (3.4 ounces)

vanilla instant pudding mix

dry

2

cups

milk

1% milk fat or higher

1

container (8 ounces)

frozen whipped topping

completely thawed

Fresh berries

I used raspberries

Chocolate bar

optional
Instructions
Combine the chocolate cake mix, eggs, water, and vegetable oil in a large bowl. Beat to combine following package instructions

Preheat your waffle maker to manufacturer's instructions. I preheated mine to high.

Pour a heaping (depending on your waffle maker size you may need to adjust this number) 1/2 cup of the cake mix into the waffle maker. Close and allow to cake mix to cook.

When it's finished cooking, remove and allow to completely cool. Repeat step 3 until all of the cake mix is cooked into waffles. I was able to get 6 large waffles from the cake mix.

Meanwhile, whisk together the pudding mix and milk until completely combined. Place in the fridge for 5 minutes.

Remove the pudding and gently fold the Cool Whip into the pudding until completely combined.

On a cake stand or plate, place one waffle down. Spread the pudding mixture on top. Place another waffle (make sure these are completely cooled down!) on top. Add another waffle and then one more scoop of the pudding mixture.

If desired, garnish with fresh berries and chocolate shavings.

Make the chocolate shavings by shaving a chocolate bar with a vegetable peeler. You can also break up some of the candy bar and place the chocolate chunks on top.

Cut into slices and enjoy immediately.
Here are some more easy desserts: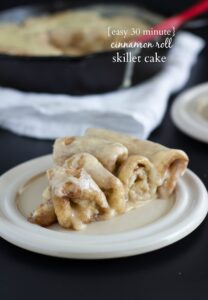 Easy, 30 minute cinnamon roll skillet cake