The ultimate lemon bundt cake — bursting with lemon flavor, moist, and so delicious with the most amazing lemon buttercream frosting.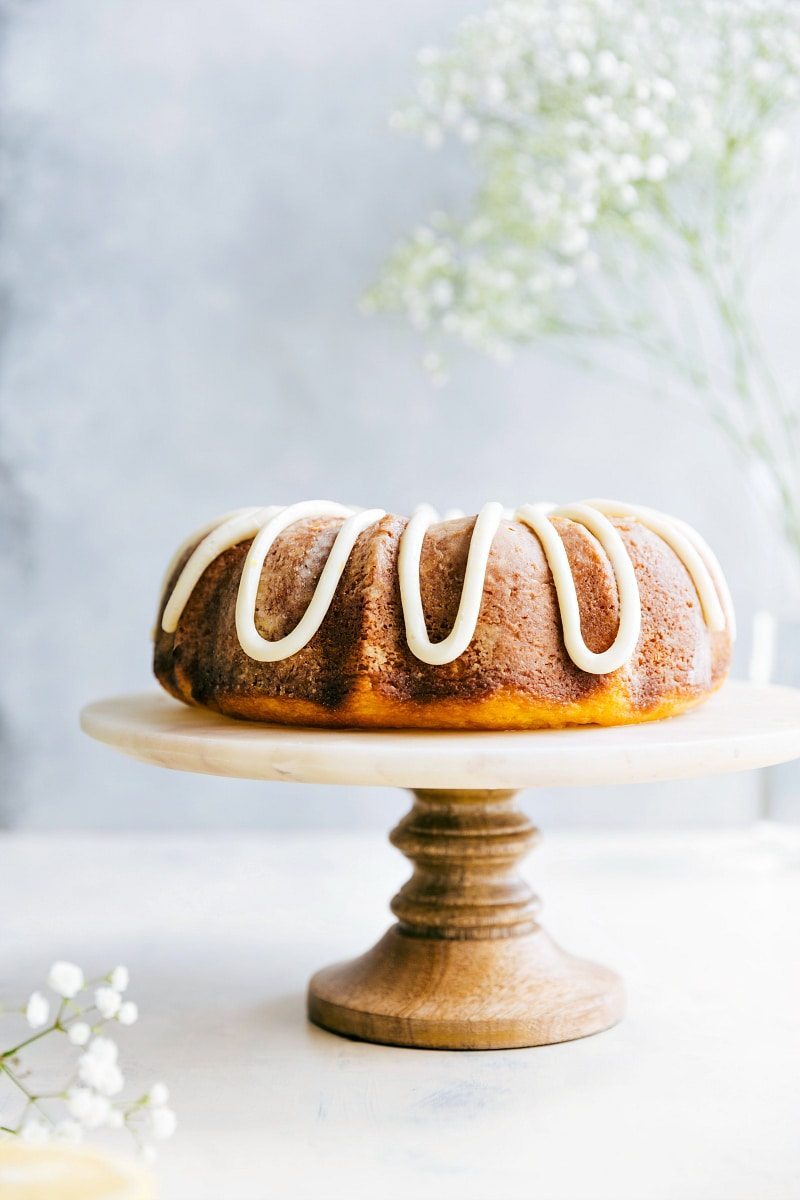 The babe (Bentley) has been saying a few words for several months now but all of the sudden his speech is really taking off. He's learning new words every single day and it's so fun to hear him try to communicate (with lots of babbling in his "own language" mixed in).
Because he's learning words so rapidly, I prompt him a lot with "say this" or "say that." And anytime he wants something or needs something, I prompt, "say please!" He hasn't said the word "please," yet, but I prompt him to hopefully get him in the habit when he can say it.
Well, out of nowhere, the other day I asked Bentley to "say please" and he plopped right down on the floor and looked up at me. Confused, I laughed and gave him what he wanted.
Ever since then, anytime anyone says, "say please" he quickly falls to the ground in a sitting position. Apparently to get what he wants he's found sitting down gets him that. Does it make me a terrible mom if I make him say please for everything now because it's so hilarious??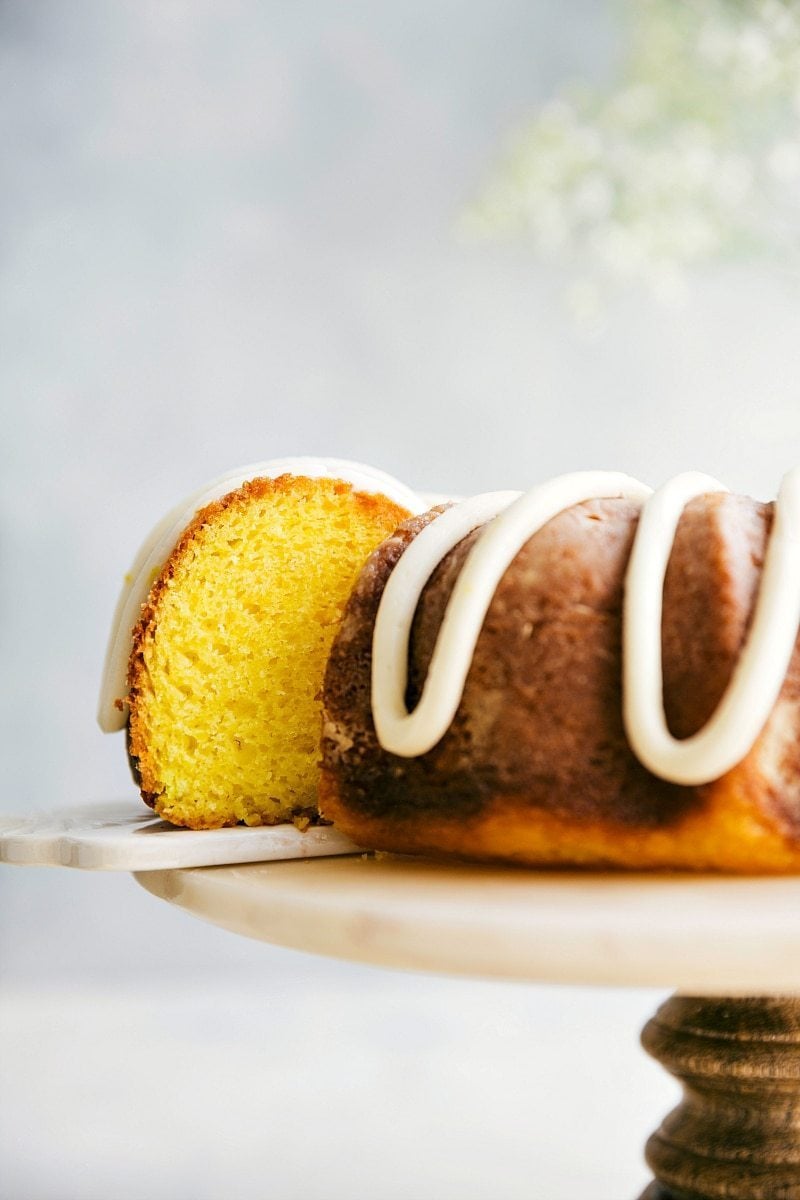 I gave him just one small bite of this lemon bundt cake and then put it on the kitchen counter away from him. A few minutes later I came back into the kitchen to find him plopped down on the floor right in front of the cake looking at it.
He's been parked there ever since. And I can't help but give him a few extra bites than I probably should.
He's OBSESSED with this cake and I'll admit, I feel the same way. It's so moist, tender, and packed with lemon flavor. I've tried quite a few lemon bundt cakes (and several from scratch), but they've never had enough lemon flavor in my opinion. This one does have a strong (don't worry, not overpowering) lemon flavor and it's only further intensified by the delicious lemon buttercream.
You can absolutely change out the buttercream for a glaze if you'd like — really whatever you prefer. And if you do choose the buttercream you can either pipe it on or just completely frost the cake with it. Just make sure every bite has some of that delicious frosting goodness 🙂 Enjoy!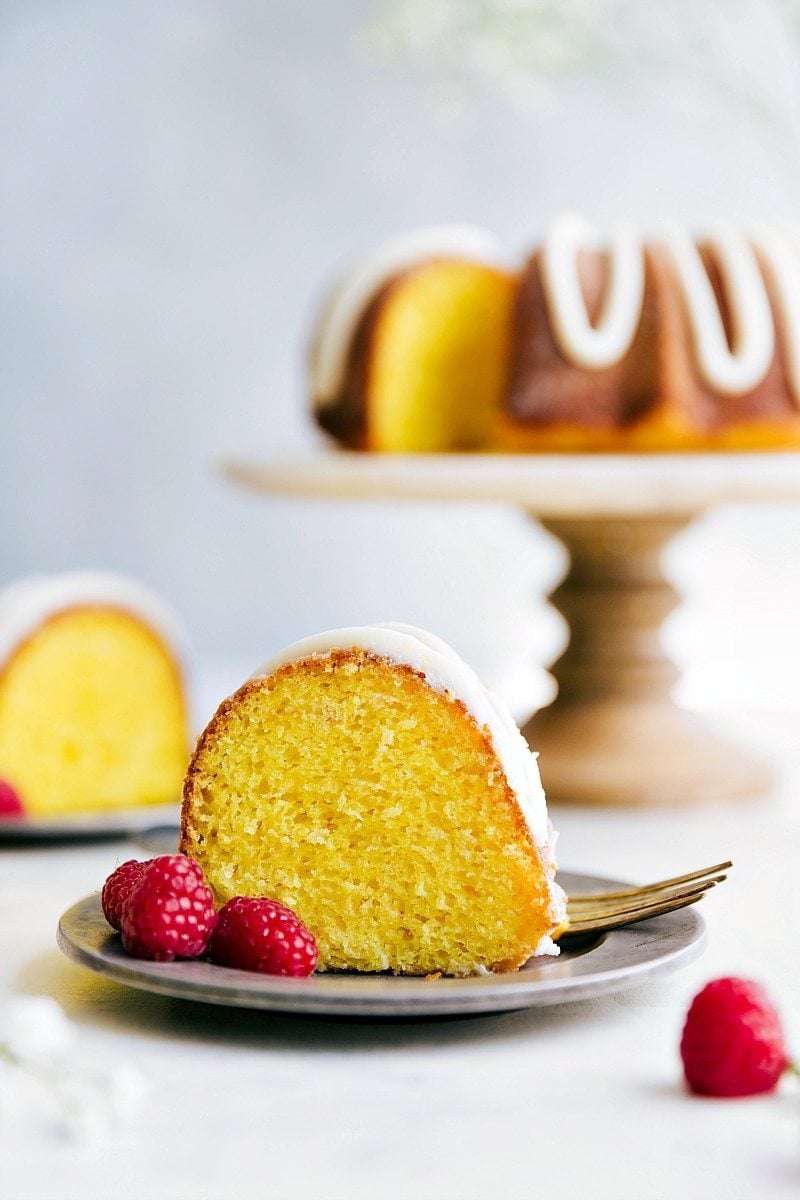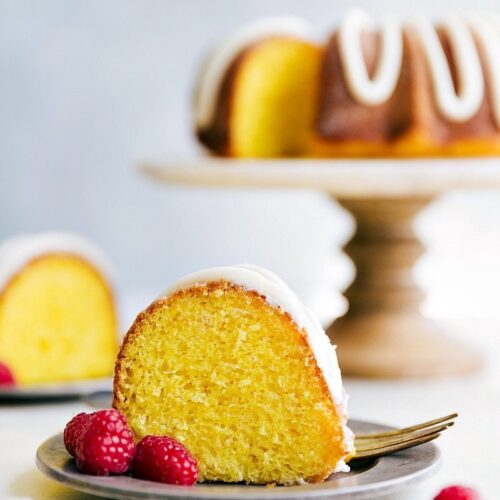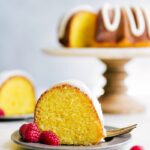 Lemon Bundt Cake with Lemon Buttercream Frosting
The ultimate lemon bundt cake -- bursting with lemon flavor, moist, and so delicious with the most amazing lemon buttercream frosting.
Servings
:
1
10-inch bundt cake
Ingredients
Lemon Cake
1

(16.5 ounces)

Super Moist Lemon Cake Mix

1

(3.4 ounces)

Instant lemon pudding mix,

dry

1

cup

full fat sour cream

4

large eggs

1/2

cup

vegetable oil

4

large lemons (zest and juice),

separated

1/2

teaspoon

lemon extract

1/4

cup

water

1/3

cup

white granulated sugar
Frosting
3/4

cup

butter,

at room temperature

3

cups

powdered sugar

1

tablespoon

heavy cream

1/2

teaspoon

vanilla extract

1

teaspoon

lemon extract
Instructions
Preheat oven to 350 degrees. Generously grease and lightly flour a nonstick 10-inch bundt cake pan.

Using an electric mixer, beat the sour cream, eggs, oil, 1 teaspoon lemon zest and 4 tablespoons juice, lemon extract, and water until combined. Add in the cake mix and pudding mix and beat until just combined. Do not over-mix.

Pour the mixture and spread evenly in the bundt cake pan. Bake for 45-50 minutes.

Let cool for 10 minutes and then invert the cake onto a cake stand or plate.

In a small bowl whisk together 1/3 cup fresh lemon juice and the 1/3 cup white sugar. Brush this mixture generously over the cake being slow to allow it to soak in. Do this while it is still pretty hot and then let the cake cool completely before frosting.
Frosting
In a large bowl, whip the butter with 1 and 1/2 teaspoons lemon zest on medium-high speed until very fluffy.

Mix in 1 cup powdered sugar, 1 tablespoon lemon juice, heavy cream, vanilla, and lemon extract. Add remaining 2 cups powdered sugar, then whip mixture until fluffy (about 5 minutes).

Pipe the frosting over the cake (or spread it over it)

Enjoy!
Recipe Notes
Total times doesn't include cake chilling time which is required before frosting.
Nutrition Facts for this Lemon Bundt Cake: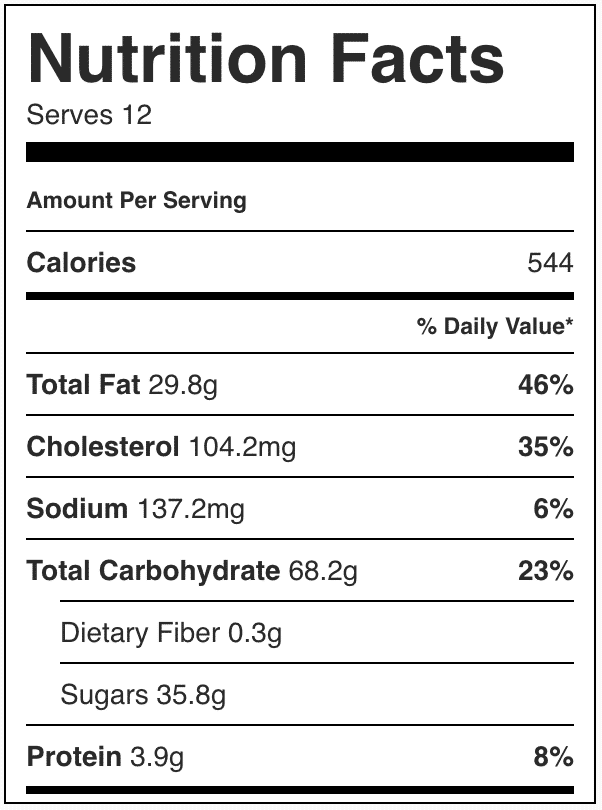 More Delicious Desserts: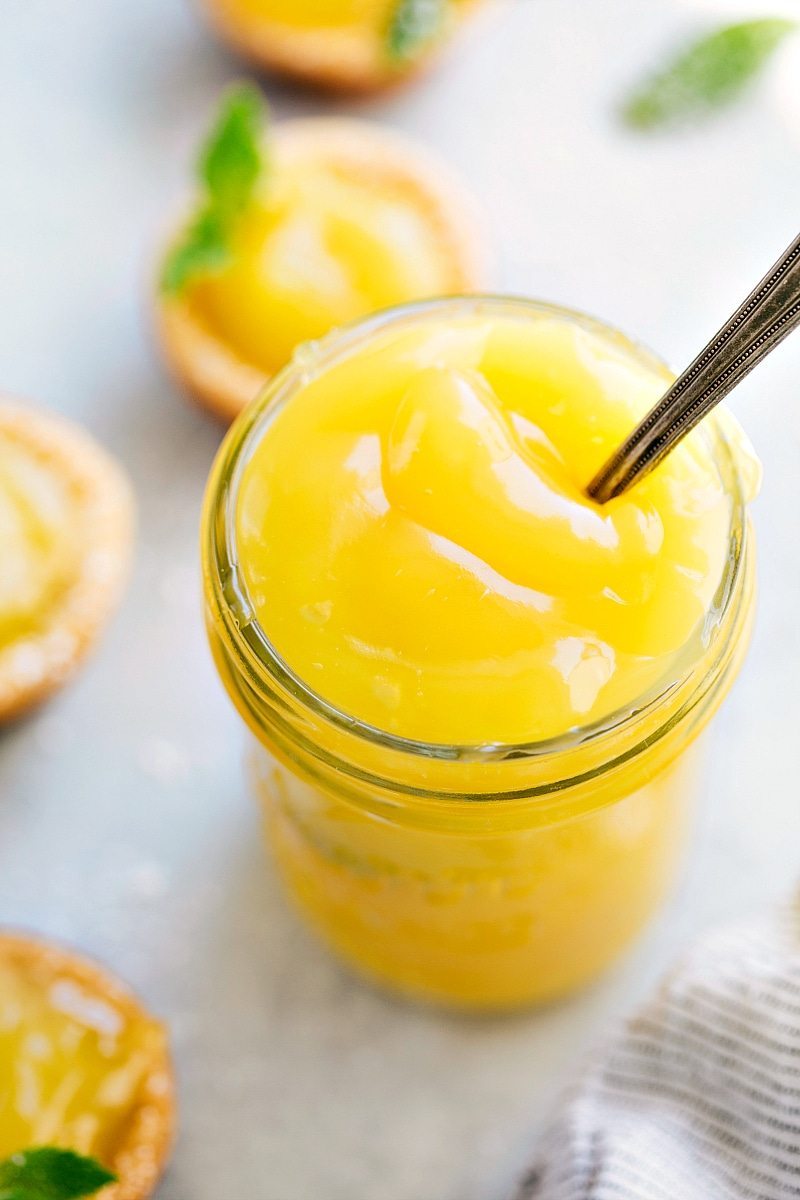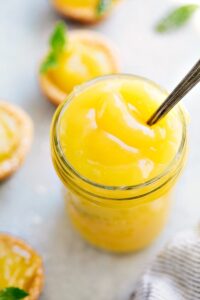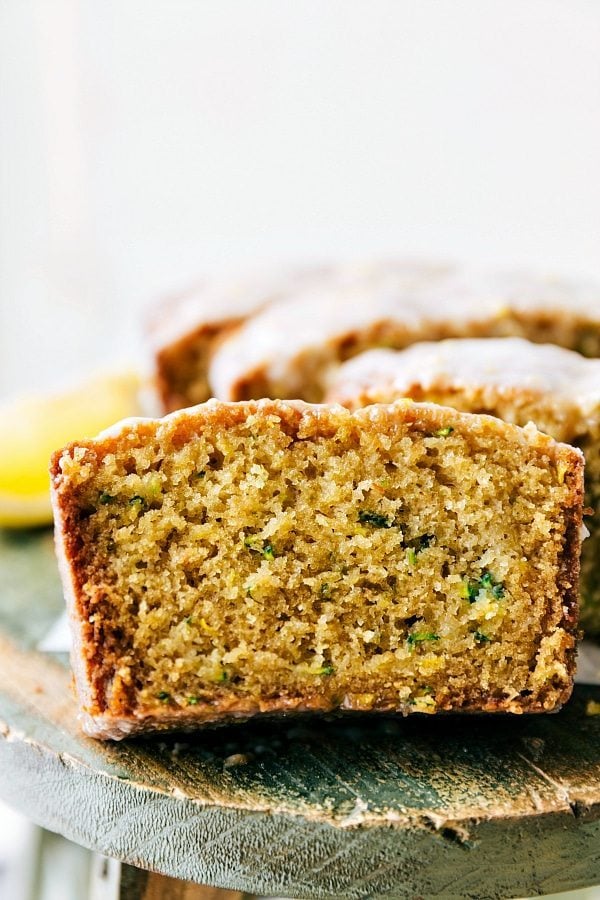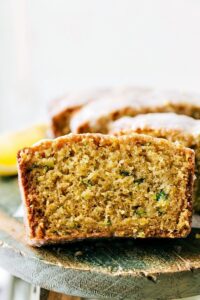 Healthier Lemon Zucchini Bread