A healthy banana-oat muffin recipe with no added butter or oil. These muffins are delicious and use natural ingredients!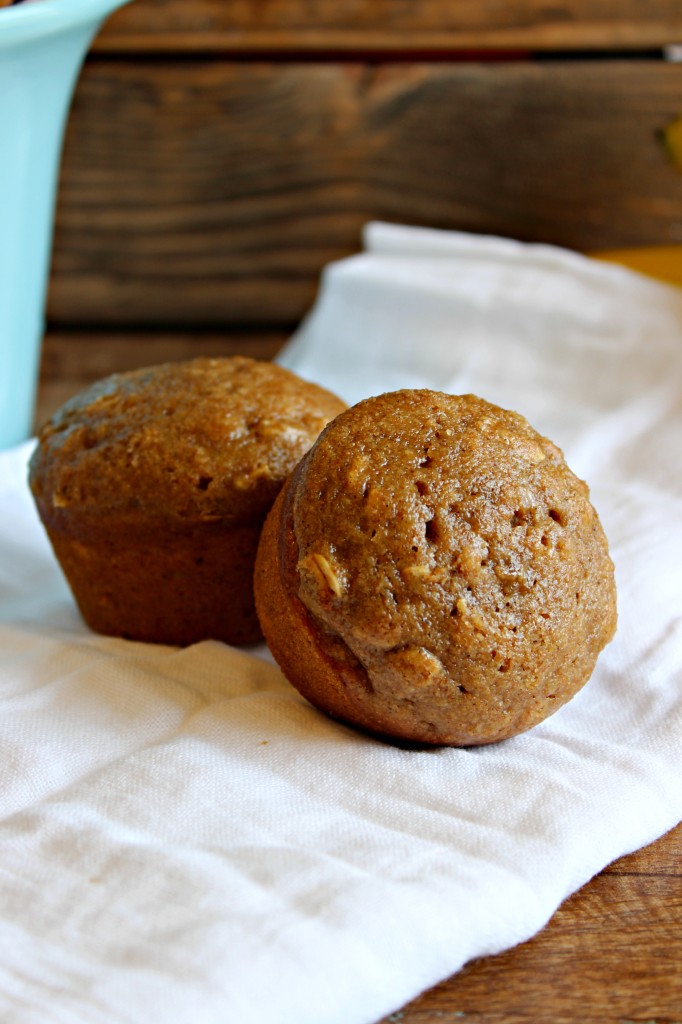 Some mornings cereal just isn't the breakfast you want. With the exception of perhaps cookie dough cereal. Then that's usually a pretty good bet for an awesome breakfast.
I'm telling you, I could eat that cookie dough cereal for breakfast, lunch, and dinner. (…I am admitting a slight obsession that may not be completely normal…)
So on those select mornings when you aren't feeling cereal (or even cookie dough cereal, gasp!), and want something warm, comforting, and filling, these muffins are just what you need. Instead of being more like a cupcake (and too unhealthy to pass for the most important meal of the day) these muffins are filled with healthful ingredients. Treat your body good, it will thank you.
And this recipe will feel appreciated for being used as well. That's a win, win.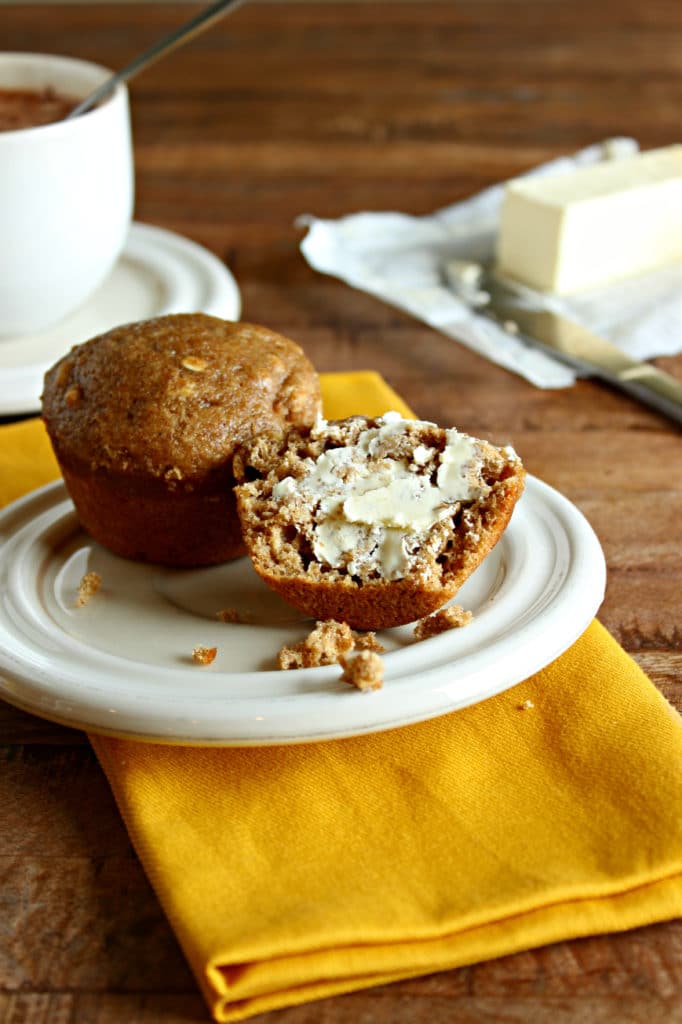 These muffins are free of oil which applesauce replaced quite nicely. There is plenty of protein packed in thanks to the yogurt, egg, and nuts (should you chose to include them). And you've got fruit in the form of the mashed bananas AND the applesauce. Look at that applesauce fulfilling two purposes – replacing oil and giving you some more fruit in your day. Everyone clap for applesauce. The oats and whole wheat flour are great whole grains that do so many good things for your body. Like lowering cholesterol and giving you antioxidants. (<–Big word for something that basically helps to fight off diseases like cancer in your body).
So now that you know a bit of the health content in these muffins are you totally on board to making them and enjoying them for breakfast? Great. Because I'll let you in on a secret… Although these muffins tout quite the healthy rep, they do NOT taste like a typical healthy muffin. To me, typical healthy muffins, are dense and flavorless and blechh. Know what I'm talking about?
These muffins are bursting with flavor from the tang of the applesauce, the sweetness of the  bananas, the touch of cinnamon, a hint of vanilla, and the oats that have been somewhat caramelized by the brown sugar.
This recipe whips up quick and yields enough muffins for several breakfasts. The muffins stay good at room temperature for about 3-4 days and after that they aren't so great. So if you aren't going to eat them all within that time, I'd recommend freezing them and then just thawing a couple when you want them for breakfast. These are a great on-the-go option. Especially when they are paired with a warm cup of hot chocolate. 🙂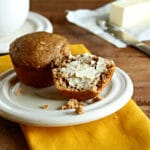 Healthy Banana Oat Muffins
These muffins are bursting with flavor from the tang of the applesauce, the sweetness of the bananas, the touch of cinnamon, a hint of vanilla, and the oats that have been somewhat caramelized by the brown sugar.
Ingredients
1

large egg

1/2-3/4

cup

brown sugar

not packed (depending on how sweet you want your muffins)

1

container (~1/2 cup)

Yoplait Lite vanilla yogurt

or sub another type of yogurt

1/3

cup

unsweetened vanilla almond milk

or sub another milk

1/3

cup

unsweetened applesauce

2

tablespoons

honey

can add more depending on desired sweetness

1 and 1/2

teaspoons

vanilla extract

1

cup

mashed bananas

3/4

cup

white all-purpose flour

3/4

cup

white whole wheat pastry flour

can sub all white flour

1

teaspoon

baking soda

2

teaspoons

baking powder

1/2

teaspoon

salt

1

teaspoon

cinnamon

1

cup

old fashioned oats

Optional: 1/2 cup nuts
Instructions
Preheat the oven to 400 degrees F. With cooking spray, spritz a cupcake pan that can hold 12 cupcakes. Or, in this case, muffins.

In a large bowl, beat the egg and brown sugar. Add in the yogurt, almond milk, applesauce, honey, and vanilla. Beat until combined.

Mash the bananas until there are no chunks left and stir in the mashed bananas with the yogurt and milk mixture.

In another medium-sized bowl, combine the flours, baking soda, baking powder, salt, cinnamon, and oats. Mix in nuts if desired.

Add the flour mixture to the wet ingredients and stir until just combined. Do not over-mix or the muffins become more dense.

Pour the mixture evenly between the 12 muffin cups. Each muffin cup should be pretty much filled to the top. All the batter should be just about used. between 12 to 14 muffins

Bake at 400 degrees for about 5 minutes and then reduce the heat to 350 degrees and cook for another 13-15 minutes.
 Craving more healthy muffins?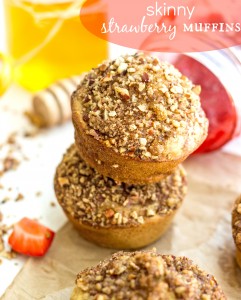 Skinny Strawberry Muffins with a Cinnamon-Pecan Streusel