This is the best banana bread with Greek yogurt! It's bursting with flavor and made with tons of healthy ingredients. This recipe can be made with or without chocolate chips and/or nuts!
Looking for more healthy bread recipes? Check out this healthy zucchini bread, this healthy pumpkin bread, or this healthy applesauce bread.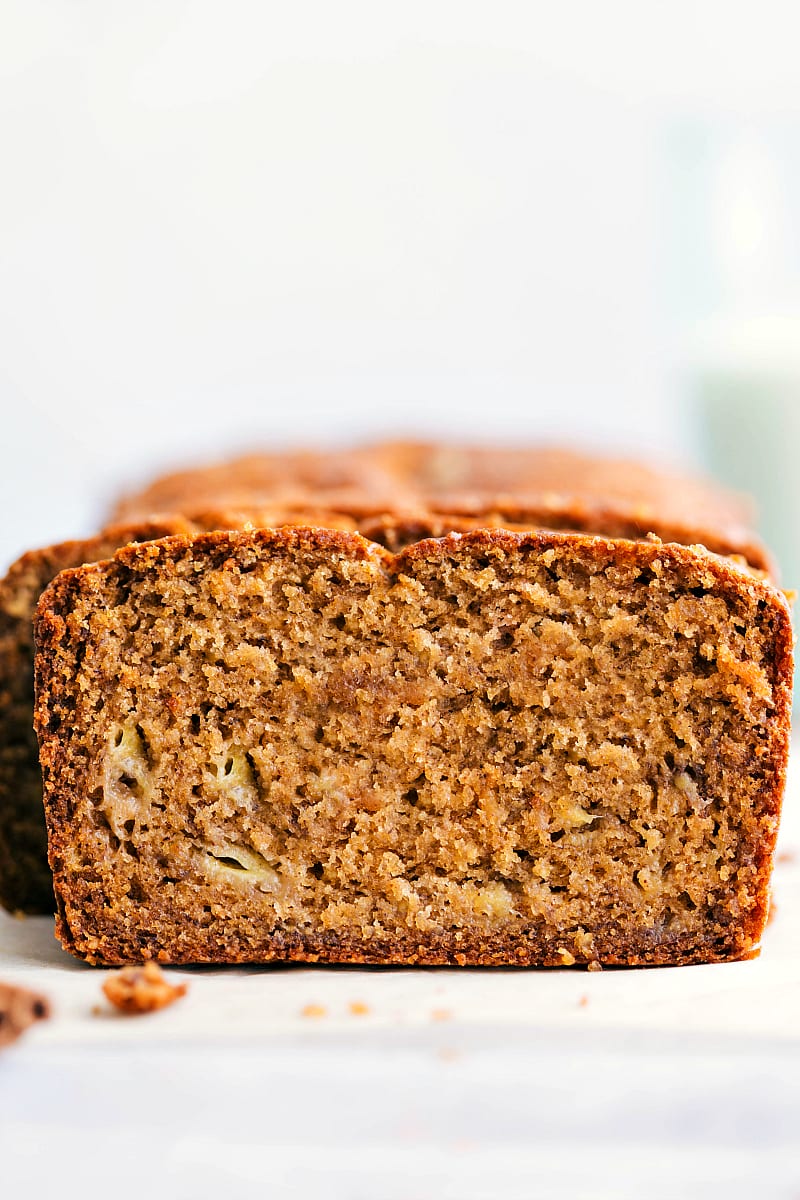 Banana Bread with Greek yogurt
This simple healthy banana bread recipe has quickly become one of my favorites! My kids and husband are obsessed with it and it's received dozens of rave reviews! If you're looking to make healthy banana bread muffins, be sure to check out these flourless banana muffins or this chocolate banana muffins (both on the healthier side!)
While this healthy banana bread does still have refined sugar, it swaps out tons of unhealthy ingredients typically found in banana bread for much healthier wholesome ingredients. The sugar is very minimal compared to most banana bread recipes. The oats, Greek yogurt, egg, honey, banana (of course), coconut oil, white wheat flour, and cinnamon are all good-for-you ingredients you'll find in this bread recipe!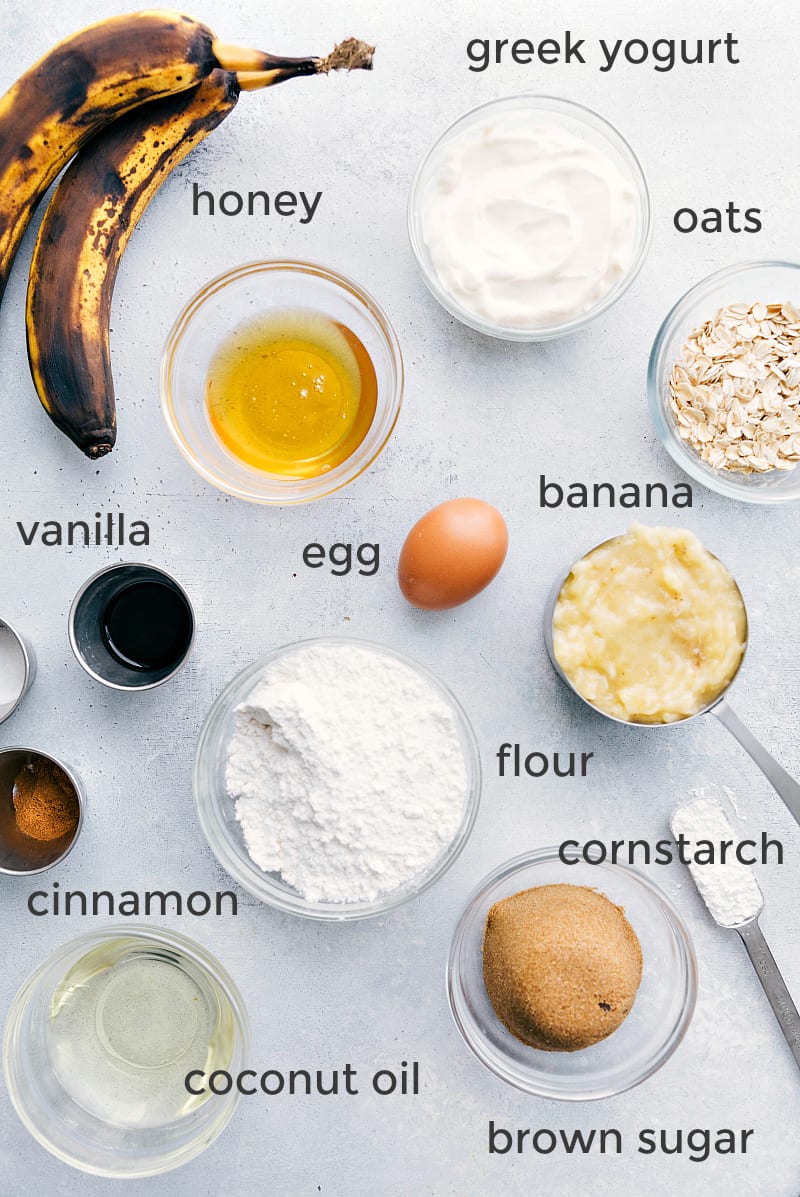 What makes this healthy?*
Oats: Rich in antioxidants and contain powerful soluble fiber.
Greek Yogurt: High in protein and packed with probiotics, potassium, and calcium.
Coconut Oil: High in healthy saturated fats which can boost fat burning and provide your brain and body with quick energy. Also raises HDL cholesterol (GOOD cholesterol) in your blood which is linked to reduced heart disease risk.
Egg: Good source of protein, vitamins, and minerals.
Bananas: Loaded with many essential nutrients and help improve your digestive health.
Cinnamon: One of the healthiest spices on the planet! Lowers blood sugar levels and reduces heart disease risk factors.
White Whole Wheat Flour: A healthy alternative to white flour. Read more here.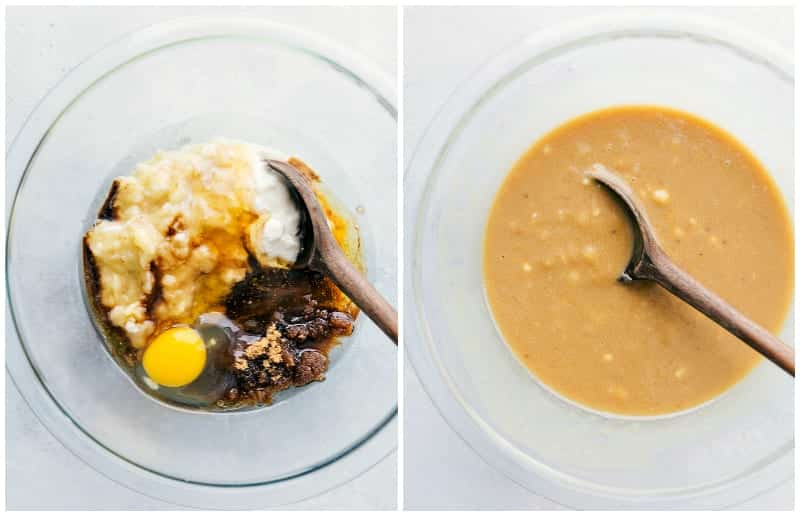 How to make banana bread with Greek yogurt
This easy healthy banana bread recipe is pretty straightforward — mix wet ingredients together, mix dry ingredients together, and then combine the two!
My top tip for success: use good quality ingredients! I love LouAna's coconut oil (make sure to measure AFTER it's melted not before), and Greek Gods honey vanilla yogurt. None of this products are sponsored on this website, but I have found them to make the BEST healthy banana bread! Do not try to use a low fat Greek yogurt or a plain (non-Greek) yogurt in this bread as they won't yield the same result.
The ripeness of your bananas matters!! The riper the banana, the sweeter the bread. Check out the ingredient picture (2nd photo in post) for the ripeness of bananas I like to use.
To add chocolate chips or not: If you want to add dark chocolate chips, you're still keeping this banana loaf on the healthier side — dark chocolate has healthy fats and plenty of antioxidants. You can also add chopped nuts to make a healthy banana nut bread. Add 1/2 to 3/4 a cup of either and mix them with dry ingredients first to get an even dispersion into the loaf.
Don't over mix: if you over mix the batter, you'll end up with a denser loaf of bread. Mix until ingredients are JUST combined and then pop it in the oven! I like to grease the bread pan with nonstick spray AND lightly dust with flour — that way this healthy banana bread comes out like a breeze (let it cool 10 minutes before removing from the pan).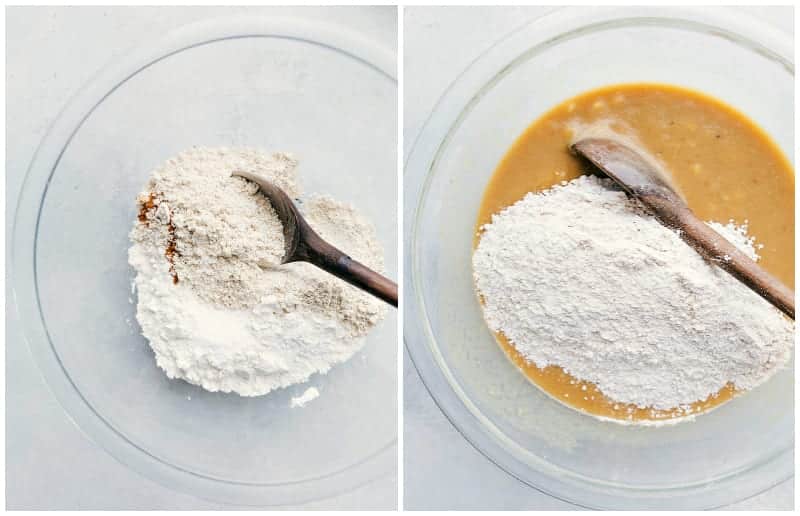 How to make oat flour
Oat flour tends to make a baked good more moist than wheat flour and it also adds-in some extra flavor. Exactly what we want in this healthy pumpkin bread recipe! Making oat flour at home is easy – here's how:
Place the oats (you can use old fashioned OR quick oats) into the bowl of your food processor or small blender jar.
Pulse the oats until they are ground into a powder-like consistency that resembles flour.

Depending on the speed and power of your food processor or blender, this takes about 60 seconds or less.

Stir the oats around if needed to ensure that ALL the oats have been finely ground. (See photo below)
Make sure to measure your oat flour measurement for this recipe AFTER it's been turned to flour and not in the whole oat form beforehand.
FAQs: Banana Bread with Greek yogurt
How many calories are in this healthy banana bread recipe?
182 calories per slice. While not super low calorie, remember most of the ingredients are REAL foods that are good for your body.
Can I freeze this banana bread?
Yes! Freeze the freshest bread you have. If you just baked it, allow the bread to cool completely before freezing to avoid soggy bread or mold.
To freeze: freeze individual slices of bread, completely wrapped in plastic wrap and then stored in a large freezer safe bag or container. Bread freezes safely for 3 months. Individual slices of this healthy banana bread defrost in under 10 minutes at room temperature and take slightly longer to defrost in the refrigerator.
How long is banana bread good for?
2-3 days at normal room temperature (wrapped tightly/stored in an airtight container). After 3-4 days, this bread is more prone to molding because of the moistness of it and the ingredients used.
Do I need to refrigerate this healthy banana bread?
After 1 day of the bread being at room temperature, I recommend refrigerating it and warming individual slices in the microwave for 5-10 seconds. While not necessary to refrigerate the bread, it will keep it fresher for longer.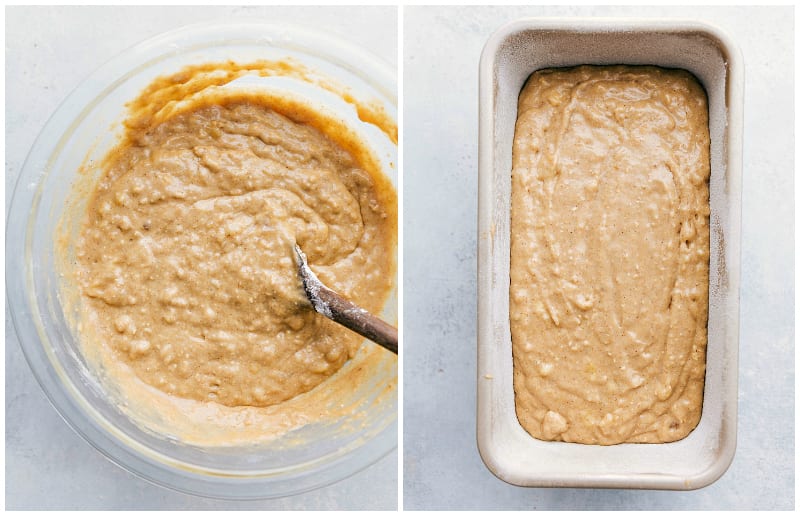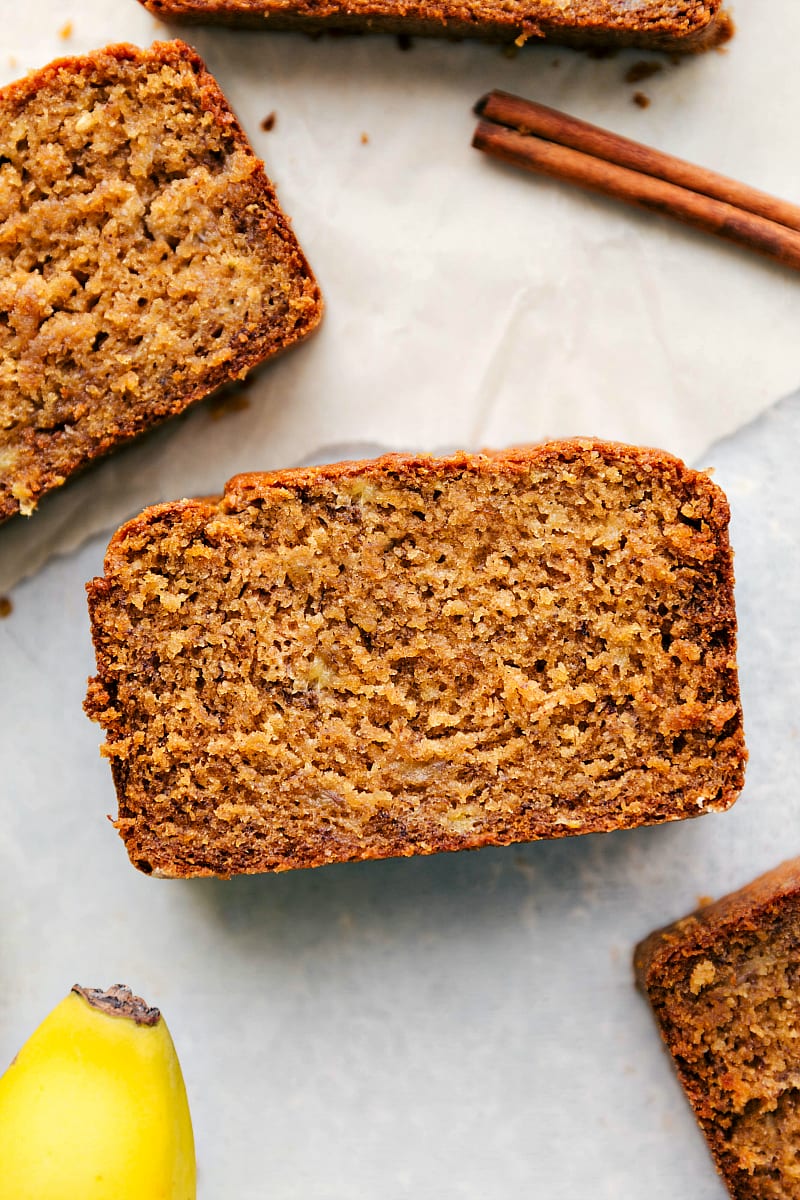 More delicious baked goods: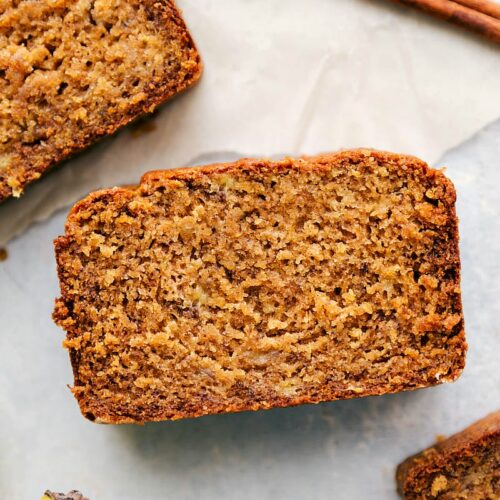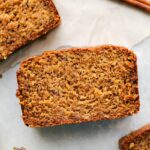 Banana Bread with Greek Yogurt
This is the best banana bread with Greek yogurt! It's bursting with flavor and made with tons of healthy ingredients. This recipe can be made with or without chocolate chips and/or nuts!
Keyword:
banana bread with Greek yogurt
Servings
:
10
thick slices of bread
Ingredients
2-3

extremely ripe bananas,

(1 cup mashed banana)

1/2

cup

vanilla-flavored Greek yogurt

1

large egg

1 and 1/2

teaspoons

vanilla extract

5

tablespoons

coconut oil,

melted

2 heaping

tablespoons

honey

1/2

cup

brown sugar,

lightly packed

1

teaspoon

baking soda

1/4

teaspoon

salt

1

teaspoon

cinnamon

1

cup

flour,

white or white-whole wheat (Note 1)

1

tablespoon

cornstarch

1/3

cup

oat flour

blend regular oats in the blender
Instructions
PREP: Preheat the oven to 350 degrees F. Grease and flour a bread pan and set aside. I use an 8 and 1/2 x 4 and 1/2 bread pan. Remove the skins and then mash the bananas with a fork.


WET INGREDIENTS: In a large bowl, stir together the mashed bananas, Greek yogurt, egg, vanilla, coconut oil (measure in MELTED form), honey, and brown sugar until well combined.


FLOUR: From your 1 cup of flour, remove 1 tablespoon of the flour and replace it with 1 tablespoon of cornstarch (this makes a lighter, "cake" like flour). Stir.


DRY INGREDIENTS: In another bowl, stir together the baking soda, salt, cinnamon, flour and cornstarch mixture, and oat flour (measure oat flour AFTER blending the oats; to make oat flour, put old fashioned or quick oats in a blender and pulse them until they resemble flour).


COMBINE: Mix the wet and dry together until just combined (over-mixing will yield a denser bread).


BAKE: Pour into the prepared bread pan. IF desired, sprinkle 1-2 tablespoons brown sugar on top of the bread for a nice "crust". Bake for 45-65 minutes or until a fork when inserted into the center comes out clean or the bread starts to pull away from the edges. If needed, tent the top with tin foil if the top of the bread is baking faster than the rest.


STORAGE: Store in an airtight container in the fridge. (I microwave a piece for 5-10 seconds before enjoying). Best eaten within 2-3 days. Otherwise tightly wrap individual pieces and freeze.

Recipe Video
Recipe Notes
Note 1: If using whole wheat flour the bread does turn out a lot denser. I recommend using only white whole-wheat flour or plain white.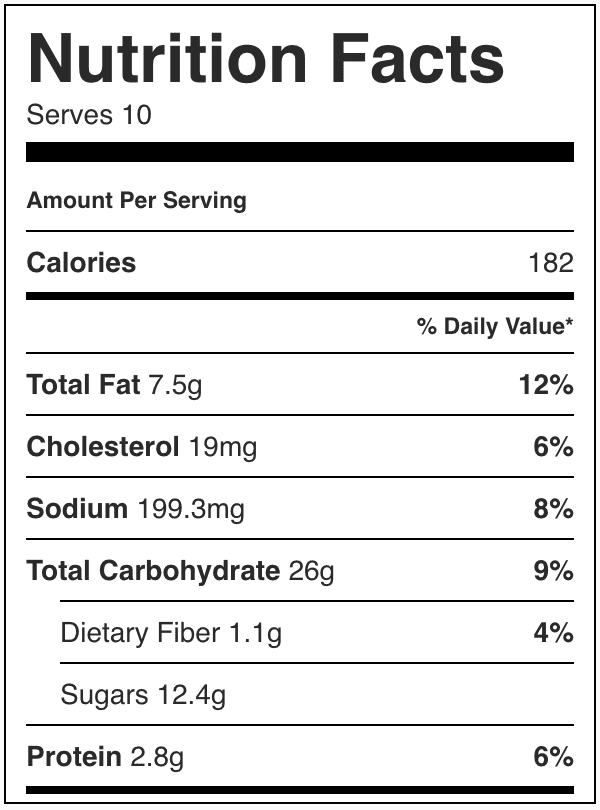 *While I have my background in Exercise and Wellness (B.S.), all the content in this post is for informational purposes only. Please consult a doctor or dietician for any specific dietary needs/questions.