This post may contain affiliate links. Please read my disclosure policy.
This easy-to-make Apple Pie Spice combines cinnamon, nutmeg, cardamom, allspice, and cloves to create a comforting blend that can be used in so many recipes!
This post includes a recipe for making homemade apple pie spice, how to use your homemade spice blend, and ideas for giving this spice blend as a gift (with free printables!)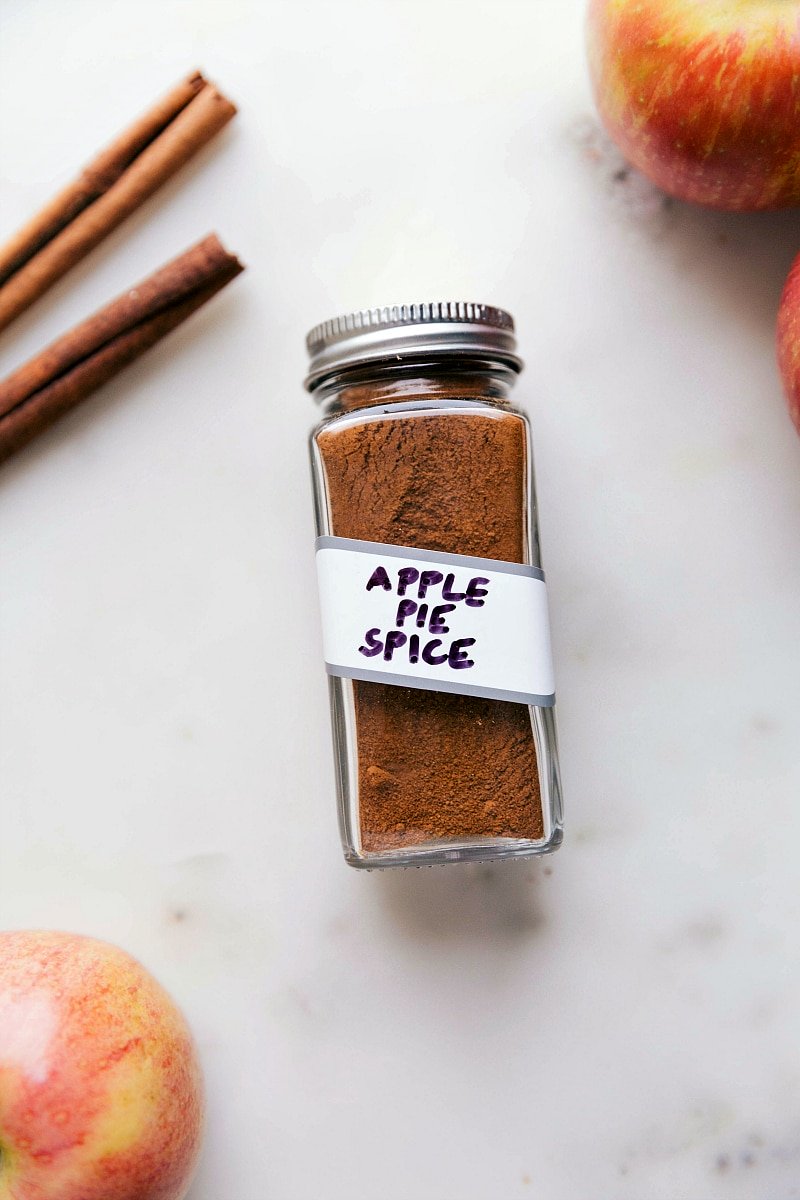 I use a ridiculous amount of apple pie spice and pumpkin pie spice come fall time. It was getting a little crazy paying $4-$5 for a few tablespoons of a blend, so after reading the labels of my favorite apple pie spice blend and playing around with quantities a bit, I'm excited to share this recipe with you.
There are so many ways to use this spice blend! In fact, it can transform an unexciting jar of overnight oats into something you're looking forward to eating in the morning. Spices are beautiful things and taking several and tossing them together in a blend? I think you're going to love this!
FAQs
What is apple pie spice?
Apple pie spice is essentially a blend of spices that are often called for in baked goods with apples.
What is in Apple Pie Spice?
Cinnamon
Nutmeg
Cardamom
Allspice
Cloves
You can purchase apple pie spice in the store, but ounce for ounce, it's pricier than the same quantity of a single spice. And while it initially costs a bit more to buy five jars of individual spices, when you get it all blended and turned into your own Apple Pie Spice, you'll have five bottles' worth of of it. Now that's saving some money!
This spice blend is cheaper to make from home and you can also customize your spice blend exactly how you like it. Spice blends vary from brand to brand, but generally all include cinnamon, allspice, and nutmeg. Often blends will include cardamom and ground cloves. My recipe blend has all five spices and we love it!
Feel free to tweak and adjust your spice blend to meet your personal preferences.
What's the difference between pumpkin pie spice and apple pie spice?
I have a homemade pumpkin pie spice recipe too, which I use the most in my home! The two spice blends are similar, but they both have slightly different spices and different proportions of the spices. My pumpkin pie spice blend has ginger and no cardamom.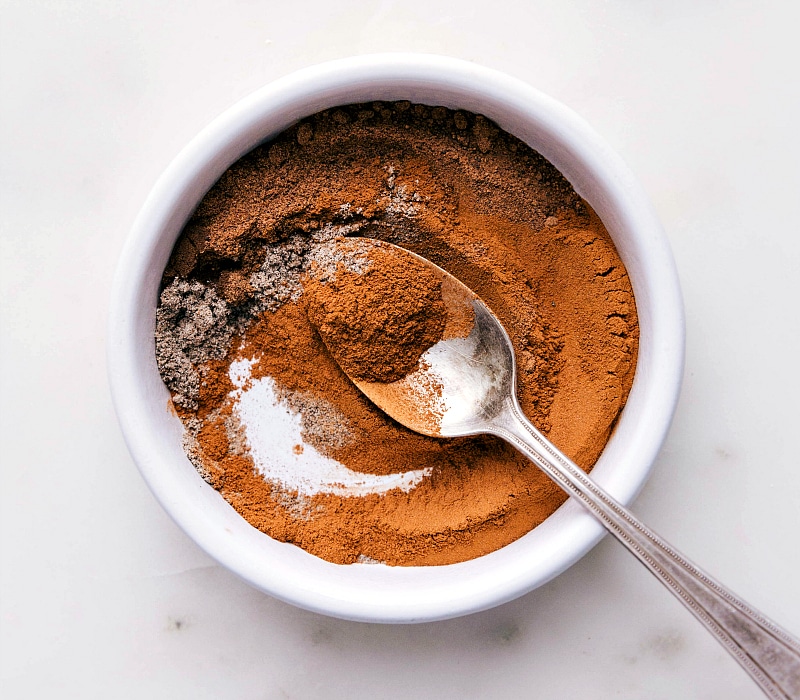 How to use Apple Pie Spice
There are so many ways to use this spice blend! Below are some ideas:
Add to homemade applesauce, your morning bowl of oatmeal, into apple pancakes, waffles, or French toast, or your morning apple smoothie.
Use in these apple muffins or this apple fritter bread.
Add to this apple crumble, your favorite apple pie recipe, or this caramel apple cheesecake.
Use in coffee cake, apple cookies, or any other apple-filled treats.
Aim to use about 1 and 1/2 teaspoons of Apple Pie Spice blend per 6 medium-sized apples.
Storing Apple Pie Spice
Store your homemade spice blend in an airtight container out of any direct sunlight. I like buying re-usable spice jars (here are my favorite spice containers; affiliate link). Really, though, you can use any small glass jars, like WECK or mason jars or any small bottle with a lid.
Gifting homemade spices
I'm all about gifting these cute spice blends to friends, family members, or co-workers. Add a homemade label (Download FREE printable labels here) on brown Kraft sticker paper and stick on the top or side of a small glass mason jar. Here's the exact label paper I use; it can be found here.
The free printable also includes a few extra designed labels in case you want to gift a whole basket of spices.
You can print the labels on paper, cut them out, and attach with glue or double sided tape of some sort. If you'd rather, you can use label stickers. Grab some jars or spice containers, tie on some twine and gift away!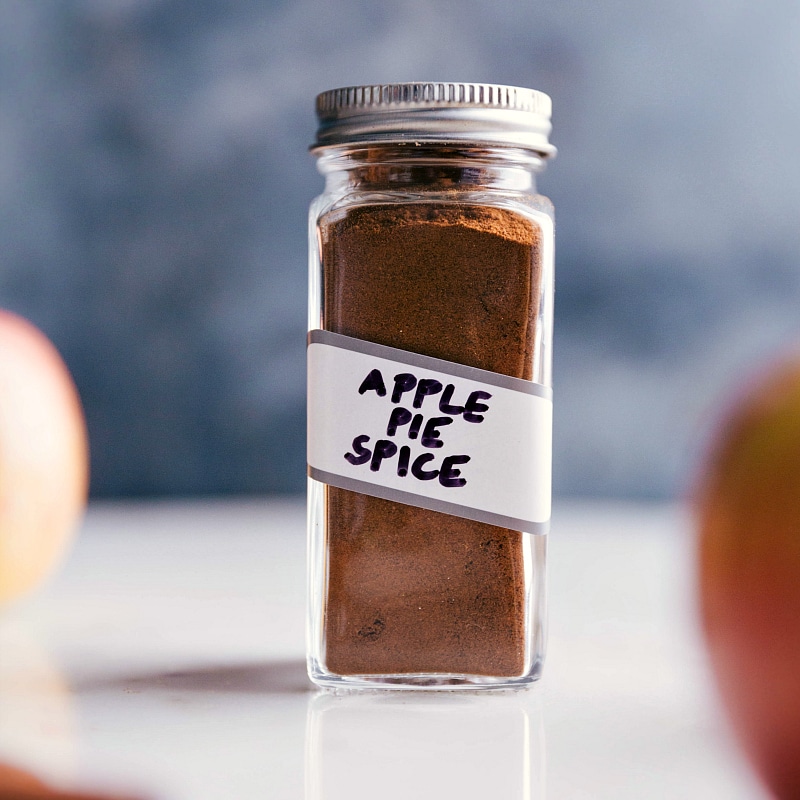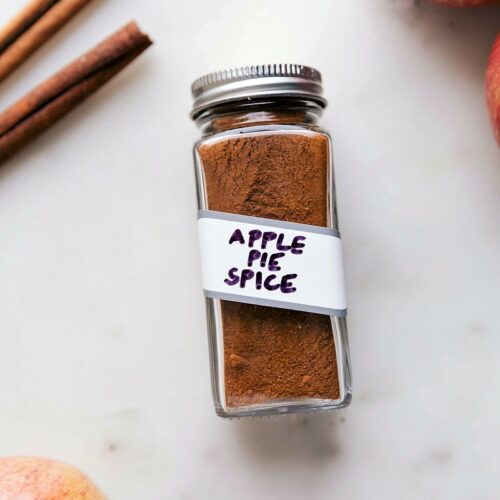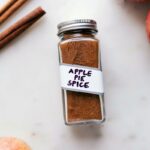 Apple Pie Spice
This easy-to-make apple pie spice combines cinnamon, nutmeg, cardamom, allspice, and cloves to create a comforting blend that can be used in so many recipes!
Servings
:
1
spice container
Ingredients
4

teaspoons

ground cinnamon

2

teaspoons

nutmeg

1

teaspoon

ground cardamom

1/2

teaspoon

allspice

Pinch ground cloves
Instructions
Mix all of the spices together. Store in an airtight container out of direct sunlight.

To make 1 tablespoon apple pie spice: Whisk together 1 and 1/2 teaspoons of cinnamon, 3/4 teaspoons of nutmeg, 1/4 teaspoon of allspice, and 1/4 teaspoon of cardamom
Recipe Notes
For ways to use your homemade apple pie spice, check out the post!
These calories are for the whole container of apple pie spice. There are no significant calories in each individual serving.