A delicious and healthier take on zucchini bread. This moist lemon zucchini bread has a slightly tart lemon flavor and a tangy lemon glaze.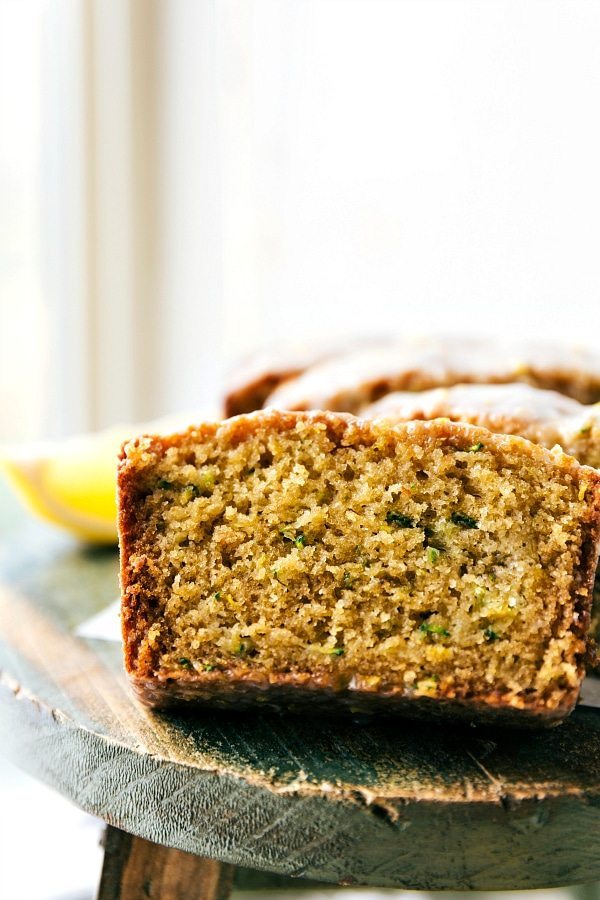 The other day I was writing out this post in bed on my laptop and stopped after writing the word "moist" in the description. I turned to my husband and asked "does the word moist bother you?" His response, "I think that word bothers everyone." Aaaand then I immediately though about the likely number of 943829 times I've probably used the word moist in a blog post and I did a slow nod at him. "Oh."
"It doesn't bother you?" He asked. "Um. well. Um. No. Not really?"
And I went on to explain that I once had a co-worker that literally could not handle the word and would leave the room if you said it. I thought she was unique, but apparently, not so much. I guess its a bothersome word and apparently there is something wrong with me since 1. it doesn't bother me and 2. I've now used the word about 4 times in this post.
But here's the thing. 1. please forgive me if you hate the word and for the ridiculous amount of times I've already said it, and 2. I have no other way to describe how awesomely the texture of the bread is besides well, the word: moist. The texture is one of my favorite things about this bread and I can assure you you won't be getting a soggy loaf of bread and it will be nothing even close to dry. So that leaves that one awkward word…. It's moist. Very deliciously moist.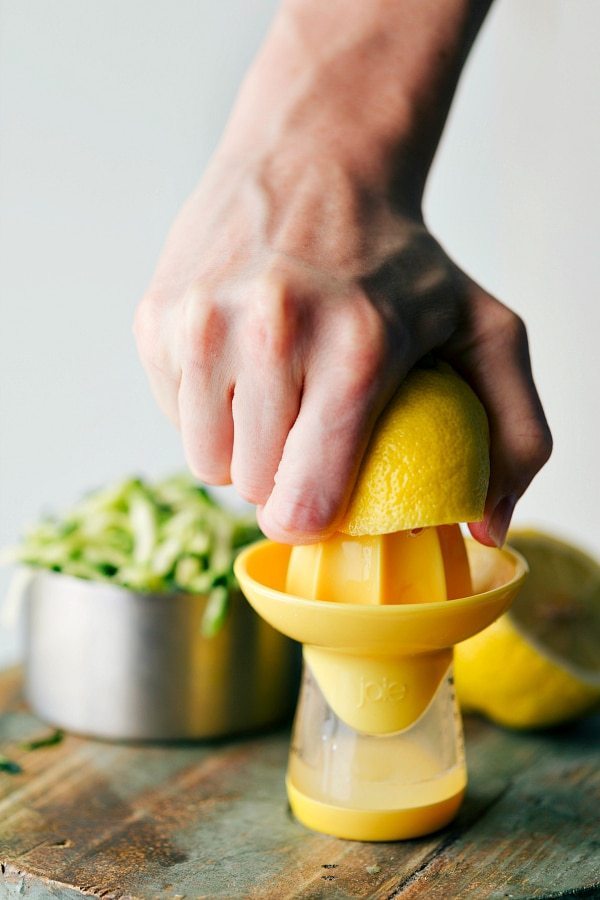 Since sharing my favorite healthy Greek yogurt zucchini bread last year, I've wanted to do a lemon variation on it. I've honestly attempted this bread so many times I've lost count, but it's finally ready. There have been so many incredible reviews on the plain zucchini bread (not a negative one yet!) and I've wanted this bread to live up to your expectations of incredible zucchini bread with healthier ingredients.
The testing for this bread started with my regular Greek yogurt zucchini bread, but the biggest problem was getting the lemon flavor without a soggy bread that caves in the middle. The more lemon juice I added the worst the texture got. And on the flip side, if I reduced the amount of lemon juice, the flavor of lemon was practically gone.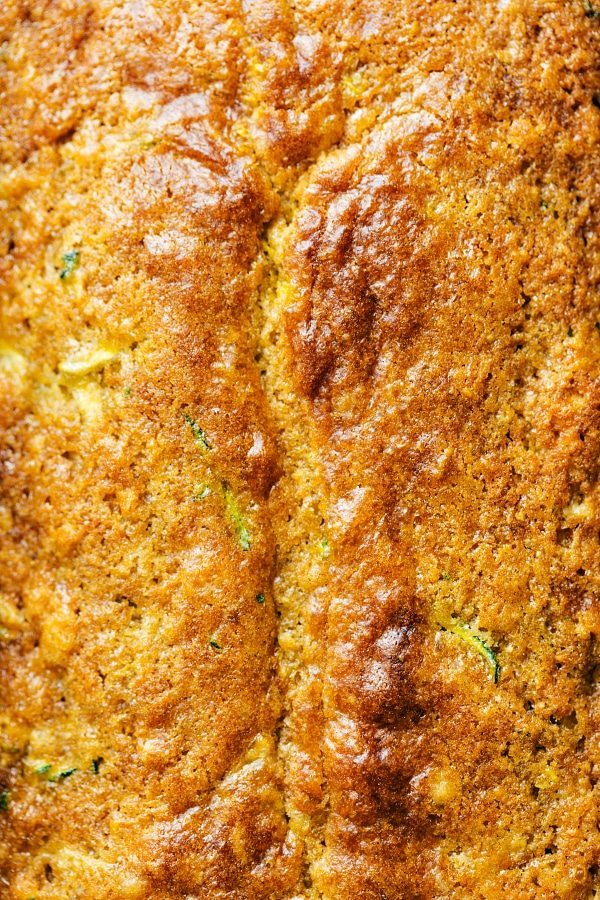 Insert my new favorite ingredient: LEMON EXTRACT. I finally gave up trying to add lemon juice to this bread because it just does not work. And all the lemon zest in the world just does not work the way I've wanted. But you combine a fair amount of lemon extract with a good amount of zest and problems are solved — not too soggy, plenty of lemon flavor, not stuck at a lemon zester for days….
If you aren't familiar with lemon extract it is basically just like vanilla extract or almond extract. You can find it by the flavored baking extracts in the grocery store and it's relatively inexpensive — it's cheaper than vanilla extract and most other baking extracts. Do not use any substitute for the lemon extract in this bread for best results.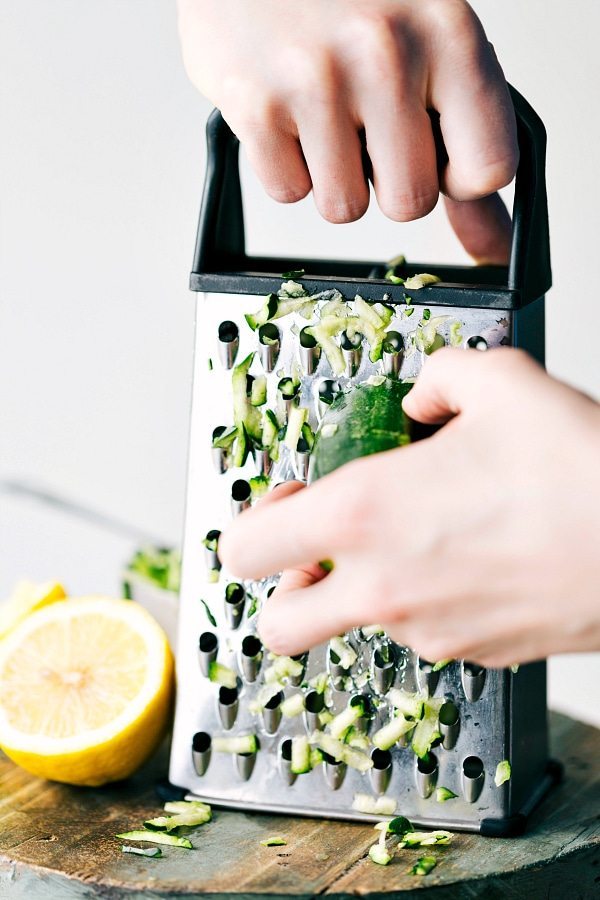 The glaze on top also has just a little bit of lemon extract to burst out that lemon flavor. The glaze has powdered sugar and then real lemon juice to help thin it out. Obviously the glaze in't really healthy so feel free to omit it. The bread is super tasty with or without the glaze! I also include nutrition facts (below recipe) for the bread with the glaze and without just in case anyone is wondering the difference in stats.
Time to put that garden zucchini to the best use possible! ?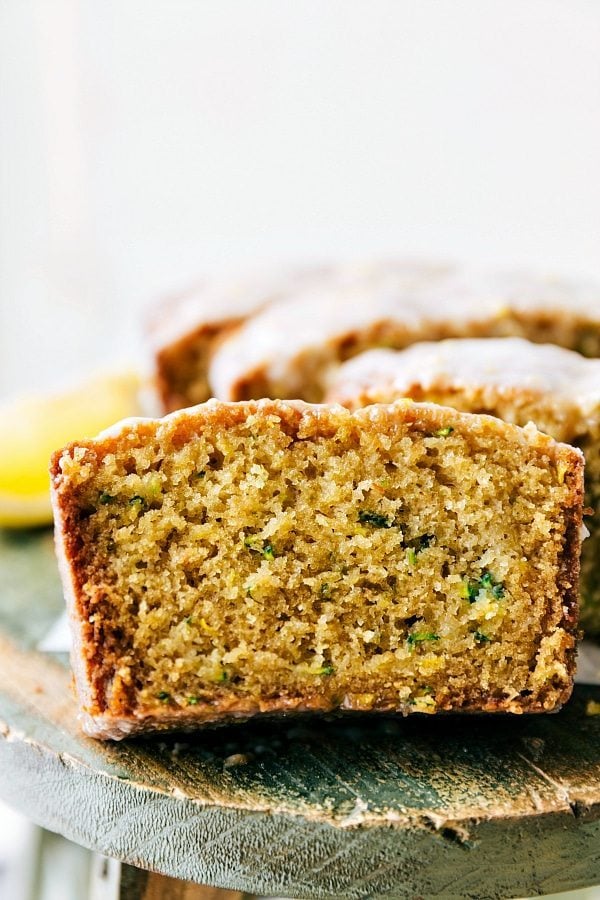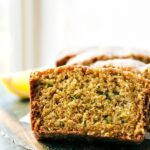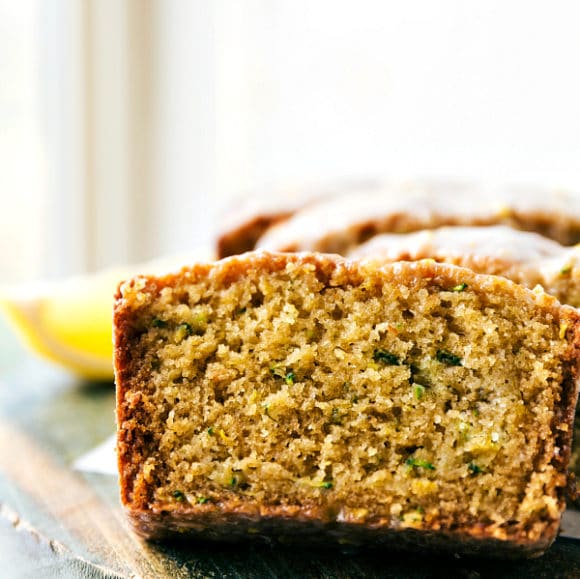 Greek Yogurt Lemon Zucchini Bread
Servings
:
1
loaf of bread
Ingredients
Bread
1/2

cup

lemon-flavored Greek yogurt*

2

tablespoons

lemon zest

1 and 1/2

tablespoons

lemon EXTRACT

no substitutes

1

large

egg

1/3

cup

coconut oil

2

tablespoons

honey

1/2

cup

white sugar

1/2

cup

oat flour

blended up regular oats

1

cup

white flour

or use white-whole wheat

1

teaspoon

baking soda

1/4

teaspoon

salt

1

cup

lightly packed grated zucchini
Glaze
1/2

cup

powdered sugar

1/8

teaspoon

lemon extract

1-2

tablespoons

fresh lemon juice

Pinch of salt
Instructions
Make sure you have thoroughly dried the zucchini to keep it from being too wet/watery in the finished bread. I do this using paper towels and squeezing the grated zucchini. (See video tutorial above this recipe)

Preheat the oven to 325 degrees F. Lightly grease and flour one bread pan.

In a bowl, stir together the Greek yogurt, lemon zest, lemon extract, 1 large egg, coconut oil (measured when melted and cooled), honey, and white sugar. Stir in the zucchini.

In a separate bowl, stir together the oat flour (measured AFTER blending. I use regular old fashioned or quick oats and quickly pulse them in a blender or food processor until they resemble flour. Then measure and add to the bowl), white or white-whole wheat flour, baking soda, and salt.

Add the dry to the wet and mix until just combined. Over-mixing will result in dense bread.

Pour the mixture into the prepared pan.

Bake for 40-50 minutes or until a toothpick when inserted into the center comes out clean and the bread has begun to slightly pull away from the sides.

If needed tent some tin foil over the top to keep the top from over-cooking.

Remove, allow to slightly cool, and then invert onto a plate.

For the glaze: whisk together all of the ingredients and add lemon juice until you've reached desired consistency. You do want this glaze quite thick because it will melt over the hot bread.

Pour the glaze over the bread while still warm from the oven.
Recipe Notes
*I use a 5.3 ounce container of lemon Greek yogurt by Chobani. OR a lemon meringue flavor by Oikos. If you can't find lemon Greek yogurt, use vanilla or plain. **You MUST use lemon extract (by vanilla extract and other baking extracts in the grocery store). Lemon extract has a strong concentrated flavor needed in the bread.
More delicious healthier baked goods: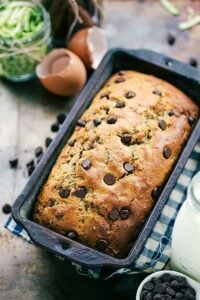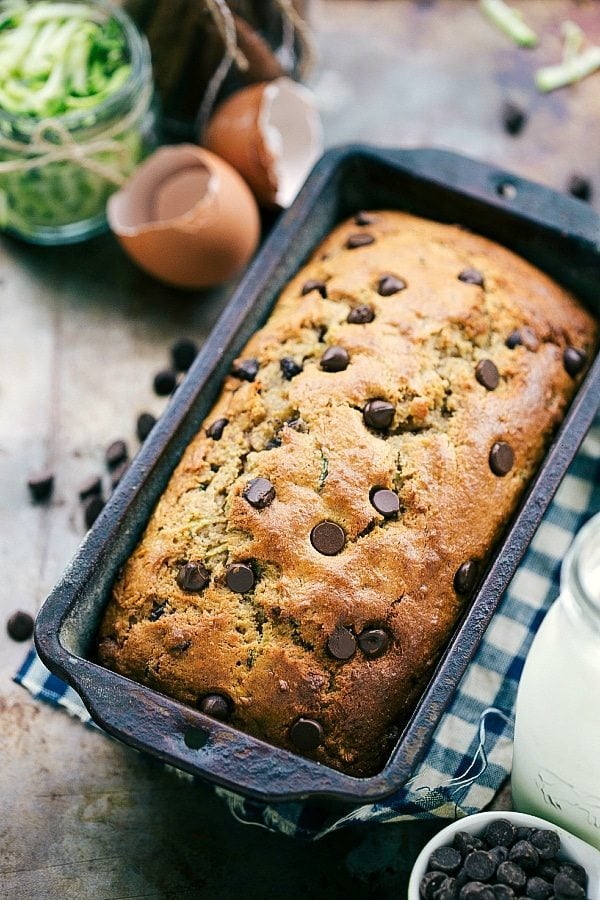 Greek yogurt healthy zucchini bread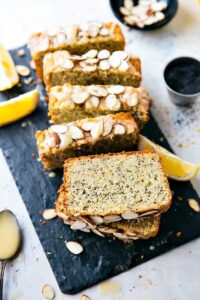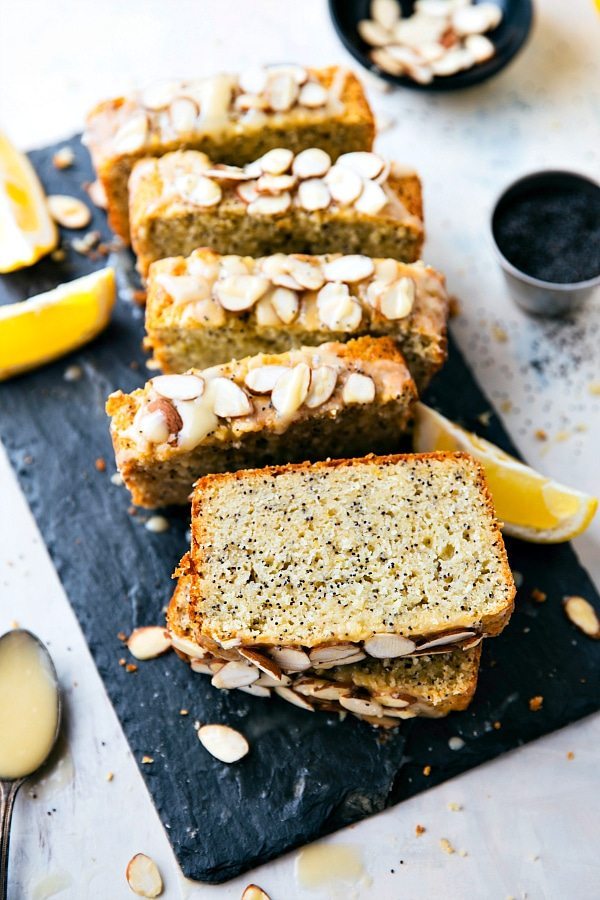 Greek Yogurt Lemon Poppyseed Bread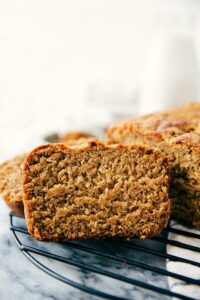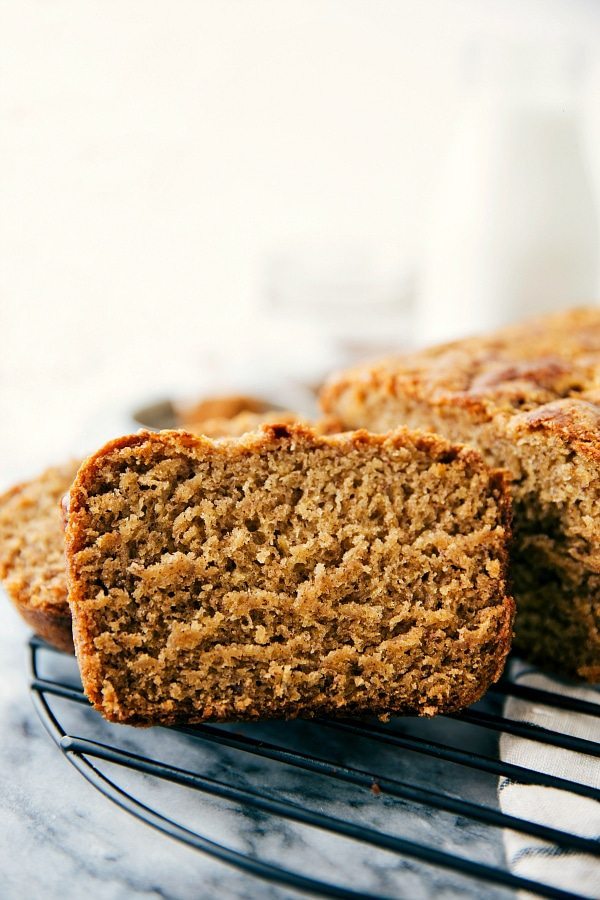 Healthy Greek Yogurt Banana Bread
Without Glaze: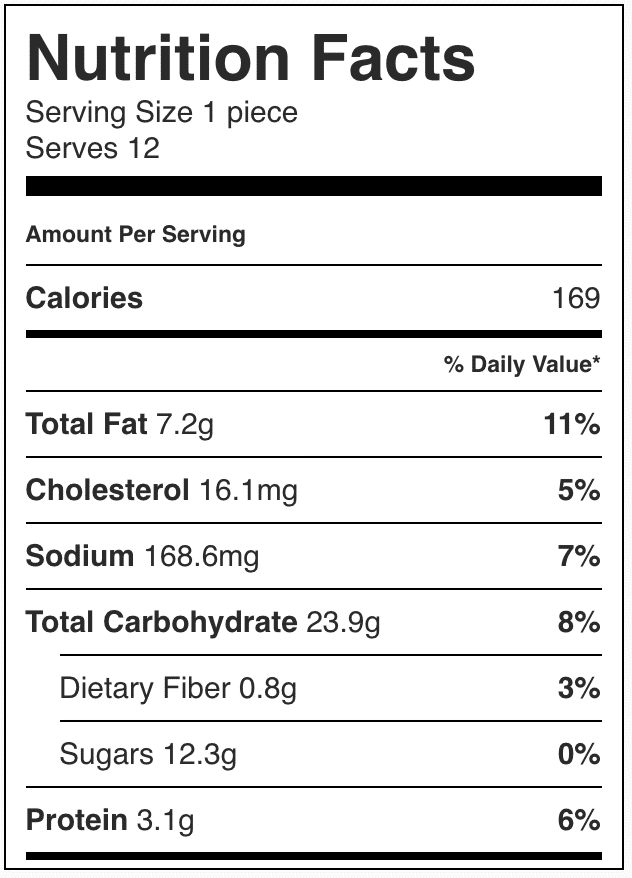 With Glaze: