This moist lemon zucchini bread is sweet with a slightly tart flavor and a tangy lemon glaze. This bread is moist and tender, made with better-for-you ingredients, and is so easy to make!
Looking for more ways to use your zucchini? Try these healthy zucchini muffins or this healthy zucchini bread next!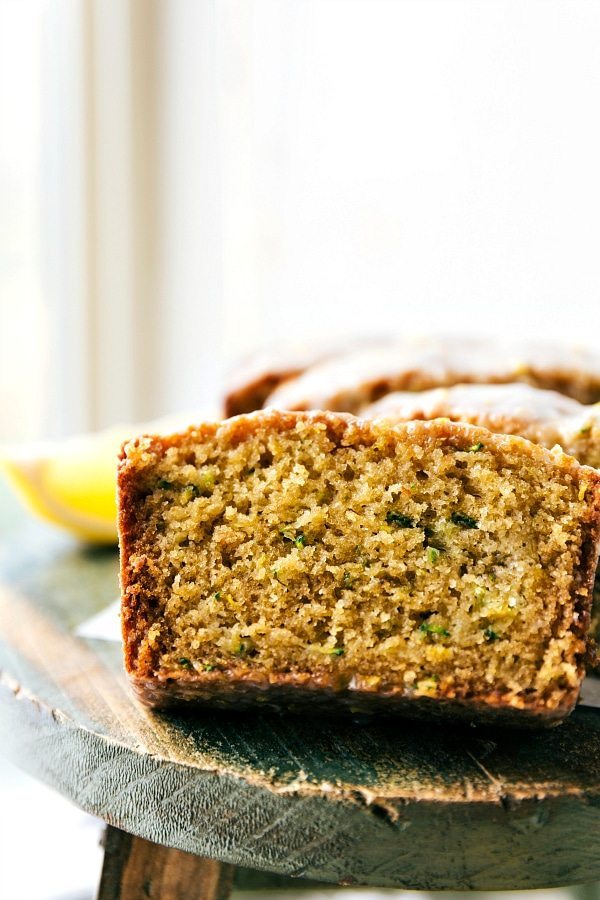 Lemon zucchini bread
Zucchini bread has always been one of my favorite treats. In fact, we served zucchini bread at our wedding reception because I love it so much! We made hundreds of miniature loaves and cut them into small slices to serve. The zucchini bread was a huge hit.
And you guys; I like this lemon zucchini bread is EVEN BETTER than plain zucchini bread! It's insanely good with so much flavor and the perfect texture.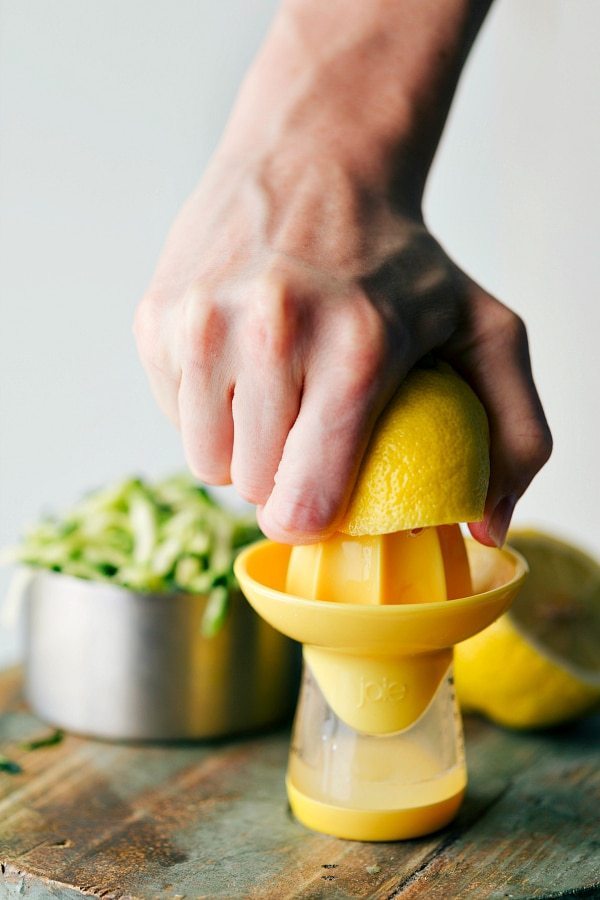 "Secret" ingredients
The "secrets" to the perfectly balanced lemon flavor without having a soggy loaf of lemon zucchini bread? Lemon Greek yogurt and Lemon extract. (If you can't find lemon Greek yogurt, I also tested vanilla Greek yogurt and works great. The loaf is a bit less lemon-y overall, but still delicious.)
For the lemon Greek yogurt, I tested this bread with Chobani lemon Greek yogurt and lemon meringue flavor by Dannon Oikos (not sponsored). They don't sell a big tub of lemon Greek yogurt, but they have smaller containers that are 5.3 ounces each. 1 of those small containers (1/2 cup) yields the perfect amount for this bread.
And the other ingredient — lemon extract. If you aren't familiar with lemon extract it is like vanilla extract or almond extract. You can find it by the flavored baking extracts in the grocery store and it's relatively inexpensive — it's cheaper than vanilla extract and most other baking extracts. For best results, do not use any substitute for the lemon extract in this bread. You can even make your own lemon extract.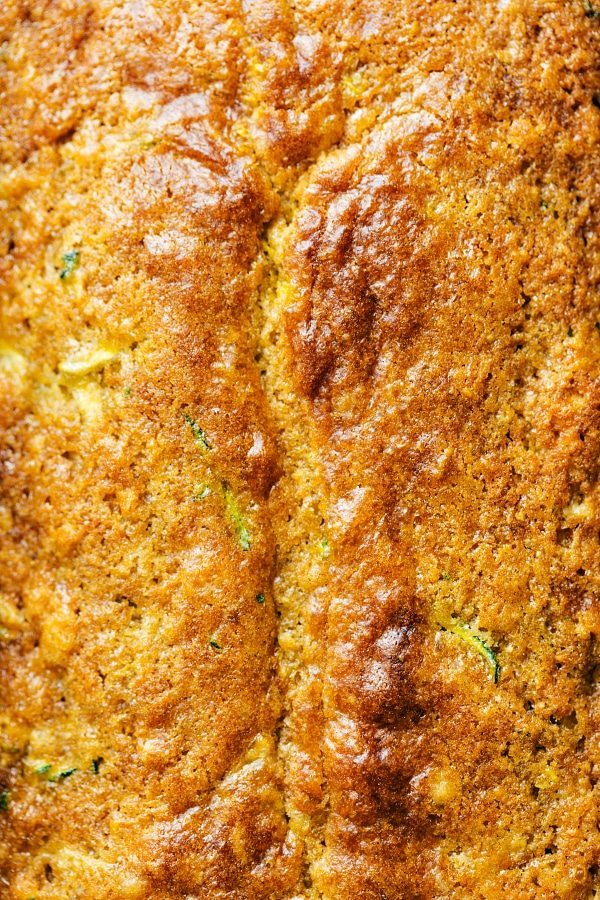 This lemon zucchini bread relies on oat flour (ground up oats) for its health benefits AND because it contributes to a better texture. Oat flour tends to make a baked good more moist than wheat flour and it also adds flavor. Exactly what we want in this lemon zucchini bread recipe! Making oat flour at home is easy – below is a quick breakdown how.
How to make oat flour
Place the oats (you can use quick oats or old fashioned oats) into the bowl of your food processor or small blender jar.
Pulse the oats until they are ground into a powder-like consistency that resembles flour.

Depending on the speed and power of your food processor or blender, this takes about 60 seconds or less.

Stir the oats around if needed to ensure that ALL the oats have been finely and evenly ground. (See photo below)
Make sure to measure your oat flour measurement for this lemon zucchini bread AFTER it's been turned to flour and not in the whole oat form beforehand.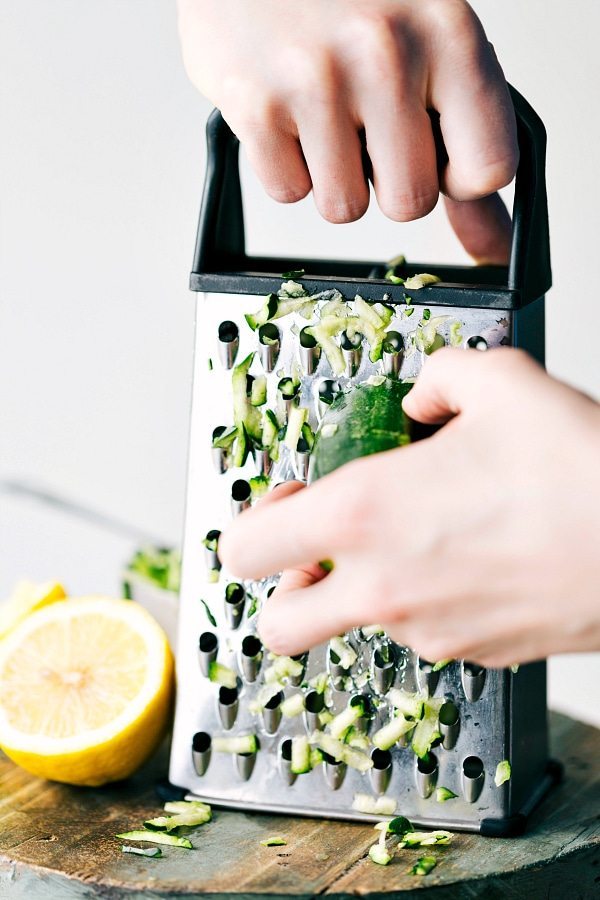 Lemon zucchini bread FAQs
Should I refrigerate zucchini bread?
Yes. After 1 day of the bread being at room temperature refrigerate any leftovers and warm individual slices in the microwave for 5-10 seconds. While it's not essential to refrigerate this lemon zucchini bread, it will keep it fresher for longer.
This bread keeps for 2-3 days at room temperature (wrapped tightly/stored in an airtight container). (After 3-4 days, this bread is more prone to molding because of the Greek yogurt and overall moistness of the bread.)
Does zucchini bread freeze well?
Yes it does! More details below:
Freeze the freshest bread you have. If you just baked it, allow the bread to cool completely before freezing to avoid soggy bread or mold.
Cut the bread into thick slices and wrap each slice tightly in plastic wrap and then seal it completely in an airtight container or bag. Pieces can be frozen safely for 3 months.
Defrost in the fridge or at room temperature until thawed.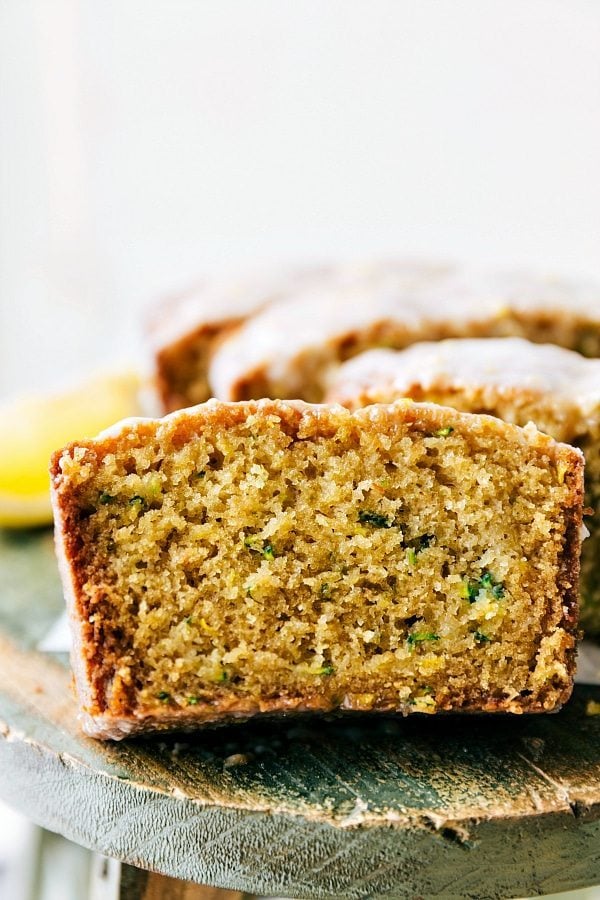 More delicious baked goods: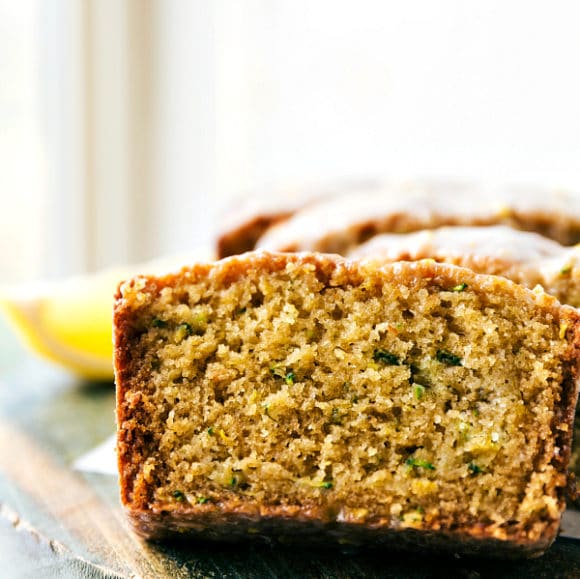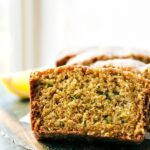 Lemon Zucchini Bread
This moist lemon zucchini bread is sweet with a slightly tart flavor and a tangy lemon glaze. This bread is moist and tender, made with better-for-you ingredients, and is so easy to make!
Keyword:
lemon zucchini bread
Servings
:
1
loaf of bread (10-12 slices)
Ingredients
Bread
1

cup

lightly packed grated zucchini

1/2

cup

lemon-flavored Greek yogurt

(Note 1)

2

tablespoons

lemon zest

1 and 1/2

tablespoons

lemon EXTRACT

(Note 2)

1

large

egg

1/3

cup

coconut oil

2

tablespoons

honey

1/2

cup

white sugar

1/2

cup

oat flour

blended up regular oats

1

cup

white flour

or use white-whole wheat

1

teaspoon

baking soda

1/4

teaspoon

salt
Glaze
1/2

cup

powdered sugar

1/8

teaspoon

lemon extract

1-2

tablespoons

fresh lemon juice

Pinch of salt
Instructions
Make sure you have thoroughly dried the zucchini to keep it from being too wet/watery in the finished bread. I do this using paper towels and squeezing the grated zucchini. (See video tutorial in post)

Preheat the oven to 325 degrees F. Lightly grease and flour one bread pan, 8.5 x 4.5 inch size.

In a bowl, whisk together the Greek yogurt, lemon zest, lemon extract, 1 large egg, coconut oil (measured when melted and cooled to room temperature), honey, and white sugar. Stir in the zucchini.

In a separate bowl, stir together the oat flour (measured AFTER blending. How to make oat flour: pulse regular old fashioned or quick oats in a blender or food processor until they resemble flour. Then measure and add to the bowl), white or white-whole wheat flour, baking soda, and salt.

Add the dry to the wet and mix until just combined. Over-mixing will result in dense bread.

Pour the mixture into the prepared pan.

Bake for 40-50 minutes or until a toothpick when inserted into the center comes out clean and the bread has begun to slightly pull away from the sides.

If needed tent some tin foil over the top to keep the top from over browning.

Remove, allow to slightly cool, and then invert onto a plate.

For the glaze: whisk together all of the ingredients and add lemon juice until you've reached desired consistency. You do want this glaze quite thick because it will melt over the hot bread.

Pour the glaze over the bread while still warm from the oven.
Recipe Video
Recipe Notes
Note 1: I use a 5.3 ounce container of lemon Greek yogurt by Chobani. OR a lemon meringue flavor by Oikos. If you can't find lemon Greek yogurt, use vanilla or plain.
Note 2: Lemon extract (found by vanilla extract and other baking extracts in the grocery store) has a strong concentrated flavor needed in the bread. I wouldn't recommend any substitutions.
Without Glaze: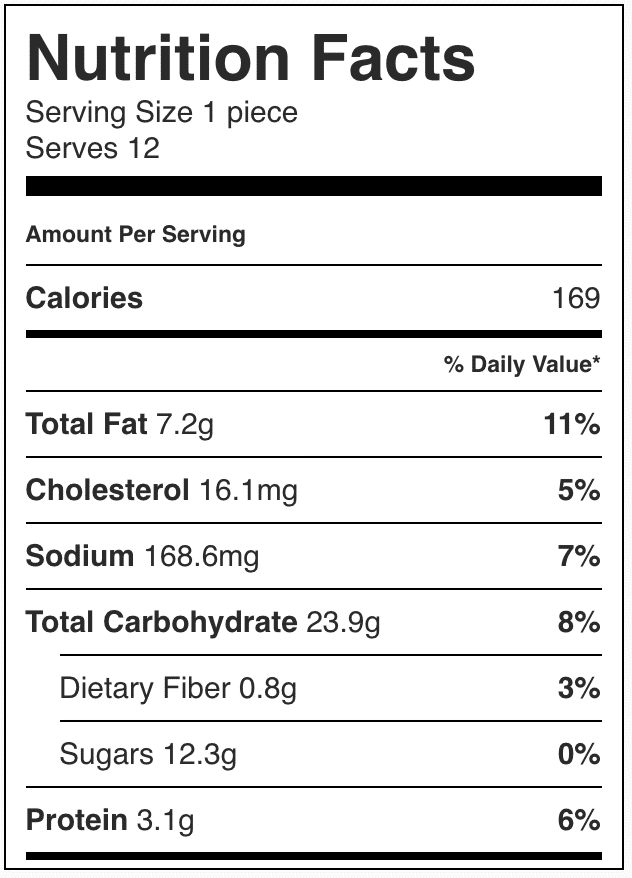 With Glaze: