Greek yogurt chocolate chip muffins made with better-for-you ingredients and no sacrifice of flavor! These muffins are soft, tender, moist, and delicious!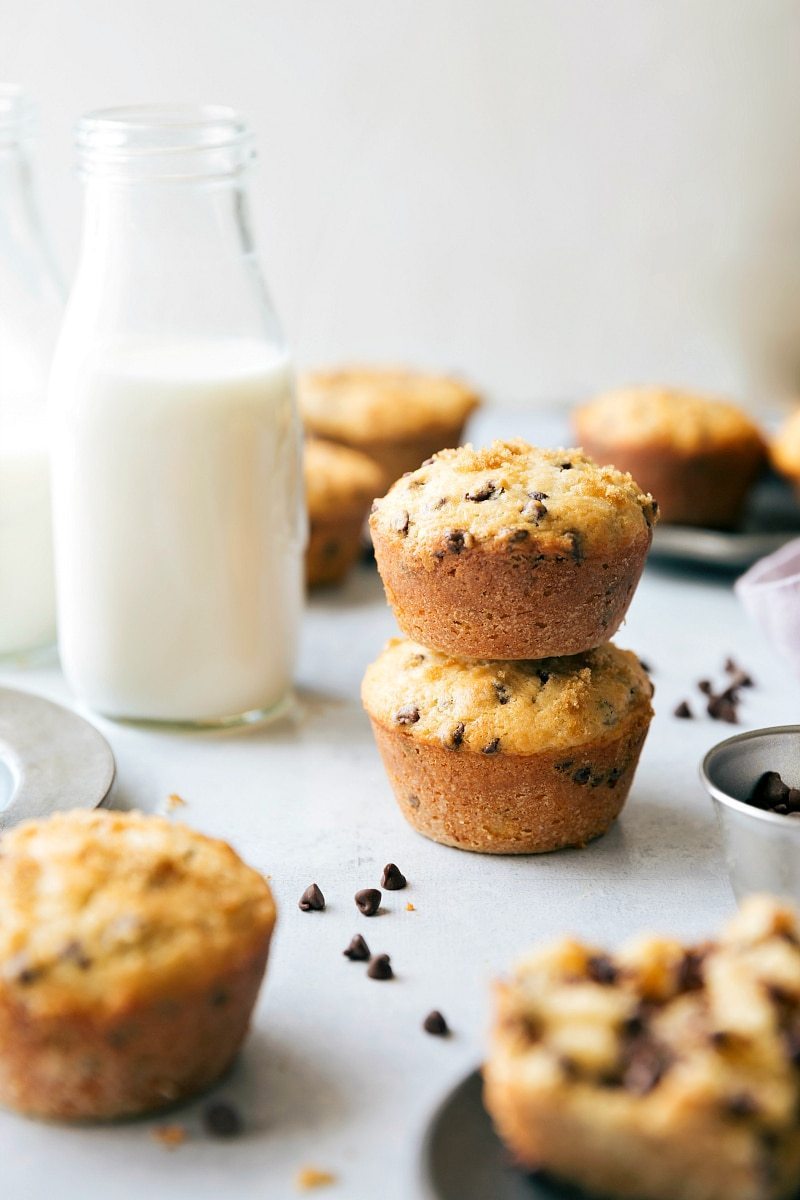 With all the boy's toys packed away in boxes things have gotten a little interesting as far as entertaining them. The past few days I've video recorded some pretty impressive messes on my phone which I've then sent out to family members in attempts to impress them with the unparalleled mess-making skills my boys possess.
While I was upstairs switching over a batch of laundry a few days ago, both boys pushed chairs over to the kitchen counter and climbed up on top of the counter where the ingredients to make these very muffins were set out so they could get to room temperature. Within minutes, 18 eggs were toppled over onto the floor along with an entire bag of flour, a carton of yogurt, and melted coconut oil.
(In case you were wondering, flour turns into the most incredible paste when mixed with oil and eggs that it is nearly impossible to remove. I doubt I'll ever use glue again after this discovery.)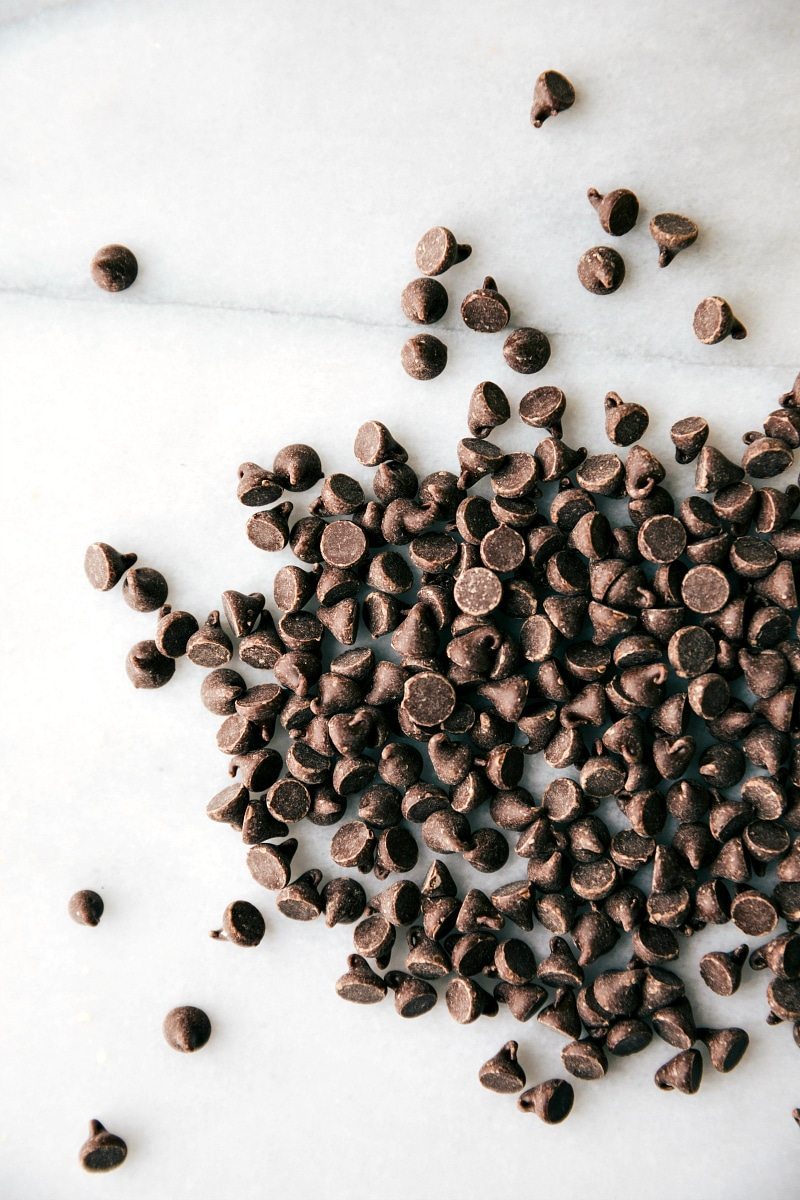 The very next morning, I'd gotten the toddler a large bowl of yogurt topped with some mini chocolate chips. While I jumped in the shower, the babe joined the toddler in decorating the floor, table, chairs, and EACH OTHER in that very yogurt. Because who would want to eat the yogurt when you could decorate with it?
Of course, the video of the mess was sent on to everyone before I gave those boys baths. They also found a box that hadn't been taped shut and removed a bag of popcorn kernels which got scattered all over the floor in seconds. Video sent, again. (And seriously, at this point, if I'm being honest, I'm basically begging for some sympathy here ?)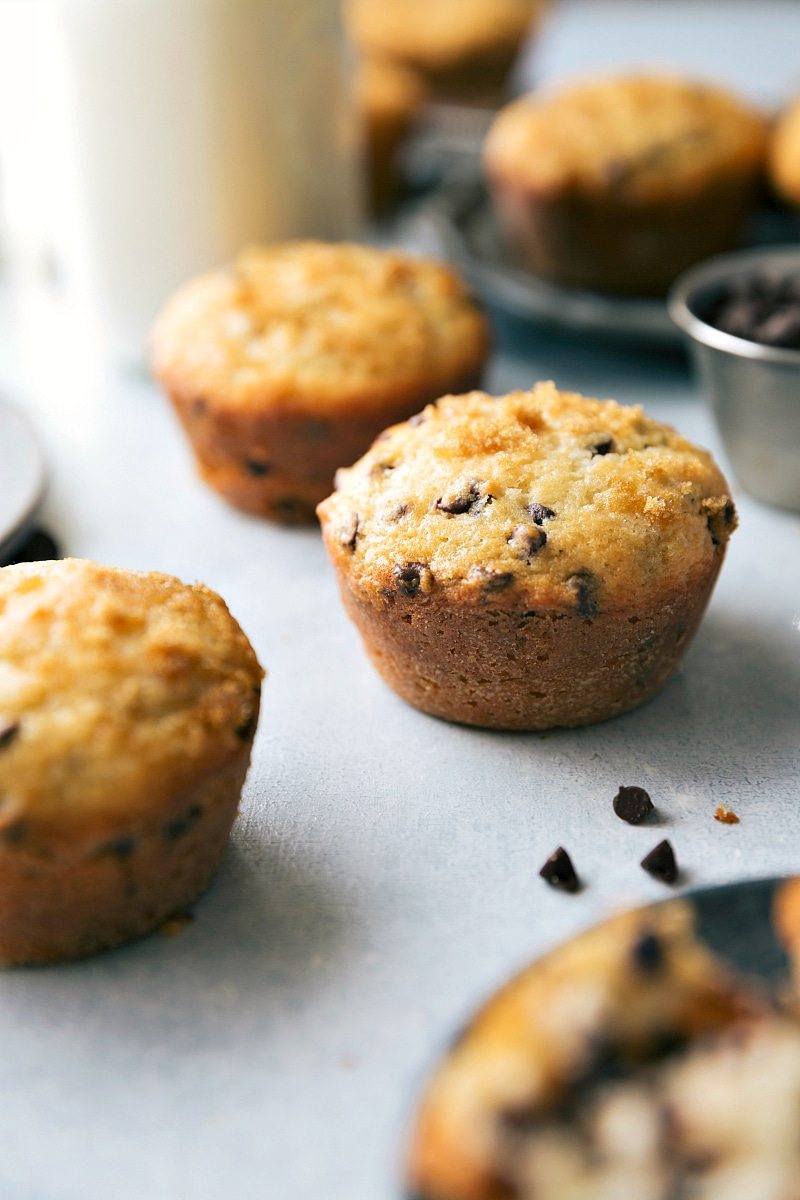 So, when my sister was over the next day and I dropped an entire carton of milk (which subsequently broke and splashed up everywhere), we thought it would be a great idea to film the mess and frame the boys for it.
We pulled both boys into the kitchen by the spilled milk and took some pretty incriminating photos and video. And I sent those on.
By sending on all the videos I think my ultimate goal was to get some free babysitting because Hello, I clearly need a break. But I'm pretty certain it backfired because I got no offers. I'm pretty certain no one else wants their house destroyed right now.
Which brings me to plan #2, babysitting for muffins anyone? I'm just saying, I'd clean all those messes up again for another batch of these.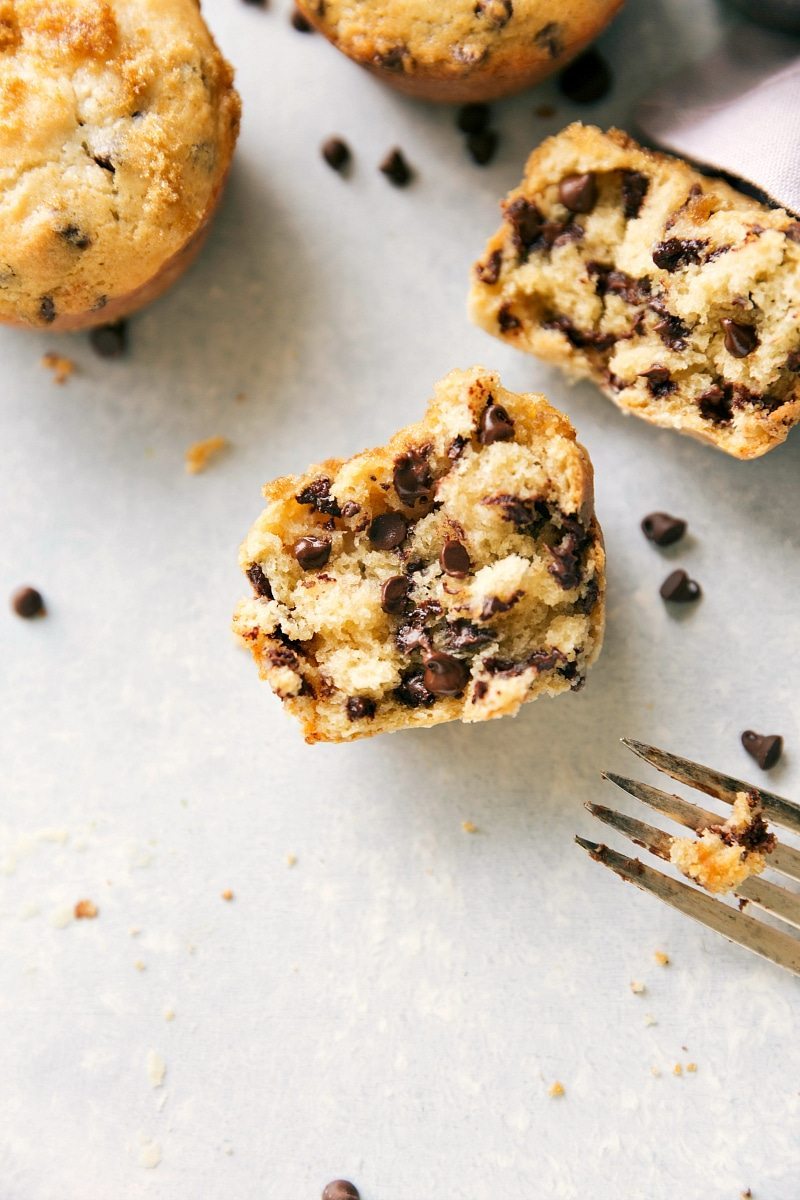 More Healthier Baked Goods: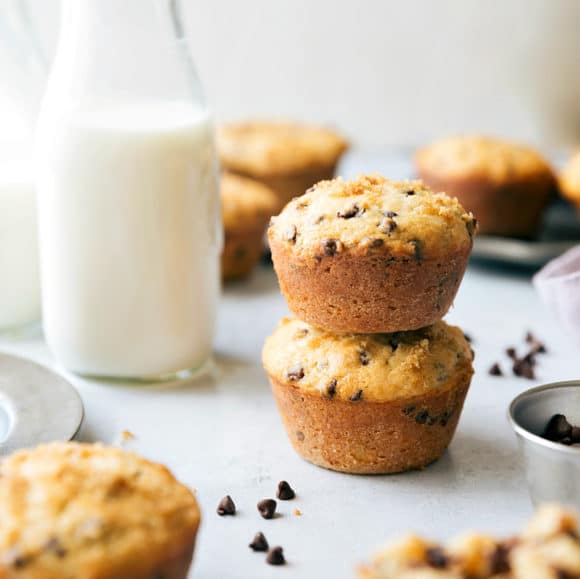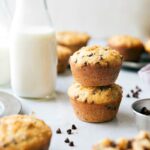 Chocolate Chip Muffins
Greek yogurt chocolate-chip muffins made with better-for-you ingredients and no sacrifice of flavor! These muffins are soft, tender, moist, and delicious!
Ingredients
1

cup

white flour

1

tablespoon

cornstarch

1/2

tablespoon

baking powder

1/2

teaspoon

salt

3/4

cup

mini chocolate chips

1

teaspoon

vanilla extract

1

large

egg,

at room temperature

1/2

cup

vanilla flavored Greek yogurt,

at room temperature

1/2

cup

brown sugar,

lightly packed

1/4

cup

coconut oil,

measured when melted
Instructions
Set out the egg and Greek yogurt to come to room temperature. Melt and measure the coconut oil and set out to get to room temperature as well.

Preheat the oven to 350 degrees F. Generously grease 9 cavities on a regular-sized muffin tin and dust the cavities generously with flour. Don't use paper liners (these muffins stick). Set aside.

Measure out 1 cup of flour. Remove 1 tablespoon of flour from that cup and return it to the flour container. Take the remaining flour and sift it into a large bowl along with the cornstarch, baking powder, and salt. Toss with the chocolate chips.

In another bowl, add in the vanilla extract, room temperature egg, room temperature Greek yogurt, brown sugar, and room temperature coconut oil (melt, measure, allow it to cool to room temperature). Whisk ingredients together until smooth.

Add the dry ingredients into the wet ingredients and stir until *just* combined. Over-mixing will result in dense muffins.

Spoon an even amount of the mixture into the prepared 9 cavities of a muffin tin. Fill the remaining cavities halfway up with water (to ensure even baking). If desired, sprinkle 1/2 teaspoon brown sugar on the tops of the muffins (optional).

Bake for 18-22 minutes or until lightly browned at the edges; be very careful to not over-bake these muffins or they won't be as soft and moist.

Remove and allow to cool for a few minutes before removing the muffins from the tin on to a cooling rack.

Best enjoyed within 2-3 days; store leftover muffins in an airtight container in the fridge.