Greek yogurt banana oat muffins made with no flour, no oil, and no butter. PLUS there is little sugar required for these tasty muffins!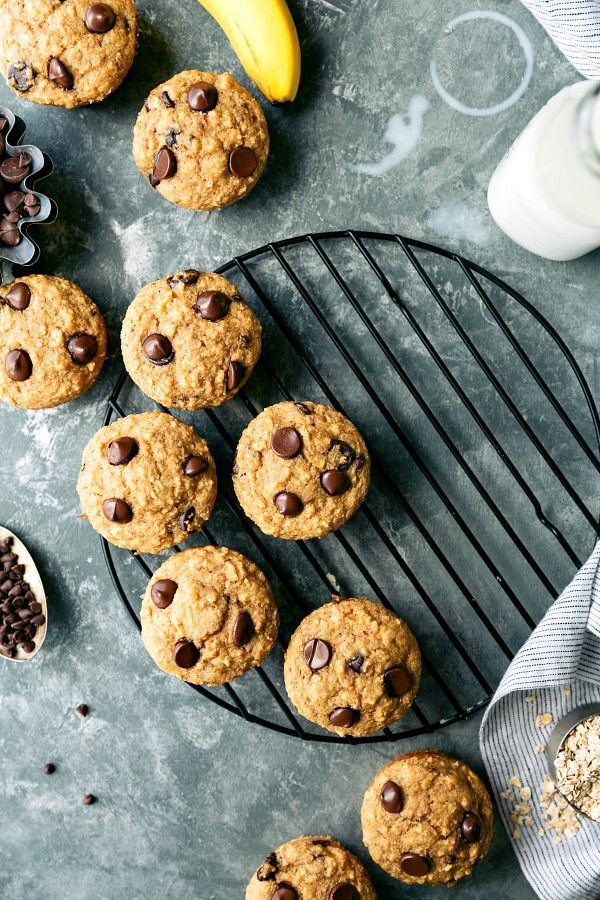 I know I'm coming at this a little late, but how was your Easter and Easter weekend? Did you eat lots of delicious food? And…follow up question, do you need a delicious way to use up all of your leftover ham in? –> Try this quiche!
Our weekend was one of the best + busiest weekends, but I am proud to report that we are all moved in! Meaning that there are no longer boxes lying all over the house. However there is still a bit of organization left and of course the dreaded picture hanging. Well, I don't dread it, but the husband? Yeah, he hates it.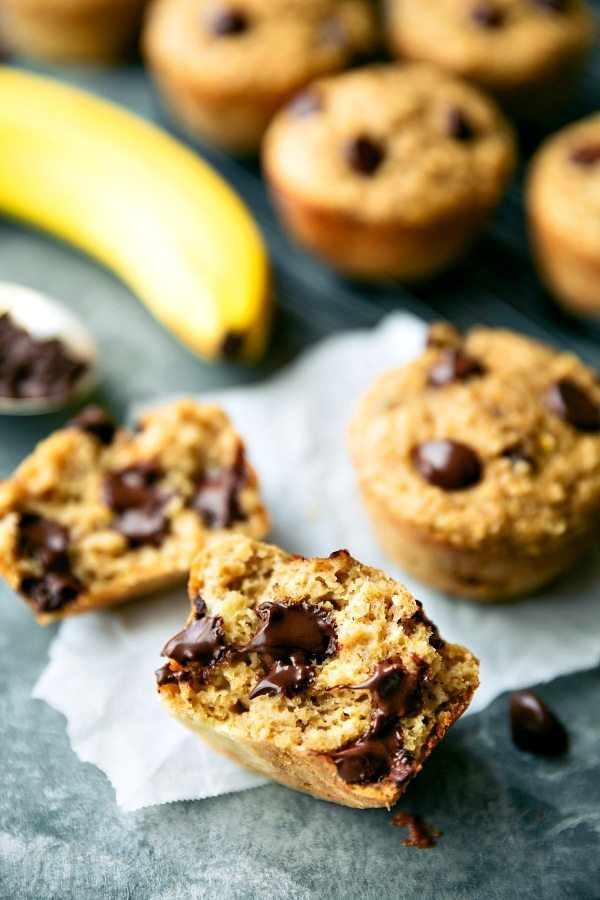 Along with getting all moved in, I've also been breaking in the new (to us) kitchen. I've so far learned the oven cooks things a little bit slower than I'm used to, the microwave has about 30 buttons I'm not sure what they are for (exciting discoveries await!), and all the counter space is awesome. I am definitely loving the space!
Of course the first thing we baked in the oven was a big batch of brownies (un-packing fuel of champions of course). The brownies were shortly followed by muffins in a desire for something a bit healthier. These flourless banana oat Greek yogurt muffins to be exact.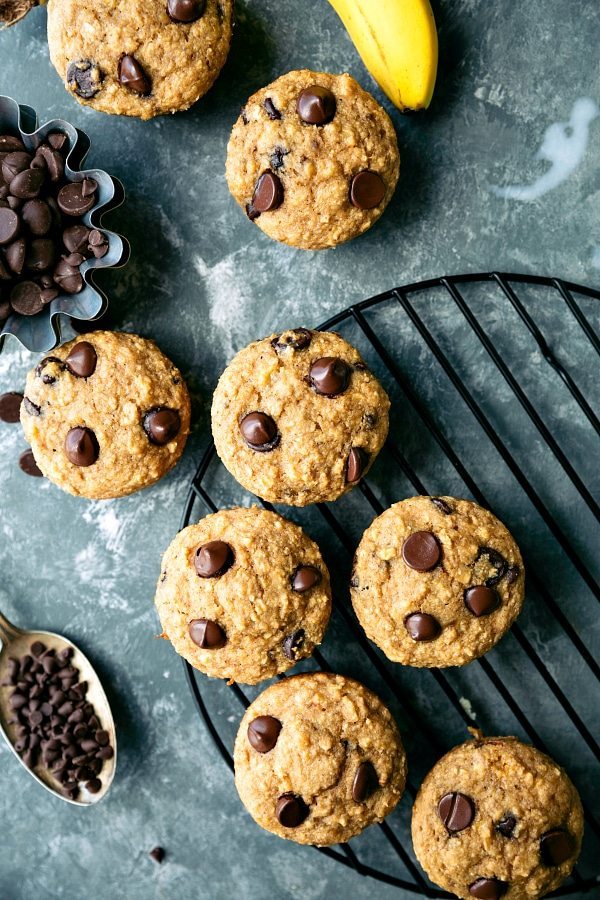 These muffins are super simple to make. They have oat flour in them which literally takes seconds to make – just blend up regular old fashioned or quick oats in your blender or food processor until a flour consistency and VOILA done! I also mixed in some Quick oats just for texture reasons. However, if you don't like the idea of oats in your muffins then just blend those ones up too! AND if you don't have quick oats, you can use old fashioned oats to make them. Just pulse them 1-2 times in a blender (more if you don't have a high powered blender) until they resemble quick oats. Just be careful to not pulse them too many times or they'll be oat flour. 🙂
The other secret to these delicious muffins is the Greek yogurt. I personally LOVE vanilla Greek yogurt in these. In my opinion, it is worlds different from plain Greek yogurt and so much better. The other thing to note with the yogurt is the fat content and quality you get. The better your Greek yogurt and the higher percentage of fat (healthy fats!) in your muffins, the richer and better these will taste. I prefer using 2% vanilla Greek yogurt for these muffins. With adding a little bit of vanilla extract, these muffins have a fresh burst of good vanilla flavor.
And you can't forget lots and lots of chocolate. It is dark chocolate making these totally healthy, right?!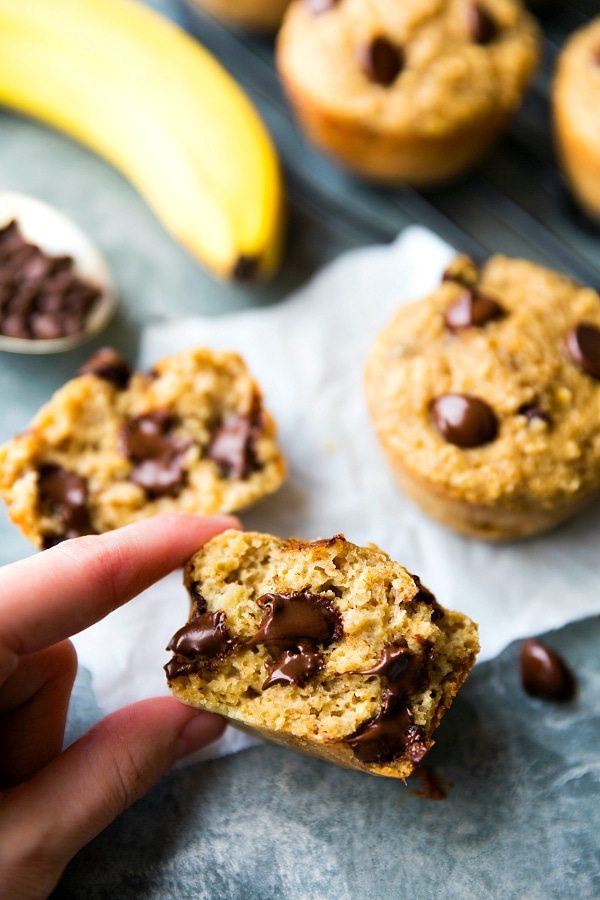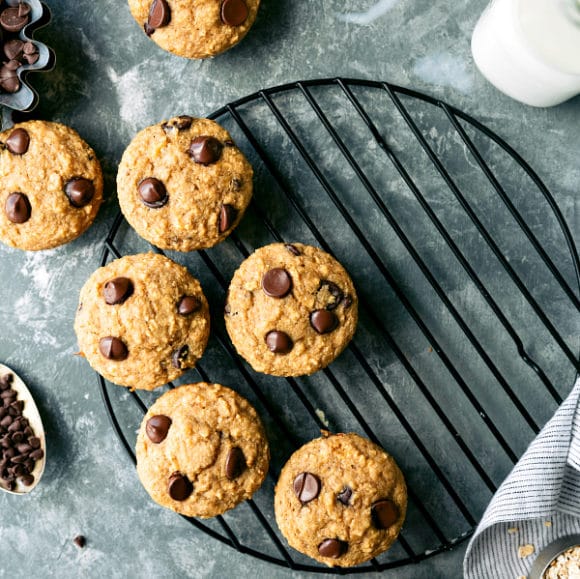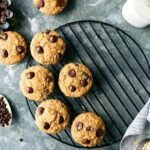 Flourless Greek Yogurt Banana Oat Muffins
Ingredients
1

cup

vanilla Greek yogurt*

1

cup

ripe mashed bananas

~2 bananas

2

large eggs

2

teaspoons

vanilla extract

4

tablespoons

brown sugar**

1

cups

and 1/2 oat flour

blended oats

2/3

cup

quick oats

1/2

teaspoon

cinnamon

1/2

teaspoon

baking soda

1

teaspoon

and 1/2 baking powder

1/4

teaspoon

salt

1/2

cup

dark chocolate chips
Instructions
Preheat the oven to 350 degrees F. Grease and flour a muffin tin and set aside. Do not use muffin liners as these muffins will stick to the liners.

In a large bowl, beat together the Greek yogurt and the bananas. Make sure your bananas were ripe and are well mashed to avoid large banana chunks. Beat in the eggs, vanilla extract, and brown sugar.

Meanwhile in a blender or food processor blend quick oats or old fashioned oats to form a flour consistency. Make sure to measure the oat flour AFTER it has been blended and not before.

In a separate bowl, stir together the oat flour, the quick oats (MUST be quick oats not steel cut or old fashioned), cinnamon, baking soda, baking powder, and salt.

Combine the wet and dry ingredients and stir until just combined. Over mixing will result in dense muffins. Stir in the chocolate chips.

Divide the batter among the 12 muffin cavities. These muffins don't rise too much so use all the batter in the 12 cavities.

Bake for 17-20 minutes. Remove and allow to slightly cool and then pull them out of the muffin pan onto a cooling rack to finish cooling.

Store these muffins in an airtight container or bag in the fridge (warm in the microwave before eating) and enjoy or freeze within 3 days.
Recipe Notes
*I recommend a high quality 2% fat content vanilla Greek yogurt for optimal results on these muffins. **Increase the brown sugar if you aren't "used" to healthier snacks/breakfasts going to 6-7 tablespoons.