The famous chocolate peanut butter healthy no bake cookies made with better-for-you ingredients (no refined sugars). These easy healthy no bake cookies can be made in 15 minutes or less and are truly the best!
If you're not a chocolate fan or are looking for something new to try, I have other flavors of delicious healthy no bake cookies including my easy no bake breakfast cookies and no bake cinnamon roll cookies.
Healthy No Bake Cookies
I've featured more than a few no bake cookies on this site along with healthier baked cookies (these healthy oatmeal chocolate chip cookies are a favorite!) and it's amazing I haven't taken the classic no bake peanut butter oatmeal cookies and made them healthier until now! My brother-in-law tried these and claimed they were the best no bake cookies he'd ever had. "Well, for a healthy version right?" was my quick reply. And his response, "These are healthy?! I like these better than the original!"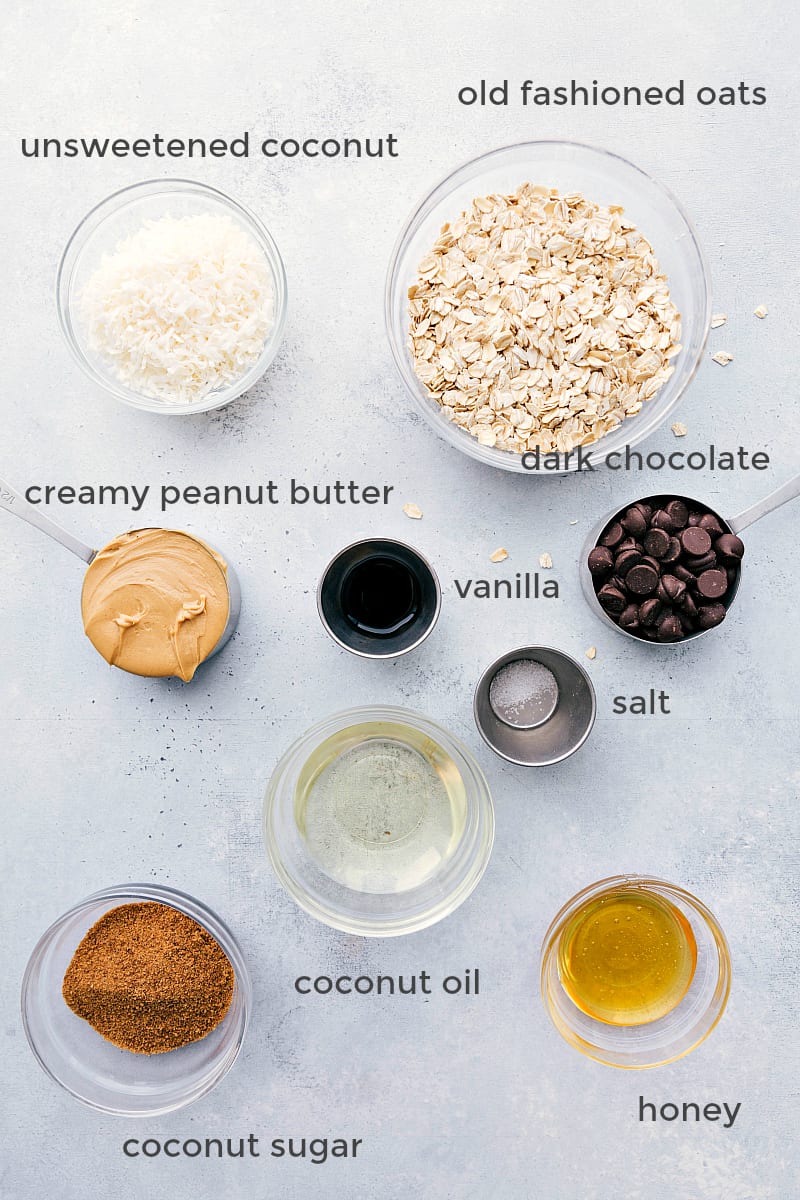 How to make these cookies YOUR personal favorite
Peanut butter – if you have an allergy or just aren't a peanut fan, you can make these cookies without peanut butter by replacing the peanut butter with almond butter or another nut/seed butter of your choice.
Coconut – for less of a coconut flavor, replace the shredded coconut with an equal amount of oats.
Chocolate – the darker the chocolate is, the healthier it is (read about health benefits here). However, if you aren't a dark chocolate fan and don't mind the cookies being less healthy, you can replace the dark chocolate with milk chocolate.
Can you use old fashioned oats in no bake cookies?
Yes! For the very best texture, old fashioned oats are the preferred oat to use in these healthy no bake cookies.
What can I substitute for butter in no bake cookies?
These cookies don't have any butter! Coconut oil works perfectly in the place of butter — it's a healthier fat and it melts and then hardens similar to butter.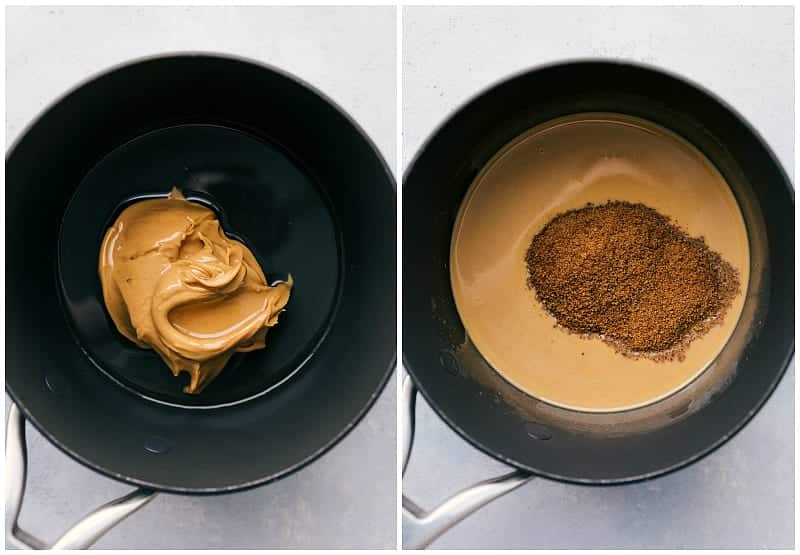 How do I store these cookies?
These cookies store well in an airtight container for up to a week. While they are fine to be left out at room temperature, they're best straight out of the fridge. I do recommend storing them in the fridge for optimal texture and freshness.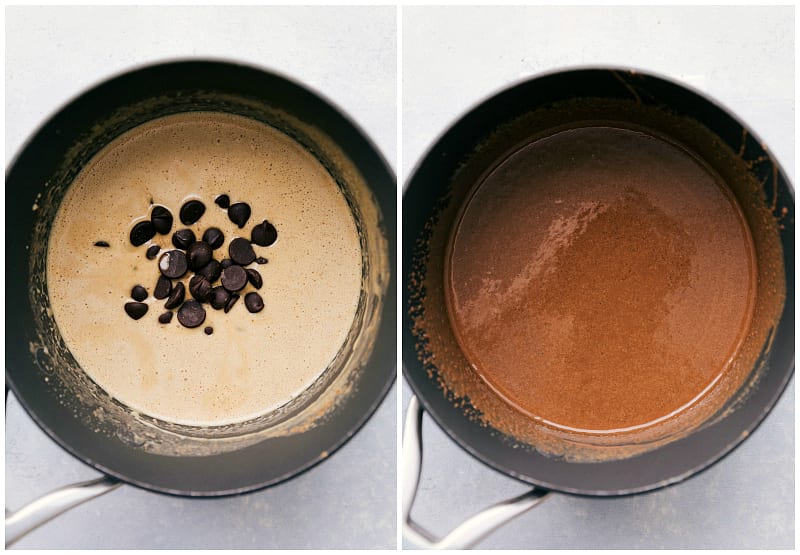 Can I freeze these cookies?
These no bake cookies can take up to an hour to set up. If you don't want to wait, you can pop them in the freezer for 15 minutes and they'll be ready to go! You can also store these no bake cookies in the freezer in an airtight for up to two months.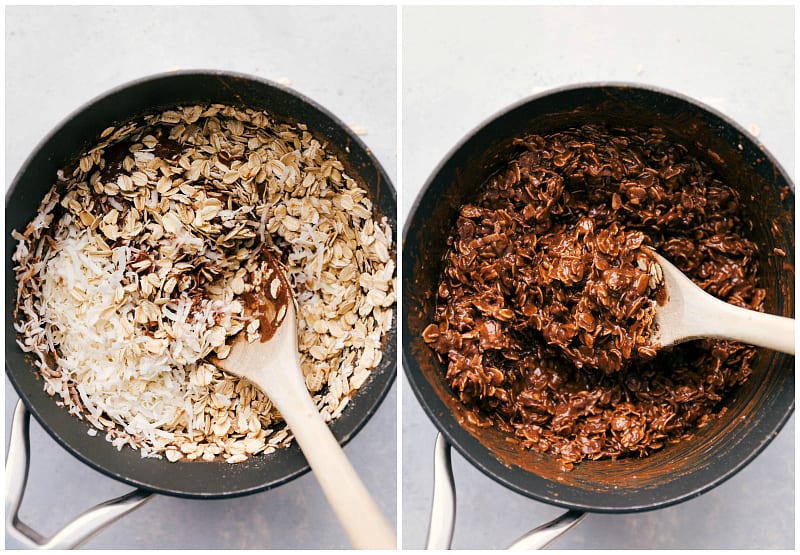 More healthy treats to try next: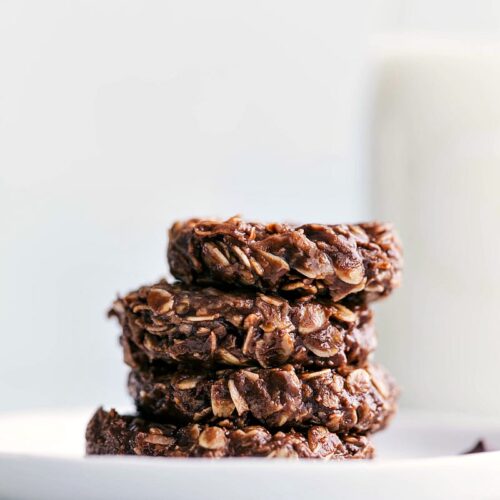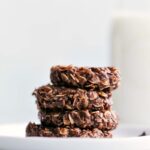 Healthy No Bake Cookies
The famous chocolate + peanut butter no bake cookies made with better-for-you ingredients. These easy healthy no bake cookies can be made in 15 minutes!
Keyword:
healthy no bake cookies, healthy no bake oatmeal cookies
Servings
:
12
-18 cookies, depending on your scoop size
Ingredients
1/2

cup

creamy peanut

1/4

cup

coconut oil

1/4

cup

coconut sugar

(brown sugar can be substituted)

1/2

cup

dark chocolate chips*

1

teaspoon

vanilla extract

Pinch of salt

2

tablespoons

honey

1/2

cup

shredded coconut

1

cup

and 1/4 old fashioned oats
Instructions
Line 12 cavities in a miniature muffin tin with paper liners and set aside.


Place a small pot over medium heat. Add in the peanut butter and the coconut oil. (Measure the coconut oil in its liquid state.)


Stir until smooth and then add in the coconut or brown sugar and stir until the sugar is completely dissolved and the mixture is about to boil. (Do not boil!)

Remove from heat and add in the chocolate chips and stir constantly until all the chocolate is melted. Add in the vanilla and salt. Stir in the honey. Stir in the coconut and old fashioned oats.


Use a cookie scoop to scoop out and tightly compress the mixture into cookies. If you don't have a cookie scoop these don't hold too well with your hands so try to use two spoons to form balls.


Drop into the prepared muffin tin and place in the fridge for an hour (or freezer for about 15 minutes) until the cookies have become solid. Once solid, you can remove them from the paper liner and compress them in between your hands into a cookie shape (or eat them in ball shape!)


These are best stored in an airtight container in the fridge but they can be left at room temperature.
Recipe Video
Recipe Notes
*Dark chocolate is a healthier chocolate. If you hate dark chocolate and don't mind a less healthy treat, use milk chocolate.