The famous chocolate + peanut butter no bake cookies made with healthier and better-for-you ingredients (no refined sugars). Easy 15 minute no-bake dessert!
The toddler is stringing together more and more words to make sentences. We're all getting a kick out of what he has to say now that he is talking more (or now that we can understand that talking)
For one, when asked what he did with me the other day he told his dad, "Mama run slow." So, that made me feel awesome. ???( And that's the last time I bring him down to the basement while I run on the treadmill….)
And the other day when I said, "I have a cute baby and a cute Greyson!" He pipped up, "And cute dadda!"
And another personal favorite is him running into the bathroom every. single. time. he hears the toilet being flushed and screams, "BYE BYE PEE!!" This of course, comes with a "good-bye" wave.

He's also learned how to make calls on my phone and actually talk to the person on the receiving end. I recently started to let him call his dad every once and a while during a work break (for the husband). But the other day he wanted to call him in the morning and I told him no. So he promptly called my mother on the phone and tattled on me, "Mama no let Grey call Dadda." And of course my mom sides with him over me.
She responded slightly sarcastically, "Oh that is such a mean mom!"
And immediately he cued up his saddest voice and exclaimed, "Yes. Mean Mama." ?
Except I'm pretty sure he changed his attitude about me being a mean mom when I made him these little cookies after a nap.
He INHALED the two I let him eat. And then promptly informed me that the "baby no eat cookie. baby eat oatmeal." Because I have caught him trying to feed the baby various things so I had to teach him that the baby can only eat oatmeal when mom feeds it to him.
He is more than happy to keep these cookies all to himself and not share with his baby brother. Or anyone for that matter.

I've featured more than a few no bake cookies on this site (READER FAVE HERE) along with healthier baked cookies and it's amazing I haven't take the typical chocolate + peanut butter no bake cookies and made them healthier until now.
Originally I wanted to make "almond joy no bake cookies" which I guess these still pass for that if you use almond butter. However, when I actually went to develop these cookies for the first time I was out of almond butter and fell in love with the flavor they had with peanut butter. Later on when I made them again I used almond butter and it's amazing with that too. So if you like an almond joy flavor better use almond butter and if you are wanting that flavor/taste of a traditional chocolate no bake cookie use peanut butter!
These also have an apparent coconut flavor with the coconut sugar, coconut oil, and most particularly the coconut flakes. However if you aren't a huge fan of coconut these are more predominantly flavored chocolate + peanut butter flavored (especially if you want to replace the coconut with extra oats).
They do take a little bit to set up and harden so I always cheat and throw them in the freezer for like 15 minutes. Works like a charm! And while these do store fine at room temperature, I like them best straight out of the fridge.

Healthy No Bake Cookies
Ingredients
1/2

cup

creamy peanut or almond butter

1/4

cup

coconut oil

1/4

cup

coconut sugar

(brown sugar can be substituted)

1/2

cup

dark chocolate chips*

1

teaspoon

vanilla extract

Pinch of salt

2

tablespoons

honey

1/2

cup

shredded coconut

1

cup

and 1/4 old fashioned oats
Instructions
Line 12 cavities in a miniature muffin tin with paper liners and set aside.

Place a small pot over medium heat. Add in the peanut or almond butter and the coconut oil.

(Measure the coconut oil in its liquid state.)

Stir until smooth and then add in the coconut or brown sugar and stir until the sugar is completely dissolved and the mixture is about to boil.

Remove from heat and add in the chocolate chips and stir constantly until all the chocolate is melted. Add in the vanilla and salt.

Stir in the honey.

Stir in the coconut and old fashioned oats.

Use a cookie scoop to scoop out and tightly compress the mixture into cookies. If you don't have a cookie scoop these don't hold too well with your hands so try to use two spoons to form balls.

Drop into the prepared muffin tin and place in the fridge (or freezer for about 15 minutes) until the cookies have become solid.

These are best stored in an airtight container in the fridge but they can be left at room temperature.
Recipe Notes
*Dark chocolate is a healthier chocolate. If you hate dark chocolate and don't mind a less healthy treat, use milk chocolate.
More delicious HEALTHY cookie recipes: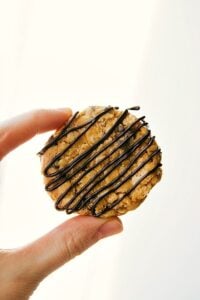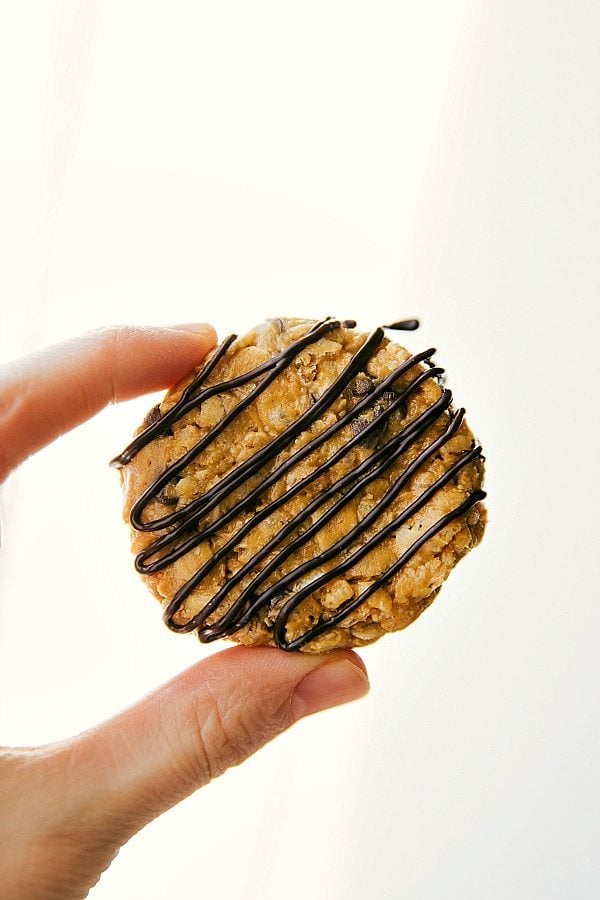 No bake, healthy, and easy breakfast cookies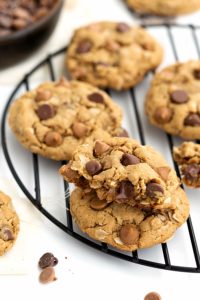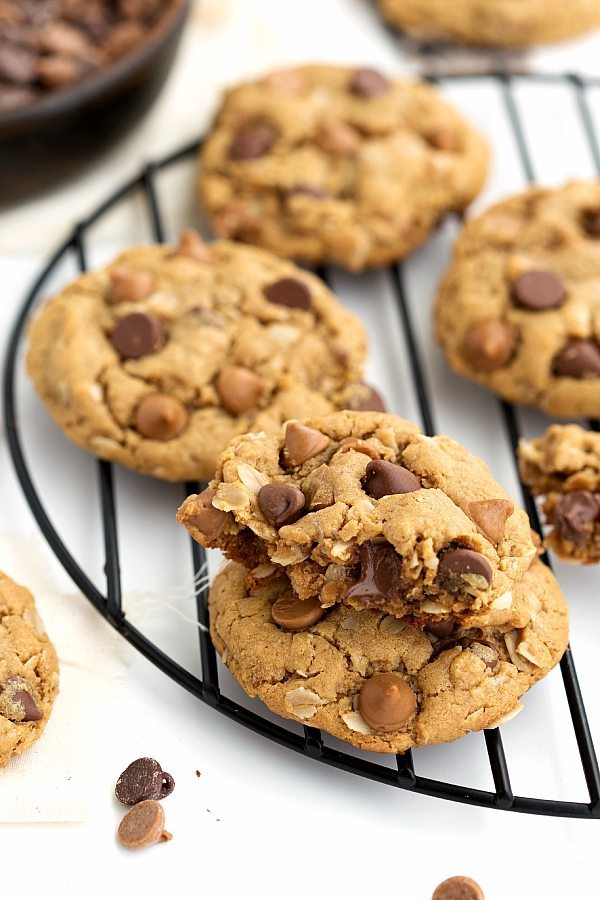 Flourless and Healthy Peanut Butter Breakfast Cookies