These healthy blueberry muffins are bursting with flavor, are moist and soft, and so delicious! They're made with better-for-you ingredients including Greek yogurt, whole wheat flour, coconut oil, and plenty of blueberries.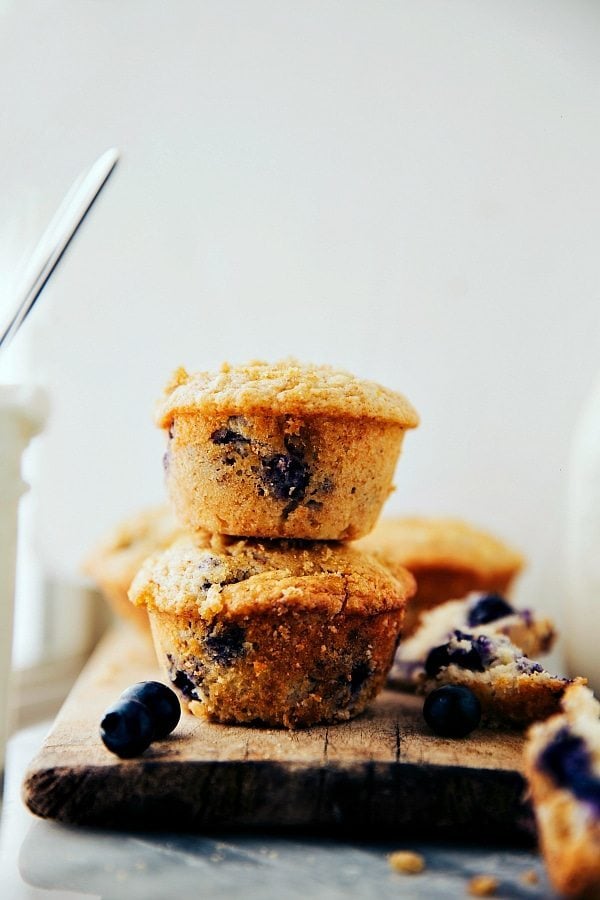 Healthy Blueberry Muffins
Several months ago, the husband requested some "bakery style" big fluffy blueberry muffins for him to grab on the go when he left for work in the mornings. I searched around for some recipes and found one that had great reviews and ratings. I made them for him and he loved them.
The only problem with the muffins is that they are LOADED with sugar, had tons of oil, and were honestly more of a dessert than a wholesome breakfast. Really, besides the blueberries, there aren't any ingredients that sounded like "breakfast" to me.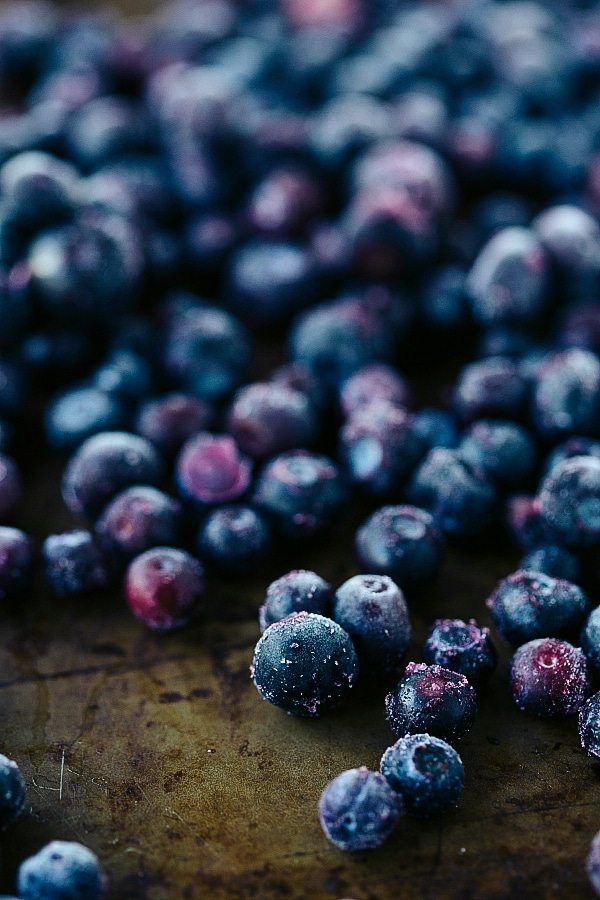 Since then it's been my mission to get the same delicious texture + flavor, with some better ingredients. Although these still have a fair amount of sugar, they also have Greek yogurt and coconut oil. Both are great healthy substitutions and still allow these muffins to shine as a "bakery style" type of muffin.
And here's the AWESOME news. The husband said he liked THIS batch better than the super sugar and oil laden batch I had made previously. Mission accomplished.
How to make Healthy Blueberry Muffins:
The "secret ingredient" that gives these muffins an airy and moist texture in the cornstarch. Cake flour is often an ingredient that bakery style muffins will call for, however, if you don't bake a lot of cakes/muffins/breads it can be something to just sit in your pantry for ages. So instead of buying a whole bag of cake flour, an easy "hack" is to reduce the cup of flour by 1 tablespoon and mix in 1 tablespoon of cornstarch in it's place. This is going to make these muffins super soft and give them a moist texture.
Next, the egg. It is imperative to have a large egg or the muffins may be too dry. I highly, highly recommend using a large (or extra large) organic egg as they have tons more flavor than regular eggs and make your baked goods so much richer. I'm not someone that buys a whole lot of organic ingredients, but eggs I have found to be totally worth it. Try it sometime – buy regular eggs and then organic eggs and compare the color of the yolks – you'll be amazed to see how much richer and deeper the color of the organic eggs are. I swear by organic eggs in muffins, breads, and cookies!
The Greek yogurt is next. I recommend a full-fat version for the richness it brings in these muffins, but a lower fat content will be okay. The big recommendation here is to use a flavored Greek yogurt instead of a plain version. I prefer a vanilla flavor and LOVE vanilla Greek yogurt so that's what I recommend in these muffins. However, you could try a different fruity version and maybe even blueberry Greek yogurt if you aren't afraid of a very blueberry muffin!
Finally is coconut oil. Coconut oil has lots of proven health benefits and I love adding it to baked goods. Coconut oil in this recipe needs to be measured when it is melted and in a liquid form.
Did I mention you can substitute out the blueberries for other fruits such as raspberries or chopped strawberries? Healthier bakery-tasting muffins are coming your way!
More Healthy Baked Goods: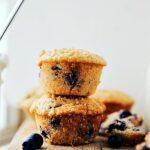 Healthy Blueberry Muffins
These healthy blueberry muffins are bursting with flavor, are moist and soft, and so delicious! They're made with better-for-you ingredients including Greek yogurt, coconut oil, and plenty of blueberries.
Keyword:
healthy blueberry muffins
Ingredients
1

cup

white whole-wheat flour

(or just plain white)

1

tablespoon

cornstarch

1/2

tablespoon

baking powder

1/4

teaspoon

salt

3/4

cup

blueberries

1

large egg*

1/2

cup

vanilla flavored Greek yogurt

1

teaspoon

vanilla extract

1/4

cup

coconut oil

melted

1/2

cup

white sugar
Instructions
Preheat the oven to 350 degrees F. Spray and lightly flour (do not use muffin liners as these stick) 7-9 of the muffin cavities and set aside. (Tip: when you measure the flour spoon and level the measurement so you don't pack in too much flour into the measuring cup)

Remove 1 tablespoon from the flour and return it to the flour bag. In a bowl, toss together the remaining flour with the cornstarch baking powder and salt until well mixed.

Stir in the blueberries until well coated in the flour mixture and set aside.

In another bowl (important to use 2 bowls so the ingredients don't get over-mixed resulting in dense muffins), lightly beat the egg with a fork for 20 seconds. Stir in the Greek yogurt, vanilla extract, and melted coconut oil until well combined.

Stir in the sugar and mix until smooth.

Add the dry ingredients to the wet and mix until JUST combined. Over-mixing will yield less optimal results.

Fill up the prepared muffin tin a little over 3/4ths the way full.

If desired, sprinkle a little bit of extra sugar (1/4 teaspoon) on the tops.

Bake for 25-30 minutes or until a fork when inserted in the center comes out clean.
Recipe Notes
I would recommend reading the notes on the ingredients in the last paragraph of the post to achieve the optimal results of these muffins. *Note that cold eggs or yogurt will cause your melted coconut oil to harden -- make sure the eggs and yogurt are at room temperature!