Healthy Banana Bread is filled with good-for-you ingredients. This recipe uses everyday ingredients and does not have any refined sugars or butter.
Have more overripe bananas? Try these healthy banana muffins or banana pancakes next!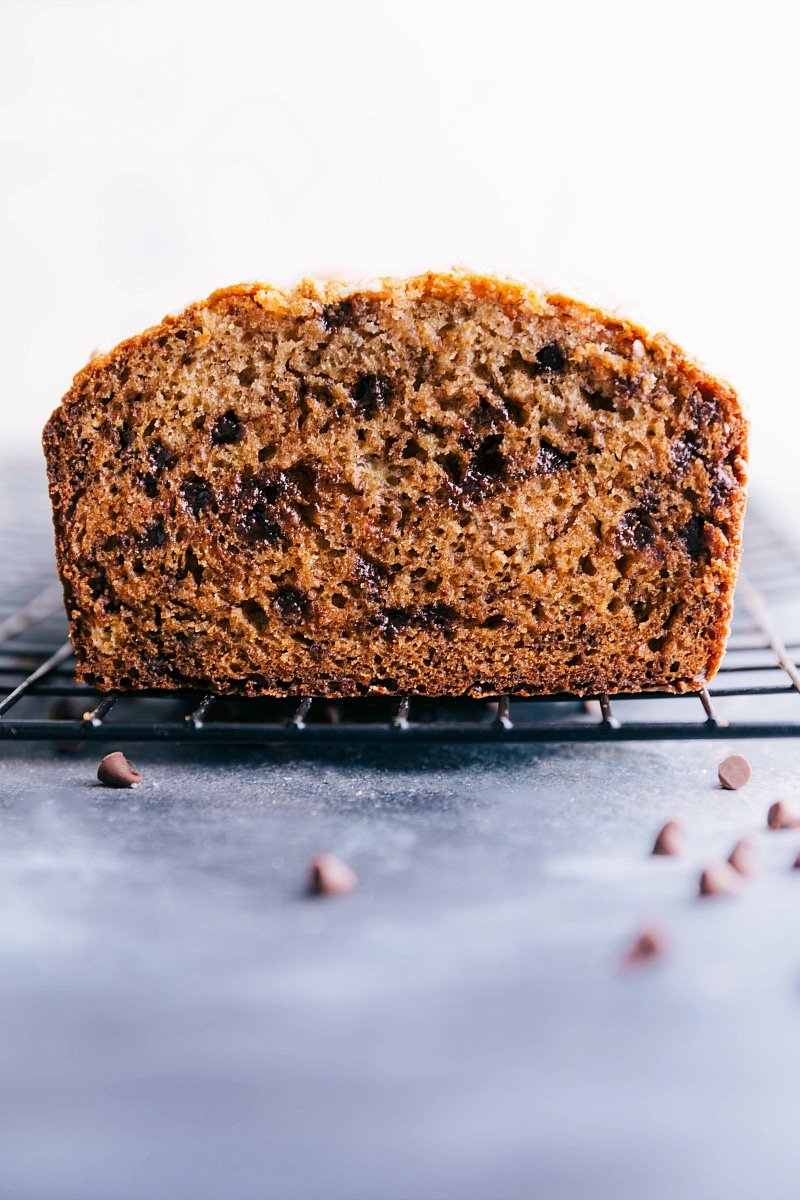 Healthy Banana Bread
At the start of the week, I typically buy about 20 bananas. We go through bananas like crazy at my home! My kids love them as snacks or cut up in their oatmeal, I freeze them to use in an açaí bowl or this blueberry smoothie, and my husband loves them in this chocolate protein shake.
If we have any leftovers at the end of the week, my kids beg for a baked banana treat. They'll usually request these banana cupcakes, but after I made this bread a few weeks ago, they've consistently asked for it. Score!
This bread is packed with good ingredients — protein from the eggs and Greek yogurt, vitamins and nutrients from the bananas, a boost in good cholesterol and energy from the coconut oil, and antioxidants from the honey.
Below I'll share how easy it is to make this bread (only one bowl!) and then share some tips and variation ideas. Skip to the end for how to store this bread and the full recipe!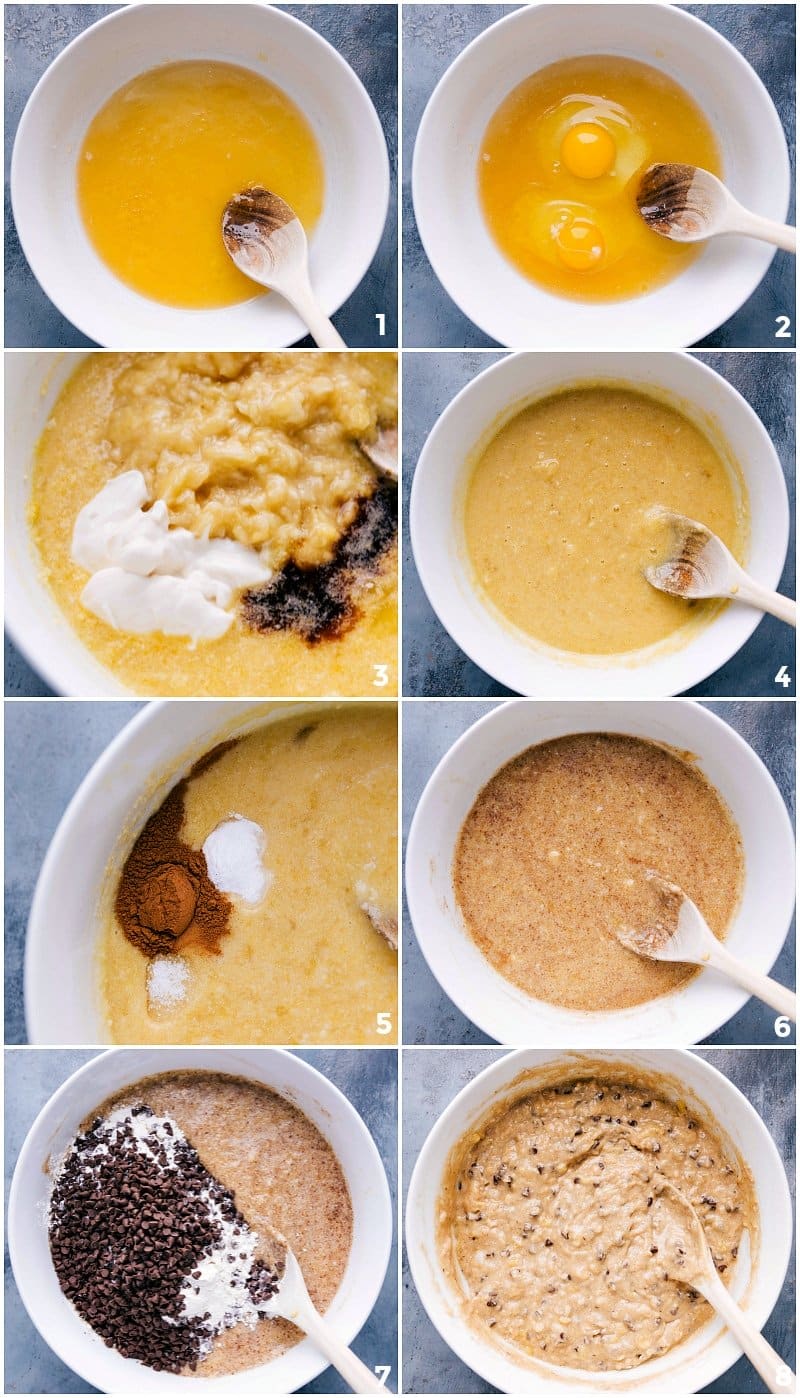 How to make Healthy Banana Bread
The descriptions below correlate with the photo collage above this text.
Whisk together honey and coconut oil. The coconut oil needs to be melted, but not hot or it will clump. Melt the coconut oil and allow it to cool before adding to the honey. If the coconut oil ever does solidify and begin clump, microwave the bowl for about 10 seconds or let the bowl stand in a warm place for a few minutes (such as on top of the oven).
Stir in the eggs. Make sure to use large eggs, not medium or jumbo.
Add in the yogurt, mashed banana, and vanilla extract. Use a good, full-fat yogurt for best flavor and texture. I highly recommend Greek God's® honey vanilla yogurt in Healthy Banana Bread (not sponsored).
Stir. Mix until wet ingredients are combined and smooth.
Add in cinnamon, salt, and baking soda. To keep this bread easy, we only use one bowl and add the dry ingredients in stages, beginning with these three ingredients.
Stir until incorporated. We want to make sure those three ingredients are very evenly dispersed.
Add in flour and chocolate chips. If you want to add in chocolate chips or nuts (it's optional), add them right on top of the flour and gently toss them to coat in the flour before mixing into the batter. This helps ensure an even dispersion of chocolate chips so they don't all sink to the bottom. I highly recommend miniature chocolate chips and if using regular-sized ones, you'll want to toss them in flour separately before adding them to the batter.
Stir. Gently stir everything together until all ingredients are incorporated; avoid over-mixing. Transfer the batter to a pan and bake.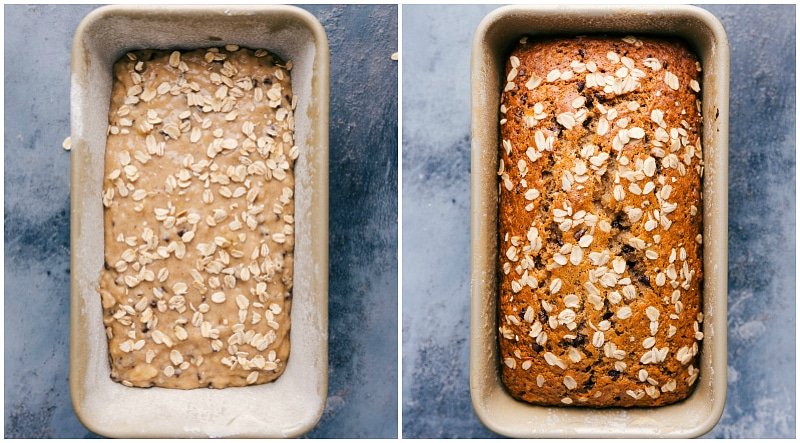 Tips
Use very ripe bananas. The riper the banana, the sweeter and more moist the bread. I wait until my bananas are pretty much brown all over.
Avoid low-fat Greek yogurt. Use a good, flavorful, full-fat yogurt for best flavor.
Don't over-mix. If you over mix too much, you'll end up with a dense loaf of Healthy Banana Bread. Mix until ingredients are just combined.
Generously grease bread pan. I like to grease the bread pan with nonstick spray and then lightly dust with flour. Wait about 10 minutes after baking to invert it on to a cooling rack.
Mash bananas thoroughly (and quickly). To make sure the banana is mashed really well and you don't end up with big chunks of banana, mash the ripe bananas with a hand or stand mixer. Peel the bananas, break them in large chunks, and beat them with the mixer until well mashed.
Healthy Banana Bread add-ins
Miniature chocolate chips: To keep things on the healthy side, I'd recommend adding miniature dark chocolate chips. Dark chocolate has healthy fats and lots of antioxidants.
Chopped nuts: Chopped walnuts or pecans would be great in this bread; chop into small pieces and toss with the flour before adding to the batter.
Raisins: Regular raisins, golden raisins, dried cherries, or dried cranberries would all be delicious. Again, toss with flour before adding to the batter.
Spiced banana bread: Leave out the add-ins and amp up the spices. Add 1/4 teaspoon nutmeg to this batter or give it a fun flavor twist by adding a teaspoon or two of pumpkin pie spice or apple pie spice.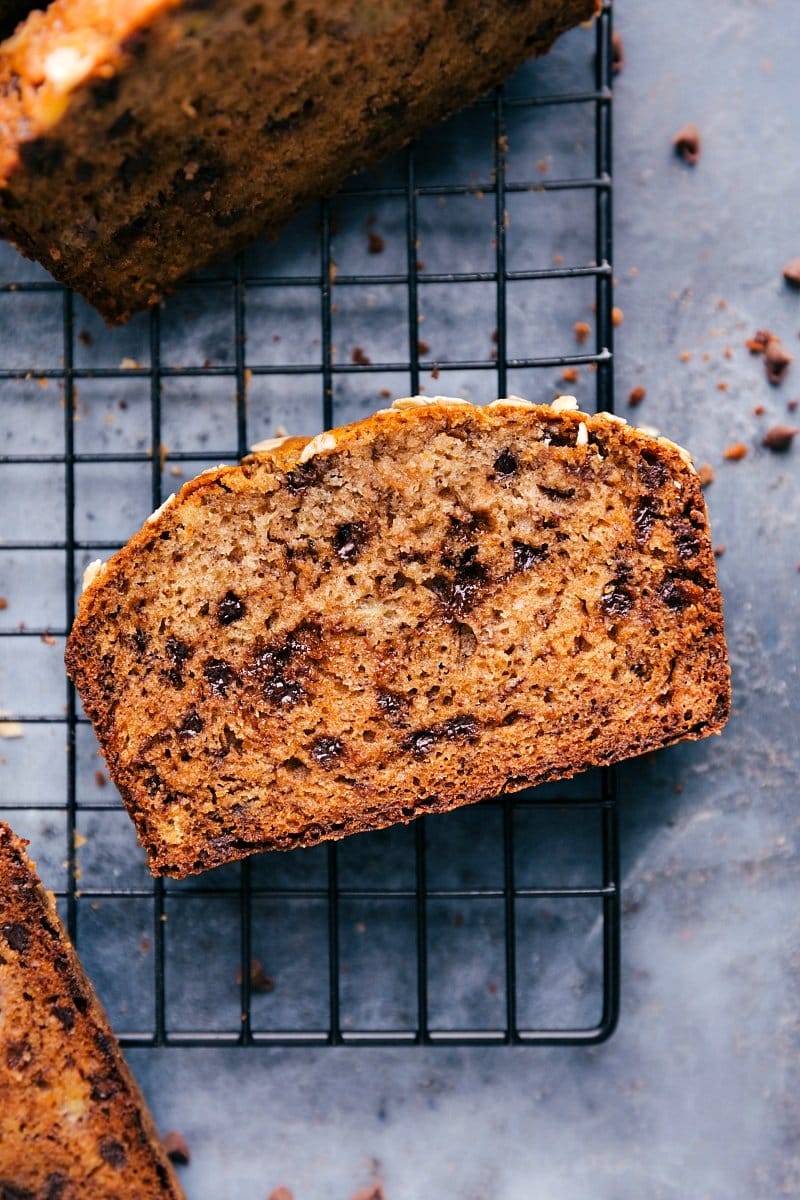 Storage Notes
Can I freeze this banana bread?
Yes! Freeze the freshest bread you have. If you just baked it, allow the bread to cool completely before freezing to avoid soggy bread or mold.
To freeze: Freeze individual slices of bread, completely wrapped in plastic wrap and then stored in a large freezer safe bag or container. Bread freezes safely for 3 months. Individual slices of this healthy banana bread defrost at room temperature in under 10 minutes and take slightly longer to defrost in the refrigerator.
How long will Healthy Banana Bread last?
Bread will stay fresh 2-3 days in the fridge (wrapped tightly and stored in an airtight container). After 3-4 days, this bread is more prone to molding because of how moist the bread is.
Do I need to refrigerate Healthy Banana Bread?
After 1 day at room temperature, I recommend wrapping individual slices and refrigerating it. Warm individual slices in the microwave for 10-15 seconds.
More healthy recipes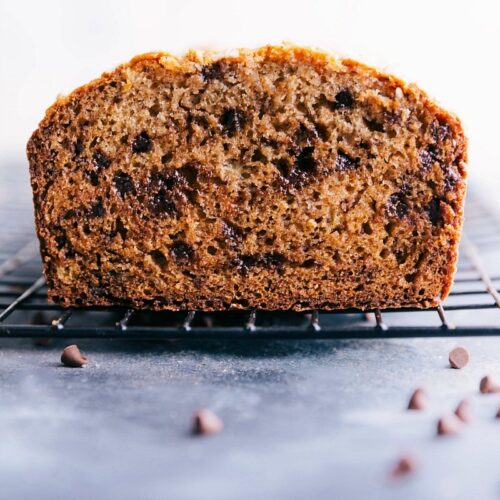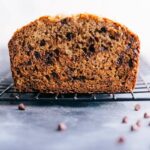 Healthy Banana Bread
Healthy Banana Bread is filled with good-for-you ingredients. This recipe uses everyday ingredients and does not have any refined sugars or butter.
Course:
Breakfast, Dessert, Snack
Keyword:
healthy banana bread
Ingredients
1/3

cup

melted coconut oil

1/2

cup (185g)

honey

2

large

eggs

1

packed cup (245g)

mashed very ripe bananas (~2 large bananas)

1/4

cup (53g)

full fat honey vanilla Greek yogurt

(I recommend Greek Gods)

1 and 1/2

teaspoons

vanilla extract

3/4

teaspoon

fine salt

1

teaspoon

ground cinnamon

1

teaspoon

baking soda

1 and 3/4

cups (220g)

white, all-purpose flour

3/4

cup (115g)

mini chocolate chips,

optional

1

tablespoon

old fashioned oats,

optional
Instructions
PREP: Preheat the oven to 325 degrees F. Generously grease a 9x5-inch bread pan and lightly dust with flour. Tap off excess flour over the sink and set the prepared pan aside .

WET INGREDIENTS: In a large bowl, whisk together the 1/3 cup coconut oil and 1/2 cup honey. Add in the 2 large eggs and whisk until smooth. In a separate bowl, mash the bananas with a fork until well mashed and broken down (Note 1). Pack mashed bananas into a 1-cup measuring cup and level the top. Add to the wet ingredients along with the 1/4 cup Greek yogurt, and 1 and 1/2 teaspoons vanilla extract. Whisk until smooth and combined.

DRY INGREDIENTS: On top of the wet ingredients, add the 3/4 teaspoon salt, 1 teaspoon cinnamon, and 1 teaspoon baking soda. Stir. Add in the 1 and 3/4 cup flour and the 3/4 cup miniature chocolate chips (if using) right on top of the flour. With a wooden spoon, gently stir the chocolate chips to get coated with the flour and then mix the flour into the rest of the ingredients. Do not over-mix; stop as soon as the flour is fully incorporated.

BAKE: Using a spatula, scrape all the batter into the prepared 9x5-inch pan. Bake in the fully preheated oven for 50-65 minutes or until very lightly browned on the edges and a toothpick comes out clean (or with few moist crumbs) from the center of the pan.

COOL: Allow to cool in the pan for 10 minutes and then invert onto a cooling rack. When fully cool, cut into slices and enjoy. Store leftovers in an airtight container in the fridge for 2-3 days. Enjoy slices warmed in the microwave for 10-15 seconds. Bread freezes and thaws well.
Recipe Notes
Note 1: To quickly and thoroughly mash bananas, remove the peels, break into a few pieces, and then beat them in a stand mixer or with hand mixers until well mashed.
Note 2: While this recipe contains no added sugar, if you add chocolate chips to the batter, keep in mind that they contain sugar.
How many calories are in this healthy banana bread recipe?
139 calories per slice. While not super low calorie, remember most of the ingredients are REAL foods that are good for your body. It's also a lot less than the typical 500-600 calories per slice of some banana breads.