These incredible buttermilk banana pancakes are bursting with banana flavor and cooked to perfection! They're light, fluffy, and flavorful.
Pair these banana pancakes with our favorite ham and cheese quiche! Top the pancakes with whipped cream, maple syrup (or this vanilla sauce), and a few extra banana slices!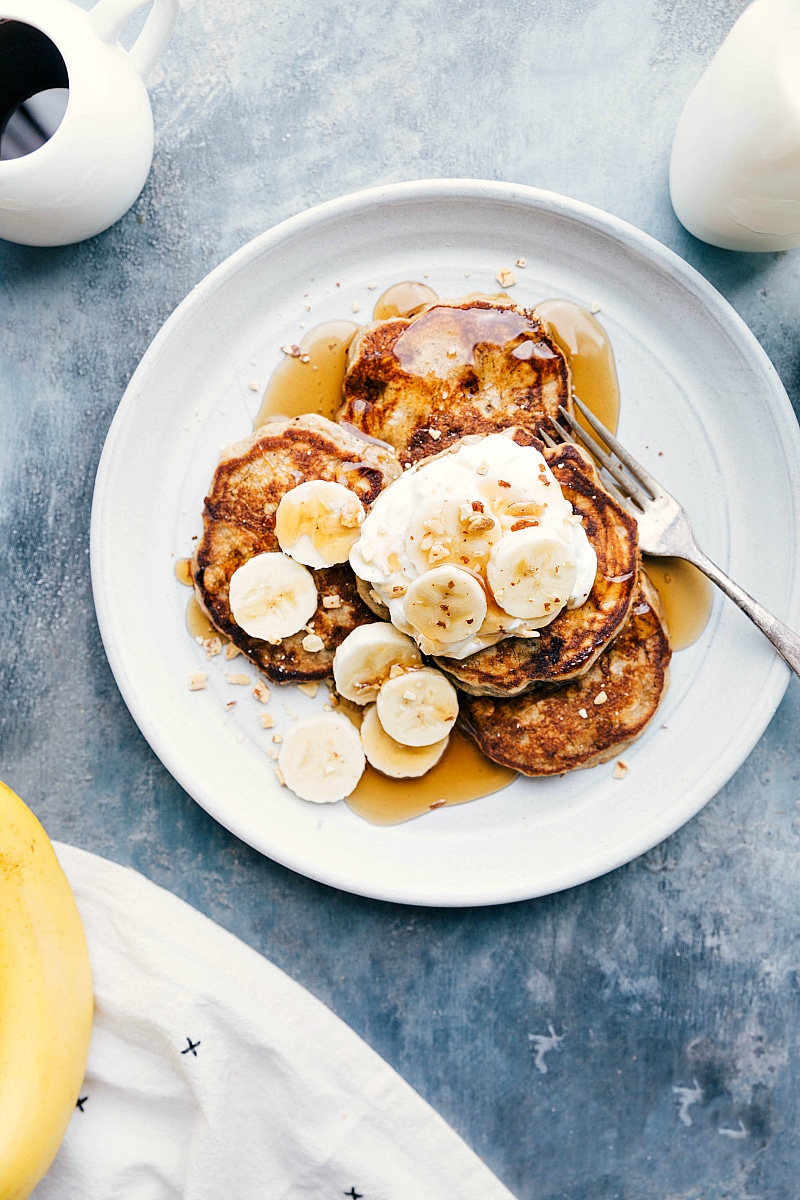 Last week I had some overly ripe bananas laying around. While my initial thought was to make some chocolate banana muffins I decided it was time to work through a recipe for banana pancakes.
It's no secret that we are obsessed with pancakes at my house (and all things breakfast food), so I'm glad to have this recipe in my arsenal now. Banana pancakes are a great way to use overripe bananas!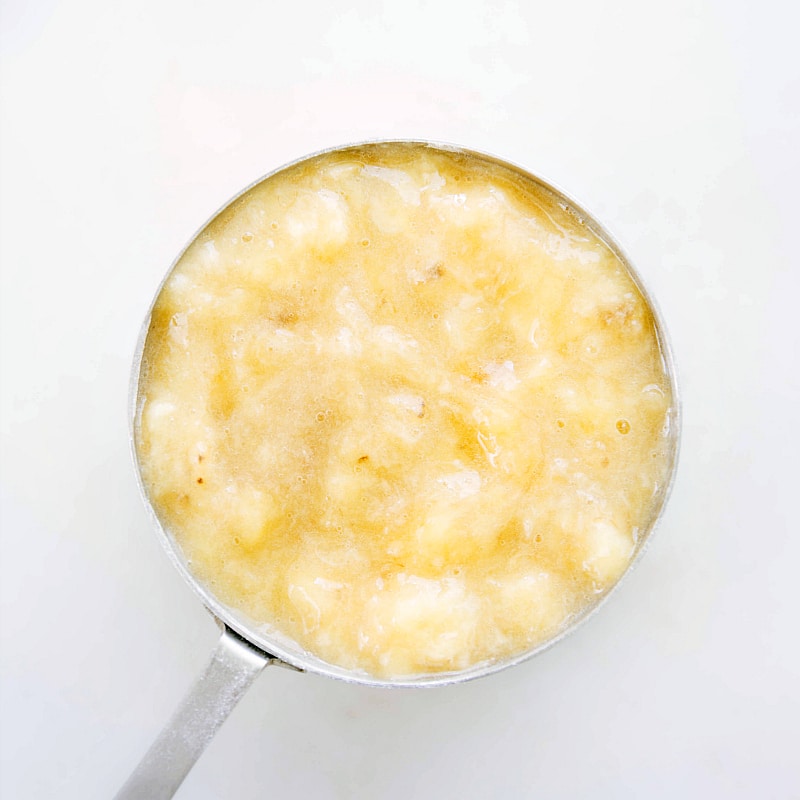 Can you eat overripe bananas?
While overripe bananas don't always look as appetizing, the banana is still good. In fact, a ripe banana has several health benefits. They are rich in antioxidants which are helpful in delaying or preventing cell damage in your body.
And if the aesthetic of overripe bananas are just too hard to get past then use your extra overripe bananas in these banana pancakes or in some of the ideas below!
What to do with bananas about to go bad?
Make banana pancakes of course! Some other ideas:
Banana pancakes ingredients
Dry ingredients

Flour
White sugar
Baking powder make sure your baking powder is fresh!
Salt to intensify and balance flavors
Ground cinnamon this ingredient is optional, but adds a really nice complementing flavor to the bananas

Wet ingredients

Buttermilk if you use a "DIY buttermilk" these pancakes will be less fluffy but still work. Here's how to DIY your buttermilk.
Egg make sure to use a large egg that has been slightly beaten before adding
Butter
Vanilla
Overripe bananas the more ripe the bananas, the better and sweeter these pancakes will be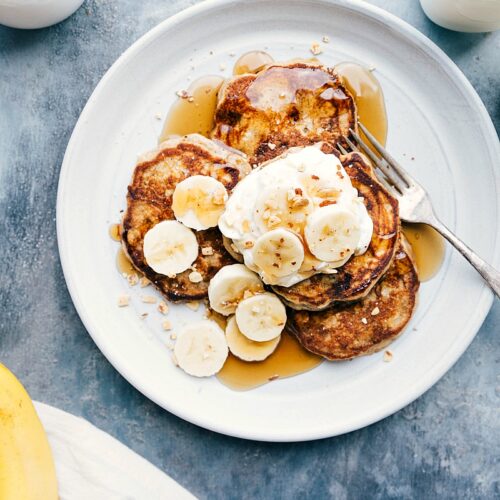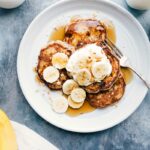 Banana Pancakes
Incredible buttermilk pancakes bursting with banana and cooked to perfection! These banana pancakes are light and fluffy and perfect with syrup and fresh berries.
Ingredients
3

tablespoons

unsalted butter,

melted and cooled

1

cup

mashed overripe bananas

(~2-3 bananas)

1

cup

full-fat buttermilk

1

large

egg,

lightly beaten

2

tablespoons

white sugar

1

teaspoon

vanilla extract

1 and 1/2

cups

white all purpose flour

2 and 1/2

teaspoons

baking powder

1/2

teaspoon

fine sea salt

(if using table salt or sensitive to salt, reduce to 1/4 teaspoon)

1/2

teaspoon

ground cinnamon

(optional)

Serve with: sliced ripe bananas, pure maple syrup, whipped cream, crushed nuts, etc.
Instructions
BUTTER: Heat the oven to 200 degrees F and prepare a large baking sheet by setting a cooling rack on top of the tray. Place both in the oven. Start by melting the butter and then setting in the fridge or aside at room temperature to cool. It should be at room temperature before adding to the wet ingredients.

WET: In a small bowl add the bananas. Mash completely with a fork or beat with hand mixers until smooth. Measure and confirm you have exactly 1 level cup. Add back to bowl. Add buttermilk, lightly beaten egg, white sugar, and vanilla extract. Stir until combined. Once the butter is cooled to room temperature, drizzle into the other wet ingredients while stirring constantly until ingredients are combined.

DRY: In another medium size bowl, add the flour, baking powder, salt, and cinnamon. Whisk until combined. Make a well in the dry ingredients. Pour the wet ingredients into the well. Mix ingredients until JUST barely combined and no flour streaks remain. Do not overmix! If you have the time, let batter stand at room temperature for 5-10 minutes.

COOK: Heat a large skillet or griddle over medium-high heat (~300 degrees F). When hot, run the cold stick of remaining 3 tablespoons butter across the skillet/griddle (I like to hold butter with tongs to keep the heat away from my fingers). Lower the heat to medium-low and use a 1/4 cup measuring cup to scoop and drop pancake batter onto the skillet or griddle. Cook until surface of pancakes are firm underneath with some bubbles on the surface, about 1 to 2 minutes. Gently flip with a spatula and cook until browned on the other side, about 1 to 2 minutes more. Continue making pancakes until the batter is gone. (If the pancake or butter is burning, lower the heat.) Wipe griddle or skillet in between batches of pancakes with a paper towel or napkin (you don't want burned butter pancakes)

COOK CONT.: As soon as you pull a pancake off the skillet/griddle place on the prepared pan with the cooling rack (the cooling rack keeps pancakes from getting soggy underneath!). Place the pan in the oven as you continue to cook more pancakes.

SERVE: Serve pancakes as soon as possible topped with an extra pat of butter (optional) and your favorite syrup -- maple syrup is our favorite. Add a few extra slices of bananas, whipped cream, crushed almonds or walnuts, or whatever you'd like on your banana pancakes!