No baking required for this Healthy Fruit Tart! The tart shells are filled with vanilla Greek yogurt and topped with fresh fruit for a healthy, flavorful breakfast or snack.
Pair these healthy fruit tarts with these breakfast potatoes or a scrambled egg skillet.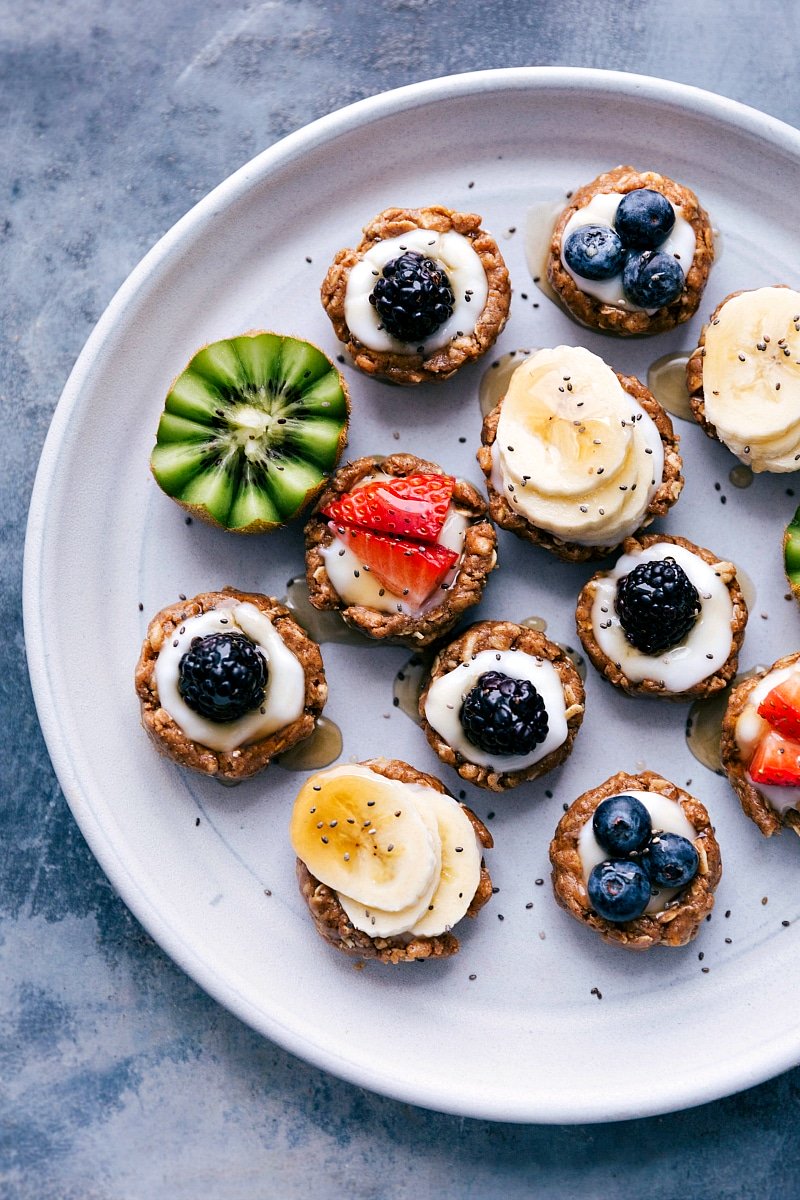 Healthy Fruit Tarts
A sugar cookie bottomed fruit tart topped with fresh berries is one of my family's favorite treats. And while my kids try to convince me they can eat those tarts for breakfast ("There's fruit on them, Mom!"), I've yet to be persuaded. What I did decide though, was it's time for a healthier fruit tart — one that can be enjoyed for breakfast.
I took my recipe for these healthy breakfast cookies and changed it slightly to make the base for Healthy Fruit Tarts. The centers are filled with Greek yogurt and topped with whatever fresh fruit you have on hand. To make them super pretty, add a small drizzle of pure maple syrup, honey, or agave nectar.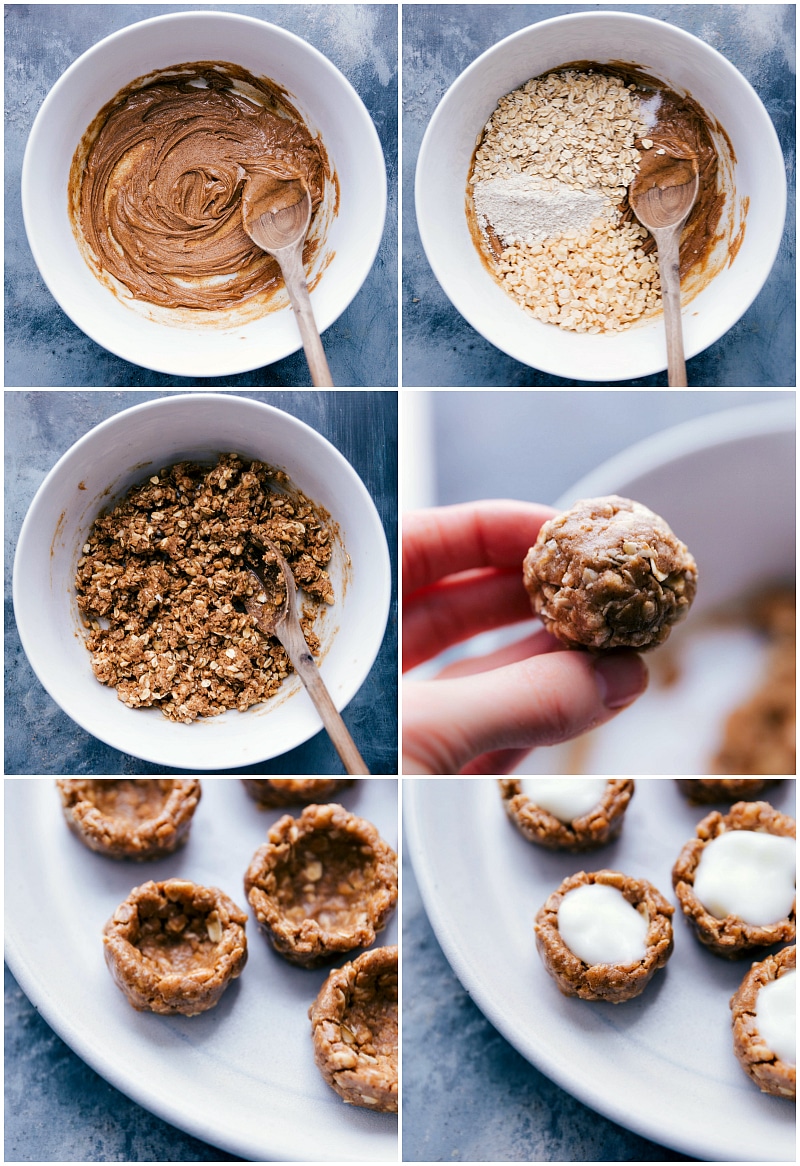 Ingredients
Creamy almond butter: This recipe was tested using Justin's® almond butter (not sponsored). Some brands are more oily and some are drier; make sure to stir up the almond butter well before using.
Honey: It's needed for consistency and to sweeten the tart shells.
Vanilla extract: This enhances the flavor of these Healthy Fruit Tarts.
Salt: this ingredient enhances flavors and balances the sweetness of the honey.
Rice Krispie® cereal: Just a little bit of this cereal adds a nice crunch to the tart shells and bulks them up without adding a lot of calories.
Oat flour:No need to buy specialty flour for this recipe; I make oat flour by blending regular old fashioned oats in a blender (or pulse in a food processor). You'll have oat flour in a minute or less.
Old fashioned oats: Make sure to get old fashioned, not quick or steel cut oats. Not sure of the difference? Read up here!
How to fill Healthy Fruit Tarts
Greek yogurt: Once the tart shells are made, the center is filled with Greek yogurt. I highly recommend Greek God's® honey vanilla yogurt (not sponsored), it is the best in these tart shells! I also like Yoplait® Whips coconut creme yogurt (again, not sponsored).
Berries: Our favorite fruit is fresh berries! Raspberries, sliced strawberries, blackberries, blueberries are all wonderful ways to top Healthy Fruit Tarts.
Banana: Thinly sliced bananas are another favorite topping.
Other fruit: Other fruits we've tried and loved include thinly sliced kiwi, fresh chopped apricots, and thinly sliced peaches.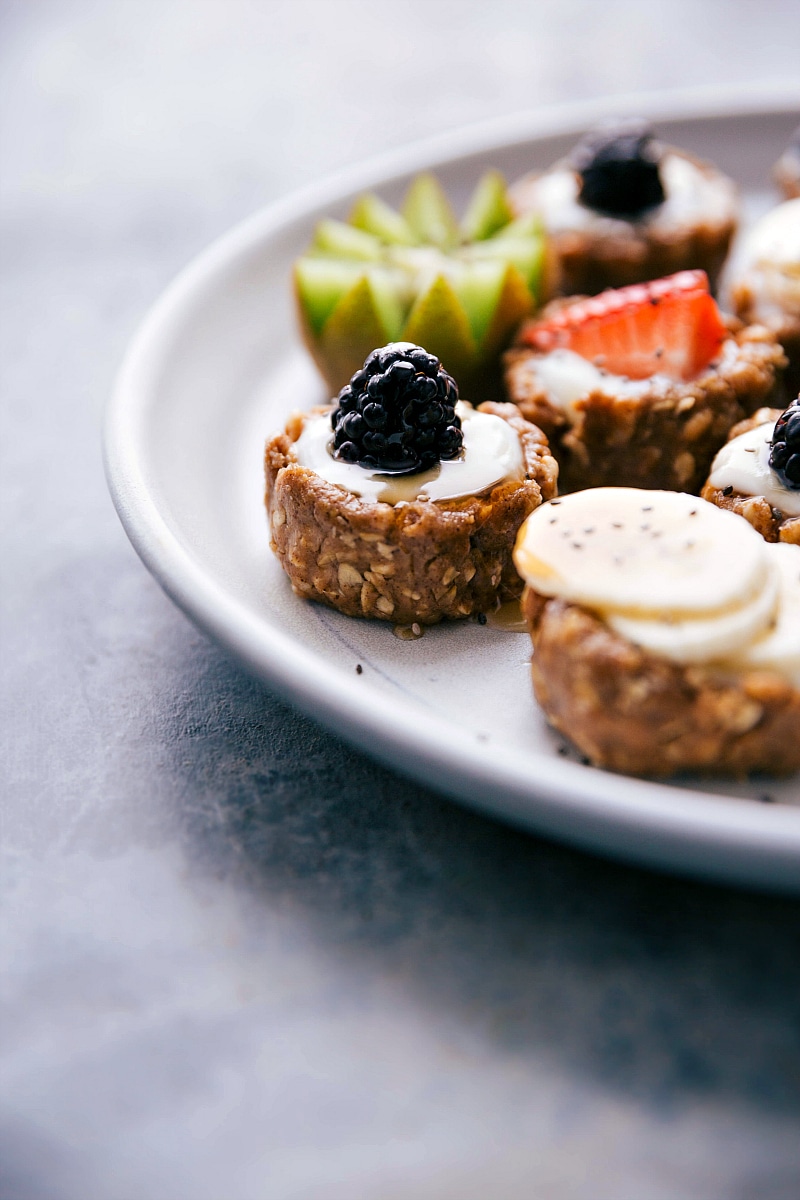 Quick tips
To avoid overflowing yogurt: fill the tart shells about 3/4th full; when you add berries on top, the yogurt spreads.
Almond butter varies: The almond butter makes this recipe a little bit tricky; because almond butters vary so much (some are more oily/wet than others),you may have to modify the mixture. If the mixture is too wet or sticky, add a little more out flour and if it's too dry, add a little more honey or almond butter.
More healthy recipes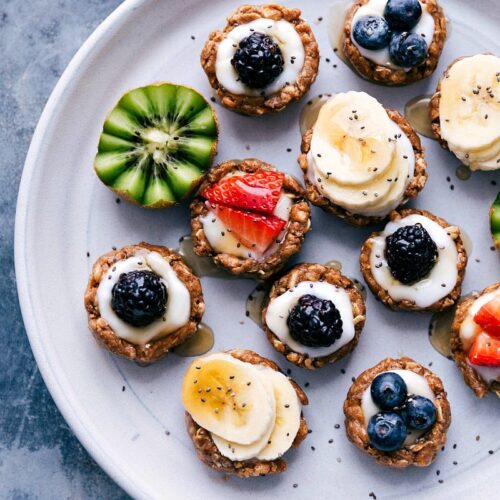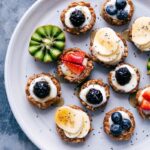 Healthy Fruit Tarts
No baking required for Halthy Fruit Tarts! The tart shells are filled with vanilla Greek yogurt and topped with fresh fruit for a healthy and flavorful breakfast or snack.
Course:
Breakfast, Dessert, Snack
Keyword:
healthy fruit tart, healthy fruit tart recipe
Ingredients
1/2

cup + 1 tablespoon (143g)

Justin's Creamy Almond Butter

Note 1

1/4

cup (85g)

honey

1

teaspoon

vanilla extract

1/8

teaspoon

fine sea salt

1/2

cup (18g)

Rice Krispies cereal

1/4

cup (29g)

oat flour

(old fashioned oats that have been blended in the blender)

1/2

cup (50g)

old-fashioned oats

(not quick oats, rolled oats, or steel cut)

Vanilla or flavored Greek yogurt

(I recommend Greek God's Honey Vanilla yogurt)

Fresh fruit such as raspberries, strawberries, blackberries, kiwi, banana, etc.

chopped or thinly sliced if needed
Instructions
WET INGREDIENTS: In a small bowl, stir together the 1/2 cup + 1 tablespoon almond butter and 1/4 cup honey. Add the 1 teaspoon vanilla extract and 1/8 teaspoon fine sea salt. Stir until smooth.

OAT FLOUR: Add old fashioned oats to a blender or food processor. Pulse or blend until the oats resemble flour with no big chunks of oats. Remove from the blender and measure (measure AFTER being blended).

DRY INGREDIENTS: Add the 1/2 cup Rice Krispies cereal, 1/4 cup oat flour, and 1/2 cup old fashioned oats to the wet ingredients. Gently stir until combined and let stand to absorb the liquid and soften the oats for about 5-10 minutes. While it's sitting, begin prepping the fruit by washing and thoroughly drying(slice or chop as needed).

FINISH TART SHELLS: If the mixture is too wet, add in some more oat flour and if it's too dry, add a bit more almond butter or honey. Form balls with the dough, compressing the dough in your hand tightly. Once you have a ball shape, press your thumb in the middle of the ball and then gently form a tart shell by pinching the edges of the shell. Place shells on a plate or tray lined with parchment (they'll stick a little without the parchment paper).

FINISH: Fill tart shells up 3/4th full with vanilla flavored Greek yogurt or your preferred yogurt and then add berries or fresh fruit on top. If desired, drizzle a little extra honey, agave nectar, or pure maples syrup on top. Enjoy immediately.

STORAGE: These tart shells don't store well once filled with yogurt; the yogurt instantly begins to soften them. The tart shells store well without yogurt; keep them in an airtight container in the fridge. Unfilled shells will stay good for 5-7 days.
Recipe Notes
Note 1: tested this recipe with a creamy store-bought almond butter (Justin's Almond Butter) and a natural homemade almond butter. The two are very different and not all almond butters are created equally. If not using Justin's, you may needed to add more oat flour if the tarts are too wet or more honey if they are too dry.
These calories only take into account the actual base of the fruit tart as the fillings (yogurt, fruit, etc) will vary.