This is the best healthy zucchini bread — it's packed with flavor and made with tons of healthy ingredient swaps. This healthy zucchini bread with yogurt can be made with or without chocolate chips and/or nuts!
After you've tried this healthy zucchini bread, you're going to want this healthy banana bread, healthy pumpkin bread, and healthy lemon zucchini bread next! Or if you're a big chocolate fan, you'll want to also try my Healthy Chocolate Zucchini Bread recipe.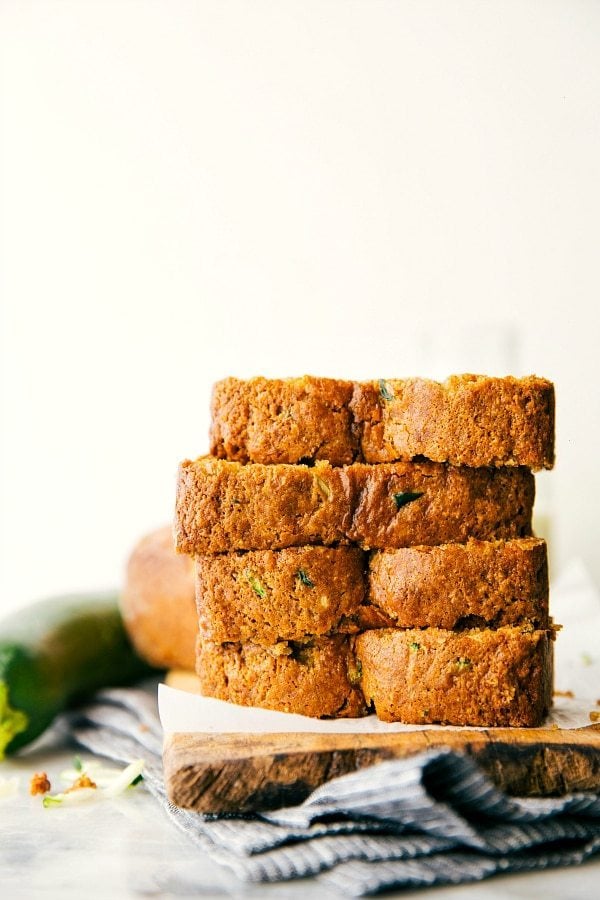 Healthy Zucchini Bread
Zucchini bread has always been a favorite of mine. I love it so much that we even served it at our wedding. My mom, sisters, and I spent days making zucchini bread in miniature bread tins and then freezing it for the big day!
My mom has a zucchini bread recipe that is pretty much famous. People ask her for it all the time and the husband goes nuts over it every time I make it. I shared that zucchini bread here. However, if you look at that recipe you may notice that it is purely a dessert called a bread. It's packed with sugars and oil and the only health-wise redeeming factor of it is the actual zucchini. Not that there is anything necessarily wrong with that because it is one of my favorite desserts ever and I will continue to make that every single summer! But that bread is a dessert. And as a dessert, it's not something I want to eat everyday. But this bread? It's aimed towards being a bread you won't feel bad about eating for breakfast or snacking on all throughout zucchini season.
I am so excited for you to try this healthy zucchini bread because it is so tasty, but also it's such a healthier zucchini bread recipe.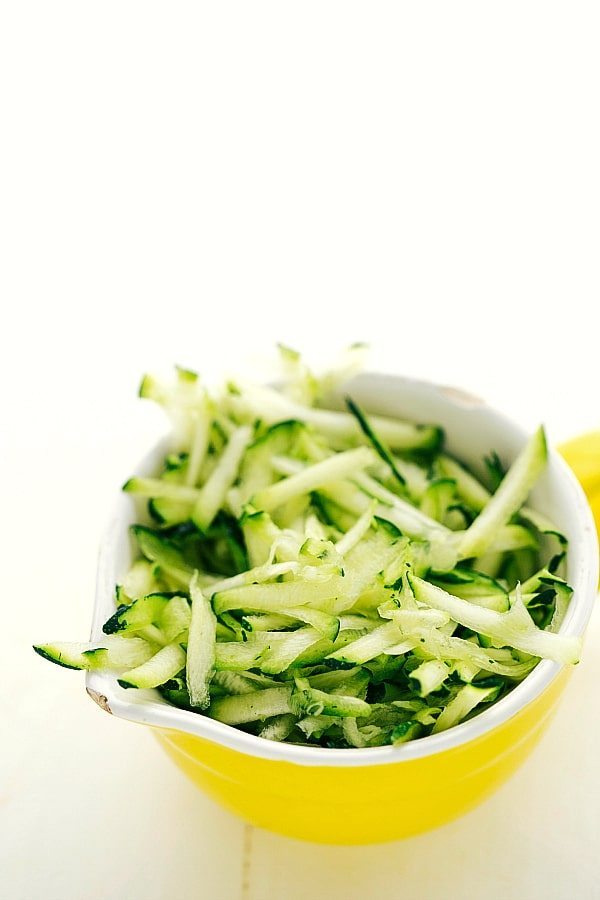 Do you have to peel zucchini for zucchini bread?
No, you do not need to peel the zucchini! The skin adds to the texture of the bread, and once cooked into the zucchini bread, you won't be able to taste it.
How do I cut zucchini for bread?
Use a regular sized cheese grater to grate the zucchini. If using a large zucchini, you may want to first cut the zucchini in half horizontally.
How many cups of zucchini do you need for zucchini bread?
This easy healthy zucchini bread recipe calls for one cup of shredded zucchini. One medium zucchini should make approximately one cup of shredded zucchini.

Tips for how to make the BEST healthy zucchini bread
Use organic eggs – The large organic eggs are slightly larger than "regular" large eggs. The larger egg is going to make this bread even more moist. Also if you ever compare an organic egg yolk to a regular egg yolk, the yellows are very different in color. The yellower, organic egg yolk is going to make this bread more flavorful. I've tried both eggs and taste testers can tell a difference!
Use a ripe banana – the mashed-up banana in this recipe helps with binding the bread as well as the sweetness. The riper your banana is, the sweeter the result will be. Mash them up really well and you shouldn't be able to taste the banana at all in this recipe.
Can I make this zucchini bread into muffins?
Healthy zucchini bread muffins make a delicious, fun breakfast and snack. While this particular recipe doesn't convert perfectly to muffins, I have created a similar recipe that makes the perfect healthy muffins. Click here to try my Healthy Zucchini Muffins.
How healthy is zucchini bread?
I've been asked several times, "Is zucchini bread good for you?" Traditional zucchini bread is not typically healthy, as it generally has a lot of sugar and unhealthy oils, and is more of a dessert than a breakfast/healthy snack. This moist healthy zucchini bread recipe takes out a lot of these unhealthy ingredients and replaces them with good-for-you ingredients including Greek yogurt, banana, oat flour, and coconut oil, making it a much healthier bread that you don't have to feel guilty about enjoying!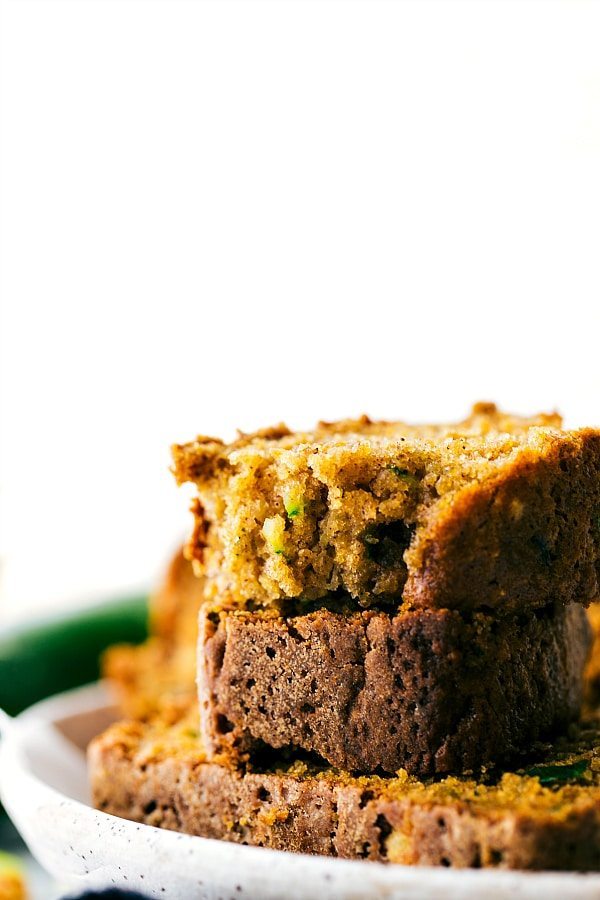 How can I freeze zucchini bread?
Let the zucchini bread cool completely.
Wrap the uncut loaf with plastic wrap and place into a freezer bag.
For best quality, consume within 2 months.
You can also freeze shredded zucchini in a freezer bag so you have zucchini on hand whenever you want to make this easy healthy zucchini bread recipe!
How long does zucchini bread last?
Stored at room temperature, zucchini bread should stay fresh for 1-2 days. Stored in the fridge, it should remain good for up to a week. When stored in the freezer, it can remain fresh for up to two months.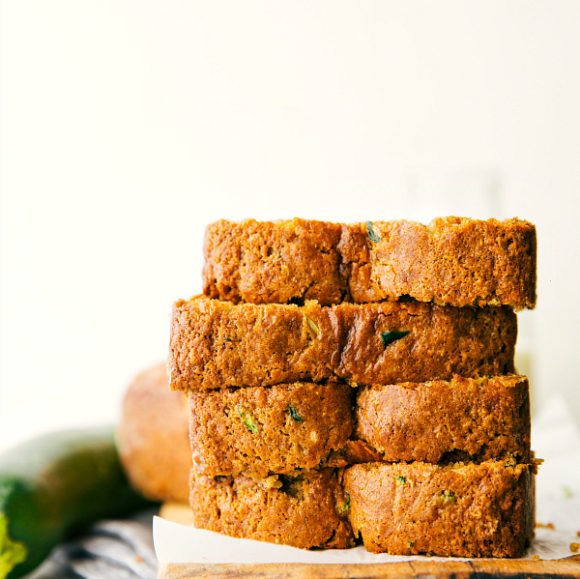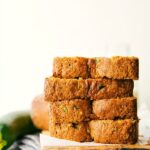 Healthy Greek Yogurt Zucchini Bread
This is the best healthy zucchini bread -- it's packed with flavor and made with tons of healthy ingredient swaps. This healthy zucchini bread with yogurt can be made with or without chocolate chips and/or nuts!
Keyword:
healthy zucchini bread
Ingredients
1/2

cup

vanilla Greek yogurt

1 and 1/2

teaspoons

vanilla extract

1

large egg

1/3

cup

coconut oil

2

tablespoons

honey

3

tablespoons

very ripe mashed banana

1/2

cup

lightly packed brown sugar

1/2

cup

oat flour

blended oats

1

cup

white flour

or use white-whole wheat

1

teaspoon

baking soda

1/4

teaspoon

salt

1

teaspoon

cinnamon

1

cup

lightly packed grated zucchini

1/2

cup

dark chocolate chips or chopped nuts,

optional
Instructions
Make sure you have thoroughly dried the zucchini to keep it from being too wet/watery in the finished bread. I do this using paper towels and squeezing the grated zucchini. (See video tutorial above this recipe)


Preheat the oven to 325 degrees F. Lightly grease and flour one bread pan and set aside. I use an 8 and 1/2 x 4 and 1/2 bread pan.


In a bowl, stir together the Greek yogurt, vanilla extract, 1 large egg, coconut oil (measured when melted), and honey.


In a small bowl, mash the banana really well. The banana is very important for binding of the bread and a healthier sweetener. The more ripe - the better.


Stir in the banana and brown sugar.


In a separate bowl, stir together the oat flour (measured AFTER blending. I used regular old fashioned or quick oats and quickly pulse them in a blender or food processor until they resemble flour. Then measure and add to the bowl), white or white-whole wheat flour, baking soda, salt, and cinnamon.


Add the dry to the wet and mix until just combined. Over-mixing will result in dense bread.


Stir in the grated zucchini and chocolate chips or nuts if desired.


Pour the mixture into the prepared pan and top with more chocolate chips if desired.


Bake for 40-50 minutes or until a toothpick when inserted into the center comes out clean and the bread has begun to slightly pull away from the sides. Barely under-cooking the bread will yield a softer and slightly denser bread. (I pulled mine out at 43 minutes.)


If needed tent some tin foil over the top to keep the top from over-cooking.

Recipe Video
Recipe Notes
I have a lot of explanations for the particular ingredients used throughout the text in this post. Before making substitutions (even "tried and true" ones) read the text or ask a question in the comment section. There are also some tips throughout the post that will help you make this bread!