The best banana cupcakes with an amazing cream cheese frosting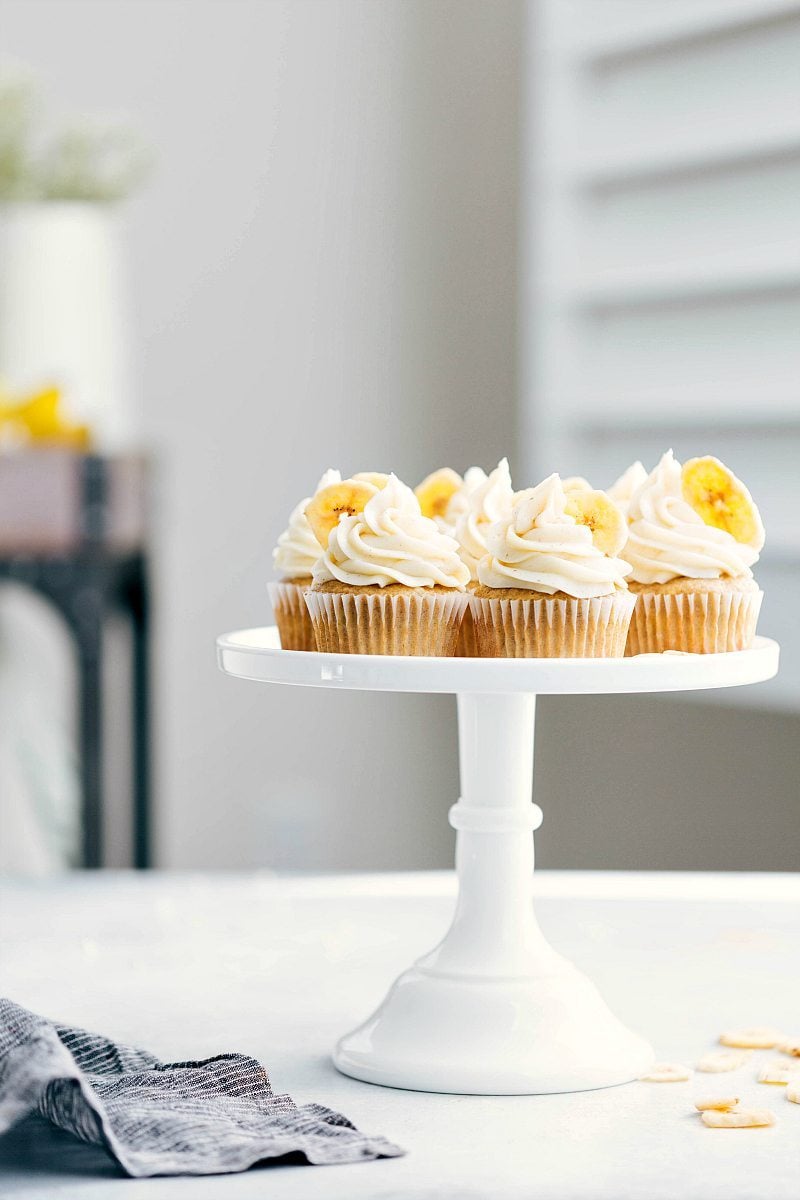 Pin these Banana Cupcakes with Cream Cheese Frosting
Banana Cupcakes
Bananas are one of the most frequent purchases I make at the grocery store because my whole family loves them. They make for such an easy (and healthy) snack and so I'm always encouraging my boys to eat one. We are usually pretty good about eating most of the bananas before they go bad, but every couple of weeks I've bought more than we finish and I end up with a bunch of overripe bananas. If I'm being honest, I think we try to always leave a few bananas to over-ripen so we can make something delicious. (Like this banana bread, these healthy chocolate banana muffins, this banana cake, or these banana crumb muffins)
But the last few months our project has been to use all those overripe bananas and perfect banana cupcakes. My toddler is the cupcake fanatic in our home – he could eat cupcakes for every single meal if I let him!
He also enjoys making them almost as much as he loves eating them and Bentley….well he's always there to sneak some bites: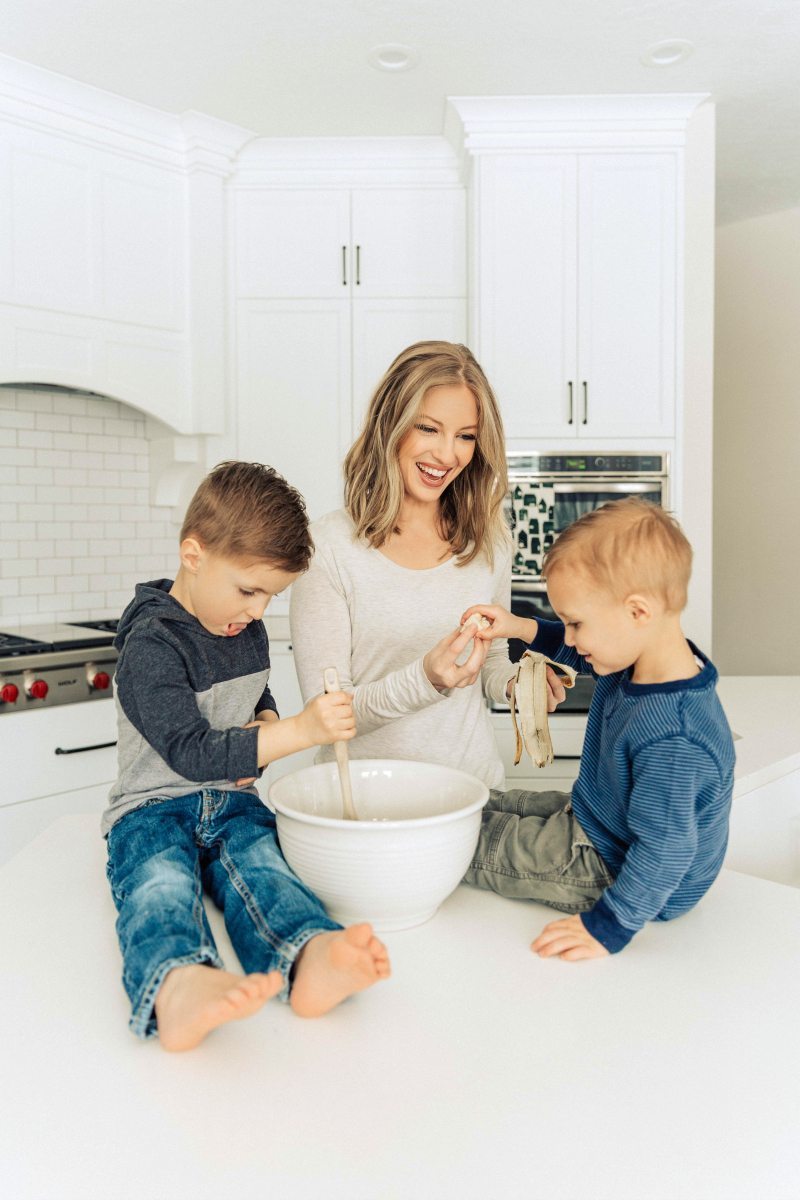 So let's break down these best ever banana cupcakes. First off:
How do you make super moist banana cupcakes?
Start with room temperature ingredients. It's important for the final texture of these cupcakes that all of your ingredients are room temperature. (That includes the butter and cream cheese for the frosting!) For the cupcake batter: Using room temperature eggs ensures that the eggs disperse more evenly into the batter giving these cupcakes a lighter texture (the eggs trap air). Soaking refrigerated eggs in a bowl of warm (not hot) water for about 10 minutes is a quick way to do this. Otherwise, pull the eggs out about 30 minutes before use.
Once you've got all of your ingredients together and at room temperature, these cupcakes come together quickly and you'll be amazed how easy they are to make! Start by mixing together the dry ingredients. When you measure the flour be sure to spoon and level the measuring cups so you aren't adding in too much or too little flour. Too much flour and you'll get dense cupcakes and too little flour and these cupcakes will likely sink and be too wet.
Next, combine the wet ingredients: You'll beat together the butter with both sugars and then beat in the banana, eggs, and vanilla. Once these wet ingredients are combined and smooth, you're ready to combine mixtures.
Alternate adding dry ingredients and buttermilk into the wet ingredients and beat everything together until JUST combined. If you over mix or beat the dry and wet ingredients you'll end up with dense cupcakes.
While the cupcakes are baking, you can whip together the cream cheese frosting which comes together in minutes. The best tip I can give for the perfect frosting: make sure the cream cheese and butter are both the same temperature (room temperature). They'll cream together nice and smooth giving your frosting the perfect foundation.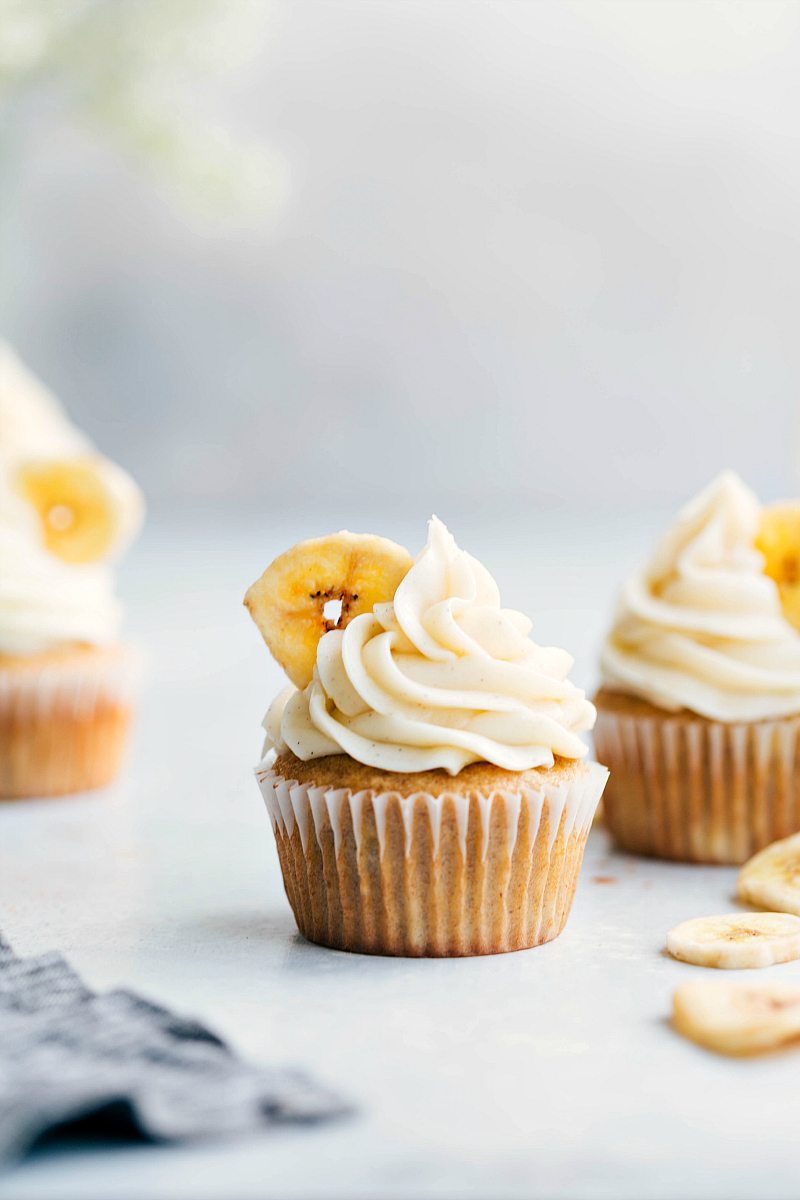 How long do you bake mini banana cupcakes?
If you want to make these banana cupcakes in a miniature muffin tin instead of a regular muffin tin, you'll want to make sure to still use paper liners and you'll bake them around 10-15 minutes. Check the cupcakes around 10 minutes. You can test for doneness by sticking a toothpick in the center of a cupcake. If it comes out clean they are done and if it comes out wet you can add a few minutes!
How do you store banana cupcakes?
Honesty these banana cupcakes (and the frosting) are even better the second day! The flavors from the banana and spices have intensified by day 2 so don't stress about having to make these the same day as an event! For any cupcakes that don't get eaten, store them in an airtight container in the fridge. These cupcakes are best within 3-4 days of being made.
Can you freeze banana cupcakes?
I always get this question so I finally put it to the test so I could give a definitive answer 🙂 These banana cupcakes freeze perfectly pre-frosting! You'll want to put the completely cooled cupcakes in a sealed (airtight) bag and then you can place them in the freezer. Unfortunately the frosting doesn't freeze well and already frosted cupcakes don't freeze well either. To thaw the cupcakes, place them in the fridge overnight and you'll have perfectly thawed banana cupcakes that are ready to frost the next day.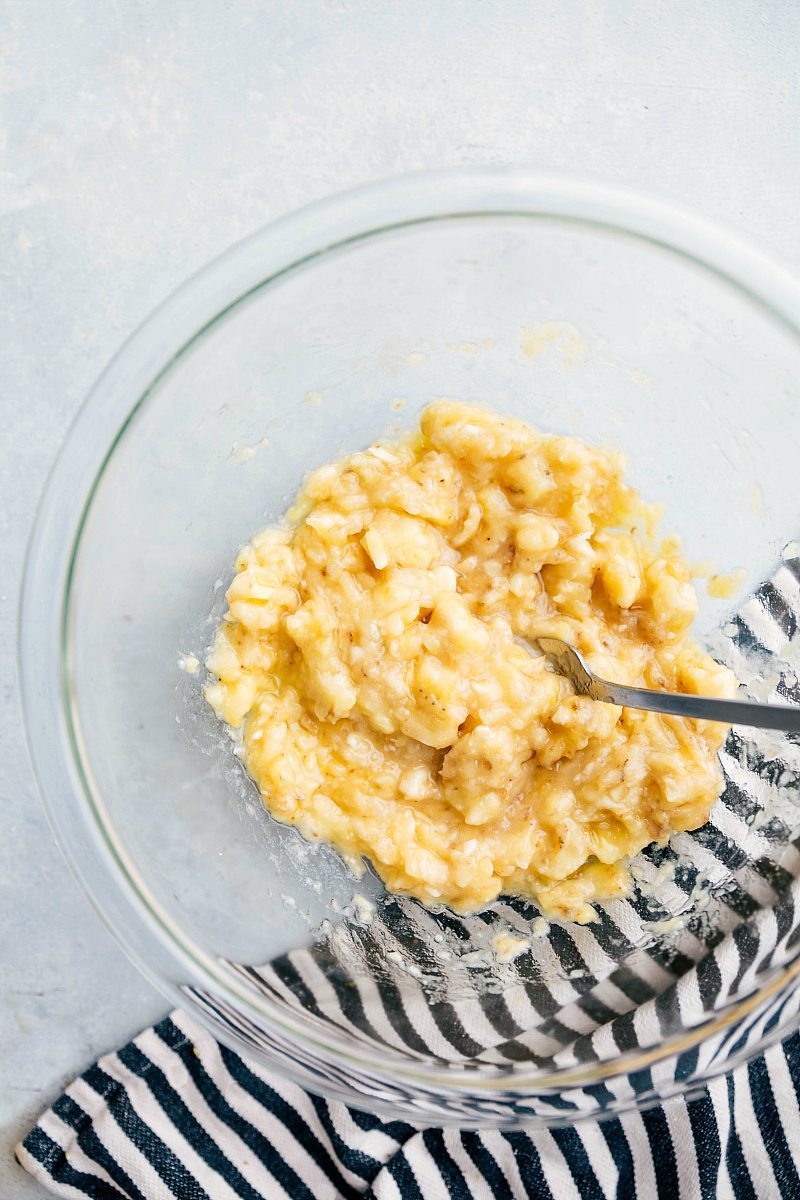 How many calories are in banana cupcakes?
I've included a full nutrition breakdown for these banana cupcakes below the recipe if you're interested. The total caloric amount for one cupcake is 210 calories. This does not include the frosting as that will change depending on how much frosting you use per cupcake. The frosting recipe below makes enough to add a sky-high amount of frosting to each cupcake (exactly what is pictured in these photos). If you want less frosting, cut the frosting recipe in half.
Can I make these banana cupcakes healthy?
These banana cupcakes are definitely a treat. If you are looking to make them healthier you can make them without frosting or use half the frosting recipe (and subsequently less frosting per cupcake). For a healthier banana treat, I'd suggest trying these muffins (they've got dozens of rave reviews and a reader favorite!)
What are some fun flavor variations I can add to these banana cupcakes?
Instead of the cream cheese frosting you can add a peanut butter frosting or a brown sugar buttercream to these cupcakes.

Peanut Butter Frosting:

1 cup unsalted butter (room temperature)
1 cup peanut butter (creamy, not chunky)
1 teaspoon vanilla extract
2 and 1/2 to 3 cups powdered sugar
1/4 teaspoon fine sea salt
1-3 tablespoons whole milk

In a large bowl, combine the peanut butter with room temperature butter and beat together in a stand mixer or with hand beaters until smooth and creamy. Add in the vanilla, powdered sugar, and salt. Beat together and slowly add in the milk until the frosting consistency is reached.

You can also add an ingredient to the batter of these cupcakes. I like banana cupcakes plain, but for those of you that like nuts with banana treats, you could add in some chopped walnuts to the batter. You could also add in miniature chocolate chips. If you add either I'd add about 3/4 a cup to this batter!
Alternatively, you could sprinkle some finely chopped nuts on top of the frosting of these cupcakes OR garnish with a banana chip like I've done in these photos!
How can you speed up the ripening process for bananas?
Want to make these cupcakes but you don't want to wait for your bananas to over-ripen? No problem -it's so easy to do this! Take some regular bananas, place them on a tray, and then bake them for 7-8 minutes in a pre-heated 350 degree F oven. The skins turn a nasty black and then you know they are ready (make sure the whole skin is black, flip the bananas if needed). Let the bananas cool and they are ready to be mashed for these banana cupcakes.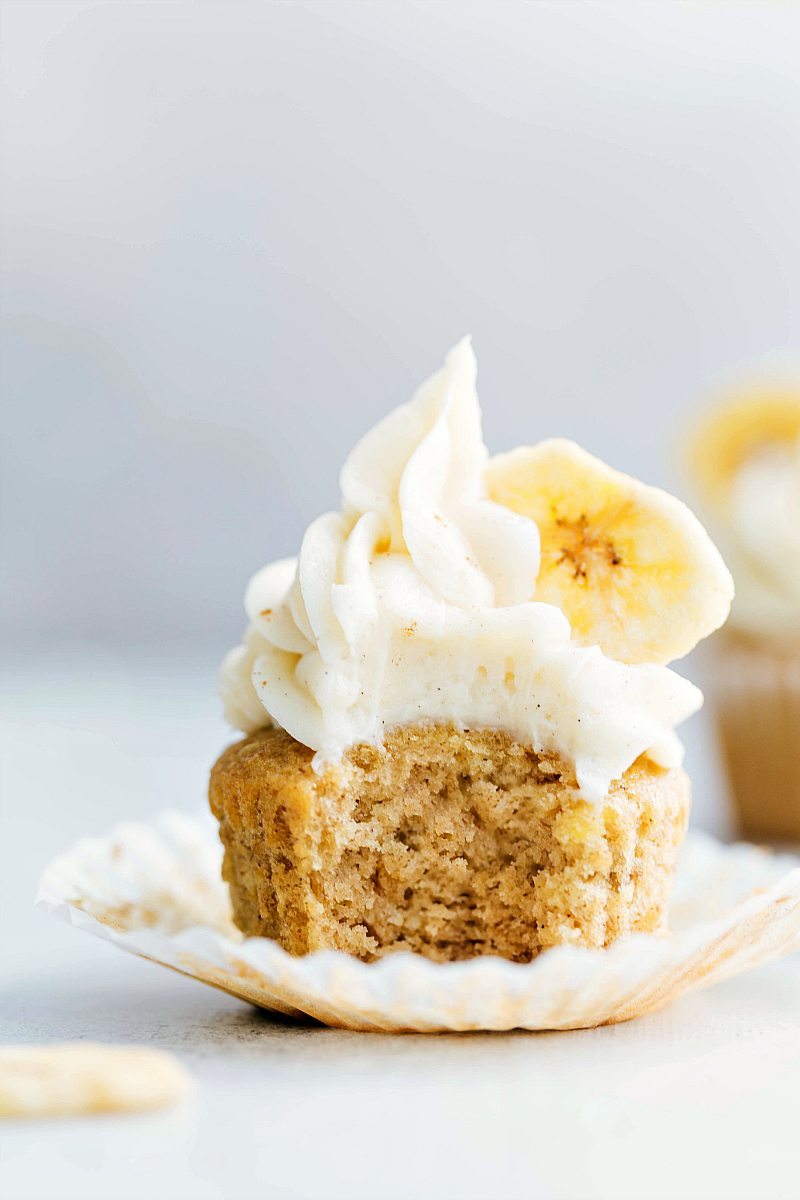 More Banana Treats: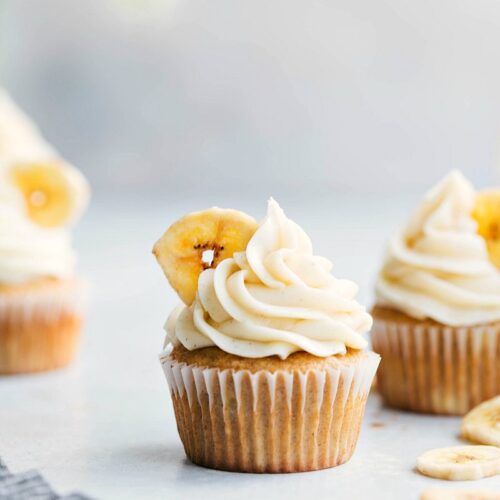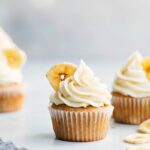 The BEST EVER Banana Cupcakes
The best banana cupcakes with an amazing cream cheese frosting

Ingredients
Banana Cupcakes
1 and 1/2

cups

flour

1/2

teaspoon

baking soda

3/4

teaspoon

baking powder

1/4

teaspoon

fine sea salt

1/2

teaspoon

ground cinnamon

1/8

teaspoon

ground nutmeg

6

tablespoons (1/4 cup + 2 tablespoons)

unsalted butter,

softened to room temperature

1/3

cup

light brown sugar,

packed

1/2

cup

granulated white sugar

2

overripe

bananas: measured to get 3/4 cup

1

large

egg

1

large

egg yolk

1

teaspoon

pure vanilla extract

3/4

cup

buttermilk

(or use plain milk + vinegar -- see notes)
Cream Cheese Frosting
1/2

cup

unsalted butter,

at room temperature

1

package (8 ounces)

full-fat cream cheese,

at room temperature (do not use low fat)

1/2

teaspoon

vanilla bean paste,

or use 1 teaspoon pure vanilla extract

1/8

teaspoon

fine sea salt

1/4

teaspoon

ground cinnamon

3

cups

powdered sugar

Optional: banana chips to garnish
Instructions
Preheat oven to 350 degrees F. Line a 12-cavity muffin pan with cupcake liners and set aside. In a medium-sized bowl, whisk together the flour, baking soda, baking powder, salt, cinnamon, and nutmeg. Set aside.

In a separate large mixing bowl, using hand mixers, beat together the butter, brown sugar, and white sugar until smooth and creamy. Mash over-ripe bananas and measure to make sure you have exactly 3/4 cup. Beat in the bananas to the batter until smooth. Add in the full egg, egg yolk (reserve whites for another recipe/omeletes throughout the week or discard), and pure vanilla extract. Beat until smooth.

Add the dry to the wet ingredients alternating additions with the buttermilk (Add half the dry, half the buttermilk, rest of the dry, rest of the buttermilk). Beat after each addition JUST until the ingredients are incorporated being careful to not overmix.

Pour batter into the prepared muffin cups, filling each cup about 3/4 full. You should use all of the batter between 16 cavities. Bake in preheated oven about 18 - 22 minutes or until a toothpick when inserted into center of cupcake comes out clean. Cool in muffin tin several minutes then transfer to a wire rack and cool completely.
For the frosting:
Meanwhile, prepare the frosting. Using a hand mixer, cream together the room temperature butter and cream cheese on medium-high speed until completely smooth. Mix in vanilla extract, sea salt and cinnamon. With mixer running on low speed, slowly add powdered sugar and beat until well blended and smooth. Chill the frosting while the cupcakes finish cooling.


Frost completely cooled cupcakes with cream cheese frosting and if desired, garnish with a banana chip.
Recipe Video
Recipe Notes
You can make your own buttermilk by combining 3/4 cup milk with 3/4 of 1 full tablespoon vinegar or lemon juice. Stir and set aside for 5 minutes before using. Do not use plain milk for this recipe.