This Blueberry Smoothie takes minutes to make and only requires FOUR ingredients: frozen blueberries, milk, frozen banana, and almond butter. It's healthy, filling, creamy, and full of flavor! This smoothie is dairy free and naturally vegan.
We're obsessed with smoothies around these parts; they're the perfect way to start your day or quell your sugar cravings! Be sure to try this famous acai bowl, the best green smoothie recipe, or this strawberry banana smoothie next.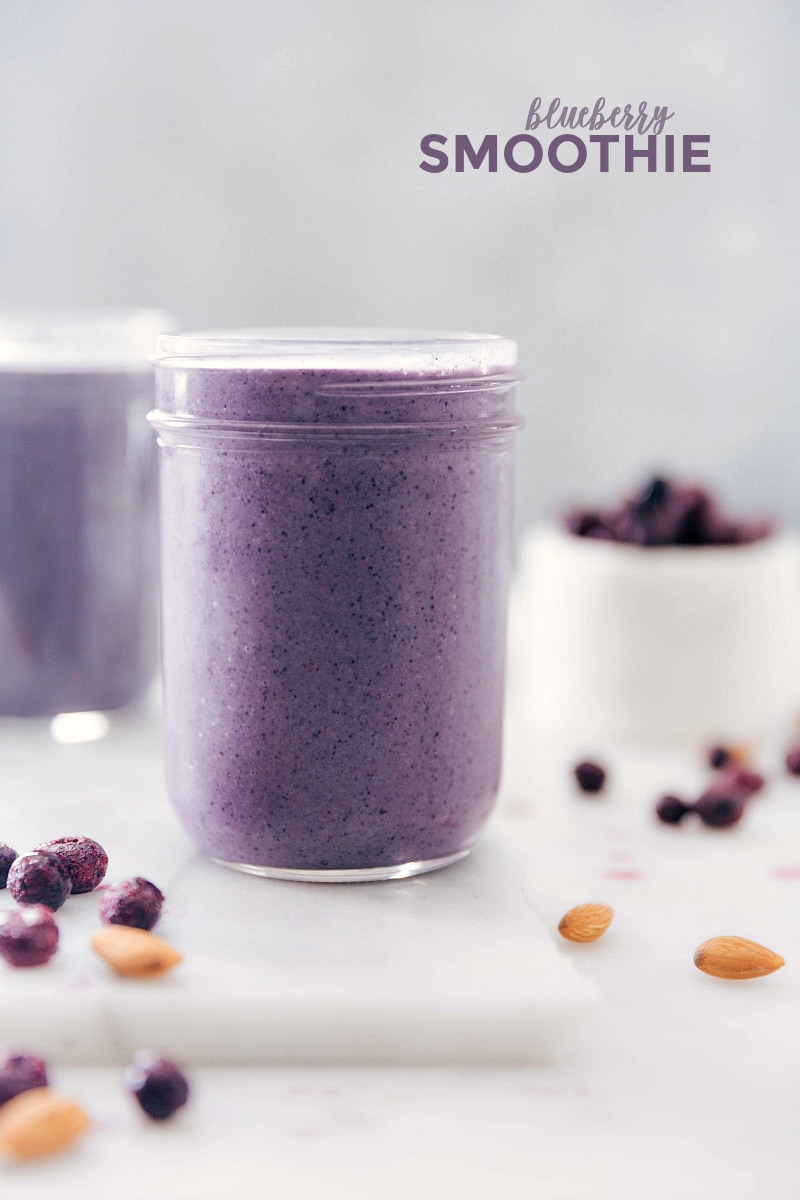 A direct quote from my cute 3-year-old after first trying this blueberry smoothie, "This is DELICIOUS MOM!" And the caps are to tell you that he was actually yelling that in pure excitement.
Beyond how absolutely delicious this smoothie is and the health benefits from drinking it, I also make it just to see his cute blueberry smoothie-stache. That boy's entire mouth gets covered trying to drink one of these! 🙂 This smoothie may seem unassuming with only 4 ingredients, but I'll tell you right now, it's one of our family's favorites! It's cold, creamy, flavorful, and perfectly sweet.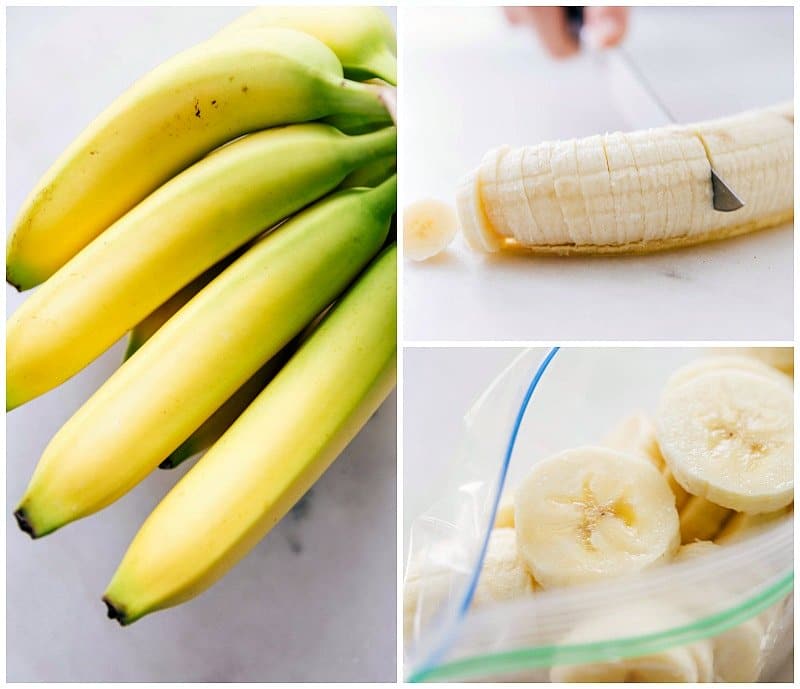 How to make a blueberry smoothie
Freeze the banana: while this smoothie is crazy simple to make, it does require a bit of planning. I like to prep the bananas right after the grocery store so I don't forget! Remove the peel, slice the banana into coins, place in freezer safe containers or bags, and freeze overnight.
Measure: while it might seem silly to actually measure out ingredients for a smoothie instead of just throwing everything in, I highly recommend measuring ingredients the first few times you make this or until you have a feel for the quantities. (Throwing random ingredients in a blender can often end up giving you WAY too much smoothie or tasting, well, nasty.)
Blend: if you have a high powered blender (I recommend a Vitamix or Blendtec), you can add everything in and blend until smooth. If you don't have a high powered blender, follow manufacturer instructions for what ingredients to add first to avoid cavitation.
Health benefits of blueberry smoothies
Frozen blueberries: this berry has one of the highest antioxidant capacity of all the fruits and vegetables*. Antioxidants help to protect the body from free radical damage (essentially bad molecules in our cells that can come from poor air quality, processed food, alcohol, etc. and can cause cancer). Blueberries are linked to lowering blood pressure, preventing heart disease, and improving memory.

A study found that eating a cup of blueberries per week can perhaps speed up metabolism, due mostly to their high levels of anthocyanins. (Anthocyanins are a type of antioxidant that are prevalent in blueberries.)

Frozen bananas: this fruit is linked to moderating blood sugar levels after meals which also means it may reduce appetite as the stomach empties slower. The frozen banana is also the "secret" for giving this smoothie it's creamy texture and sweet flavor.
Almond butter: this nut butter is packed with vitamins, minerals, fiber, and protein. It also gives this smoothie so much flavor and increases the creaminess of it. The almond butter also helps to make this smoothie more filling.
Vanilla almond milk: almond milk is low in calories and low in sugar while being high in calcium and other vitamins. Almond milk is also naturally dairy-free, vegan, and lactose-free. I like using vanilla flavored for an extra punch of flavor.
*While I do have my background in health, (B.S. Exercise & Wellness) I am not a doctor or certified nutritionist. Make sure to consult your doctor or certified nutritionist as needed.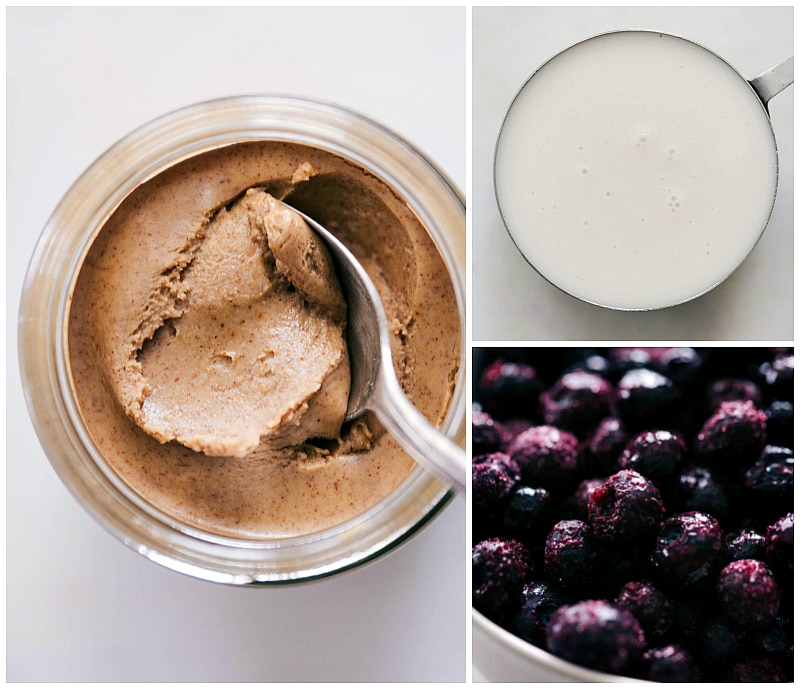 Benefits of starting your day with a smoothie
Smoothies are a great way to get in the recommended daily servings of fruits and/or vegetables and to get your metabolism going at the beginning of the day. While a diet of ONLY smoothies (or really any single food) isn't healthful, drinking one a day in addition to a healthy diet can be very beneficial to your overall health. Below are some additional benefits to drinking this blueberry banana smoothie.
One way to boost your metabolism is to eat more protein. Eating more protein isn't going to make you magically lose lots of weight, but if you pair protein with exercise, it will help you to burn more calories. The almond butter and almond milk are great sources of protein in this smoothie.
In addition to being excellent sources of protein, the almond butter and almond milk are also packed with fiber. Eating more fiber is a great way to "boost" your metabolism. Fiber can't be digested by the body, but the body "tries" to digest it anyways. As the body attempts to digest the fiber, calories are being expended in the process. Your body will expend more calories digesting high fiber foods (such as almond butter) than it will digesting refined carbs or sugars.
Each of the ingredients in this smoothie that are going to rev up your metabolism and leave your body feeling refreshed, detoxed, and energized!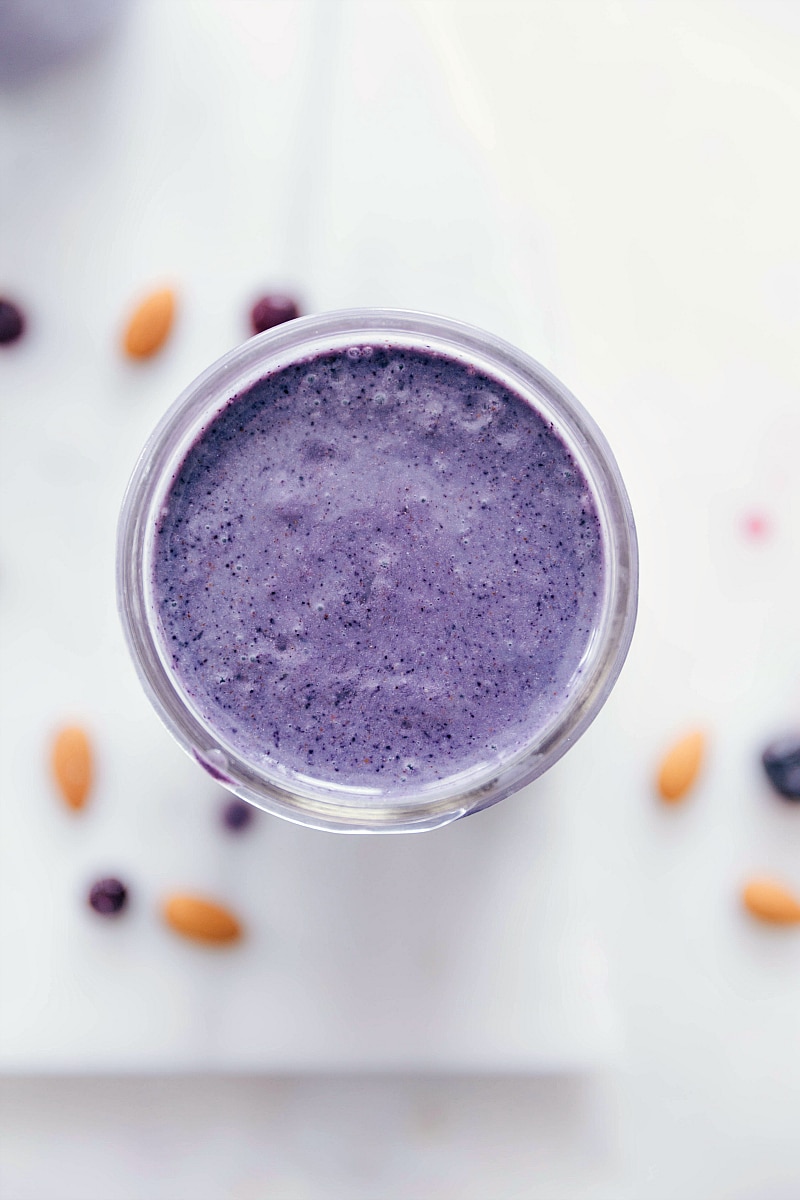 A few quick tips
I know, how complicated can making a smoothie be, right?! But I still have a few tips 🙂
Aim to use top quality ingredients for the best flavor. Since there are only 4 ingredients, you really want to use the best and freshest of each ingredient.
If needed add a little honey or maple syrup to additionally sweeten this smoothie. I've found with a really good and ripe banana you don't need the additional sweetener, but this can vary so give your smoothie a quick taste and add a teaspoon or two as needed. (Honey will make it no longer vegan)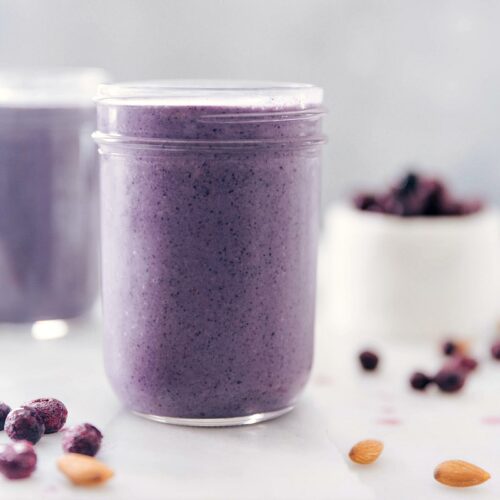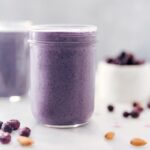 Blueberry Smoothie
This Blueberry Smoothie takes minutes to make and only requires FOUR ingredients. It's healthy, filling, creamy, and full of flavor!
Keyword:
blueberry smoothie
Ingredients
1

cup

unsweetened vanilla almond milk

(or milk of choice - Note 1)

1

cup

frozen blueberries

3/4

cup

frozen banana coins

(~1 medium sized RIPE banana)

2

tablespoons

almond butter
Instructions
NIGHT BEFORE: Peel the banana and slice into coins. Place the coins in a sealed bag in the freezer the night before making this smoothie.*

DAY OF: Combine the almond milk, frozen blueberries, frozen banana, and almond butter in a large, powerful blender. Blend until smooth. Taste and adjust if needed (depending on sweetness of banana you may need to add a bit of honey or maple syrup; we usually don't need to add either!)
Recipe Notes
Note 1: you can use a different milk, just check and make sure it's dairy free if that's a concern.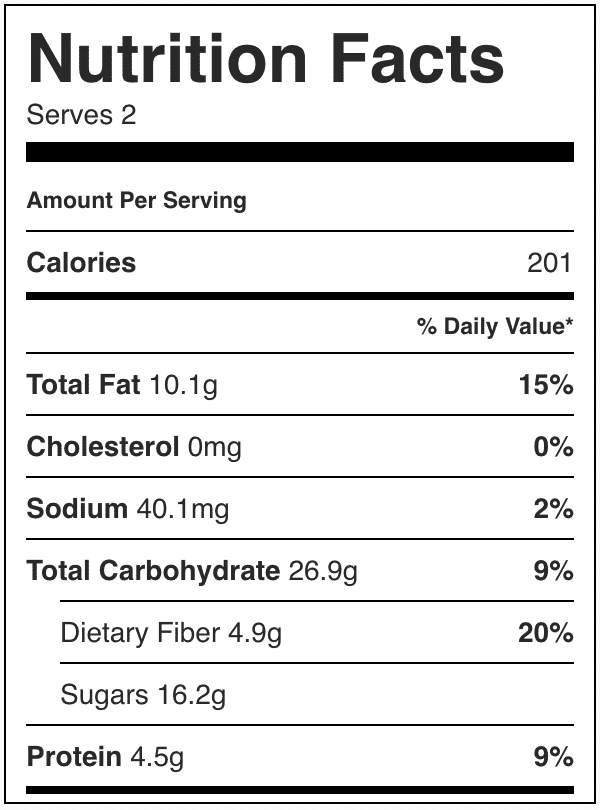 (Post originally published Jan 2015, photos and text updated Jan 2019)