This post may contain affiliate links. Please read my disclosure policy.
Thick and creamy, flavorful Chocolate Protein Shake, filled with protein powder, cocoa powder, banana, milk, and almond (or peanut) butter. This protein shake is good enough to pass for a healthy milkshake!
Enjoy this chocolate protein shake as a pre- or post-workout drink, a healthy snack to quell sugar cravings, or even for breakfast!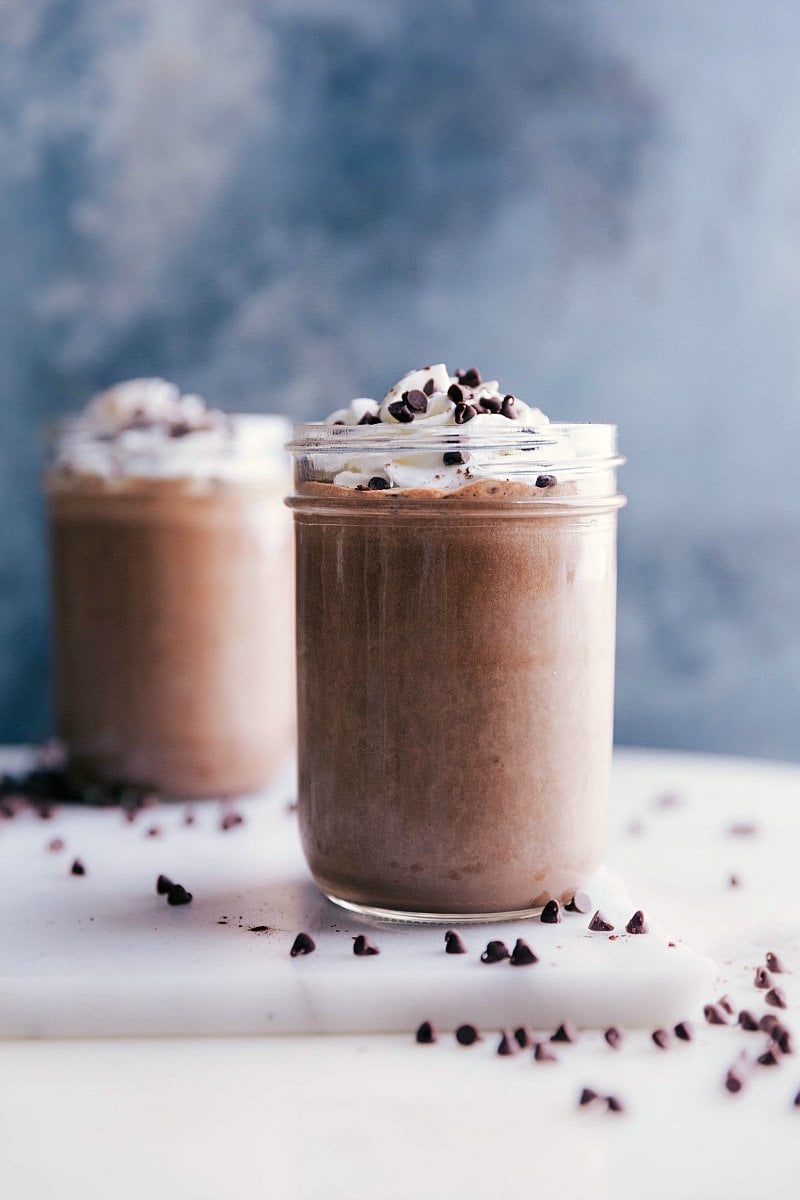 Chocolate Protein Shake
Probably the treat my mom made most commonly when I was growing up was milkshakes. We'd alternate between cookies and cream shakes, strawberry shakes, or chocolate shakes, but chocolate was always my preferred choice. Flash forward to being an adult (with a metabolism not quite as fast as when I was a kid) and having a couple milkshakes a week isn't practical for me anymore. I mean, there are still those weeks, but…I also want to fit in my jeans.
So when developing a chocolate protein shake, it had to be as *close* to a chocolate milkshake as possible — thick, creamy, rich, and wonderfully chocolate flavored. And honestly, with a good protein powder and cocoa powder, this shake is 100% that. It takes away all my sugar cravings, is packed with protein, and is about as good as it gets for a healthy milkshake. I seriously think you're going to love this!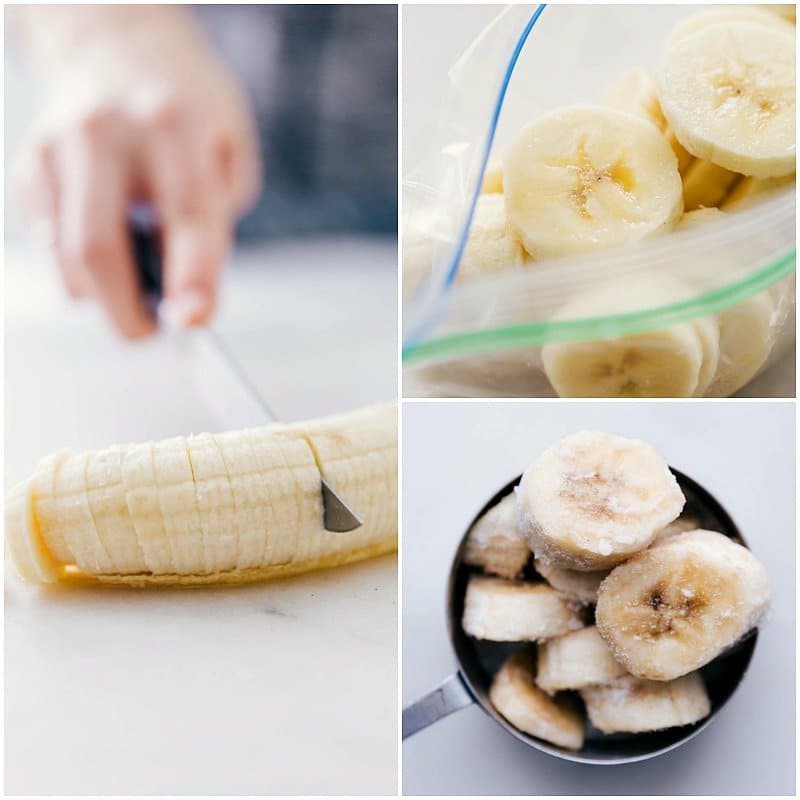 How do you make Chocolate Protein Shakes even better?
Honestly, it comes down to the ingredients you use! My number one tip? Use a great tasting protein powder.
I've tried my fair share of protein powders and I recommend a Whey, stevia-sweetened protein powder for this shake. The protein powder can make or break the shake — leaving you with great flavor or a nasty, powdery aftertaste. Here's a list of the top rated protein powders. My personal favorite: Optimum Nutrition Gold Standard 100% whey protein powder ®(Double-Rich Chocolate) (affiliate link).
What should I put in my shake?
I've played around with ingredients in this shake for years, and I'm telling you, the ingredients you use make all the difference.
Good chocolate protein powder: See more on this in the paragraph above.
Banana: We want the banana flavor to be virtually nonexistent, but for it to add nutrition and create a thick creamy texture. Make sure to completely freeze a fully ripe banana before adding into this shake. Also, don't use more than 1/2 cup or it will be more banana-flavored than chocolate.
Peanut butter or almond butter: Again, we want the main flavor to be chocolate, but the nut butter adds protein and healthy fats. It also adds a nice creaminess and subtle flavor. We only add 1 tablespoon so that the flavor isn't overpowering. My personal favorite is almond butter (much more subtle), but use whichever you have on hand or like better.
Unsweetened vanilla almond milk: My favorite milk in this shake, but any milk works. I like the vanilla flavored for even more flavor.
Ice: Ice gives us a thick milkshake consistency without all the calories! I use 8 regular ice cubes, or about 1 cup of ice.
Cocoa powder: See more on this below!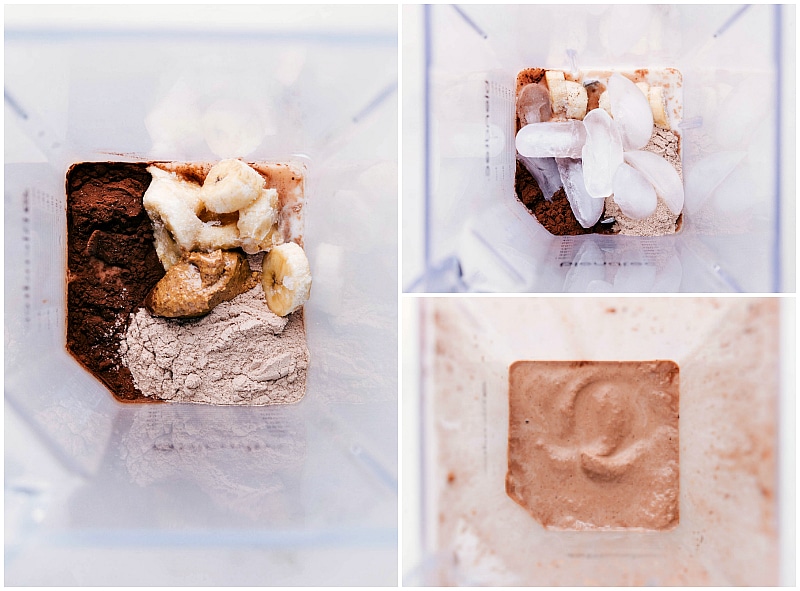 Can I add cocoa powder to my protein shake?
The other ingredient that makes a huge difference is the cocoa powder. The cocoa balances the protein and really amps up the chocolate flavor.
Use a good cocoa powder for rich chocolate flavor in this shake. Here's my all time favorite cocoa powder (it will literally change your life if you bake with cocoa powder a lot! (affiliate link))
Hershey's ®Special Dark Cocoa Powder is also great in Chocolate Protein Shakes.
How to make Chocolate Protein Shakes
Freeze the banana: While this chocolate protein shake is quick and easy to make, it does require a bit of planning to make sure the banana is fully frozen. I like to prep the bananas right after I get home from the grocery store so I don't forget.Remove the peel, slice the banana into coins, place in freezer-safe containers or bags, and freeze overnight.
Measure: While it might seem silly to actually measure out ingredients instead of just throwing everything in the blender, I highly recommend measuring until you have a feel for the quantities. (Throwing random ingredients in a blender can often end up giving you way too much shake or it can taste, well… off.) It's also a good idea to measure ingredients if you're tracking macros or calories.
Blend: If you have a high-powered blender (I recommend a Vitamix or Blendtec), you can add everything in and blend until smooth. This chocolate protein shake is very thick. You may need to blend it a couple times or be patient as it blends; it's worth it for how thick and creamy this shake ends up!

Other healthy breakfast recipes: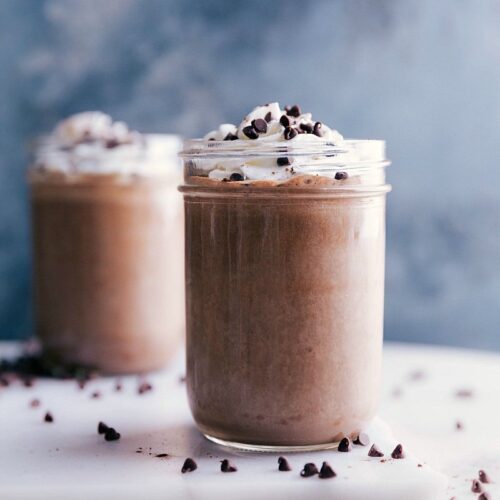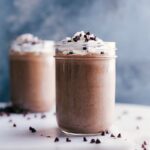 Chocolate Protein Shake
Thick and creamy, flavorful Chocolate Protein Shake, filled with protein powder, cocoa powder, banana, and almond (or peanut) butter. This protein shake is good enough to pass for a healthy milkshake.
Course:
Breakfast, Dessert, Protein Shake, Snack
Keyword:
chocolate protein shake
Servings
:
1
large chocolate protein shake
Ingredients
3/4

cup

unsweetened vanilla almond milk

1

scoop (1/4 cup + 1 tablespoon (32g))

good-quality chocolate protein powder

1

tablespoon

Dutch process cocoa powder

(Hershey's Special Dark works well)

1/2

cup

frozen banana

Note 1

1

tablespoon

almond butter or peanut butter

1/4

teaspoon

vanilla extract,

optional

8

ice cubes

Optional: sweetener to taste

Note 2
Instructions
IN ADVANCE: Remove the peel from the banana, slice into large coins, place in a plastic bag, and freeze.

BLEND: Combine all of the ingredients into a high-powered blender. Blend until smooth and the ingredients are all incorporated. If needed, stir everything up and blend again. If you don't have a high powered blender, you may need an additional 1/4 cup milk.

ENJOY: Pour into a cup and enjoy!
Recipe Notes
Note 1: When bananas are ripe, cut them up in coins and then put them in a small ziplock bag. Freeze overnight or until completely solid.
Note 2: Depending on the protein powder you use (some are sweetened with stevia) you may want some additional sweetener in your shake. I often use a few drops of stevia or some maple syrup or honey. Add to personal preference.
Are Chocolate Protein Shakes good for weight loss?
Protein is important for weight loss*. Getting enough protein can help increase your metabolism and help reduce your appetite while helping to lose body fat instead of muscle. That said, protein shakes (typically) contain quite a few calories. So if the shake works in your macro or calorie goal, it can be a great weight-loss aid. Consult with a certified nutritionist to see how this Chocolate Protein Shake works into your personal health or weight loss plans.
*While I have a background in Exercise and Wellness (B.S.), all the content in this post is for informational purposes only. Please consult a doctor or dietitian for any specific dietary needs or questions.