A simple quinoa salad with toasted almonds and sunflower seeds, a chopped apple, and dried cranberries.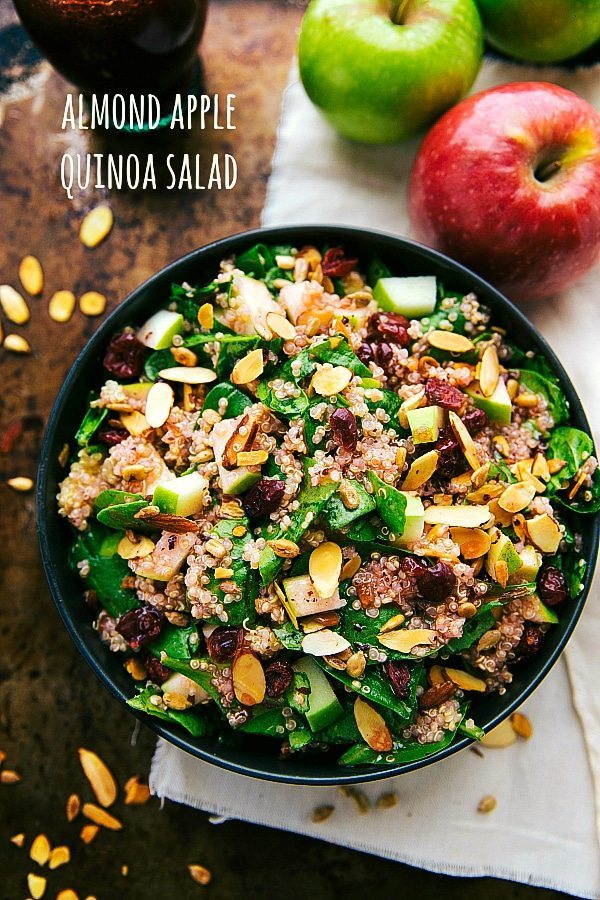 This salad though!! #1: EASY, #2: so quick to throw together, #3: HEALTHY, #4: deliciiious. Optional #5: kid friendly (or at least for my kiddo it is). Although, admittedly I've heard it's strange that I can get a 2-year old to eat salads and lettuce the way he does. It's really nothing I've done, he has always loved lettuce. He'll eat just about every variety, plain or dressed. He loves salads! And it's no surprise quinoa is (I think) his favorite food since quinoa meals show up on the regular here.
The few times we've made this, he has out-eaten me! Me, the one that is supposed to be "eating for two" mind you. Mixing together quinoa, spinach, some crunchy almonds + sunflower seeds, chewy dried cranberries, and a tart apple with the most delicious raspberry vinaigrette ever turns out to be one heck of a salad. If you wanted to add some yummy marinated grilled chicken it could become quite a filling meal too.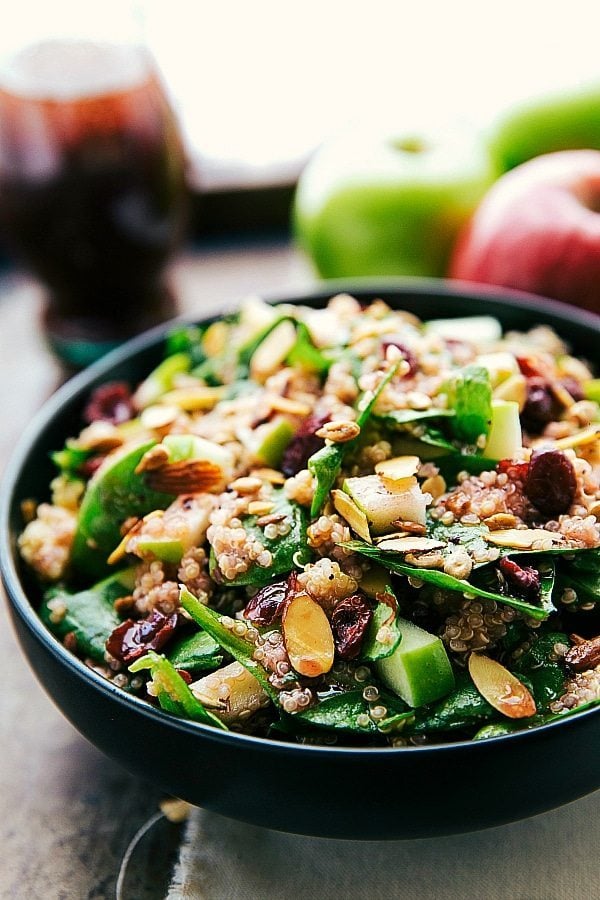 So let's talk dressing first. I've made this salad with a store-bought dressing and then my own homemade dressing. Both are honestly great with this salad. The store-bought dressing I use is a raspberry walnut vinaigrette (used on this salad too! It's called Ken's Steakhouse Lite Raspberry Walnut Vinaigrette for anyone wondering the exact brand.) I'm totally crazy about that dressing and love it with these ingredients.
Of course using a store-bought dressing will cut down on preparation time and make this salad super simple. But if you have some extra time or prefer your own dressings, the raspberry vinaigrette recipe listed on the recipe below comes together super quick. Just throw all the ingredients in an immersion blender and voila – homemade dressing is ready to go.
The dressing is probably more (unless you really, really love a salad drenched in dressing) then you'll want on the salad, but it stores in the fridge for a couple of weeks so you can make this salad (or a different salad) and use that dressing again! This dressing is also super easy to adapt to your personal tastes — add more or less sugar and/or jam if you want a sweeter/less sweet dressing. You can tweak the ingredients to get it just how you like. AND if you happen to have a few fresh raspberries on hand, add a small handful (like 5-8) to the dressing — it's super delicious! They aren't essential, but a fun addition if you have some around. (Make sure to strain out the seeds if that will bother you in a dressing.)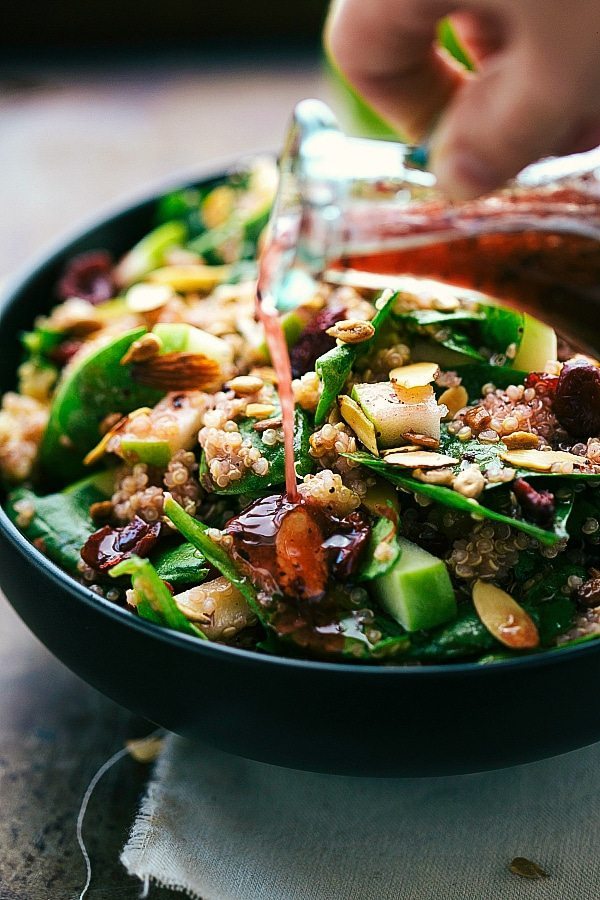 While the quinoa is cooking, you'll definitely want to lightly toast the almonds and sunflower seeds. It adds SO much flavor so don't skip this step! Plus it only takes a couple of minutes to do. Just make sure to watch carefully as the nuts can go from perfectly toasted to burned really quick.
The apple we like best is Granny Smith since the tartness balances out the sweetness of the cranberries and dressing. However, if you really love a different variety, I'm sure it will be great chopped up in the salad. You can peel the apple or leave the peel on whichever is your preference!
And last thing, if you are going to add some marinated + grilled chicken — here is our all-time favorite chicken marinade recipe. (<—also the stuff dreams are made of!)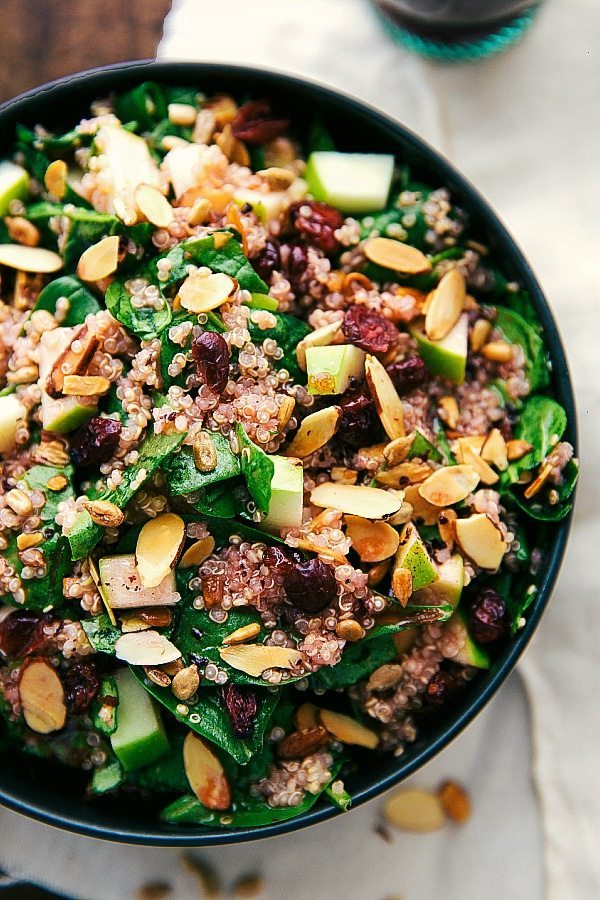 More delicious salad recipes: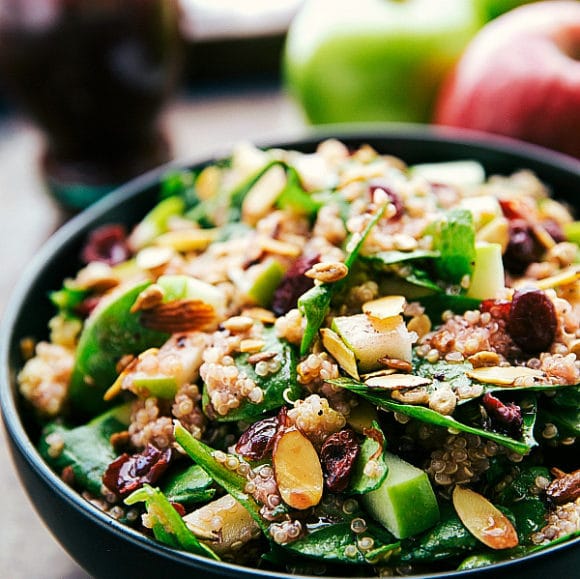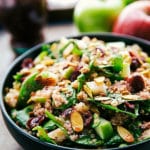 Quinoa and Almond Salad
A delicious chilled quinoa and spinach salad with a tangy delicious raspberry vinaigrette.
Keyword:
Quinoa and Almond Salad
Servings
:
4
as a side dish
Ingredients
1/2

cup

quinoa

1

cup

chicken broth

vegetable broth, or water will work

1/3

cup

sliced almonds

2

tablespoons

sunflower seeds

3

cups (~2.5 ounces)

fresh spinach

1/3

cup

dried cranberries

1

Granny Smith apple

or favorite variety of apple

1

teaspoon

lemon juice

Optional: handful of feta cheese
Dressing
Store-bought Raspberry Walnut Vinaigrette OR Recipe below:

1/4

cup

olive oil

1/4

cup

raspberry wine vinegar

1-2

tablespoons

white sugar

2

tablespoons

seedless raspberry jam

2

teaspoons

dijon mustard

1/4

teaspoon

onion powder

1

teaspoon

poppy seeds

Salt and pepper

optional
Instructions
Rinse your quinoa in a fine mesh sieve to remove the bitter saponin coating.

In a small pot combine the quinoa and chicken broth, vegetable broth, or water. I always use chicken broth with the quinoa, but if you are vegetarian the other two will work great.

Follow package directions to cook the quinoa.

Meanwhile, add the sliced almonds and sunflower seeds in a single layer to a completely dry skillet (don't add any oil) and place on medium-high heat (don't want it too hot or they will burn). Stir the nuts and seeds every 15 seconds for about 1-2 minutes or until the color slightly darkens and they start to smell good. Watch these carefully as they can go from perfectly toasted to burned quickly!

Chop up the apple (peel if desired, I like to leave it on) and toss it with the lemon juice.

Remove the quinoa and allow to completely cool (I put it in the fridge).

Mix together the spinach, dried cranberries, chopped apple, and completely cooled quinoa.

Toss with the dressing (use as much or as little as desired; you'll likely have a bit extra to use on another salad!) and top with the toasted almonds and sunflower seeds. If desired, add in some feta cheese or another cheese you enjoy!

To make the dressing: Combine all of the ingredients in an immersion blender or small food processor. I start with 1 tablespoon of sugar and add more if needed. Taste and adjust to personal preference (more sugar, more jam, salt or pepper added, etc.)
Recipe Video