Fresh and healthy roasted sweet potato quinoa salad made with spinach and avocados. A healthy and delicious lemon vinaigrette dressing coats this salad.
Roasted Sweet Potato Quinoa Salad
We're seriously OBSESSED with this sweet potato quinoa salad — perfect textures, delicious flavors, and it's so simple to make! Not to mention how healthy this quinoa salad is! It's packed with good for you ingredients that will keep you fuller for longer.
And the dressing? You will go crazy over this lemon vinaigrette! It's light, fresh, healthy, and tangy. There's dijon mustard, lemon juice, dried herbs, vinegar, and olive oil. All great ingredients and together, they pack a punch! I seriously make this dressing just about weekly and it's gone within 3-4 days!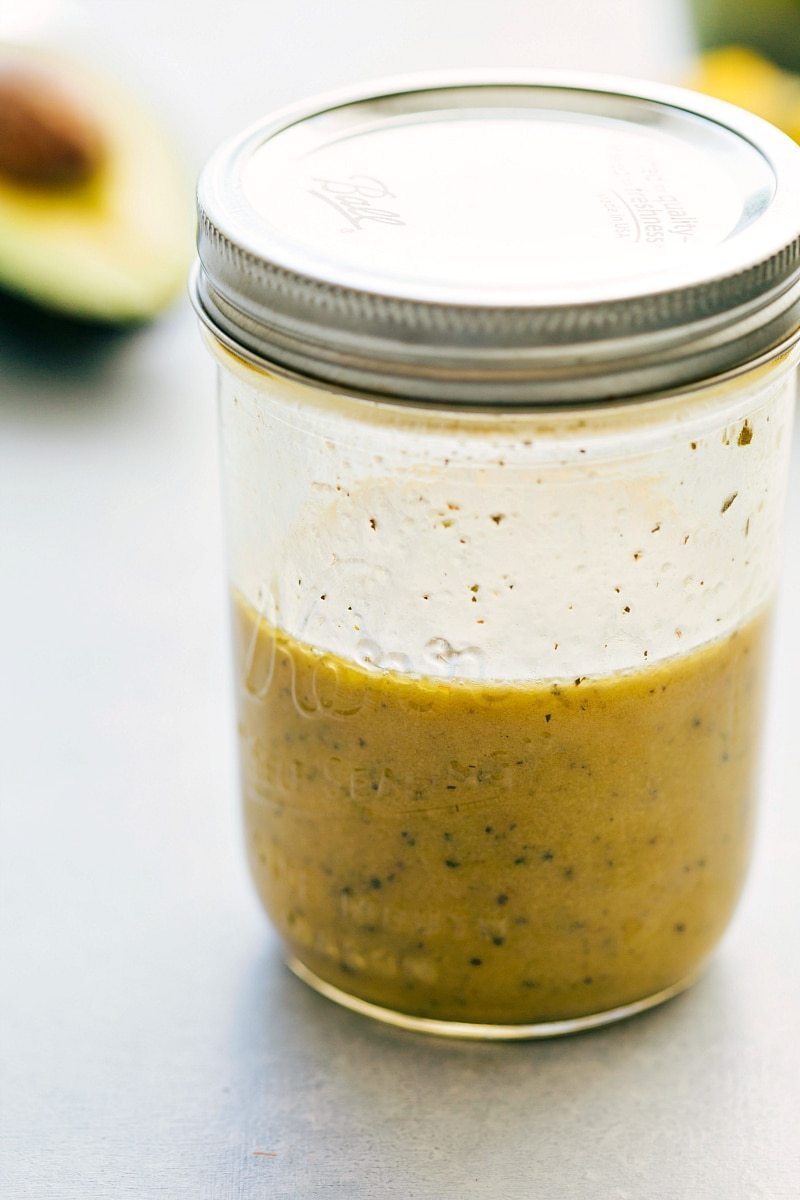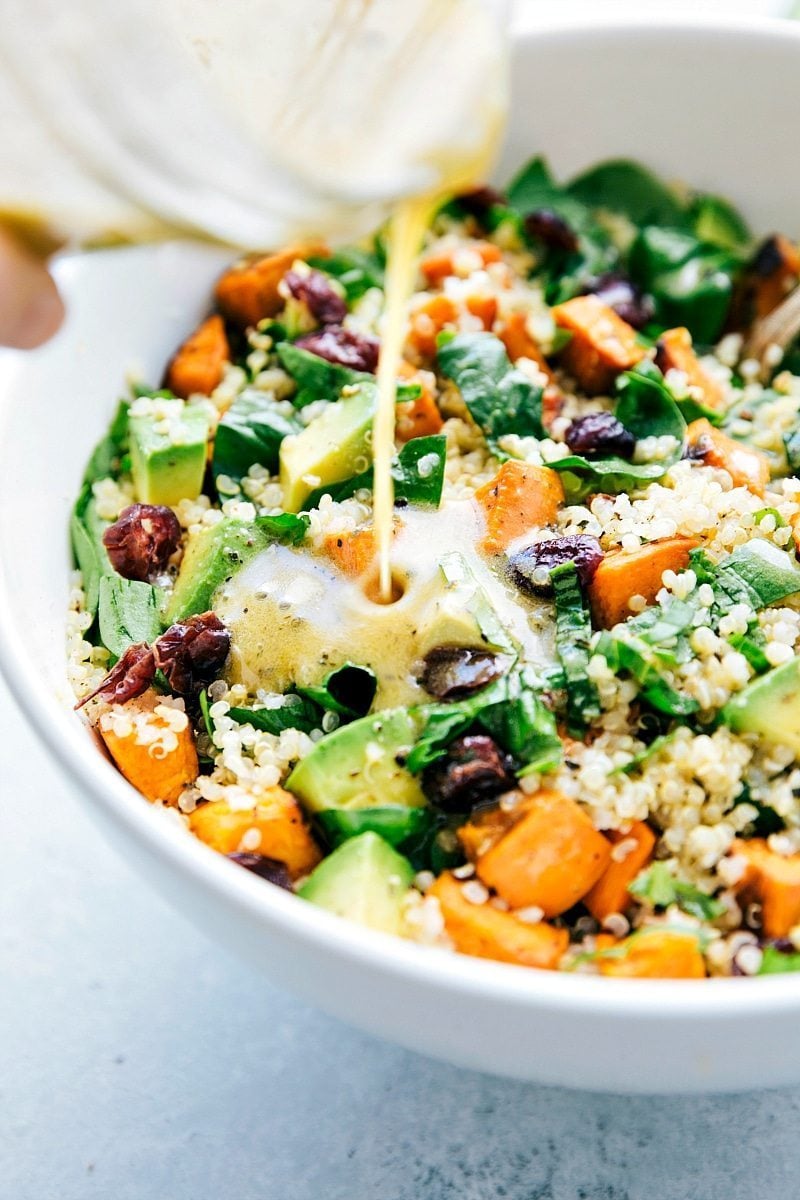 A few things to note about making this sweet potato quinoa salad:
Only add dressing to what you plan on eating in the same day. Unfortunately, this sweet potato quinoa salad doesn't sit super well with the dressing. If you are planning to have leftovers, toss only what you'll being eating on day 1 with the dressing. Other than that, this salad can store in the fridge pretty well for up to 3 days. That is, with the exception of the avocado. Unfortunately the avocado browns and takes on an odd texture. So, if you plan to have to over the course of a few days, only add avocado to what you'll be eating day 1. I'll typically add half the avocado one day and then place the other half in a plastic bag (squeeze some lemon or olive oil on the exposed side) in the fridge until I'm ready to add that to the quinoa salad.
The dressing makes a lot! You'll probably have double what you'll want for this salad, but I always like making a bit more so I have extra dressing for another salad that week. If that's not you, the dressing easily halves! Be warned though, this dressing is highly addictive 🙂
Roast the sweet potatoes: oven roasting the sweet potatoes is what gives them the absolute best flavor and texture. To avoid "soggy" potatoes you don't actually use that much oil and make sure to flip them about halfway through their baking time. A high heat oven and a bit of olive oil + salt + pepper and you'll be amazed how flavorful those bites of sweet potato are!
Add your favorites! I kept this salad pretty simple, but feel free to add some of your favorite salad toppings — think roasted pumpkin seeds, sunflower seeds, sliced almonds, pistachios, fresh parsley, feta cheese, goat cheese, etc. I love the flavor of goat cheese with this salad!
This salad is meat-free, but it's still got plenty of protein. You'll be amazed just how filling it is. Sometimes we'll grill some chicken to serve on the side of this salad or chop up chicken and throw it in the salad so that's definitely an option, but it is plenty filling and protein-packed on its own!
Rinse the quinoa. Quinoa has a bitter saponin coating so you'll want to quickly rinse it before making the salad. I just pour the quinoa in a fine mesh sieve and rinse it really quickly. Also, I typically cook quinoa in chicken or vegetable broth (infuses it with more flavor), but just use water for this quinoa salad because the lemon dressing is very distinct.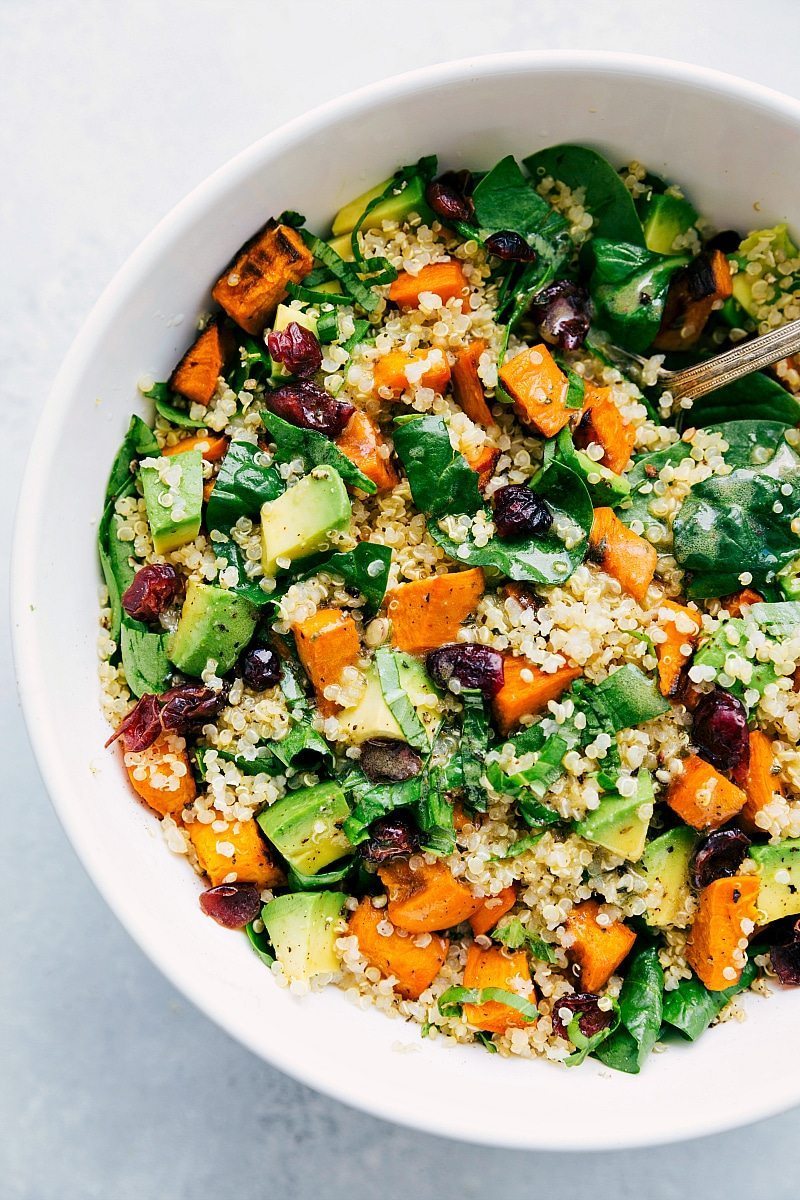 More Quinoa: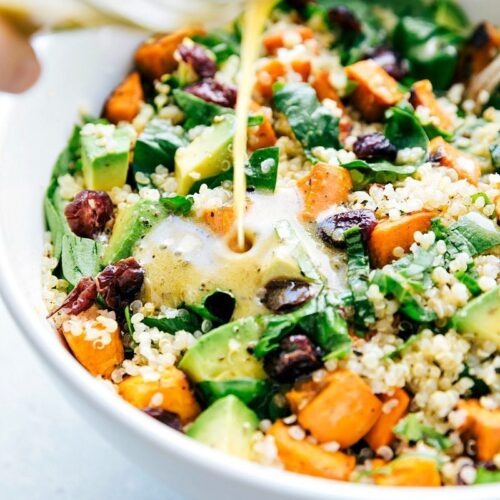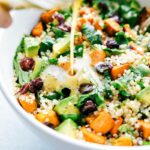 Roasted Sweet Potato Quinoa Salad
Fresh and healthy roasted sweet potato quinoa salad made with spinach and avocados. A healthy and delicious lemon vinaigrette dressing covers this salad.
Keyword:
sweet potato quinoa salad
Ingredients
2

medium

sweet potatoes

1 and 1/2

tablespoons

olive oil

Coarse sea salt and freshly cracked black pepper,

to taste

1

cup

quinoa uncooked

2

cups

water (or chicken or vegetable broth/stock)

4-5

ounces

fresh spinach,

stems removed and coarsely chopped

1

large

avocado,

chopped

1/3

cup

dried cranberries

Optional: fresh basil, to taste
Lemon Vinaigrette
4

tablespoons

red wine vinegar

1 and 1/2

tablespoons

dijon mustard,

do not use regular mustard

1/2

teaspoon

dried oregano

1

teaspoon

dried basil

1

clove

garlic,

minced

1/2

cup

olive oil

1

large

lemon

(3 tablespoons juice)
Instructions
Preheat the oven to 425 degrees F. Peel and coarsely (but evenly) chop your sweet potatoes. Place on a large sheet pan. Drizzle with olive oil and salt + pepper (to taste). Toss everything to coat and place in the preheated oven. Let roast for 15 minutes and then flip the potatoes and roast for an additional 10-20 minutes or until desired tenderness.


Meanwhile, prepare the quinoa. Rinse the quinoa in a fine mesh sieve to remove the bitter coating. In a small saucepan, combine quinoa with water (or broth/stock). Bring to a boil, reduce heat to low, and cover the pan with a lid.


Turn heat all the way to the lowest setting and cook covered for 15 minutes or until the water has completely absorbed in the quinoa.


Turn off the heat and let stand covered for 5 minutes. After 5 minutes, remove the lid and fluff the quinoa gently with a fork. Set aside.


Toss the cooked quinoa and sweet potato in a large bowl. Allow to cool.


Meanwhile, prep the dressing. Whisk the red wine vinegar, Dijon mustard, dried oregano, dried basil, garlic, 1/2 teaspoon salt (or to taste), and 1/4 teaspoon pepper (or to taste) together in a small bowl. Slowly add in the olive oil into the vinegar mixture while whisking briskly. Whisk in the lemon juice. Pour into a jar and store in the fridge while you finish the salad.


Remove the stems and coarsely chop the spinach. Add to the salad along with the chopped avocado and cranberries. Toss everything together. If desired, ribbon some basil and top the salad with the fresh basil.


Toss the salad with desired amount of dressing (you might have some leftover depending on how dressed you liked your salads!) Enjoy immediately.


Do not dress anything you don't intend to eat that day. This salad is best eaten immediately after being dressed, so if you want leftovers, only toss what you will eat with the dressing.

Recipe Video