A powerhouse delicious salad made with quinoa, kale, fresh fruit, feta cheese, crushed pistachios, and dried blueberries. This kale and quinoa salad is easy to make and sure to be a hit!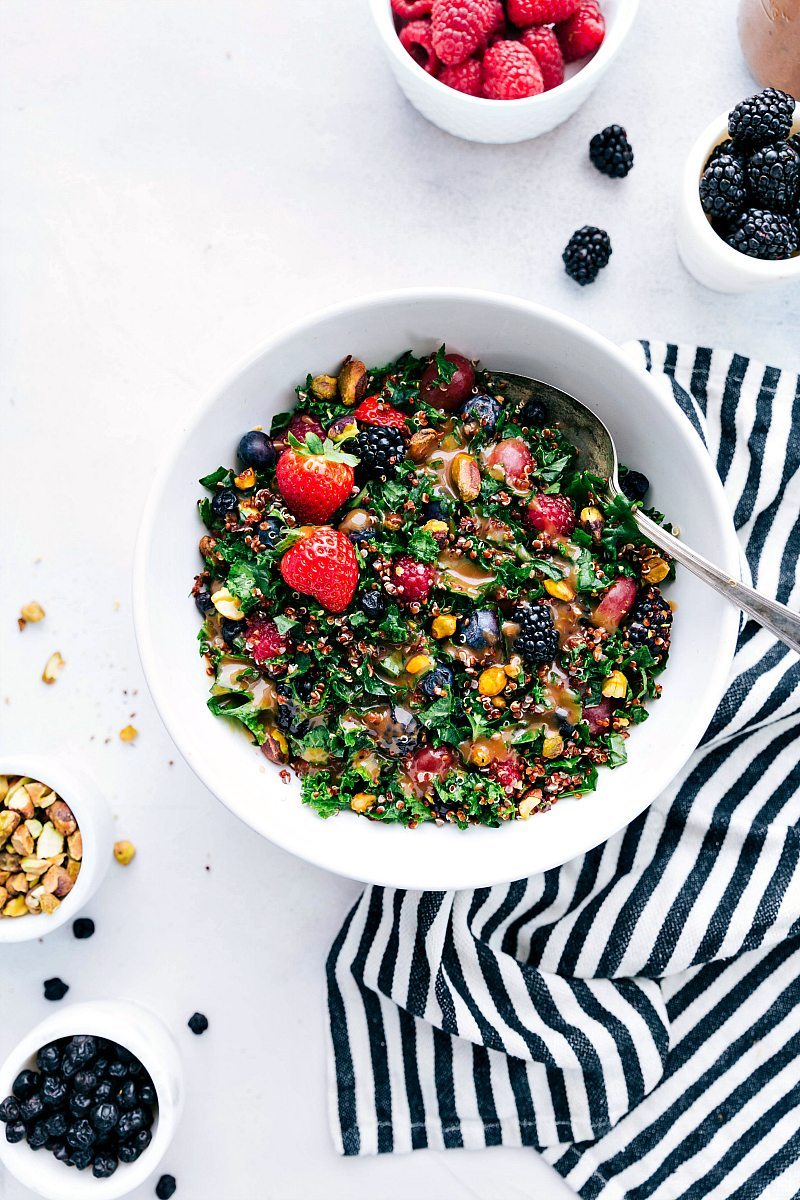 Any kale fans out there?
In full disclosure, I used to despise kale. It wasn't until the husband convinced me to try a kale and quinoa salad at Zupas that I decided it wasn't too bad (in fact, I actually loved it!). So, this salad is inspired by that first kale and quinoa salad I had with my husband, since that is what made me begin to like kale in the first place!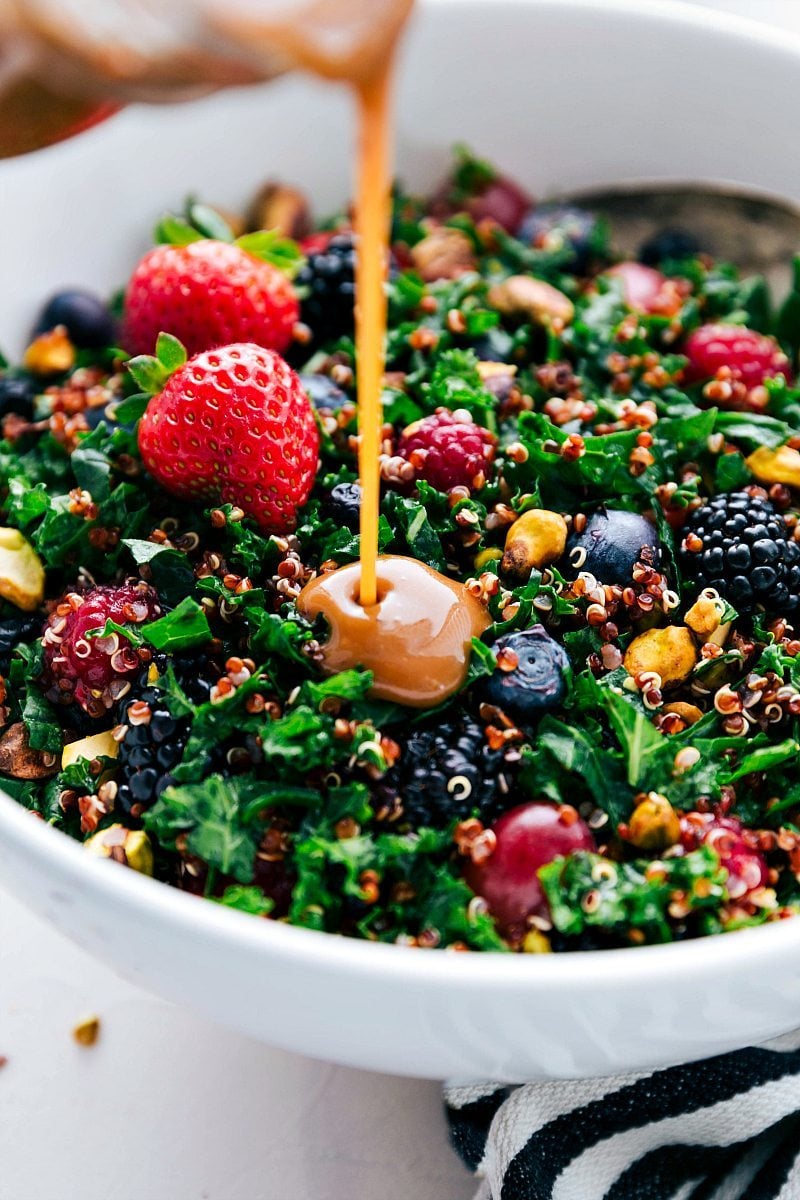 So what is their secret to delicious kale? Massaging it. High maintenance veggies am-I-right? Seriously though, this and finely cutting the kale makes all the difference!
It takes a little extra effort but it is well worth it. First you'll remove those big stems and then you'll very, very thinly slice (ribbon) the kale. The smaller the shreds of kale, the better!
Once it's all thinly sliced throw it in a colander and wash it. And here's where it gets good. You'll top the kale with about 1 teaspoon of coarse sea salt and a few squeezes of fresh lemon (optional on the lemon, not on the salt) and then you literally rub and massage the kale. Do this for about a minute and it will change your kale-eating life forever.
And while you are massaging that kale, the quinoa can be cooking and then you can quickly prep the other ingredients and prepare to be blown away by how something so healthy can taste this good!
What do you need to make the best kale and quinoa salad?
As far as salad toppings for this kale and quinoa salad, I've grabbed my favorite berries and fruit for this one. The kale and quinoa pairs incredibly well with super ripe berries such as raspberries, strawberries, blackberries and blueberries. The grapes are a really fun addition to add a little bit of fruity "crunch" and good flavor.
Dried blueberries: if you've never tried dried blueberries you are in for a mega treat. They taste like 10 blueberries compacted into one tiny sweet dried berry. They have so much good flavor and sweetness which really takes this salad to the next level. (You can find dried blueberries by other dried fruits or by nuts in the grocery store.)
I get shelled and toasted pistachios that I coarsely chop for this salad. Other nuts can be substituted such as pecans, almonds, walnuts, etc.
The feta adds a lot in my opinion, but it too can be left out if needed. Alternatively, goat cheese is also so good in this salad.
Finally the dressing: This dressing is hands down one of my favorite dressings ever. It's the Simply Dressed Marzetti Balsamic Salad Dressing. If you follow along on the blog (or know me in personally) you know I'm a huge fan of making my own dressings. I very rarely use a prepared dressing for a salad because I'm so picky about the dressing. However, that balsamic dressing is one of the exceptions. I'm obsessed with it and it totally makes this salad while also being a nice convenience factor. Since you've got a bit of prep carved out for massaging that kale, prepping the fruit, and cooking the quinoa it's nice to have a ready-made dressing that is equally as delicious as all the other ingredients.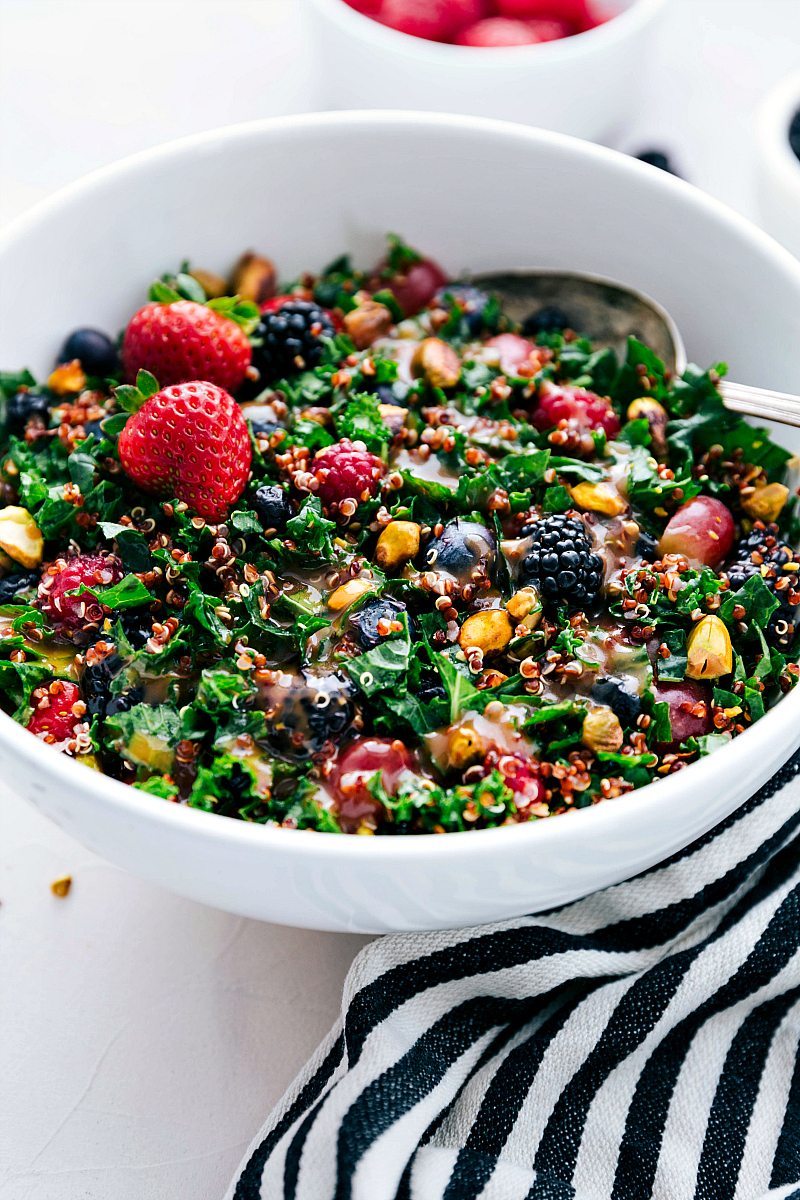 More Healthy Salads: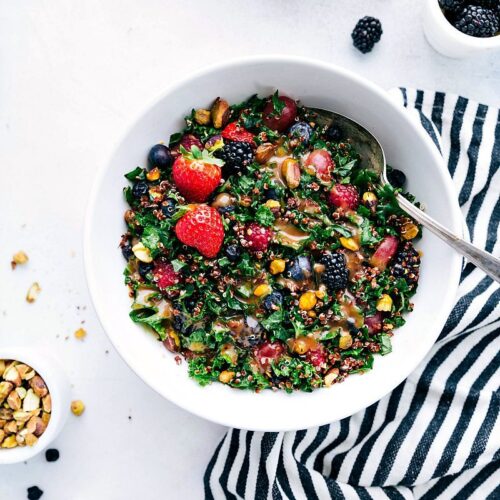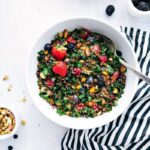 Kale and Quinoa Salad
A powerhouse delicious salad made with quinoa, kale, fresh fruit, feta cheese, crushed pistachios, and dried blueberries. This kale and quinoa salad is easy to make and sure to be a hit!
Keyword:
kale and quinoa salad
Ingredients
1/2

cup

red quinoa + 1 cup water

6-8

large leaves

regular kale

1

teaspoon

coarse sea salt

1

lemon,

optional

3/4

cup

fresh strawberries,

sliced

3/4

cup

fresh blackberries

3/4

cup

fresh raspberries

1/2

cup

red grapes,

halved

1/3

cup

dried blueberries

1/4

cup

pistachios,

coarsely chopped

4

ounces

crumbled Feta Cheese

Marzetti Simply Dressed Balsamic Salad Dressing

(Note 1)
Instructions
Prep the quinoa and kale
Combine the quinoa and water with a pinch of salt in a small pot. Follow package directions to cook the quinoa. Once cooked, remove from heat and allow to completely cool.

Remove the coarse stems and discard. Take the kale leaves and finely ribbon the kale to have very thin and small pieces of kale.

Place in a colander and wash well.

Place the coarse sea salt on top of the kale and a few squeezes of fresh lemon.

Massage and rub the kale with your hands for 1-2 minutes or until tender and a deeper green color. Rinse again and dry.

Toss the cooled quinoa with the dry massaged kale.
Prep the salad toppings
Rinse and dry the fruit. Remove the stems of the strawberries and slice or chop. Add to kale + quinoa mixture.

Add in the whole blackberries and raspberries.

Slice the grapes in half and add those.

Add in the dried blueberries and chopped pistachios.

Crumble the feta cheese over it all.

Gently toss together all the salad ingredients. Add the dressing, toss, and then add more dressing as needed.

Enjoy immediately.
Recipe Notes
Note 1: Make your own balsamic dressing instead. Combine the following ingredients in a mason jar and shake to combine: 2 tablespoons balsamic vinegar, 1 tablespoon red wine vinegar, 1 tablespoon Dijon mustard, 1 clove garlic (minced), 1/4 cup olive oil, and salt and pepper to taste.