A hearty, healthy, and filling farro salad — sweet apple cider farro, roasted sweet potatoes, arugula, and an easy blender lemon dressing.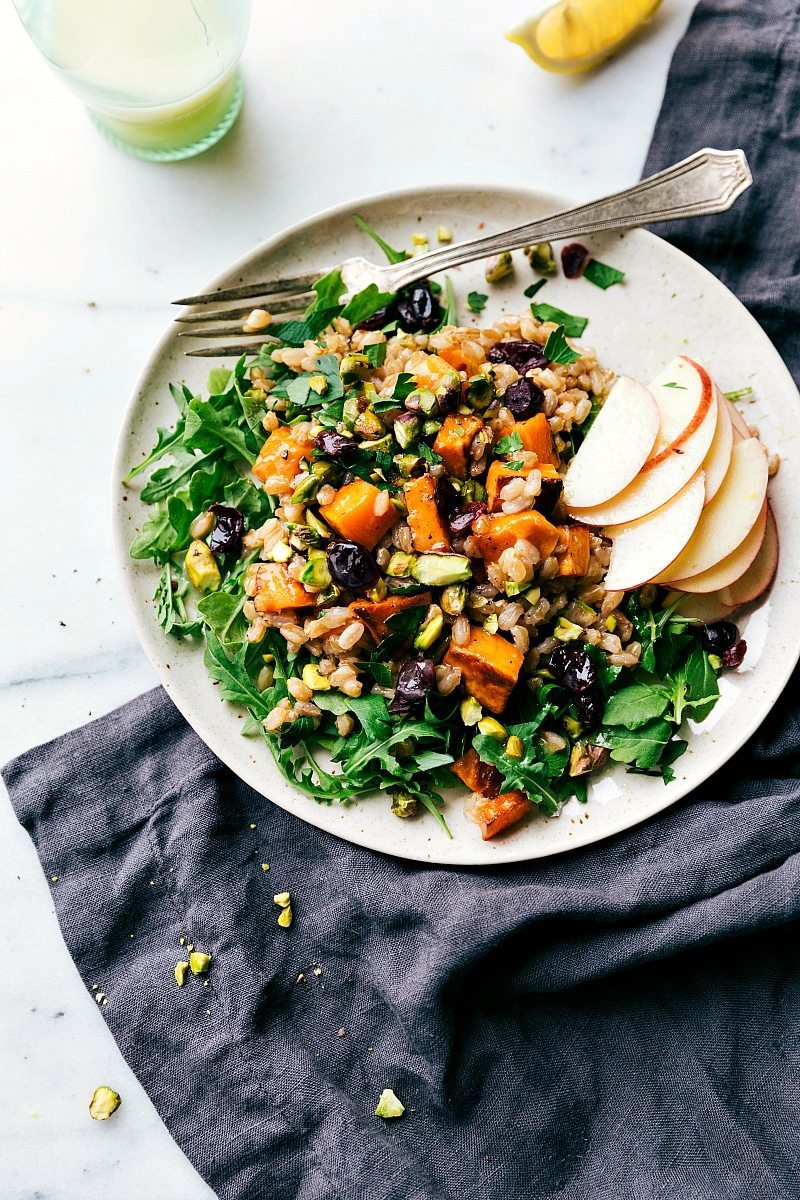 My toddler has a ridiculous obsession with pistachios. We were going through bags of pistachios so quickly (and as you probably know, they are NOT cheap!) that I finally bought a massive bag at Costco. The bag is ginormous and has been affectionately named by the toddler as "big nuts."
So yes, there could be about a hundred better names for that bag of pistachios, but nothing else will stick so "big nuts" it is. ? He asks for me to get them out of the pantry and crack them open for him every single day. He's just over halfway through this huge bag and is already asking me to buy another because he's worried it's going to be all gone soon. Which, I'll admit, his worry is valid at the rate he's going through this bag.
One of the positives about his obsession though — he will try anything that has pistachios in it. Enter: this salad.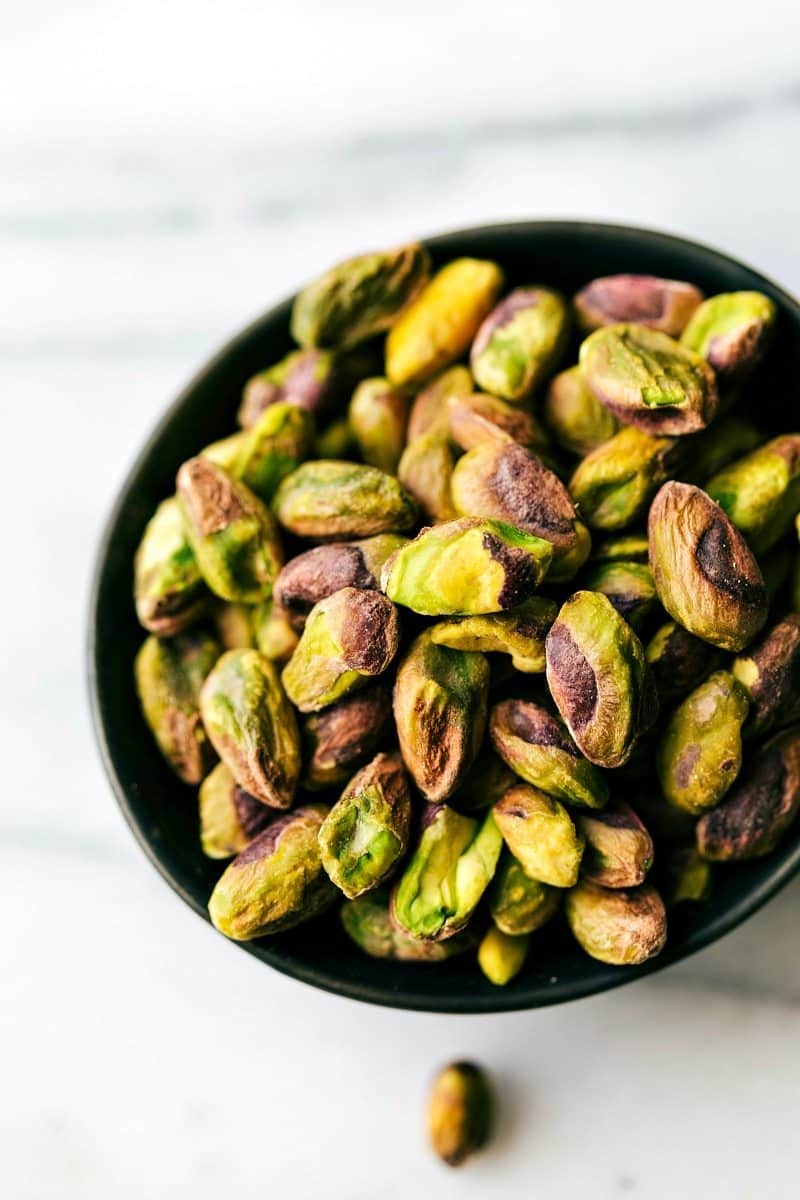 Farro is one of my favorite grains, but for some reason quinoa or rice are usually made before it is and the kiddos haven't had too much experience eating it. So, for one of his first times trying farro, I wanted to make sure it was a positive one.
Topping this farro with all the pistachios definitely did the trick — he loved it! The babe had a bowl of the farro too and I'm thrilled to say both were fans.
If you've never tried farro, it's very similar to brown rice — the texture is chewy like brown rice and the flavor is similar, but with a slightly nuttier taste. Farro originates from the Tuscan region of Italy; it is extremely filling, rich in protein and high in fiber.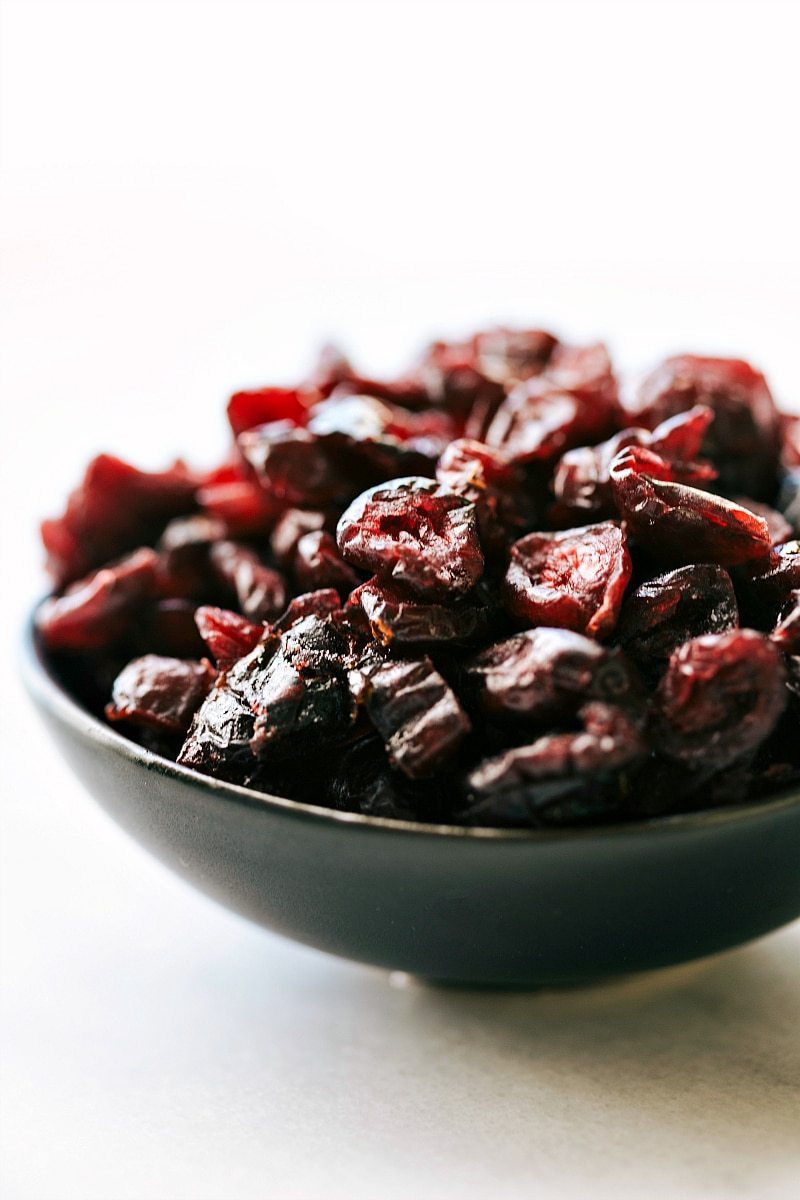 With the combination of ingredients and flavors in this salad, I think it would be hard to not be a fan of farro. This salad is overall pretty sweet with some nutty notes from the farro and a little bit of salty-sweet flavors thanks to the nuts and dried cranberries. The arugula balances out the sweetness very nicely.
One of the best things about this salad is that it can be made ahead of time and lasts for 5-6 days all while still tasting great. As long as you don't toss it with the arugula, the base stays good for a long time. Which means this is a perfect meal prep option!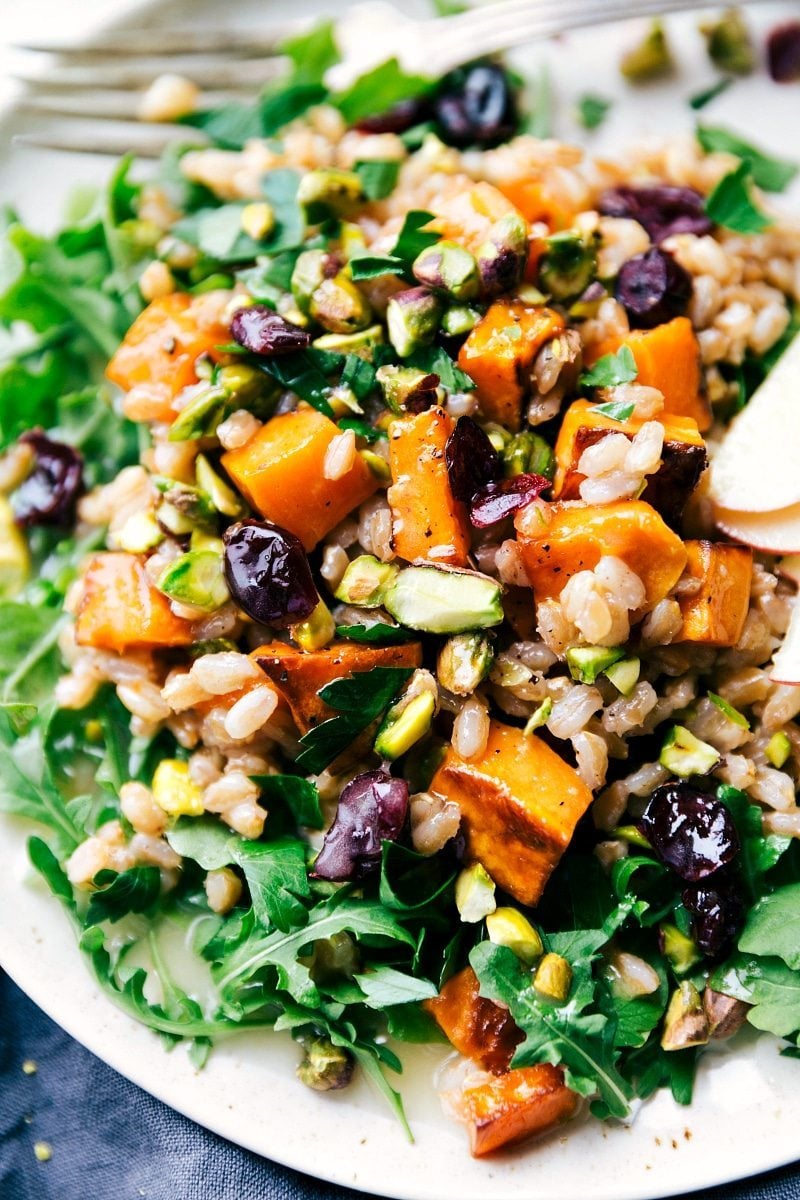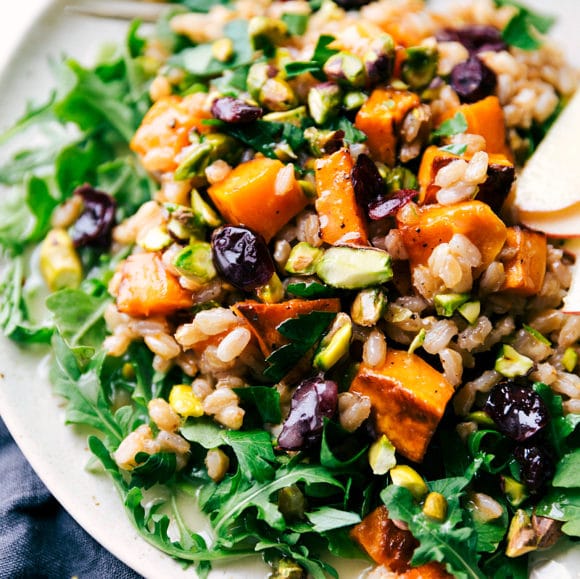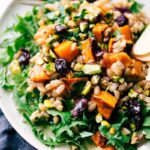 Sweet Potato Farro Salad
Ingredients
Farro
1

cup

plain pearled farro

(I use Alessi Foods Organic)

1

cup

apple cider

1

cup

chicken broth

or water

2

bay leaves
Salad
Salt and Pepper

2

cups

arugula

3/4

cup

Italian flat leaf parsley

not curly parsley, not packed

2 and 1/4

cups (1-2 large)

sweet potatoes

1

tablespoon

olive oil

1/2

cup

pistachios

1/3

cup

dried cranberries

Optional: shaved Parmesan cheese
Dressing
1

large

lemon

4 tablespoons juice & 1/2 teaspoon zest

1/4

teaspoon

onion powder

1/2

teaspoon

Dijon mustard

3

tablespoons

white sugar

1/3

cup

olive oil
Instructions
Preheat the oven to 400 degrees F.

In a medium saucepan, add the farro, apple cider, chicken broth or water, bay leaves, and 1 teaspoon salt. Follow package instructions to cook (bring to a boil and then reduce the heat and simmer until the farro is tender and liquid evaporates.) Remove and discard bay leaves.

Meanwhile, peel and chop a sweet potato into small bite-sized pieces.

Place the sweet potato pieces on the pan and drizzle olive oil on the pieces. Add a pinch of salt and pepper. Toss to coat.

Bake for 15 minutes and then flip/stir around and bake for another 10-15 minutes or until tender.

While the potatoes are cooking: prepare the dressing. Combine all of the dressing ingredients except the olive oil in a blender or food processor. I like to add about 1/4 teaspoon salt to the dressing (optional)

Pulse for about 10 seconds and then add in the olive oil. Pulse 1-2 times until just combined.

Coarsely chop the pistachios, coarsely chop the parsley, and thinly slice or chop the apple.

When the farro is done, allow to slightly cool and then add 2 tablespoons of the prepared dressing.

In a large bowl, pour in the farro mixture, roasted sweet potato, pistachios, parsley, apple, cranberries, and arugula.

Toss with dressing to taste (you might not use all the dressing) and add some shaved Parmesan if desired.

If you want to meal prep or have leftovers only add arugula to what you will be eating.