Throw everything in a crockpot and forget about it! A super easy and healthy crockpot quinoa and veggie dish with southwestern fajita flavors. Chicken or ground beef can easily be added into the dish.
I am seriously convinced this is the easiest meal to prepare! It's one of those throw stuff in a crockpot and a few hours later a super tasty and healthy dinner is ready.
Plus the flavors on this one – WOWZAs. A little bit of a kick and a lot of flavor. Don't be too worried about the kick though – it can easily be avoided if you aren't a fan of that kind of thing. And on the opposite side, it can definitely be intensified! 🙂
This meal is vegetarian, but it is PACKED with protein. Tons of protein in the quinoa and the beans that fill up this dish. However, if you want some meat in this dish, you can add some chicken or ground beef/ground turkey.
If you want to do chicken, use boneless skinless chicken breasts. Cut off the fat and quickly cut the breasts (I would recommend about 1/2 pound of chicken) into smaller chunks. Add 1/2 cup of water with the raw chicken and toss it in the crockpot with the rest of the ingredients. For an even easier option: add shredded rotisserie chicken when the meal is all cooked, or add a chunked can of chicken (drained). My favorite option: definitely the rotisserie chicken at the end. That is one delicious addition!!
For ground beef or ground turkey, brown it in a skillet first, drain off any grease, and add it with the rest of the ingredients.
SO, one of the reasons this dish is so stinkin' easy is the fact that the veggies are pretty much all prepped without you doing any work. I found a bag of frozen assorted bell peppers and onions which works incredibly well in this dish and saves you a bunch of prep time (and probably money too).
You absolutely can use fresh peppers and onions, but it takes some extra time and you'll want to put them in sooner than you do the frozen ones.
Other veggie prep includes draining a can of corn and quickly chopping up jalapeños. EASY.
The last thing that needs to be done for the meal is completely optional depending on what you like.
First, shredding cheese if you want it on the dish. I did a pre-shredded blend to get just the flavor I was looking for. It's called fiesta blend and I love taste with all these flavors. Any kind of Mexican or cheddar cheese will be great though.
Second, GUACAMOLE! Seriously, guacamole with this is absolutely delicious. You can buy pre-made or quickly make some. I'm not super fancy with my guacamole — I essentially just mash up a super ripe avocado, add some salt, pepper, and a little squirt of hot sauce, and call it good!
Third, sour cream. I am crazy obsessed with sour cream and of course love it in this dish. I always use reduced-fat and seriously can't tell a difference, but use whatever you like with this. The sour cream takes a little bit of the heat out of the dish and adds a nice creamy component.

And last, but not least, chop up some fresh cilantro if you like it because yum. 🙂
However, any of these finishing touches are totally optional and to your taste preference so really – this dish is as easy as you want to make it!
Slow Cooker Southwestern Quinoa
Ingredients
1

can (15.5 ounces)

chili beans in mild chili sauce

1

can (14.5 ounces)

diced tomatoes*

1

can (15 ounces)

black beans

1

can (15 ounces)

corn

1

cup

quinoa

1

teaspoon

minced garlic

2 and 1/4

cups

vegetable or chicken broth

1/4

cup

jalapeños

~2 small, chopped

1

package (14 ounces)

frozen tri-color pepper and onion blend

1

package (1.12 ounces)

fajita seasoning

1

teaspoon

cumin

1

cup

Mexican blend or fiesta blend shredded cheese

Optional additions: 1 teaspoon chili powder, reduced-fat sour cream, guacamole, fresh lime, cilantro
Instructions
Spray the slow cooker with non-stick spray. For this dish, I used a 6-quart slow cooker.

Add in the chili beans and diced tomatoes UNDRAINED. Drain and rinse the black beans and corn and add them.

Rinse the quinoa to remove the bitter saponin coating and add that along with the minced garlic, vegetable or chicken broth, and jalapeños (remove seeds, ribs, and finely chop).

Set on high for 2 and 1/2 hours to 4 hours (watch carefully as all slow cookers cook differently - yours may be quicker or slower. Mine took exactly 3 hours and 30 minutes). Also depending on your slow cooker, you may need to stir occasionally so the quinoa doesn't stick to the bottom.

You'll know it's done when the quinoa has "popped" and most of the liquid is absorbed. Stir in the frozen bell pepper and onion blend, the fajita seasoning, and cumin. Stir well and allow to cook on high uncovered for another 10-15 minutes or until the remaining liquid has absorbed.

Add in the cheese and increase any spices to reach desired taste preference (add 1-2 teaspoons chili powder, 1/2-1 teaspoon cayenne pepper, salt, pepper, extra cheese, etc.)

If desired, serve with sour cream, guacamole, fresh cilantro, and/or a squeeze of lime.
Recipe Notes
*For an extra kick use fire-roasted or diced tomatoes with green chilis. I used plain. Another way to decrease the "kick" is to omit or reduce jalapeños. You can also increase the amount of jalapeños if a stronger kick is desired.
More slow cooker quinoa dishes: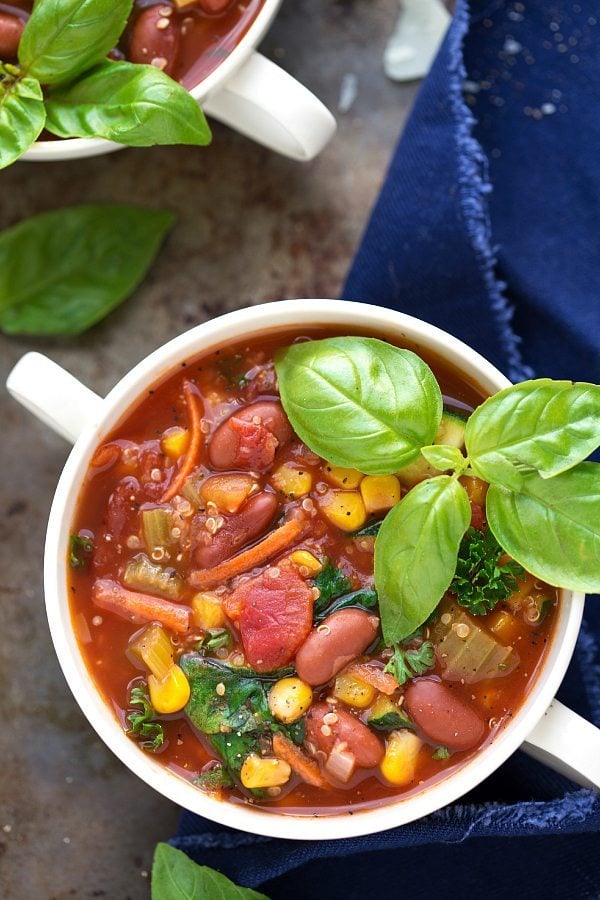 Crockpot healthy quinoa minestrone
A one dish, Crockpot Mexican Quinoa
Crockpot Chicken Teriyaki, Quinoa, and Veggies
Crockpot Quinoa Enchilada Dish