A healthy Mexican-flavor inspired avocado and corn quinoa salad packed with veggies and coated in the most delicious chipotle vinaigrette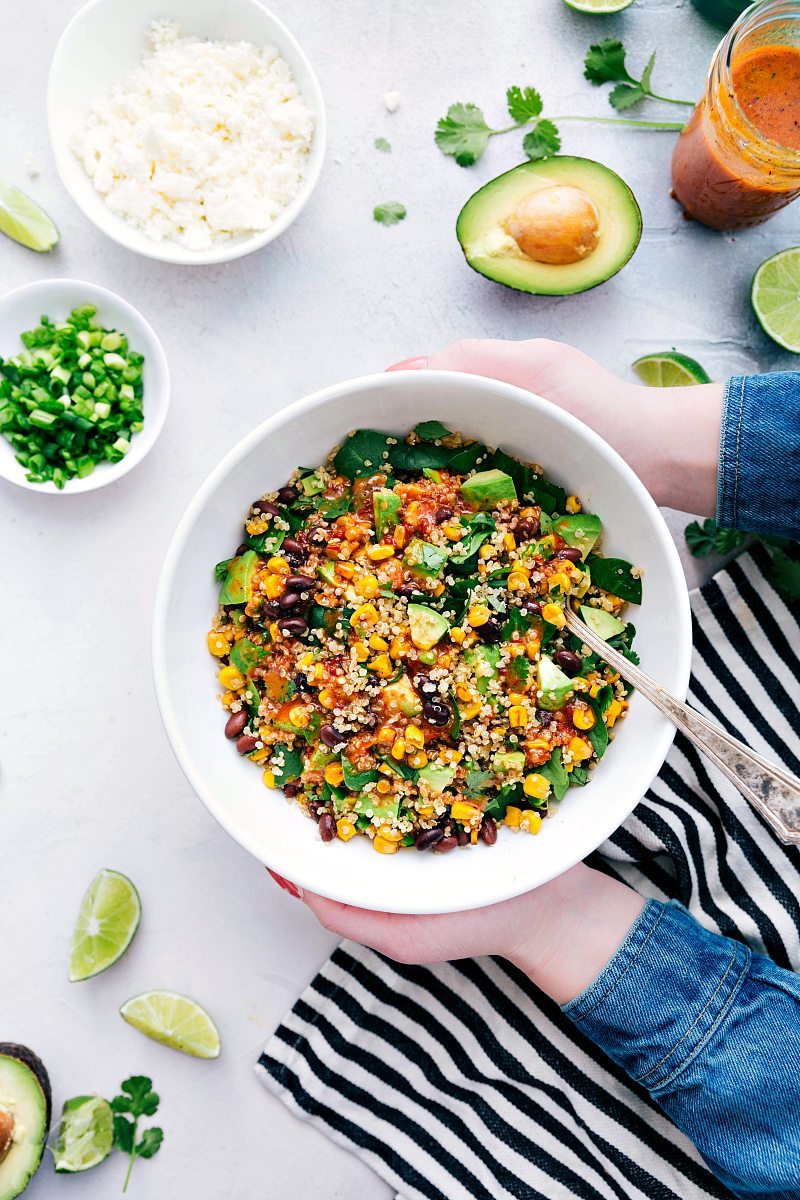 Click here to pin this Mexican Avocado and Corn Quinoa Salad.
This is the SECOND quinoa salad of the year I've posted and we're only 8 days in, so I'd say I'm doing pretty great at resolution-ing.
Also, I'm happy to report the amount of cookies I've consumed this year has dropped drastically…which actually isn't hard to do when you aren't making 800 cookies in 2 days…
This salad was inspired by a craving for this tried and true Mexican Street Corn Pasta Salad. I decided since I might not be the only one trying to eat healthier this month I should create a healthy version of that salad. While this salad ended up pretty different from the Mexican pasta salad, it's got the same Mexican-inspired flavors we all know and love: roasted corn, black beans, cotija cheese, fresh lime, lots of cilantro, green onions, and a delicious chipotle vinaigrette.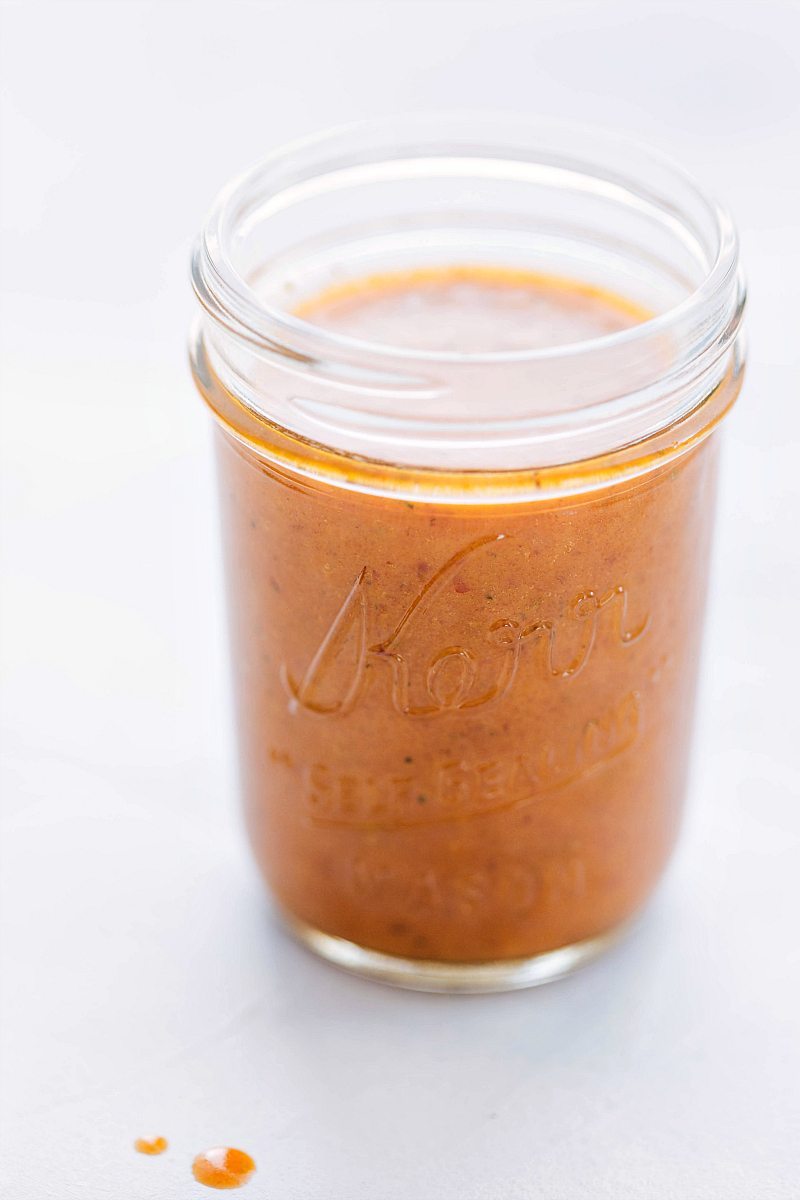 How to make this Mexican avocado and corn quinoa salad:
This salad is EASY! Start with the quinoa, and while that is cooking and cooling, you'll have enough time to get the rest of the salad prepped and ready to go!
Cook the quinoa in vegetable or chicken broth to enhance the flavor.
Pan roast the corn and let it cool completely. You can use fresh corn if you have access to it, but canned corn works here too. If you use canned corn though, just make sure to thoroughly drain it before adding it to the skillet. If the corn is still wet it won't pan roast as well. Drain and rinse the black beans.
Meanwhile prep the veggies and herbs: coarsely chop the spinach, slice the green onions, coarsely chop the cilantro, and chop the avocado (add a squeeze of fresh lime to keep it from browning).
Make the dressing: add all of the dressing ingredients to a small food processor or small blender and pulse until smooth.
Toss it all together! Combine the cooled quinoa with the veggies, cooled corn, and black beans. Add the herbs, dressing, and cheese if desired. (If you want to enjoy leftovers, add dressing and cheese only to the portion you will consume.)
Enjoy!

What makes this avocado and corn quinoa salad healthy?
Quinoa is a low-glycemic food which means it is absorbed slowly into your body. A slow absorption mitigates spikes in your blood sugar which affects your mood, energy levels, and even how hungry you feel – which prevents over-eating.
Black Beans are LOADED with fiber. Because of this they get digested very slowly which causes you to feel full for a longer period of time.
Cilantro has actually been found to detox heavy metals (such as aluminum, mercery, arsenic, lead, etc.) from your body which in turn protects just about every vital organ.
Spinach naturally boosts your metabolism, is known as a "cancer fighter," and has a ton of iron. It also has a high concentration of vitamin A which promotes clear and healthy skin by allowing your body to properly retain moisture.
Lime Juice helps to flush toxins out of your digestive tract.
Corn contains vitamin B6 which is essential for good liver function. Toxins remove vitamin B6 from the liver which corn helps to replenish and aids in performance of the liver. It is also rich in fiber which again helps you feel fuller for longer.
Green onions help to rid your liver of harmful toxins.

Tips to make this avocado and corn quinoa salad the BEST:
Only add dressing to what you plan on eating in the same day. Unfortunately this salad doesn't sit very well with the dressing mixed into it. If you aren't planning on eating the whole salad at one sitting, toss only what you'll being eating on day 1 with the dressing. If you keep the dressing separate this salad can store in the fridge for up to 3 days – with the exception of the avocado. Unfortunately the avocado browns and takes on an odd texture. I'll typically add half the avocado one day and place the other half in a plastic bag (squeeze some lemon or olive oil on the exposed side) in the fridge until I'm ready to add that to the salad.
Roast the corn.
Mix it up. I kept this salad pretty simple but it's easy to enhance by adding some of your favorite salad toppings — think roasted pumpkin seeds, sunflower seeds, sliced almonds, pistachios, fresh parsley, feta cheese, goat cheese, etc. I love the flavor of goat cheese with this salad!
Add some meat. This salad is vegetarian by default, but it's perfectly acceptable to grill some chicken to serve on the side or to chop up and put on top of the salad. Don't think it's necessary to add meat to the salad, however. It's loaded with protein even without meat and you'll be amazed just how filling it is.
Rinse the quinoa. Quinoa has a bitter saponin coating so you'll want to rinse it before preparing it. I like to pour the quinoa in a fine mesh sieve and rinse it quickly. I also typically cook quinoa in chicken or vegetable broth to infuse it with more flavor.

How can you meal prep this avocado and corn quinoa salad?
Prepare the salad as the recipe indicates but leave out the avocado and cheese, and don't add the dressing.
Separate the salad evenly into FOUR meal prepping containers, leaving space for the dressing and cheese.
Add the cheese and dressing into small containers or snack-sized Ziploc bags.
Add the sealed cheese and dressing to the meal prepping containers along with a wedge of fresh lime.
Seal the containers and store in the fridge until ready to eat. For the avocado: On the first day you'll be enjoying the salad, halve the avocado. Chop 1/4th of the avocado and add it to the salad. Take the remaining avocado and squeeze lime juice over it all. Store it in an airtight plastic bag in the fridge. Add 1/4th of the avocado each day slicing off the top layer if it's browned.
To enjoy: add the avocado, pour the dressing over everything, sprinkle on the cheese, and squeeze on some fresh lime juice.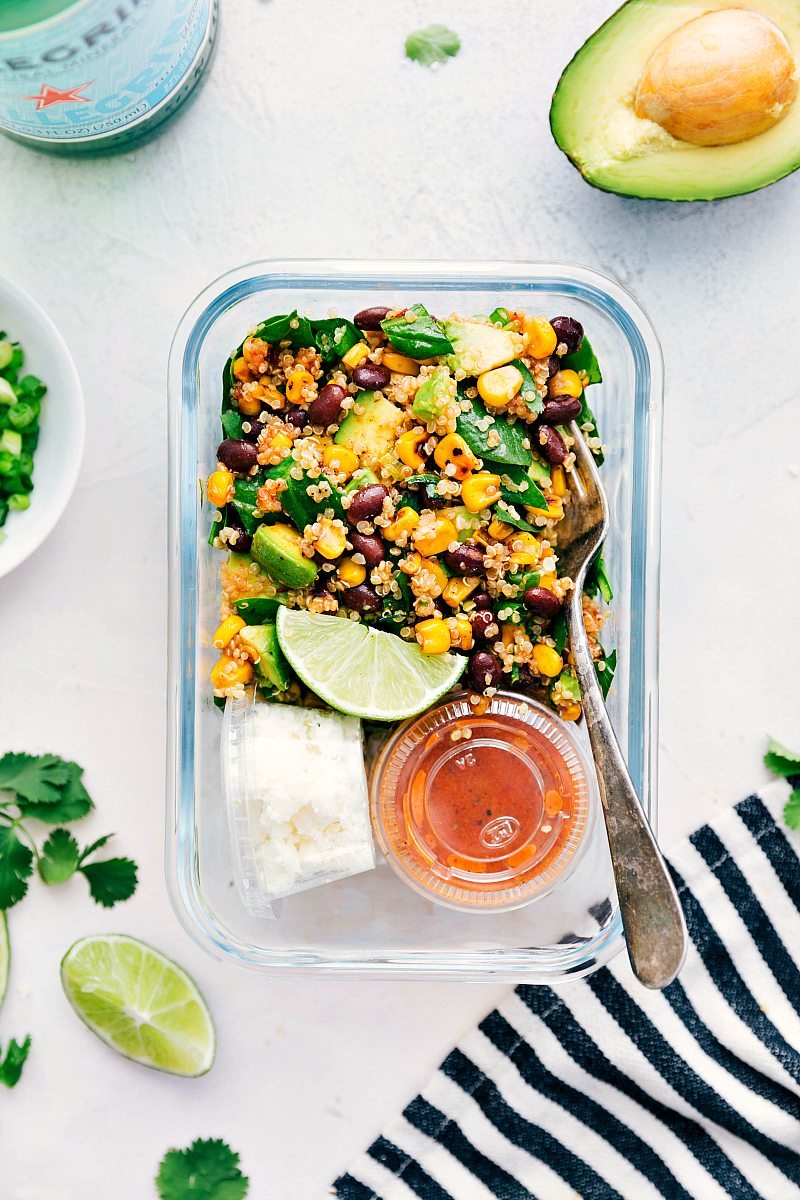 More Healthy Salads: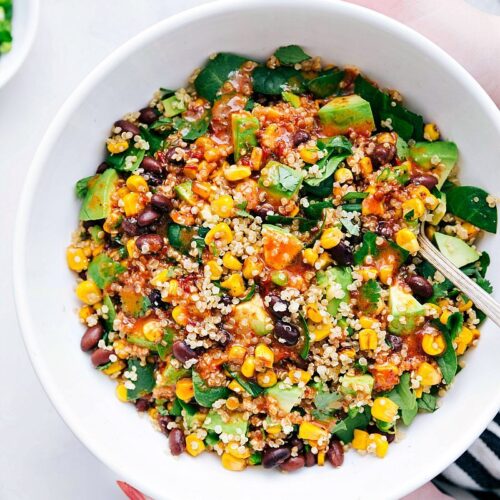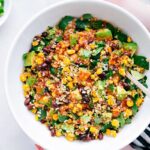 Mexican Avocado and Corn Quinoa Salad
A healthy Mexican-flavor inspired avocado and corn quinoa salad packed with veggies and coated in the most delicious chipotle vinaigrette
Servings
:
4
-6 servings (4 meal prep servings)
Ingredients
1/2

cup

uncooked regular quinoa

Optional: 1 cup chicken broth or veggie broth

1

can (15 ounces)

sweet yellow corn OR 1-2 ears fresh corn

2

cloves

garlic,

separated

3

cups

baby spinach

3/4

cup

canned black beans,

drained and rinsed

1/4

cup

fresh cilantro

2-3

green onions

1

large

ripe avocado,

pit removed and chopped

2-3

fresh

limes

Optional: Cotija cheese
Dressing
3

tablespoons

red wine vinegar

2

tablespoons

honey

1/4

cup + 2 tablespoons

vegetable oil

1/2

teaspoon

ground cumin

1/2

teaspoon

dried oregano

Fine sea salt and freshly cracked pepper

1

large

chipotle pepper in adobo sauce

1

tablespoon

freshly squeezed lime juice
Instructions
Cook the quinoa according to package directions (I like to cook it in chicken or veggie broth to enhance flavors; water works fine as well). Fluff and set aside to cool. Cool quinoa completely before adding to the salad.

Heat a large nonstick skillet over medium high heat. Add the well-drained corn in one even layer (add 1 teaspoon butter/oil if you don't have a high quality nonstick skillet; it won't get as perfectly roasted, but won't mess up your pan). Let it sit, stirring occasionally until you get a nice browning on the outside of the corn (I don't stir often so it gets nicely browned!). Add 1 clove minced garlic and stir for 20-30 seconds. Remove the corn from the heat and set aside allowing to cool completely.

Meanwhile, prep the dressing: add the red wine vinegar, honey, vegetable oil, ground cumin, dried oregano, salt and pepper (I add about 3/4 teaspoon salt and 1/4 teaspoon pepper, but add to your preference), remaining 1 garlic clove (give it a quick coarse chop), 1 chipotle pepper (again quick coarse chop), and freshly squeezed lime juice into a small blender or small food processor. Pulse until smooth. Store dressing in a sealed mason jar the fridge until ready to use.

Prep everything else: remove stems and coarsely chop the baby spinach, drain and rinse the black beans, coarsely chop some fresh cilantro, thinly slice the green onions, chop the avocado (squeeze a wedge of fresh lime over the avocado to keep it from browning).

Assemble: In a large bowl, add in the cooked and cooled quinoa, cooled corn, black beans, spinach, cilantro, green onions, and avocado. Remove the dressing from the fridge and shake it well and then pour over the salad*. Toss the salad and then top with cotija cheese and a few squeezes of fresh lime if desired. Serve salad plates with fresh lime wedges if desired.
Recipe Notes
*If you aren't planning on finishing this salad all in one day, I'd recommend keeping the dressing separate from the salad and only dressing what you'll be eating. Also, only prep the amount of avocados to what you'll be eating that day. See blog post for notes on how to convert this salad to a meal prep option.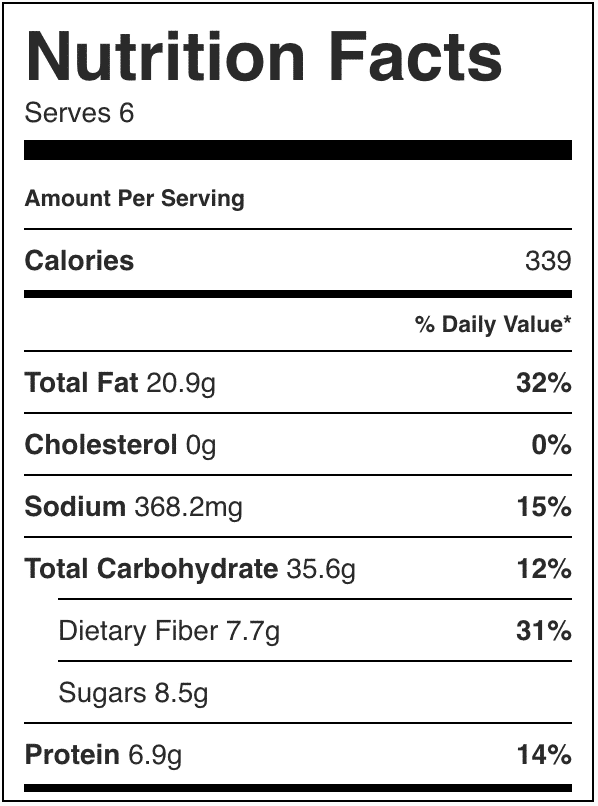 While I have my background in Exercise and Wellness (B.S.), all the content in this post is for informational purposes only. Please consult a doctor or dietician for any specific dietary needs/questions.