A delicious and healthy Greek couscous salad that everyone will go crazy for! (Meal prep options and tips included)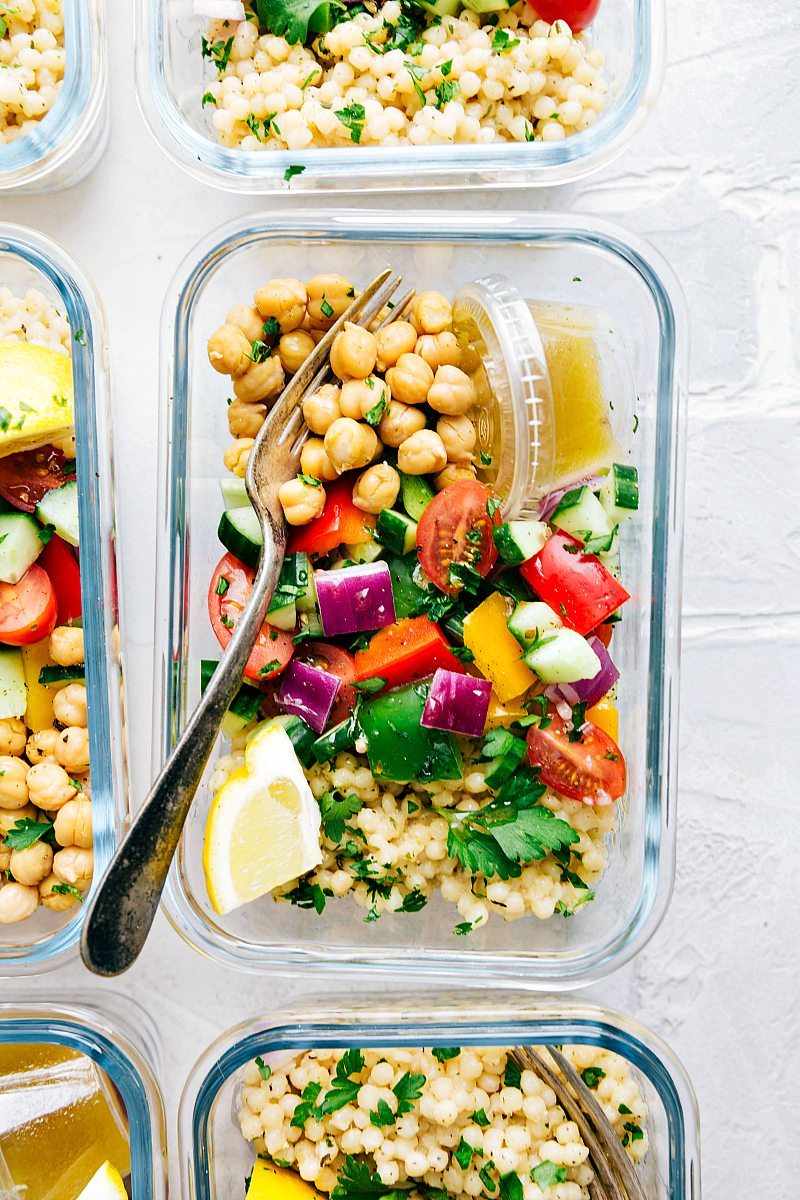 Pin this GREEK COUSCOUS SALAD to your Pinterest boards!
Couscous Salad
While I was in college and studying nutrition/wellness, the number one question I was asked was "How can I lose weight?" Or a similar question: "How do I keep the weight I've lost off?" And while it took me probably all four years in college to formulate my "perfect" response to these questions, it ultimately boiled down to one simple thing: moderation. Meaning, eat in moderation and exercise in moderation.
That is obviously a simple answer, but I am convinced that is the way best and healthiest way to lose and/or maintain weight. Yes I've heard the many success stories of people losing tons of weight through the latest fad diet, or other extreme method of weight loss. But in my opinion those methods aren't sustainable and studies show that most people who lose weight in those ways gain it back eventually.
Moderation is a tricky thing because it can be different for everyone. For me it's eating healthy about 80% of the time and indulging about 20% of the time. Exercising for me is the same — I don't exercise daily and the intensity of my exercise definitely varies; but I do stay active at a higher percentage (let's say 80% of the time) as opposed to being inactive during the daytime.
And yes, often that exercise is wrangling two crazy boys….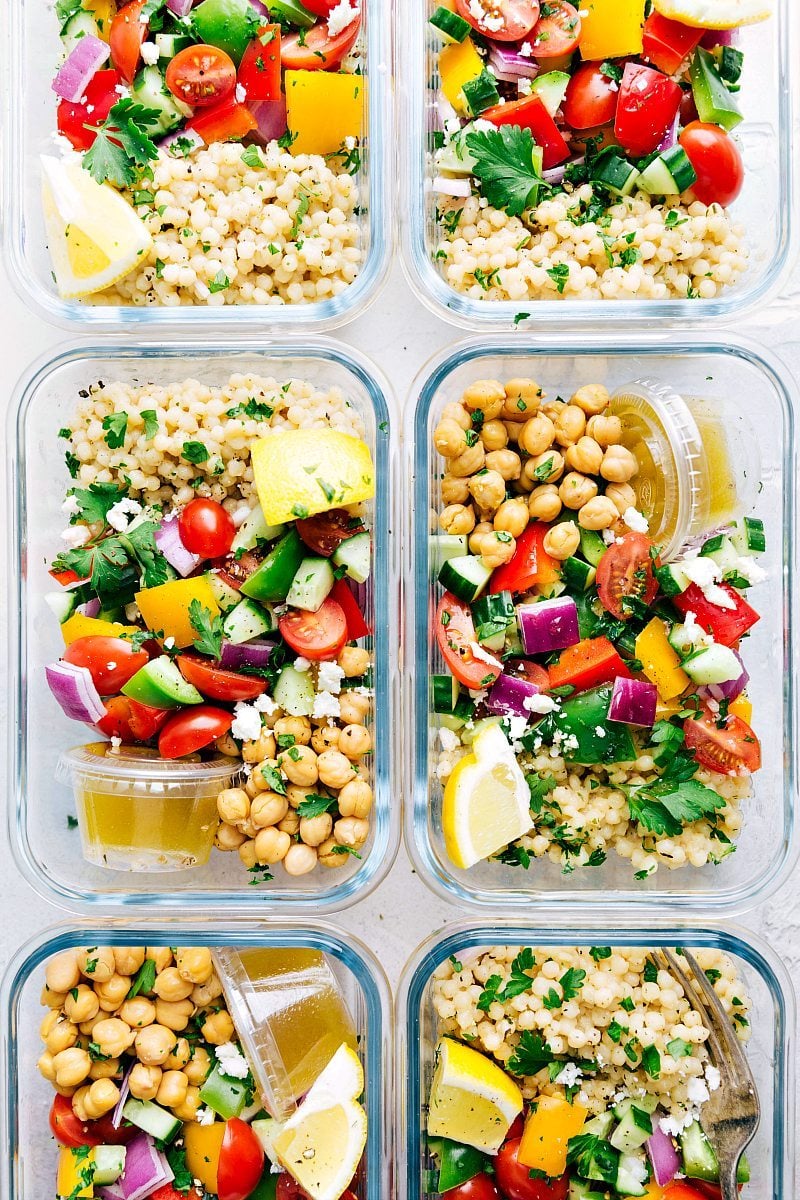 Eating healthy in moderation can be difficult – no, I'm definitely not perfect at my 80/20 rule – but I've found meal prepping to be the best way to keep me on track. If I have a meal prepared in advance, it is much easier to avoid snacking, treats, or other unhealthy food. If I'm prepared, it's much easier to stick to my goals and eat healthier.
While I was going to college I meal prepped religiously. Every Sunday I'd make salads, breakfasts (usually overnight oats), and prep out veggies/grains for meals I'd be making that week. Doing this made it much easier to eat healthy meals all week long despite a full course load and two part-time jobs.
And, in case you're wondering, my limited college budget did not include matching meal prep containers. Ha!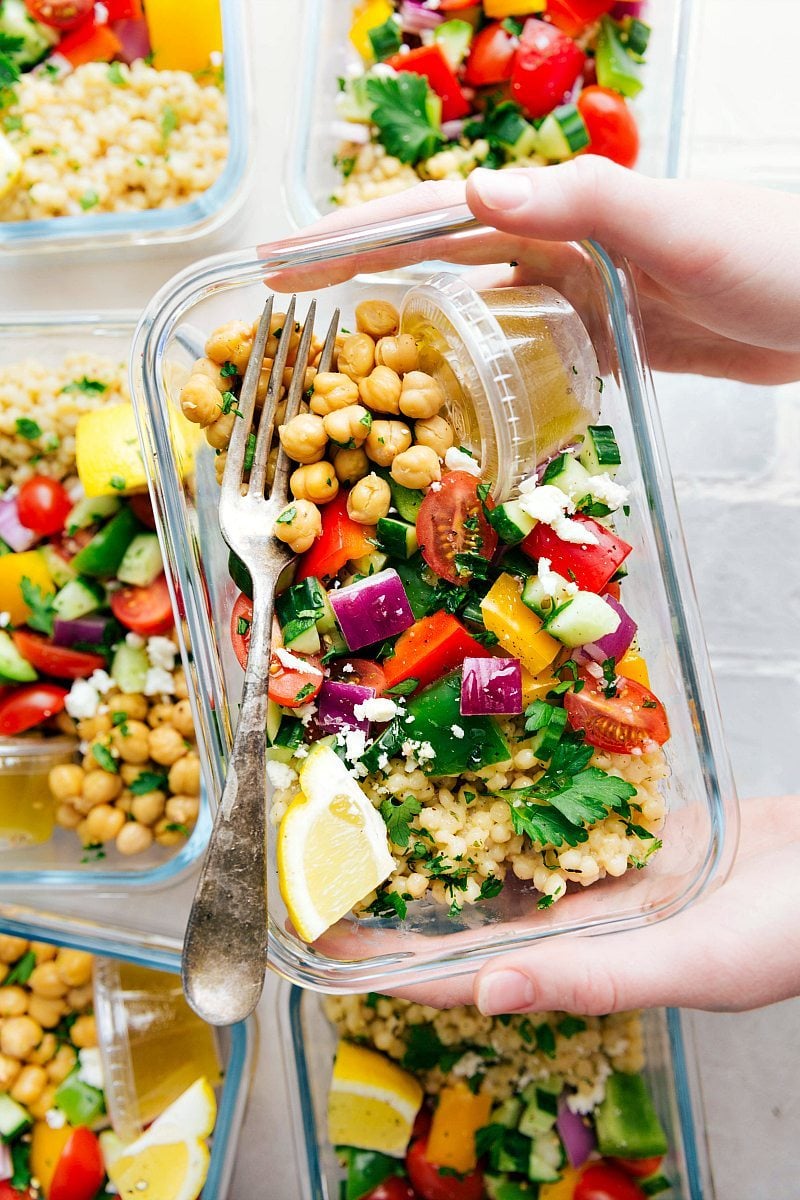 In the spirit of trying to eat healthier for the new year, I'm going to be sharing some of my favorite healthy meal prep recipes with you during the month of January! I hope you love these recipes, and more importantly, they help you eat a bit healthier!
Even if you aren't into meal prepping, you can still use these recipes for day-to-day healthy recipes. I've made this particular couscous salad a few times – once as a dinner with some grilled chicken, and another batch has been keeping me and the boys full for lunches 🙂 This recipe makes 4 generous (adult) dinner servings, and perfectly fills up 6 meal prepping containers for 6 meals throughout the week.
I don't mind eating the same thing for lunches all week (especially when it's as good as this Greek Couscous Salad), but if you're worried about getting sick of the same thing you can easily halve the recipe, use a different dressing for different days, or change-up the veggies for each meal.

How to make Greek Couscous Salad as a meal prep option:
Get 6 equal-sized meal prep containers, and 6 small containers for the dressing. You'll want to store the dressing separately to avoid the salad getting "soggy." You can buy bulk dressing containers, use tiny (dressing-sized) Tupperware containers, or even use small snack-sized plastic bags.
Prep the couscous first. While the couscous is cooking, prep the veggies. The veggie prep doesn't take too long because the veggies are chopped coarsely. I recommend 3 bell peppers, an English cucumber, a red onion, parsley, and cherry tomatoes. These all get chopped up and divided equally among the 6 containers. It is very easy to change-out these veggies to others of your own choosing, based on personal preference.
I use chickpeas as the main protein in this salad. You can roast the chickpeas if you want to make them crispy (add in some good seasonings or just freshly cracked salt + pepper!). Alternatively different kind of beans or a good grilled chicken would be delicious!
Finish it off with some freshly cracked salt + pepper, a wedge of lemon (that you'll squeeze on right before enjoying), some extra chopped parsley, and some feta cheese!

More Delicious Meal Prep Options:
Helpful Visual Guide: check out how to cut a bell pepper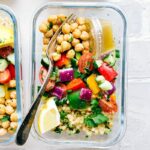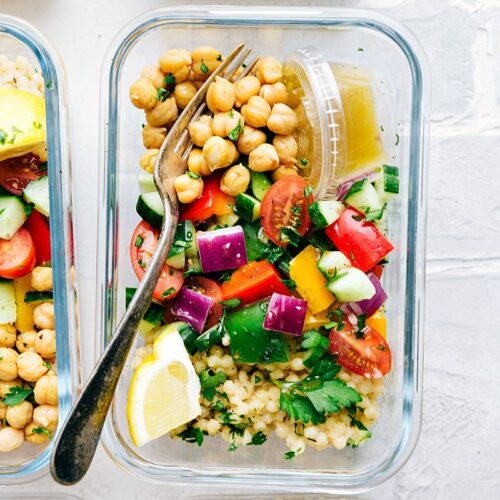 Greek Couscous Salad
A delicious and healthy Greek couscous salad that everyone will go crazy for! Meal prep options and tips included.
Servings
:
6
meal prep servings; 4-6 dinner servings
Ingredients
Salad
2

packages (4.7 ounces each)

Pearled Couscous Mix (I use one made by Near East) Roasted Garlic & Olive Oil flavored

1

english (or hothouse) cucumber,

coarsely chopped

3

bell peppers (1 red, 1 green, 1 yellow),

coarsely chopped

1/2

of 1 large

red onion,

chopped

1

cup

cherry tomatoes,

halved

1/2

cup

flat leaf Italian parsley,

finely chopped

2

cans (15 ounces EACH)

chickpeas

Feta cheese,

to taste

1

lemon,

cut into wedges
Salad Dressing
1/4

cup

red wine vinegar

1/2

cup

olive oil

1

tablespoon

freshly squeezed lemon juice

1

teaspoon

minced garlic

1

teaspoon

dried oregano

1/2

teaspoon

Dijon mustard

Sea salt and freshly cracked pepper
Instructions
Prepare the couscous mix according to package instructions making sure to add in the seasoning mix. If you don't use couscous from a package, you'll want to add some of your favorite seasonings because a lot of the flavor in this salad comes from that seasoning.

While the couscous is cooking, prep the veggies: coarsely chop the cucumber, the peppers, the red onion, and cherry tomatoes. Finely chop the parsley. To take the "bite" out of the raw red onion you can soak it in cold water (or freshly squeezed lemon juice) for about 10 minutes.

Drain and rinse the chickpeas. If desired, roast them in the oven (see the last paragraph in this post).

Prepare the dressing by adding all of the dressing ingredients to a mason jar. (I add about 1 teaspoon salt and 1/2 teaspoon pepper, but add to your personal preference). Seal the jar and shake until combined.

TO SERVE AS A SALAD: Add the prepared couscous to a large bowl and allow to cool. Add in all of the veggies and chickpeas. Add in some feta cheese, freshly squeezed lemon, salt and pepper to taste, and the dressing. Only dress what you will enjoy as this salad doesn't sit well for a long time with the dressing on it.

TO MEAL PREP: Divide the dressing evenly into 6 small containers. Divide the couscous evenly among 6 meal prep containers. Next add in equal parts of all of the chopped veggies and chickpeas. Add a lemon wedge, some feta cheese, and cover everything with some salt and pepper. To enjoy, add the dressing, squeeze the lemon over everything, stir together, and eat!