A bed of quinoa with marinated and grilled chicken breast topped with a fresh and healthy mango salsa.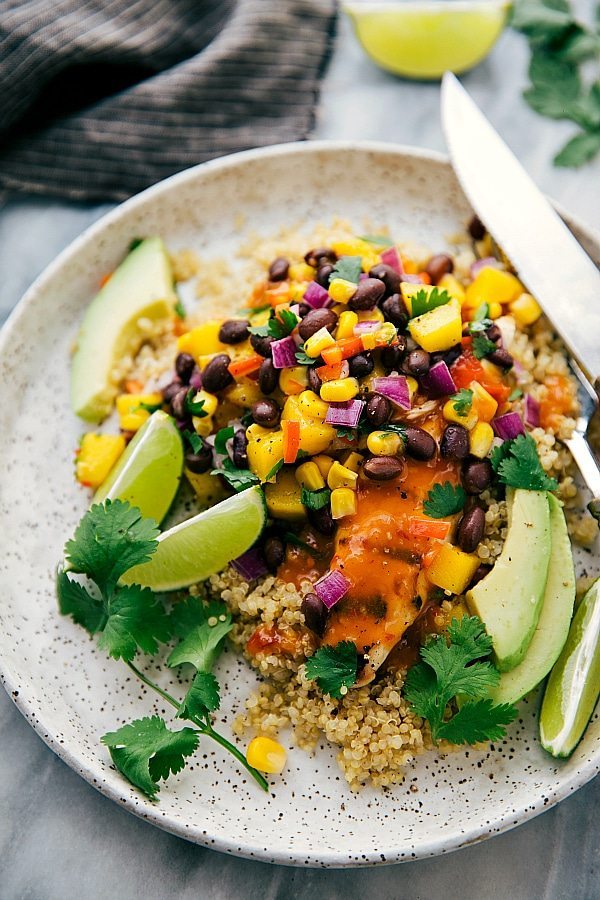 So my husband and I both graduated college together. In fact we got to walk together which was a really fun experience.
The funny thing is, the husband keeps getting emails from a high school English class. These emails range from homework assignments to extra credit opportunities to grade updates.
Apparently someone missed the memo that not only did he graduate high school, he also completed two degrees at college.
At first, the husband was worried someone was missing out on these emails and he was being mistaken for a student in the class. He sent email after email that he was not registered for the class. He even spammed the emails after continuing to receive them.
But they keep coming. And the teacher is convinced he is indeed in the class. Regardless of all that he says otherwise to her.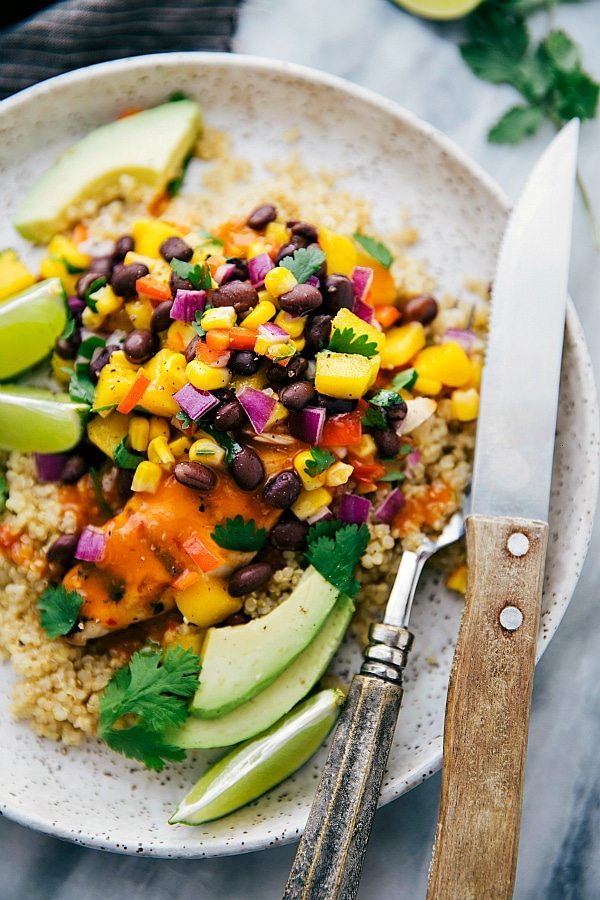 We recently decided that if this winter does not in fact turn to Spring and continues to limit our weekend activities, that perhaps doing a few extra credit assignments wouldn't hurt.
You know, maybe we could still learn a thing or two and can pretend we didn't in fact graduate.
Like the good old times – sitting on the couch doing homework together. Except for the fact that I wouldn't necessarily consider those the good old times… Homework was rarely considered a fun activity in my mind. Important, yes? Fun, no – not really.
But the more we've discussed it, the funnier it gets – the idea of doing one of the assignments and submitting it. Don't worry, I'll keep you updated on our grades in 11th grade English. Wish us luck!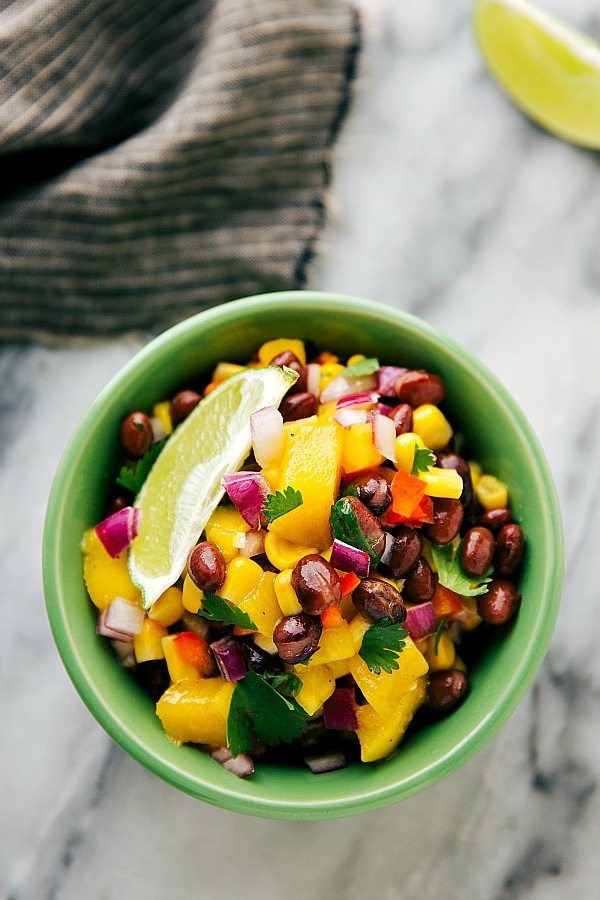 But let's move on and talk about these quinoa chicken bowls with a mango salsa. I'm pretty obsessed with them. They are pretty dang delicious and the perfect Spring slash Summer meal. (If it can't be warm outside, I'll pretend it is in the food I'm cooking.)
Anyways, these are pretty simple to put together. I marinated the chicken in a simple marinade overnight. Then the chicken gets grilled while the quinoa cooks.
The mango salsa is a simple chopping up and adding ingredients together. Putting it together – the quinoa goes first, next the chicken, and finally, the mango salsa to top it all off!
And now, it's time for me to help the husband on some extra credit. We are really wanting to impress his 11th grade English teacher… 😉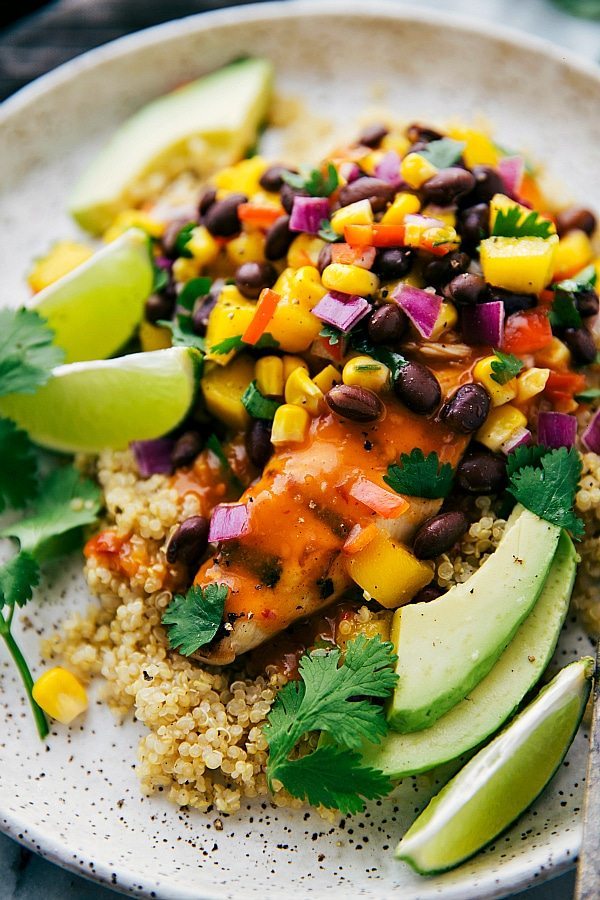 Helpful Visual Guide: check out how to cut a mango
You'll LOVE these quinoa recipes: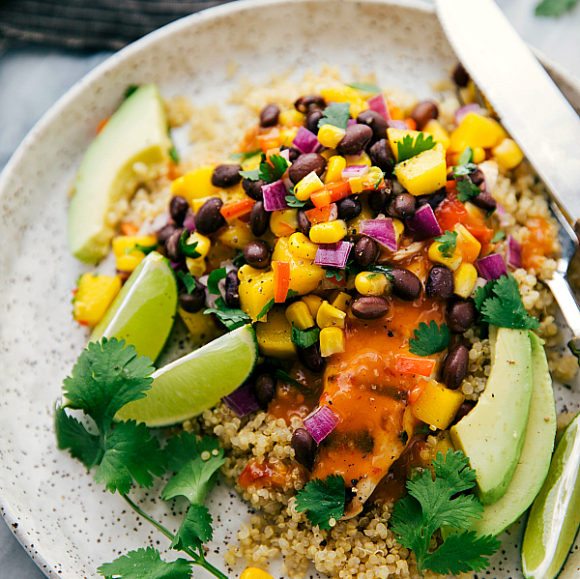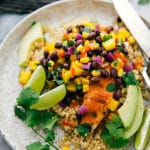 Quinoa Chicken Bowls with a Mango Salsa
Ingredients
Chicken
2

large boneless skinless chicken breasts

3/4

cup

Sprite

1/4

cup

olive oil

1/4

cup

soy sauce

2

tablespoons

fresh lime

1/8

teaspoon

garlic powder

1

tablespoon

honey

1/4

teaspoon

salt

Optional: but DELICIOUS! Peri-peri sauce*
Quinoa
1

cup

quinoa

2

cups

water or chicken broth
Mango Salsa
1/2

cup

corn

drained and rinsed

1/2

cup

black beans

drained and rinsed

1/4

cup

red onion

finely chopped

1

mango

peeled and chopped

1/4

cup

red pepper

seeded and chopped

3

tablespoons

cilantro

finely chopped

2

tablespoons

fresh lime juice

2

teaspoons

fresh lemon juice

1

teaspoon

olive oil

Optional toppings: extra cilantro, an avocado, squeeze of fresh lime, 1 fresh jalapeno pepper (finely chopped and added to the salsa)
Instructions
Combine the Sprite, olive oil, soy sauce, lime juice, garlic powder, honey, and salt. Stir together. Submerge two large boneless skinless chicken breasts (fat removed) into the marinade and let sit covered in the fridge for at least 1 hour and preferably overnight or 8-10 hours.

Remove from the marinade, pound to an even thickness, and then grill until completely cooked through.

Meanwhile rinse and then cook the quinoa according to package directions.

For the mango salsa, prepare all of the ingredients by draining, rinsing, and chopping them as explained in the ingredient list.

Stir all the ingredients together. Cover and allow to sit in the fridge and marinate for 20-30 minutes.

Prepare four plates by placing one cup of quinoa on each plate. Top with 1/2 cooked chicken breast. Divide the salsa evenly among the four plates.

Optionally garnish with cilantro and sliced avocado. Squeeze a wedge of fresh lime over the dish.

Enjoy immediately.
Recipe Notes
*We tried Nando's peri-peri sauce while living in Australia and it is honestly the best sauce I've ever had (it's pretty famous there). We brush it on the last bit of grilling and then pour some on top of the grilled chicken and it is UNREAL with this salsa. Highly, highly recommended! (It's extremely spicy, so stick with mild if you are worried about spice!) Here's a link if you want to check it out online!