A deliciously healthy Tex Mex Quinoa salad with a healthy and light cilantro-lime vinaigrette. The quinoa adds protein and great texture to this salad!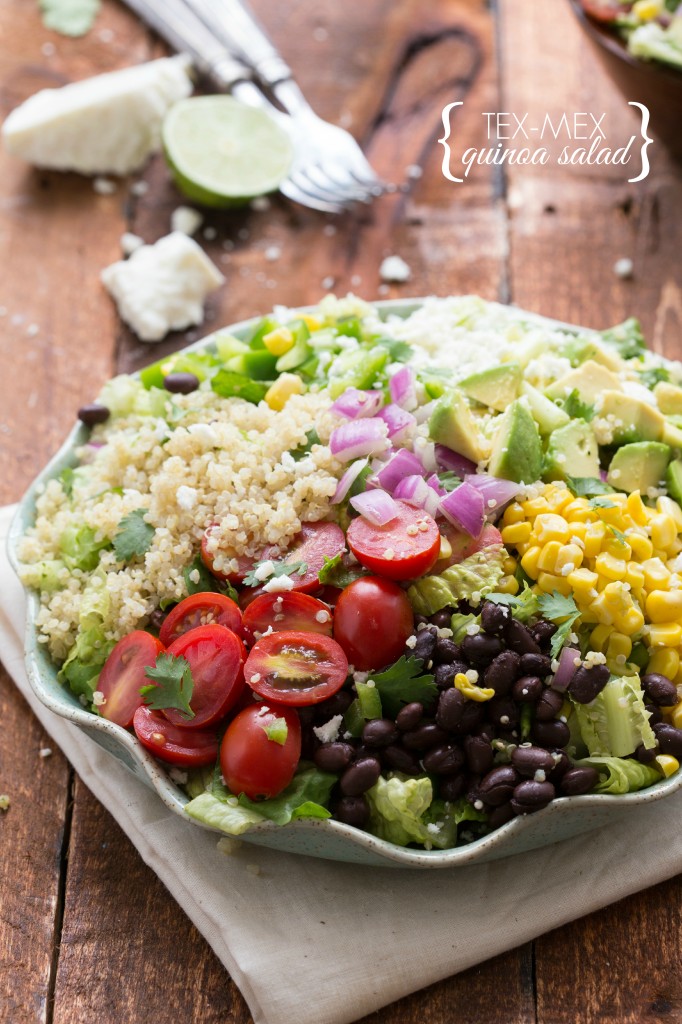 The last time I made a salad, I added loads of pasta to it. For staying power and because carbs = my life.
This time the staying power comes in the form of quinoa. Oh and avocado, because avocados are super filling to me.
And they went on sale this past week. Which, when avocados go on sale I turn into some kind of crazy person, grabbing all the avocados and shoving them in my cart. And everyone is looking at me, like "crazy person alert" when I'd rather just call myself an "avocado addict." Sounds better that way. I loooooove avocados and they are so versatile. Plus, in ways of other good news, the babe loves em too.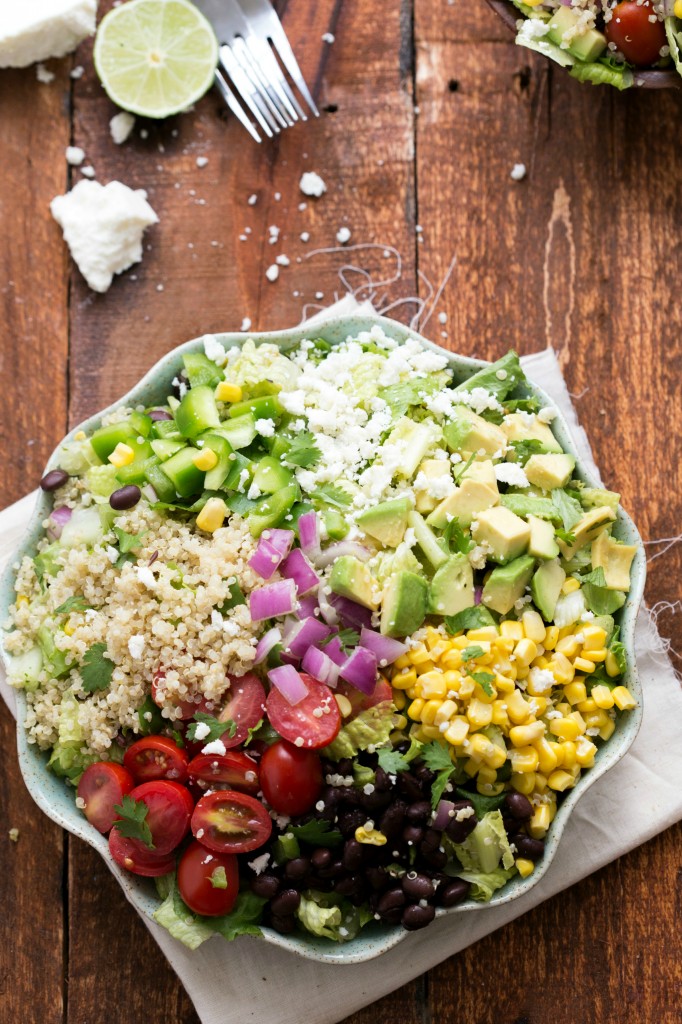 I fed him his very first avocado completely thinking that he would hate it. I mean do any kids like avocados when they are little? I guess, apparently some can love them.
But when I was a kid, those things couldn't get within a 10 mile radius or I would freak.out. My mom would eat them for lunch all the time – stuffed with fillings, and covered in dressing. Pretty much it totally grossed me out.
And now here I am, turning into my mom and eating avocados with everything. So when they go on sale, I'm now stuffing them and covering them in dressing, and shaking my head thinking – moms always know best. Avocados are deeeeeelicious.
And thank goodness the babe agrees. I could not feed him one quick enough. He was swallowing pieces without even chewing them and then lounging towards the uncut pieces because apparently I'm not fast enough. Note to self – have all the avocado pre-cut before placing the sight of them in front of the babe.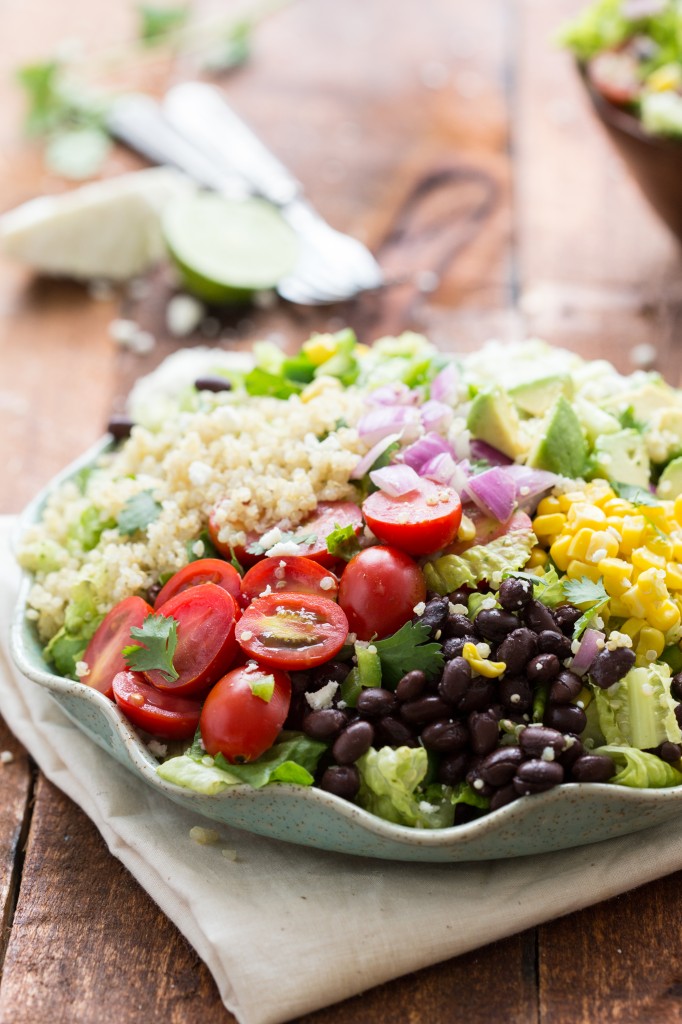 The rest of this salad is pretty easy – a little bit of chopping, draining of veggies, and mixing together. I also recommend cooking the quinoa in chicken or vegetable broth for added flavor. And then add the taco seasoning to your preference. I like a lot of spice, but feel free to scale it down or even up the amount.
The dressing is just blended together and covers the salad. P.S. Totally hoping you love this dressing, because I am obsessed with it!
And then don't forget the thing that ties it all together perfectly – the cheese. I used queso fresco, but cotija cheese works great too. Enjoy!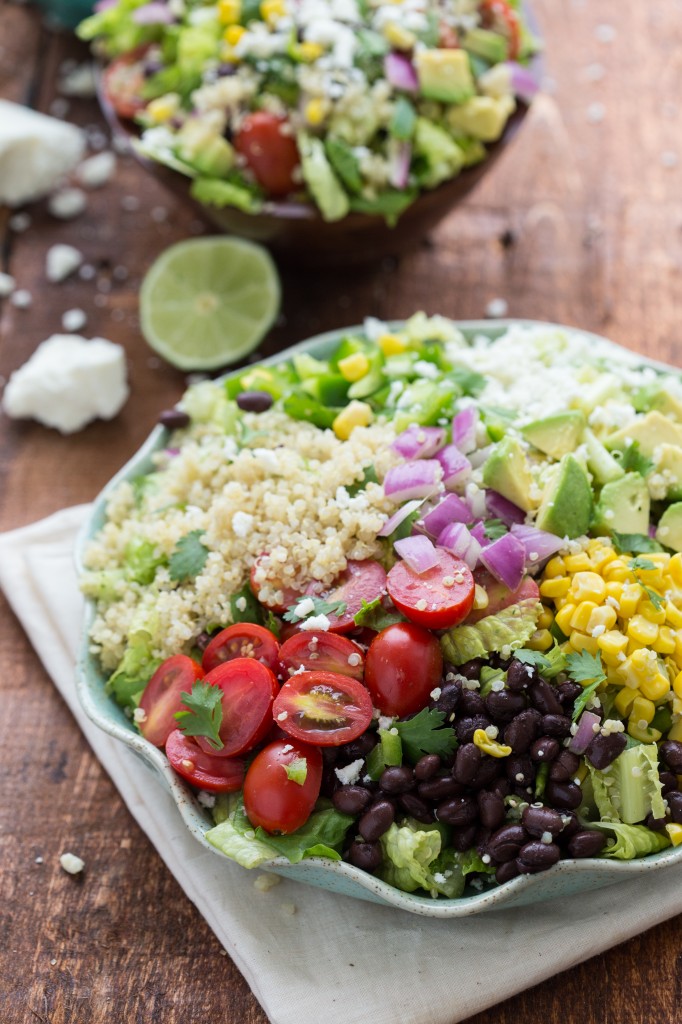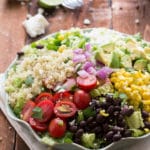 Tex Mex Quinoa Salad with a Cilantro-Lime Vinaigrette
Ingredients
1 and 1/2

cups

cooked quinoa

1/2

tablespoon

taco seasoning

5

cups

romaine lettuce

2 stalks

3/4

cup

red onion

1

small green pepper

3/4

cup

corn

3/4

cup

black beans

1

cup

cherry tomatoes

1

avocado

Queso Fresco, or Cotija cheese, for topping
Dressing
1

cup

cilantro

remove stems to measure

3

tablespoons

freshly squeezed lime juice

1/2

teaspoon

lime zest

1

jalapeno

seeded (leave seeds in if desired)

2

tablespoons

olive oil

1 and 1/2

tablespoons

rice wine vinegar

1/2

tablespoon

dijon mustard

1

teaspoon

white sugar

Salt and pepper

to taste
Instructions
I recommend cooking the quinoa in a chicken or vegetable broth for extra flavor. Once the quinoa is cooked (don't forget to rinse it really well before cooking), stir in the taco seasoning. Do this to your taste preferences - add less or more depending on how much you like it!

Wash and chop the lettuce.

Dice the red onion, chop the green pepper, drain and rinse the corn and black beans, halve the cherry tomatoes and add all to the salad.

Remove the pit and peel of the avocado, chop it, and add it to the salad.

Combine all of the dressing ingredients in a blender or food processor. Blend until smooth. Taste and adjust any seasonings to personal preference.

If eating the salad immediately, pour the dressing over, toss the salad, and top with Queso Fresco or Cotija cheese (to desired preference).

If you aren't eating the salad immediately or don't plan on finishing it all in one sitting, don't pour the dressing over all of it as this wilts the salad and makes leftovers not so great.
Here are some more quinoa recipes: