A deliciously thick swirl of cream cheese inside the best ever zucchini bread. This "secret" family recipe is one you'll want to use over and over again!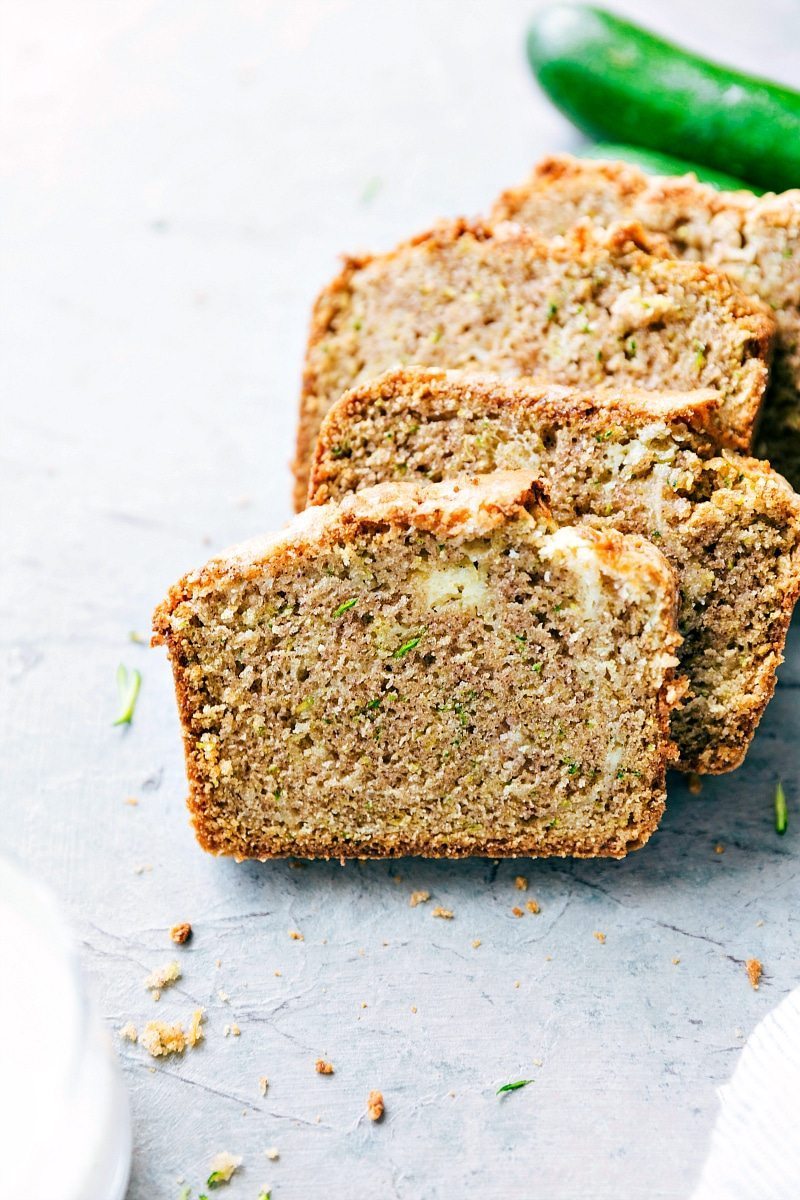 It's about time I shared this recipe!! I've only alluded to my mom's famous zucchini bread about a dozen times on the blog. And I did promise the recipe way back when. Sorry it has taken me so long!
Part of the reason is, as earth-shattering good as this bread is, I didn't want to post "just another zucchini bread." Because there are about a million other recipes on the web and how can you trust me that mine is the best?
There's only one way – I need to mail every single one of you a slice. If only… 🙂 So, I decided to make the bread a little unique. Don't worry – I didn't mess with any of the magic in the regular bread ingredients, I just added to them. In the form of a delicious cream-cheese swirl. I've been seeing zucchini cakes pop up everywhere with cream cheese frosting's and I thought – why not put that in the bread? Sooo — I did!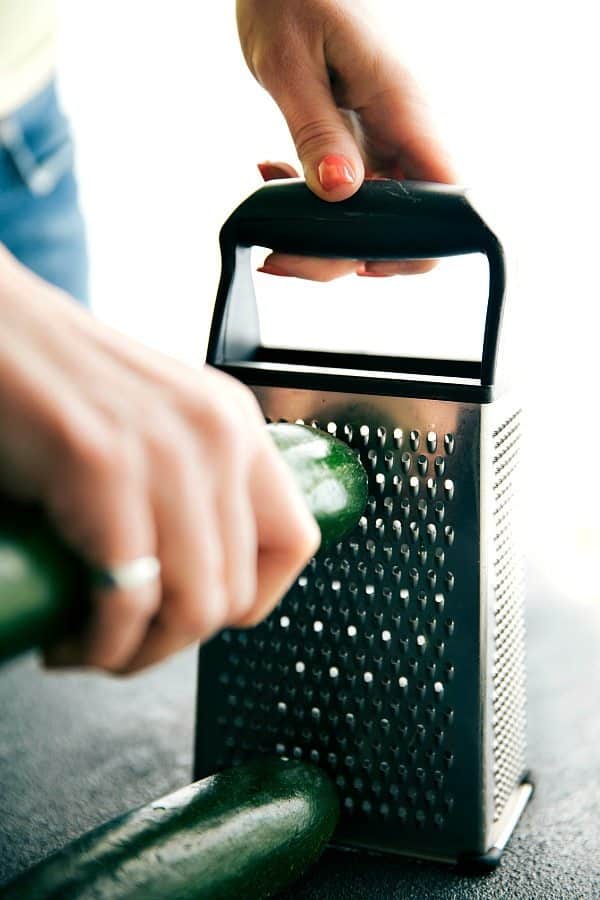 And the swirl couldn't be easier – cream cheese, some sugar, vanilla, and an egg. The ingredients just get beaten together and then alternate between the bread batter. I barely covered the bottom of the pans (this recipe makes 2 loaves – and trust me – you'll want them!!) with the bread batter and then pour some cream cheese mixture down the middle. Then more bread batter and finish it off with a thicker coating of the cream cheese. Finally, one last layer of bread batter and these loaves are ready to go into the oven!
I also experimented with making muffins and they turned out great! I just sprayed a muffin tin and filled the cavities slightly higher than half way. Then I poured in some of the cream cheese mixture and swirled it around with a toothpick. About 15 minutes later some awesome muffins were also ready to be eaten.
So, if desired, you could make one loaf and some muffins. Or just two loaves with this recipe. And feel free to cut the recipe in half if you just want one loaf, but I'm telling you, you're going to want both!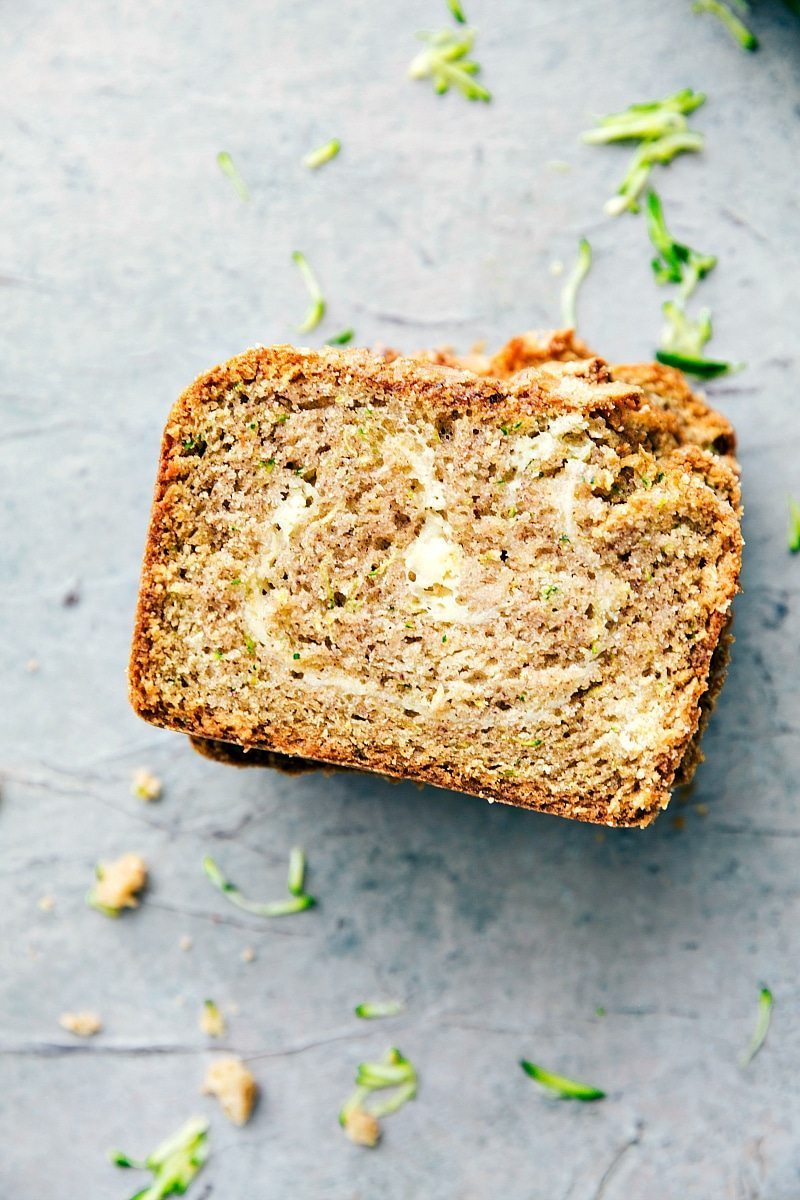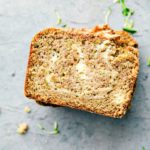 Cream Cheese-Swirled Zucchini Bread
Ingredients
2

(7 and 1/2 x 3 and 1/2)

bread pans
Zucchini Bread
2

cups

white sugar

3

large

eggs

1

cup

vegetable oil

3

cups

flour

1

teaspoon

baking soda

1/4

teaspoon

baking powder

1

teaspoon

salt

2-3

teaspoons

cinnamon

2

cups

shredded zucchini

(shredded on the small side of the grater)

1

teaspoon

vanilla
Cream Cheese Swirl
1

package (8 ounces)

cream cheese,

at room temperature

1

large

egg

1

teaspoon

vanilla extract

1/2

cup

white sugar
Instructions
Lightly grease and flour two bread pans and set aside.

Preheat the oven to 350 degrees F. Beat the sugar and eggs until well incorporated. Add in the oil and mix well.

In a separate bowl combine the flour, baking soda, baking powder, salt and cinnamon. Add cinnamon to taste preference - if you are a big fan do 3 teaspoons and less if you like it less.

Slowly add the dry ingredients to the wet ingredients and beat until just combined. Over-beating or over stirring will result in a denser bread.

Stir in the shredded zucchini (no need to wring it of excess liquid) and vanilla.

In a separate bowl, combine all of the ingredients for the cream cheese swirl. Beat until smooth and creamy.

Pour enough batter just to cover the bottom of both pans. Then pour about 1/4 of the cream cheese mixture into each pan so you will use 1/2 of the cream cheese mixture.

Cover with a little more batter, then the remaining cream cheese into each bread pan. Use the remaining batter to cover the cream cheese mixture.

Both bread pans should be about 3/4ths the way full.

Bake for 55-60 minutes or until a toothpick comes out clean when inserted into the center.

Allow to cool for about 5-10 minutes and then remove from the pan and allow to continue to cool or eat it while it's hot!
More Zucchini Recipes: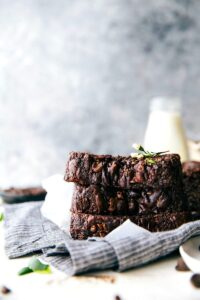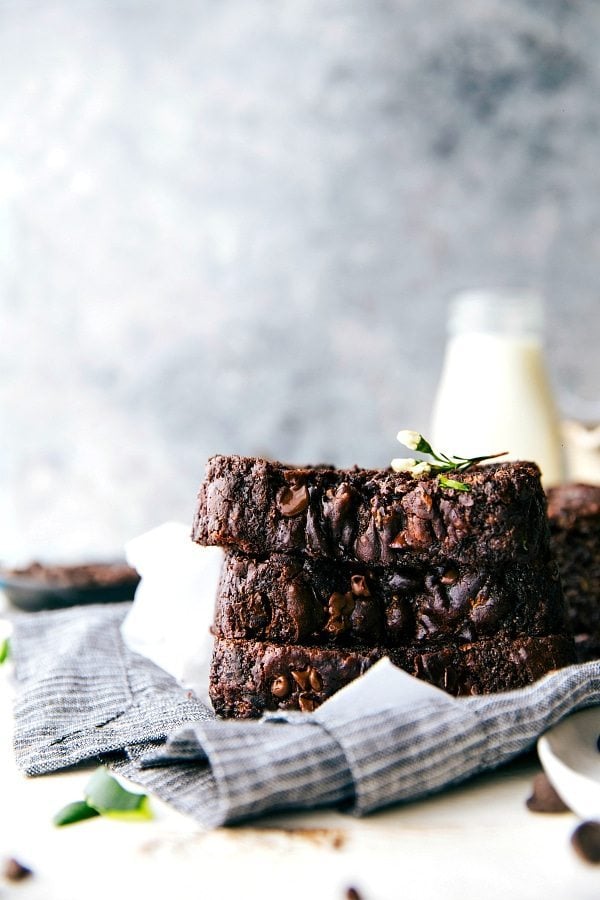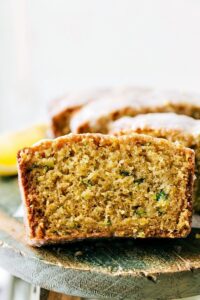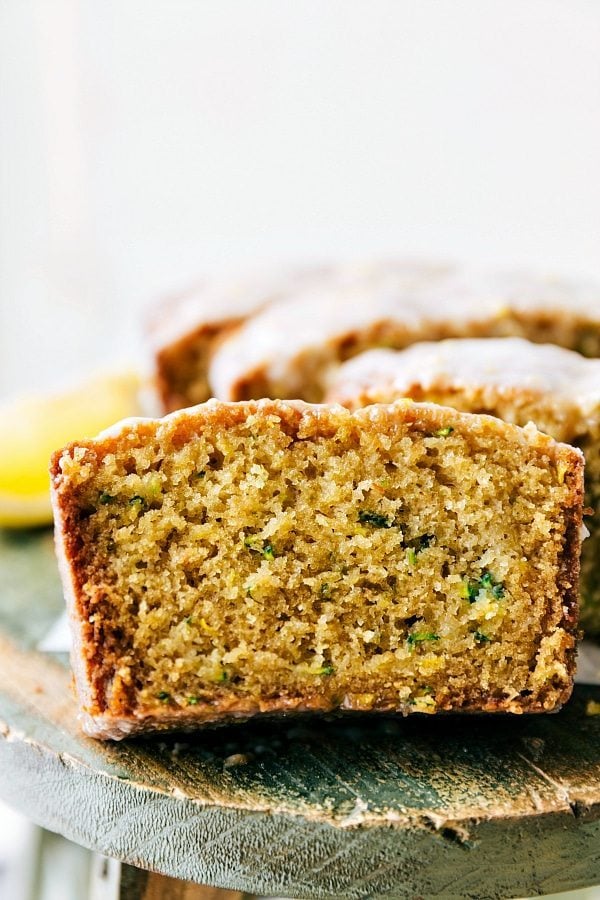 Healthier Lemon Greek Yogurt Bread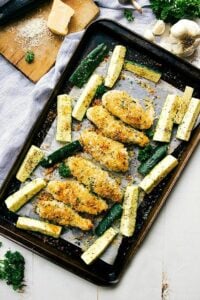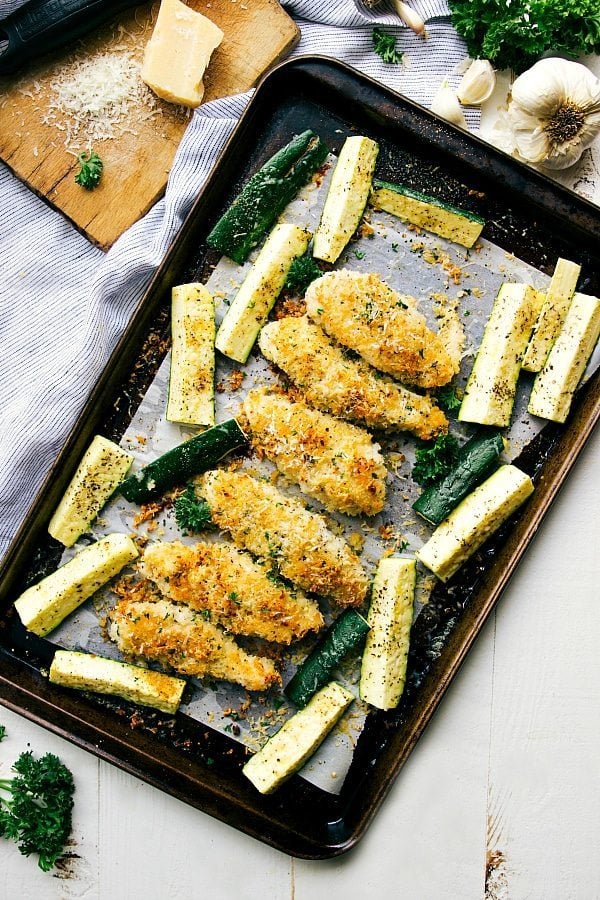 ONE PAN Parmesan Garlic Chicken with Zucchini