Chocolate Greek yogurt zucchini bread made healthier with better-for-you ingredient swaps.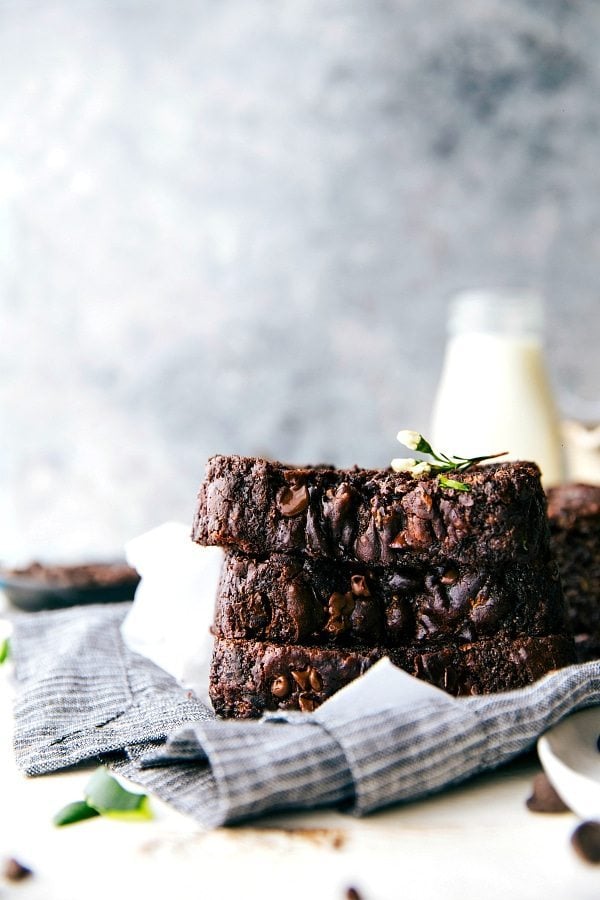 I asked on Instagram if it was too early for zucchini and with a resounding "NO" I feel a little more validated in sharing this recipe right now. You all are probably used to my over-eager before-the-season sharing (like pumpkin in AUGUST last year ?)
I start experimenting with recipes (especially baked goods) well before the time that they are "in season" so I make sure to have the recipes ready. But without fail I'm always way too excited to wait for the opportune moment of sharing. Like this bread for example.
It's been quite a few batches in the making and once I had the bread that the family is obsessed with, it had to be shared. Especially with the positive Instagram encouragement!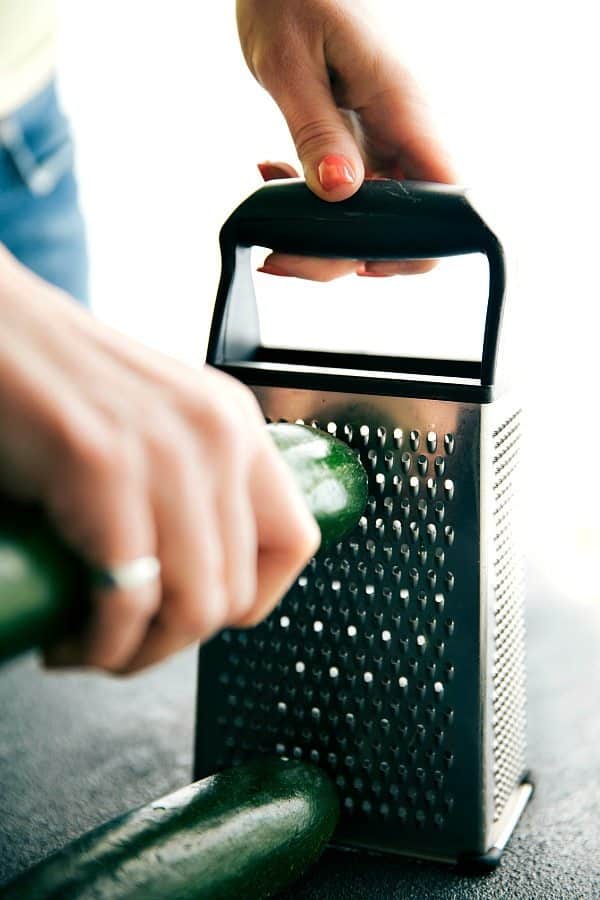 The hardest part to nail with this bread was the actual chocolate part. I have a plain zucchini Greek yogurt bread that is my ultimate favorite. It's gotten nearly perfect reviews and has been a hit on this site.
So I knew I wanted to keep the components the same for this bread. Healthier ingredients, same great texture, & a delicious flavor.
The problem was the cocoa powder. I kept finding that too much cocoa powder left the bread a lot dryer than desired. Especially by day 2-3, it was practically inedible. Too little cocoa powder and it just wasn't very chocolatey. I finally discovered the perfect medium. A little bit of cocoa powder to boost that chocolate flavor, but not too much to dry it out. The rest of the chocolate comes from actually melting chocolate for the bread. And then there are unmelted chocolate chips throughout.
This way of making a chocolate bread is outstanding! The flavors are incredible and the moistness (I know, that word…?) is spot on. It's got a rich chocolate flavor without the bitterness of lots of cocoa powder. AND it tastes even better by days 2-3.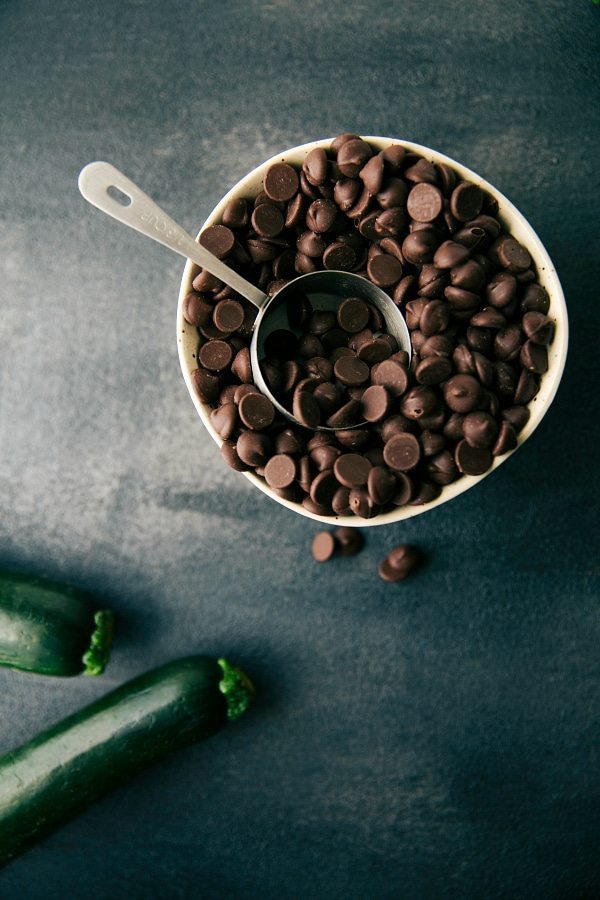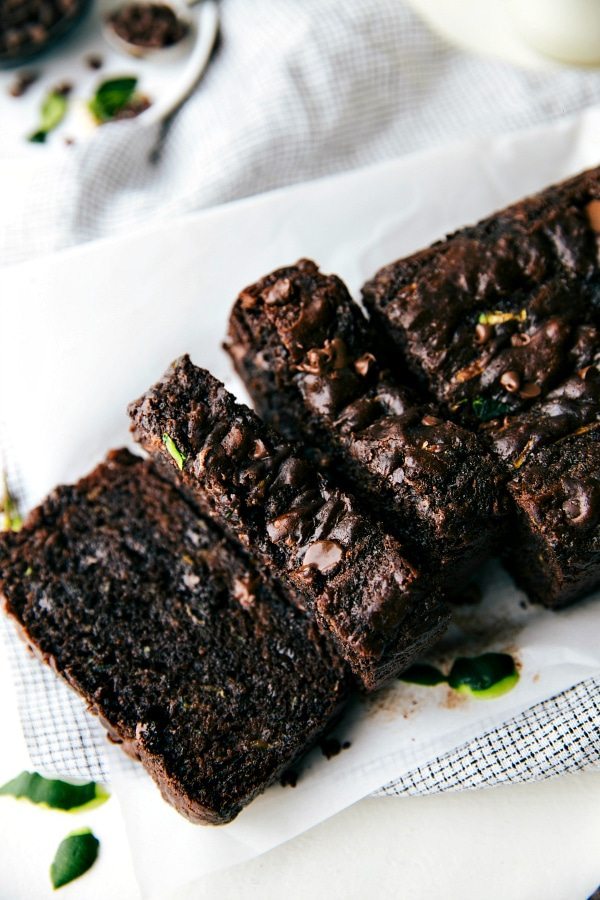 There is also still Greek yogurt in this bread which makes it softer and more tender while also adding some moisture. I highly recommend a vanilla (my favorite is vanilla honey Greek yogurt) version for flavor purposes. While plain Greek yogurt will work, it just doesn't have quite the same flavor.
Then of course is zucchini. Since there are so many other liquid-y components to this bread (melted chocolate, coconut oil, egg, Greek yogurt, etc.) the zucchini needs to have some of the moisture squeezed out. You'll need to give the grated zucchini a quick couple squeezes on a paper towel to get some of that extra moisture out.
One last note: this zucchini bread does slightly sink in the middle. Nothing too drastic as you can see from the pictures and the video, but ever so slightly. To avoid a huge sink in the middle of your bread the following tips should help: make sure you have wrung out the excess liquid from the zucchini, do NOT over-stir the ingredients (this adds in air bubbles that don't keep during the baking), bake for the correct amount of time (test the bread with a toothpick before removing it from the oven), make sure your baking agents are fresh, make sure to promptly bake the bread after combining the ingredients, and make sure your oven is correctly calibrated to the proper temperature.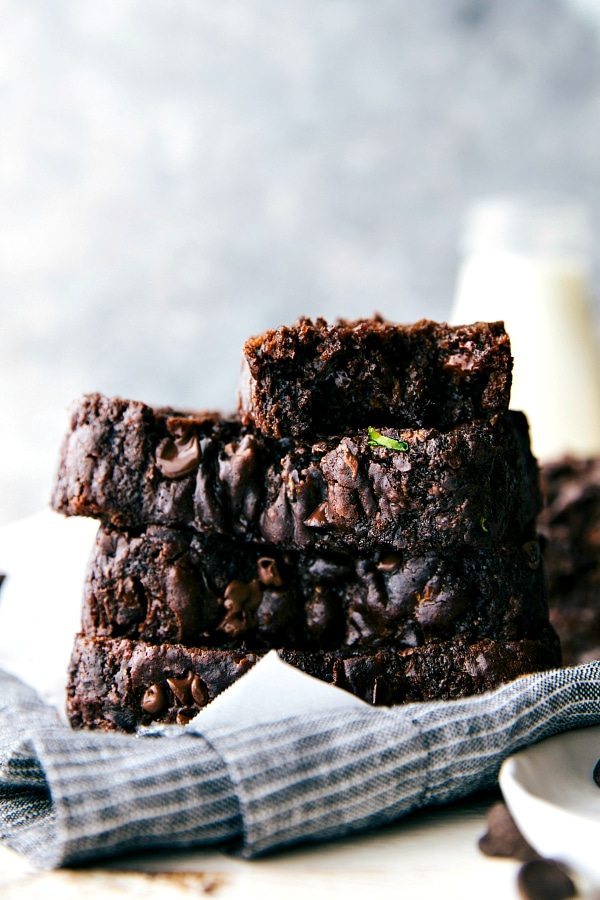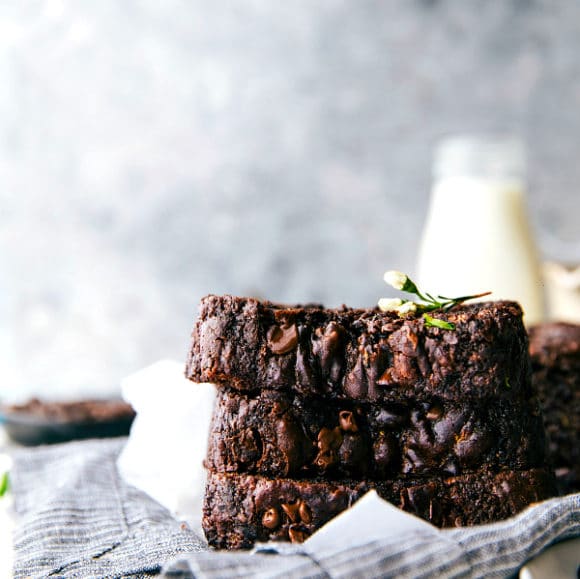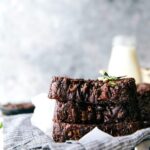 Healthy Chocolate Greek Yogurt Zucchini Bread
Ingredients
1/2

cup

vanilla Greek yogurt

2

tablespoons

honey

1/2

cup

lightly packed brown sugar

1/3 + 3/4

cup

dark chocolate chips

separated*

1/3

cup

melted coconut oil

1 and 1/2

teaspoons

vanilla extract

1

large egg

1/3

cup

oat flour

just blend regular oats in a blender

2

tablespoons

cocoa powder

1

teaspoon

baking soda

1/4

teaspoon

baking powder

1/4

teaspoon

salt

1

cup

white flour

or use white-whole wheat

Heaping 3/4

cup

lightly packed and finely grated zucchini

1

tablespoon

cornstarch
Instructions
Make sure you have thoroughly dried the zucchini to keep it from being too wet/watery in the finished bread. I do this using paper towels and squeezing the grated zucchini. Do not squeeze out all the liquid as some is needed for the bread.

Preheat the oven to 350 degrees F. Lightly grease and flour one bread pan. I use an 8 and 1/2 by 4 and 1/2 inch pan.

In a bowl, stir together the Greek yogurt, honey, and brown sugar.

In another small bowl place 1/3 cup chocolate chips. Melt the coconut oil and measure the oil AFTER being melted. Pour the coconut oil over the chocolate chips and stir until melted. Pop in the microwave for 15 seconds if needed until the mixture is smooth. Allow to slightly cool and then add to the Greek yogurt mixture.

Add in an egg and the vanilla extract.

In a separate bowl, stir together the oat flour (measured AFTER blending. I used regular old fashioned or quick oats and quickly pulse them in a blender or food processor until they resemble flour. Then measure and add to the bowl), cocoa powder, baking soda, baking powder, salt, and cornstarch.

Add in the white or white-whole wheat flour. Add in the remaining 3/4 cup chocolate chips. Stir the dry ingredients together.

Add the dry to the wet and mix until just combined. Over-mixing will result in dense bread or a sunk in center.

Stir in the grated zucchini.

Pour the mixture into the prepared pan and top with more chocolate chips if desired.

Bake for 45-55 minutes or until a toothpick when inserted into the center comes out clean and the bread has begun to slightly pull away from the sides. Barely under-cooking the bread will yield a softer and slightly denser bread. (I pulled mine out at 45 minutes.)

If needed tent some tin foil over the top to keep the top from over-cooking.

Allow to completely cool before cutting into the bread. Cut with a sharp knife.

Cover and enjoy within 3 days.
Recipe Notes
*Use whichever type of chocolate you like best. I call for dark chocolate since it is the healthiest chocolate and has lots of good fats, BUT if you hate dark chocolate, milk or semi-sweet works great. (We tried milk chocolate and loved it!)