A healthy pan-fried breaded Parmesan zucchini and summer squash mixture tossed with spaghetti, fresh lemon juice, and fresh parsley. Scroll down past the recipe for a fun giveaway to win a kitchen-aid stand mixer 🙂
I have to start off this post by telling you all that the husband hates zucchini.
And he says summer squash is the same as zucchini to him as far as flavor and texture.
Which, by the way, this was completely new mind-blowing news to me. He was flabergasted (<– haha I had to use that word) that I didn't know of his hatred towards zucchini and summer squash.
I thought he loved zucchini because one of his favorite desserts is zucchini bread. He loves that stuff – particularly my mom's recipe which he has deemed the "best ever" zucchini bread.
But I guess the copius amounts of sugar and other ingredients in zucchini bread is the reason he likes it, not the fact that there is zucchini in it. Go figure. And men say women are the complicated ones 😉
So when I started whipping together a lunch for him on a lucky day he got to work from home, I just casually mentioned there would be plenty of zucchini in it – just how he loves his vegetables.
His face scrunched and nose turned up. But he's a sport and told me to continue making it anyways, that perhaps his tastes had changed.
I was nervous. This was my chance to show him how good zucchini and summer squash could be. And I'm betting you can guess how much he liked it.
Or I probably wouldn't be telling this story in the first place. But liked is kind of an understatement – he awarded this meal a "new favorite." I was beyond thrilled. And all that more excited to share it with you all!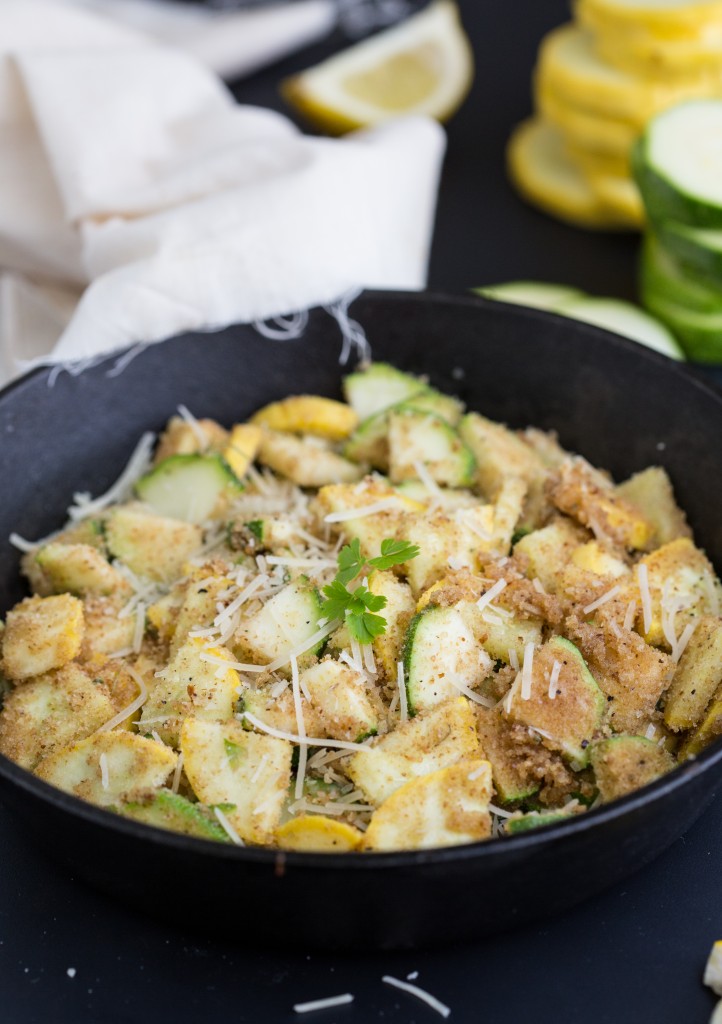 Plus it's SO easy to make. Twenty minutes for a warm and healthy meal – you can't beat that. And there is no oven-age involved. SCORE!
The summer squash and zucchini get tossed with some olive oil and garlic in a saucepan. After that they get some breadcrumbs and Parmesan cheese mixed in. You may think there is too much Parmesan or breadcrumbs, but it all evens out when it's mixed with the spaghetti. You may even want to add more 😉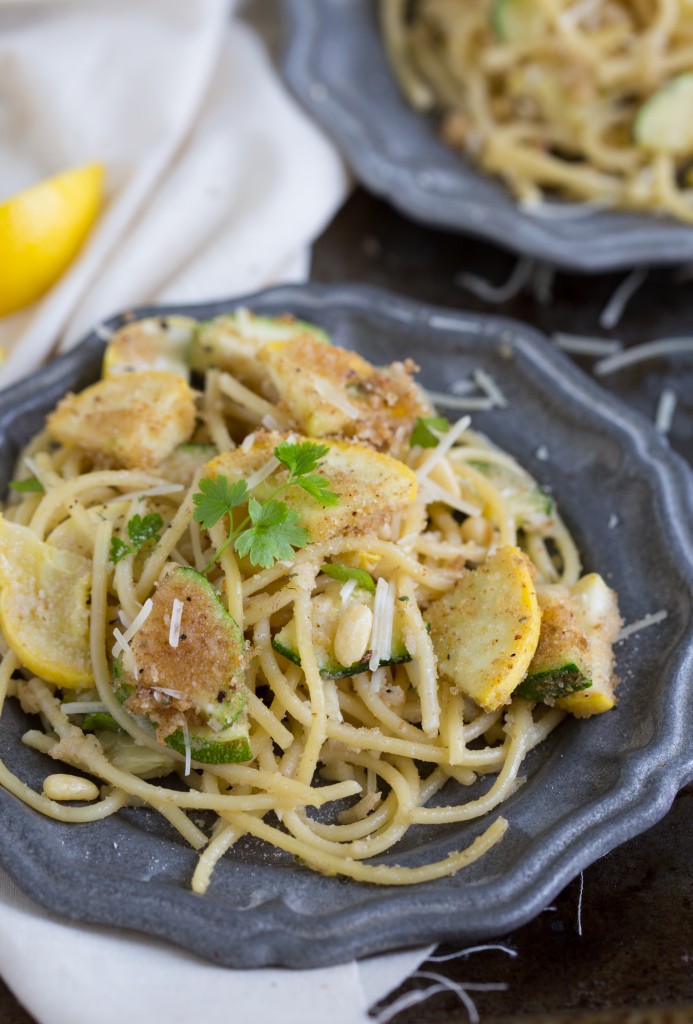 Parmesan Zucchini & Summer Squash Spaghetti
Ingredients
1

package (16 ounces)

spaghetti

1/2

cup

olive oil

1/2

teaspoon

minced garlic

5

cups

assorted zucchini and summer squash

1/3

cup

pine nuts

optional

2/3

cup

freshly grated Parmesan cheese

2/3

cup

plain breadcrumbs

2-3

tablespoons

freshly squeezed lemon juice

Salt and pepper

Optional: fresh or dried parsley
Instructions
Prepare the spaghetti according to package directions and cook all the way through. Drain when the noodles are done cooking and return the noodles to the pot.

Chop up the zucchini and summer squash (measure out 5 cups after cutting) by cutting the squashes into coins and then lengthwise and width-wise through the coins.

Place the pine nuts in the pan without any oil over medium heat. Lightly toast by stirring until lightly brown. They will burn easily so watch carefully.

Next, combine the olive oil and garlic in a large saucepan over medium-low heat. Stir until fragrant.

Add the chopped squash and zucchini to the olive oil mixture. Stir until they are tender.

Add in the Parmesan cheese and breadcrumbs. Season generously (or to taste) with salt and pepper. Stir until well combined.

Add the zucchini and squash mixture to the drained spaghetti. Add in the lemon juice, salt and pepper to taste, and the previously toasted pine nuts. Stir until combined.

Tongs work best for tossing the ingredients together.

Enjoy immediately.